12 Months, 12 Hikes
The 12 months, 12 hikes challenge continued this year! This is my third year doing it. I usually try to go once a month, but with as many weddings I went to in the spring, I had to double up a couple months to make up for it.
January: Looking Glass Rock | 6.5 miles, moderate, 40 miles southwest of Asheville, NC

I loved this hike! The week before we were there, it had snowed/iced. The ice had just melted a day or so before we hiked, so the trail was EXTREMELY muddy. The first half of the trail was super slow-moving, because we were so afraid we were going to slip and face plant in the mud. The way down was even worse. Hiking poles would've helped a lot. The views at the top were amazing with plenty of room for a lot of people to spread out and enjoy. Highly recommend this one.
March: Pine Mountain | 4.5 miles, moderate, 40 miles northwest of Atlanta, GA

Pine Mountain is a trail that I frequent, with its close proximity to Atlanta. I like the length, and it has great views at the top overlooking Lake Allatoona.

May: Pinnacle Trail at Crowders Mountain | 3.7 miles, moderate, 30 miles west of Charlotte, NC

This trail goes straight up to the top of the mountain and then you go back out the way you came. You end up gaining about 750 feet in elevation. It was extremely hot the day we went, so it was a nice and sweaty workout! There is a good amount of space at the top where you can see for miles and miles. You can even see the Charlotte skyline if you squint hard enough! It's a great option if you are in Charlotte and don't want to drive far.

June: Cracker Lake | 14.5 miles to get to end of lake, difficult, Glacier National Park

Cracker Lake was the longest hike I've ever done in one day. By the end, I felt like my feet were going to fall off. It was also some of the best scenery I've ever witnessed on a hike. The terrain constantly changed, and the trail ended at a gorgeous teal-colored glacier lake that you can only access by foot. We spent about nine hours on the trail, including plenty of breaks and an hour or so at the lake. The boys in our group even took a quick dip in the frigid water! Check out my detailed post about our hike here.

Avalanche Lake | 5.7 miles, easy/moderate, Glacier National Park

Avalanche Lake was another hike we did in Glacier. This was much easier than Cracker Lake, and we passed lots of families with small children. The trail starts walking through a Cedar Tree forest. This part is flat and even wheelchair-accessible. The trail splits to go to Avalanche Lake and you climb a bit before it levels out. There were a ton of people at the lake, and it was very different from our day at Cracker Lake, where we saw about 30 other people total the entire day. It was still worth it though, because the lake is amazingly beautiful. Check out my detailed post about our hike here.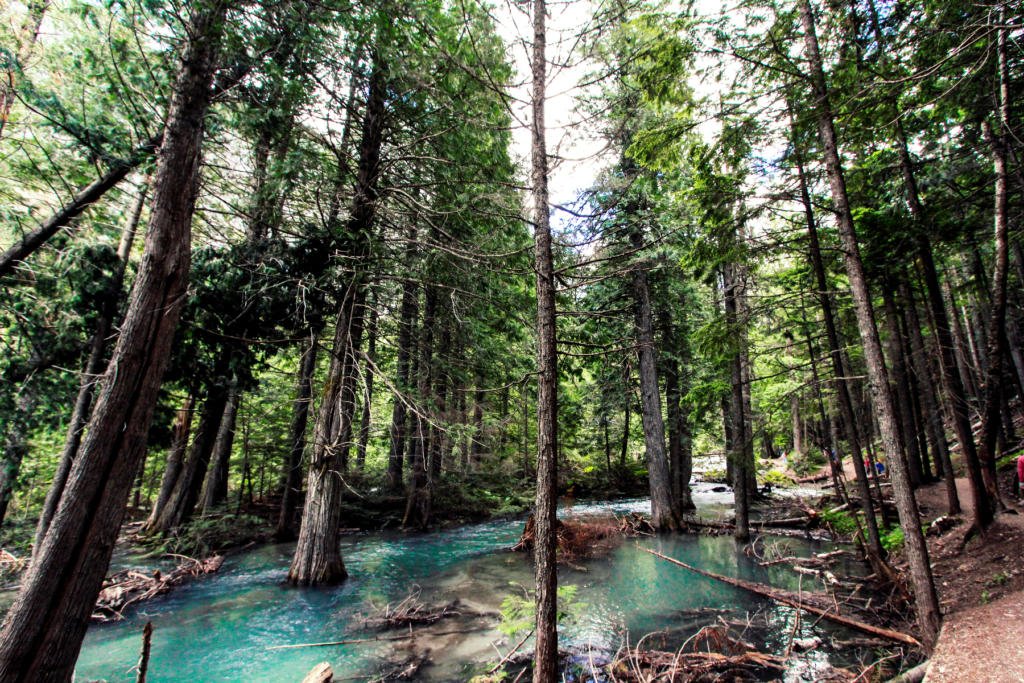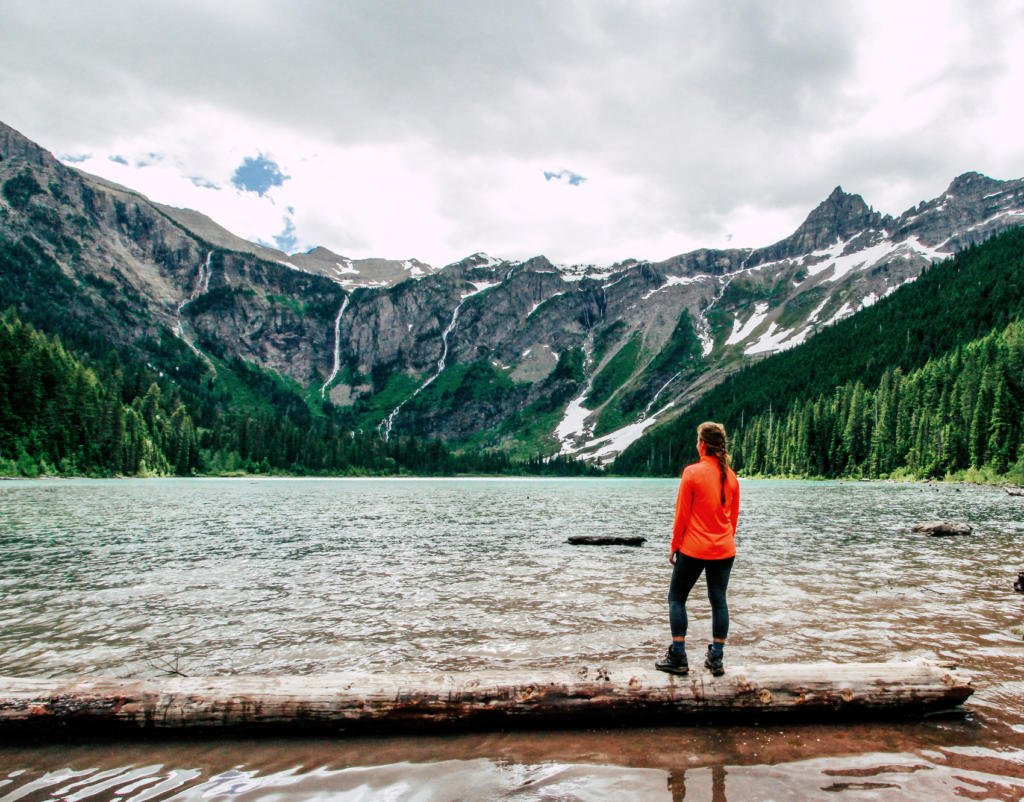 July: Lake Agnes Teahouse | 4.7 miles, moderate, Banff National Park

I went to Banff, Canada in July and we did several hikes. The trail to the Lake Agnes Teahouse starts from Lake Louise and is heavily trafficked. It is a steady climb of about 1300 feet in elevation gain. Looking down on bright blue Lake Louise along the hike was so cool! At the top is a super clear Lake Agnes, with a teahouse that serves tea and snacks for hikers. We spent about an hour up top before returning to Lake Louise. I recommend starting early so you can get a parking spot and reach the tea house before there is a long wait for a table! Check out my detailed post about our hike and another hike we did here.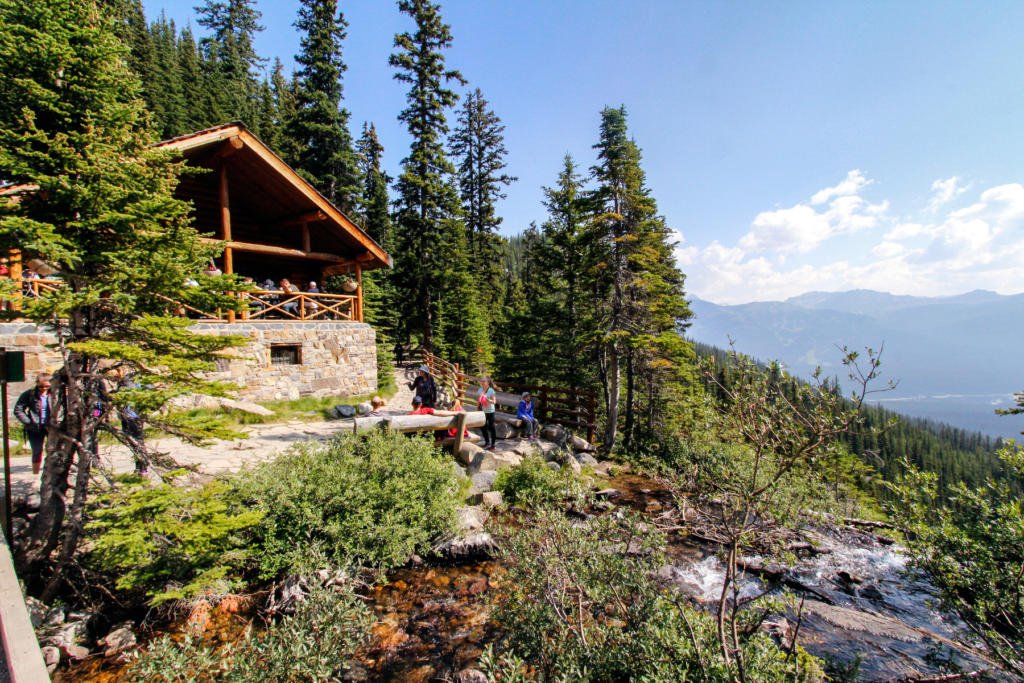 Johnston Canyon to Upper Falls | 3.1 miles, easy, Banff National Park

While in Banff, we also hiked Johnston Canyon. This trail is easy and paved but is really cool. The trail goes through a canyon alongside a river and passes a couple waterfalls along the way. Part of the trail is elevated so you don't have to get in the river. My favorite part was between the Lower and Upper Falls, where you can get off the trail and climb down to the river. You can see a cave, large rock formation, and even walk behind one of the waterfalls! We only went to the Lower and Upper Falls, but you could also continue on to the Ink Pots, which is another couple of miles. Check out my detailed post about our hike and another hike we did here.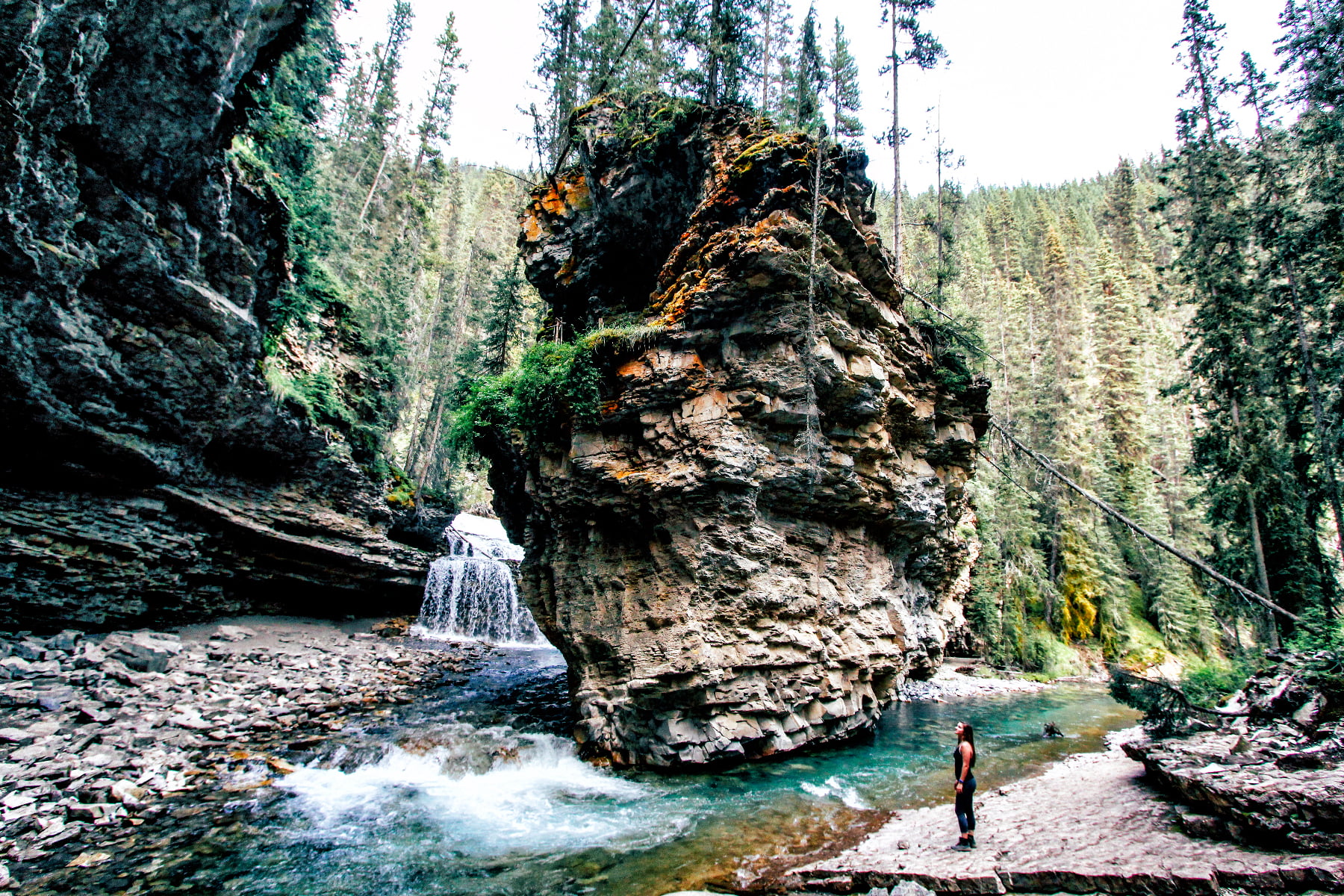 August: Tuckerman Ravine to Mount Washington | 7.9 miles, moderate/difficult, White Mountains in New Hampshire

I spent a weekend in New Hampshire's White Mountains in August. Unfortunately, it was pouring rain the entire weekend. We decided to still get out and do the hike we planned. The hike immediately starts going straight up. You gain over 4000 feet in elevation over the 4 mile incline, so it is not an easy hike. Since it was raining so hard, the trail was almost like a river with all the water rushing down. At about 2.5 miles, you'll come to a shelter where a caretaker lives in the summer and backpackers can stay. The rain slowed down at this point for us and it was even sunny for a bit. We continued up the ravine and the view was amazing! The mistake was waiting to take pictures until the top. Once we got near the top, the fog rolled in and we couldn't see much more than 10 feet in front of us. We ended up turning around before the peak because it was so hard to see, and the rocks were slippery. I would love to re-do this hike on a clear day!

September: Reykjadalur | 4.4 miles, moderate, southwestern Iceland

This unusual hike in Iceland takes you to a hot river that you can swim in, while passing lots of geothermal activity along the way! You start by climbing up to the ridge and then down through the valley until you reach the river. The day we were here it was extremely windy, and I felt like I was going to blow away at points! Along the way, you will see a beautiful cascading waterfall, boiling mud pits, and steam coming out of the ground. Once at the river, there is a boardwalk along it with a few walls for changing. It was about 40 degrees F out that day and while it felt good to get in, it was miserable getting out and changing back into dry clothes! Check out my detailed post about our hike here.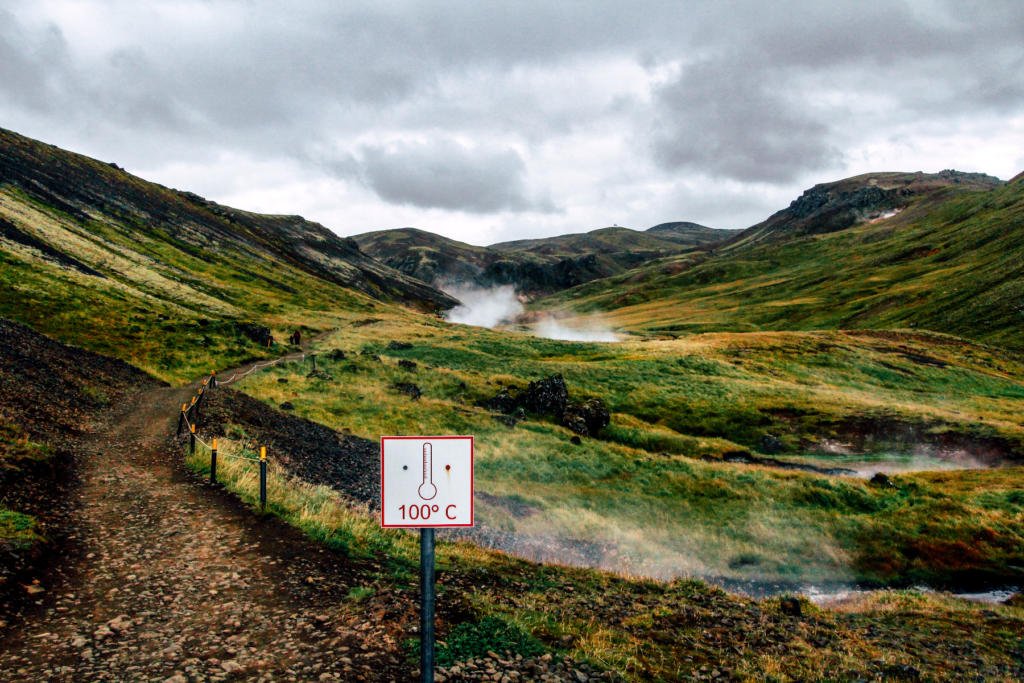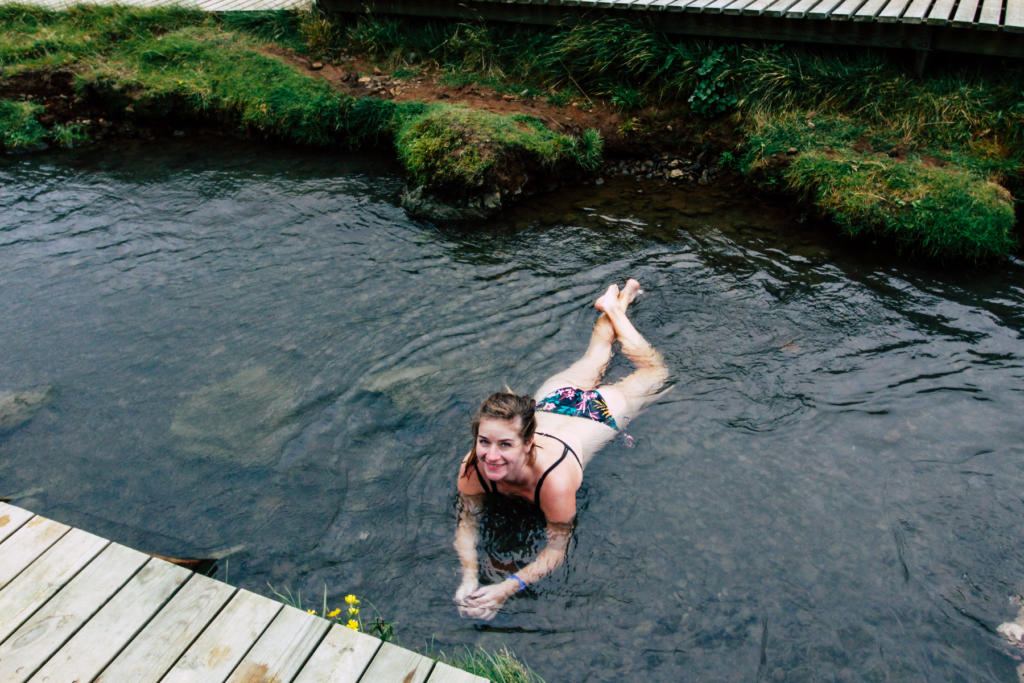 October: Raven Cliff Falls | 4.8 miles, easy, 90 miles northeast of Atlanta, GA

The trail to Raven Cliff Falls is an easy climb of about 550 feet spread out over the 2.4 miles. The trail follows the water the whole way, while passing several small falls along the way. Once at the big falls, there is a little side trail where you can climb to the top of the falls and look down.

November: Springer Mountain | 4.7 miles, moderate, 100 miles north of Atlanta, GA

Springer Mountain is where the Appalachian Trail starts (at the southern end). The loop is 4.7 miles and starts from the "Springer Mountain Parking for the AT" lot. From here, we went straight up to the Springer Mountain summit, which is only 0.7 miles from the trailhead. This was a good workout with some elevation gain, but the view at the top wasn't great. Lots of trees prevented us from seeing much. I was slightly disappointed, but we wanted to finish the loop.

Coming back the way we came, the trail splits and we took the Benton MacKaye Trail to loop around and add some distance. There wasn't much elevation change on this trail, and it was a beautiful walk through the woods. I still was hoping there would be a point that would have a good view. When we were about halfway through the loop, we noticed a small, easy to miss sign pointing to Owen's Overlook. This was it: the view I'd been waiting for! It was also the perfect time to go, because the fall colors were amazing! In the end, I'd recommend this hike, but only if you take the Benton MacKaye loop.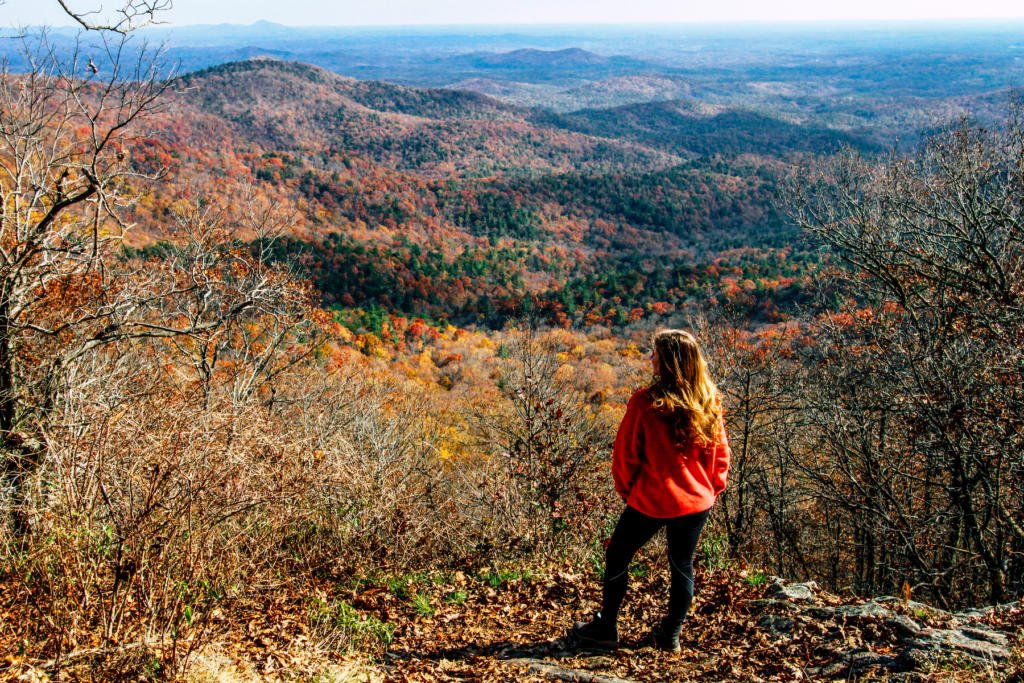 December: Bearwallow Mountain | 2.1 miles, moderate, 19 miles southeast of Asheville, NC

This was a great, short hike that can be done in about an hour. We took the hiking trail up and the service road back down to make a loop. The trail gains just over 500 feet in elevation in only a mile, so it isn't super easy, but at least it's short! The views at the top are amazing. There's a huge meadow, which is uncommon for most hikes in this area, and cows graze up here in the summertime. You get a 360-degree view of the mountains all the way around the meadow. If it had been warmer and less windy when we were up here, I would've loved to stay and have a picnic!
Read about my previous years here: