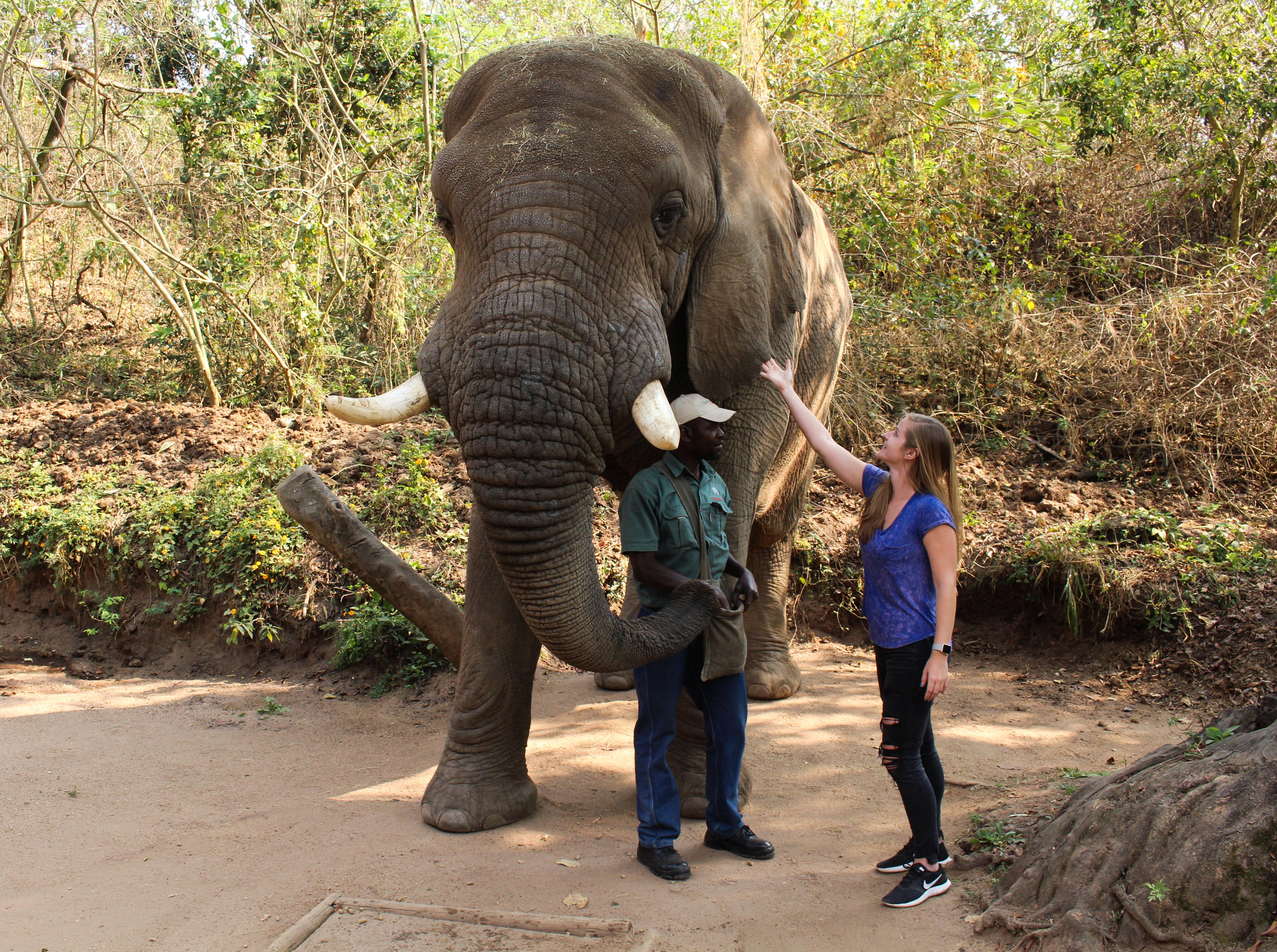 After our week in Cape Town, my cousin Sydney and I flew to Johannesburg. From there we drove about four hours east. Our safari lodge near Kruger Park was located five hours from Johannesburg if you took the most direct route. However, the area around Kruger Park is so gorgeous, and we wanted to take the scenic Panorama Route. Located along the Blyde River Canyon, the Panorama Route is accurately named and is well worth the extra few hours. We flew into Johannesburg Sunday afternoon and arrived at our Airbnb in White River (3.5 hours east) that evening. We called it an early night because we were getting up very early the next morning.
Hazyview Elephant Sanctuary
From White River, we drove 40 minutes to Hazyview that morning. We had a 7am tour of the Hazyview Elephant Sanctuary scheduled. I was so excited; elephants are my favorite animals and I couldn't wait to touch (and ride) one! The elephants here are rescued, typically from people who think they can have them as pets, and then no longer want them. The elephants cannot be released into the wild because they grew up as domesticated animals. Sanctuaries like this one are relied on to care for the elephants.
Brush Down
We arrived at the sanctuary a few minutes late, and were pleasantly surprised that no one else was in the first part of our tour, so they waited for us. We started with an elephant brush down, where we brushed some of the dirt off of our elephants. Elephants cover themselves in mud to cool down when it's really hot. It dries overnight and then they're extremely dirty. I assume this isn't really a problem though, since they obviously don't get brushed down in the wild.
Learning About Elephants
The sanctuary currently has two male elephants: Casper and Keizo. The next part of the tour was my favorite. They brought the elephants into a wooded section and we got to learn all about the animals, along with touching different body parts. I got to touch the bottom of Casper's foot, which is padded with fat to absorb shocks. The trainer also had him open his mouth with me just a couple feet away, to show me his molars. I could tell that the elephants loved the attention, especially because they received treats every step of the way.
Next, our guide told us some fun facts about elephants. One of the most interesting is that they have emotional glands that secrete liquid depending on their mood. If the liquid is dark like oil, stay away from them, or if it's clear like tears, they are extremely happy! I noticed Keizo's stream of clear tears later on when everyone was feeding him treats.
We also learned about how the elephants came to be at the sanctuary. Casper's original owners had him and three other elephants, and didn't realize how much elephants actually eat. The family lived next to an orange farm, so to get at the tasty oranges, the elephants knocked down the electric fence with a fallen tree and headed over to the orange farm, eating and destroying most of the trees. The farmer shot all of the elephants except Casper, and the family ended up relinquishing him to the sanctuary. It was a sad story, but I'm glad there was a place to take him in.
Trunk-In-Hand
Our next activity was walking trunk-in-hand with the elephants. We walked with them literally holding their trunk in our hands. Elephants walk in a single file line when they travel for protection. It was fun to watch the two elephants walk together, because they actually do hold trunks to tails like in the movies. We learned that male elephants usually hang out in a "bachelor herd", while females and young calves are in a separate herd. Elephants respect wisdom, and the oldest elephant is always the herd's leader. You can tell who is older by their size, because elephants never stop growing.
Elephant Ride
The last part of the tour was an elephant ride if we chose to. I was the only one who wanted to, so I climbed up the stairs and hopped on behind Casper's trainer. He was so wide that I felt like I was doing the splits. Before we started walking, he stuck his trunk up asking for treats from his trainer. We walked through the woods, and it didn't feel real. I was convinced I was on a ride at Disney World and the elephant was an animatronic. I loved every second!
The Woodsman in Sabie
When we were done at the sanctuary, we were hungry. We got a late breakfast at a restaurant in Sabie called The Woodsman (a 30 minute drive west of Hazyview). There weren't many people there as it was mid-morning on a Monday. We ordered our breakfast and the owner came over to talk to us. I let him know we were planning to do the Panorama Route today and he told us the hit and miss spots to stop at.
We spent the rest of the day driving the Panorama Route and ending at Hoedspruit. Stay tuned!
Watch my video about our time in Kruger Park, the Elephant Sanctuary, and the Panorama Route below!

You may also be interested in:
Stellenbosch: Cape Town's Wine Region