The Lakes Trail is a strenuous, long hike in Sequoia National Park. It is located near the Lodgepole Campground, which is where we were staying. The trail goes to one scenic overlook and three alpine lakes. The entire trail to get to the third lake and back is 12.8 miles total (in and out).
By the time we got up, had breakfast, and packed our bags for the day, it was around 10 am. We had decided to take the free shuttle to the trailhead so everyone could go at their own speed and head back early if we wanted to. The shuttle was easy but looking back we would've liked to have driven. There was plenty of parking when we arrived, and the shuttle took awhile. It didn't help that when we were going back in the afternoon, we got on the shuttle going the wrong way, which took an hour to get back to the campgrounds instead of the ten minutes going the correct direction!
Also, when we got off the shuttle in the morning, the bus driver warned us to be back on by 5 pm so we could make it back to Lodgepole (our campground) before the shuttles stop running. That left us with only 6.5 hours to do a 12+ mile hike. We definitely would've started earlier if we knew that would be the case.
The Way Up
We started the trail around 10:30 and I was immediately reminded that I was out of shape. I usually train a little for big hikes, but I hadn't even worked out in a few months and I really felt it. The hike starts at about 7000 feet and climbs straight up, with a max elevation of around 10,000 feet.
About a mile in, I started really feeling the effects of the high elevation. I'm used to hiking in higher elevations, but I realized at this point how dehydrated I was. Thinking back on our long travel day the day before, I had barely drunk any water the entire day. That was dumb! The dizzying, nauseating effects slowed me way down and I found myself stopping for a break every five to ten minutes. My hopes of making it to the final lake and back by 5pm had diminished. I hoped I could at least make it to the Watchtower, the spot with the amazing view about 3 miles in.
The Watchtower
Sam and I did finally make it to the Watchtower and the view was breathtaking. There was something about this edge that was vertigo-inducing. We felt it, and then several people that approached after us said the same thing. There is a ledge that you can walk out on that would make for some epic pictures, but neither of us were daring enough to go out there.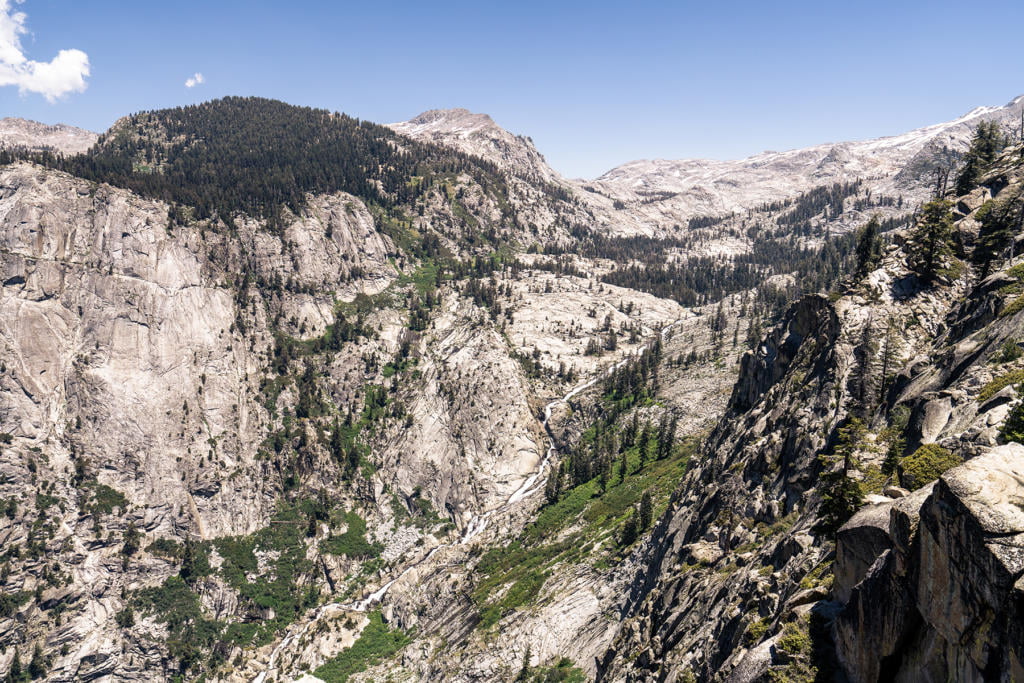 We knew the rest of our group was planning to go all the way to the third lake and back, so Sam and I weren't in a rush. There were no plans for the rest of the day. We hung out for over an hour, had lunch, and people watched. I finally started feeling better and we made our way back down at a much quicker pace.
The Way Down
I was able to appreciate the scenery going down much more now that I wasn't worried about passing out! The landscape was lush and green, and at times I felt like I was walking through a prehistoric forest.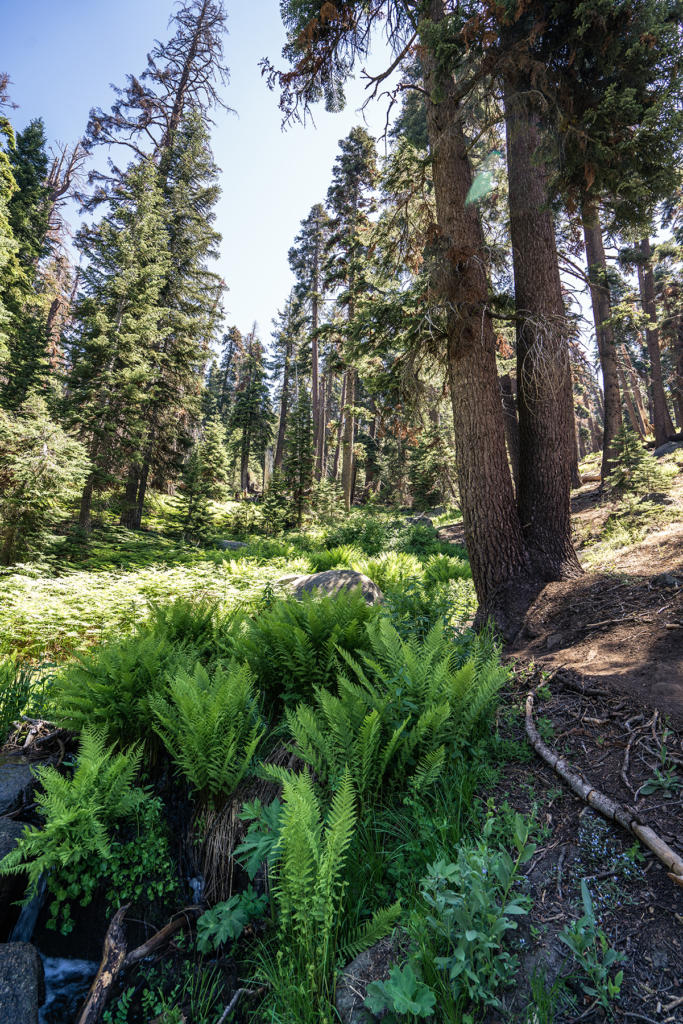 We met our friends at the shuttle stop and they had all made it to different parts of the trail, with two making it to the last lake. They said the Watchtower was the prettiest part, but the lakes were also very nice. I'm glad we at least made it to one of the stops!
Backpacking Option
There are a few campsites at Pear Lake (the third lake) that you can backpack into. There is a limit of 25 people at Pear Lake and it is permit-only during summer months. The permits are first-come, first-serve and they don't take reservations. This trail would've been perfect for backpacking. I would've liked to take my time all day to get there and then have another day to get back down.
Overall Thoughts
I thought this trail was really pretty and perfect for groups of people with varying physical abilities, since there were many stops that could be different goals for each person. The shuttle is a nice option if some people may want to go back earlier, but I would prefer driving if we knew we would all be done around the same time. Drink plenty of water if you are doing strenuous hiking in high elevations. I've learned my lesson!
---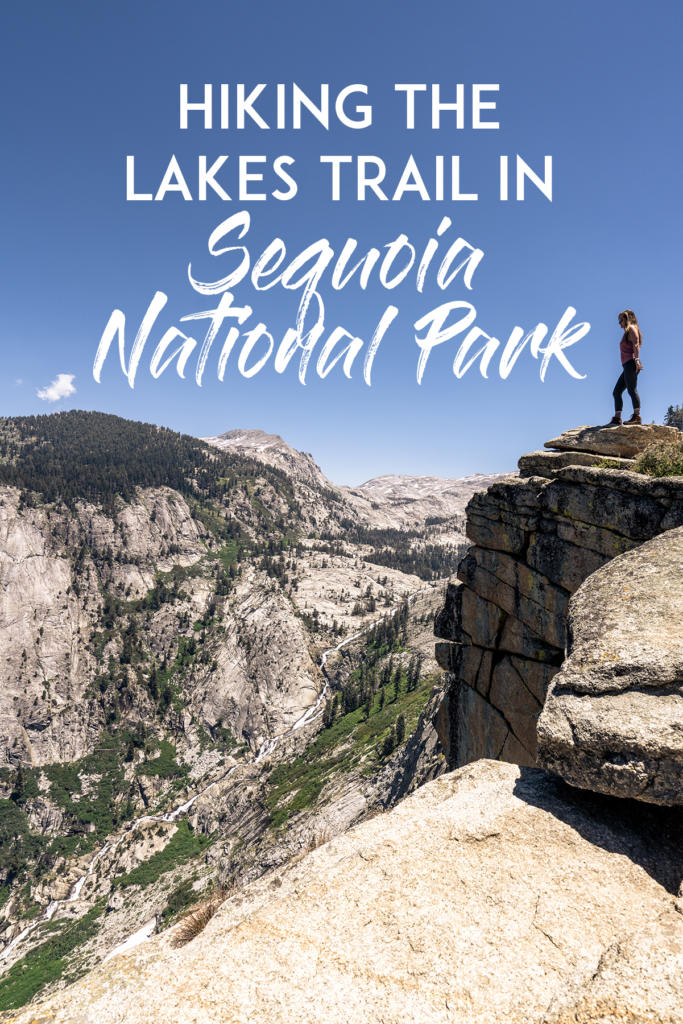 You may also be interested in:
Easy Must-See Trails in Sequoia National Park
An Afternoon in Santa Monica