Itinerary
Saturday 9/1 – Land in Reykjavik early morning, spend half day exploring city, drive to Kirkjufell waterfall, drive to Airbnb

Sunday 9/2 – Drive to Dalvik via Trollaskagi Peninsula, whale watching tour in Dalvik, drive to Akureyri and stay there for night

Monday 9/3 – Godafoss waterfall, Myvatn, Namafjall, Krafla, Dettifoss, Seydisfjordur, stay in eastern fjords

Tuesday 9/4 – Vestrahorn, Diamond beach, Jokulsarlon Glacier Lagoon, Fjallsarlon Iceberg boat tour, stay in Hof

Wednesday 9/5 – Hike to glacier in Skaftafell Park, Foss a Sidu, Fjadrargljufur Canyon, Dyrholaey, stay in Vik

Thursday 9/6 – Reynisdrangar sea salt stacks, Thorsmork hiking, Seljalandsfoss for sunset

Friday 9/7 – Skogafoss for sunrise, Urridafoss, hike to Reykjadalur, stay in Selfoss

Saturday 9/8 – Keldur turf houses, half day in Reykjavik, Blue Lagoon, stay near airport

Sunday 9/9 – Pack up, breakfast, get to airport to fly home
Driving
Vehicles drive on the right side of the road in Iceland, so that made it easier on us! We rented a car from Lagoon Car Rental. A shuttle driver was waiting for me with a sign when I left the baggage claim to take me to their office which is not far from the airport. The workers were very friendly, but there should've been at least one more person working because I had to wait awhile (during pickup and dropoff). We rented a Dacia Duster, which is a small SUV that is 4×4. It was manual, but you can request an automatic when booking the car online. I'm really glad we got a 4×4 vehicle, because there were lots of places we stopped at that were dirt/gravel roads with lots of potholes.
Extra Insurance
We opted to get some extra insurances because of blogs I had read before booking the car. The gravel protection covers any damage caused by gravel, which is common in Iceland. Sand and ash protection covers your car if there happened to be a volcano eruption or if there was damage from sand at a nearby beach. These seemed less likely to happen, but the wind can be quite brutal in Iceland, and if it's pelting your car with sand, you could end up paying a very hefty fee. We also got tire protection in case we got a flat and had to replace the tire. These three insurance additions ended up costing about $250 USD, but it would've cost WAY more if we actually had damage, so we thought it was worth it.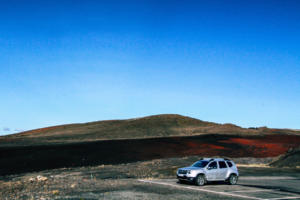 We ended up not having any damage to the car, but I noticed on day 2 that we didn't have a license plate in the back. I'm not sure if it fell off after we got it, or if I just didn't notice it wasn't there when I picked up the car. Luckily, the guys at the office took my word that it was never there and didn't charge me. Looking back, I should've called them when I noticed it missing, but I never really thought about it.
Flights
Getting to Iceland was easy for me, but not so much my mom! I flew from Atlanta to JFK to Reykjavik on Delta. My first flight wasn't delayed at all, and a 3 hour layover in JFK was plenty of time. I landed in Reykjavik around 7am Saturday morning and had the whole day to explore.
My mom on the other hand, had a difficult time. She was planning on flying from Charlotte to JFK to Reykjavik, but her first flight got delayed so much that Delta actually rebooked her with Icelandair to go through Baltimore instead of JFK. This meant that we wouldn't be on the same flight to Iceland anymore. When her plane finally landed in Baltimore, lightning struck the airport and she ended up missing her flight to Reykjavik. Thank goodness she had travel insurance, because she had to book a last-minute flight on WOW Air that left at midnight that night. She ended up landing in Reykjavik around 11am the next day and they had lost her bag along the way. She didn't get her bag until day 3 of our trip.
Money
While we were there, $1 USD was equal to about 100 ISK, which made things easy to convert in our heads. When I arrived at the airport, I converted $100 USD to Icelandic Krona and had no idea if that would be enough for the trip. I had a couple hundred USD extra in case I needed to exchange any more later. The only time we ever needed any cash was one bathroom that we visited that was 100 ISK per person. Everything else had the option to pay by card, including parking.
Food
Eating at restaurants can be very expensive in Iceland! When I arrived in Reykjavik, I went to their bargain grocery store, Bonus, and picked up food for the week. We essentially ate sandwiches once a day and ate out once a day. Breakfast was provided at most of our Airbnbs/hotels. Sometimes our meals out were nice ($30-50 USD each) and sometimes we had hot dogs at a gas station (~$5 each). It all depended on how we were feeling for the day, how much time we had to spend, and where we were when we were hungry. There wasn't always a convenient place to eat nearby.
Cost per Person
Flights – $775

Lodging (8 nights) – $600

Rental Car (including extra insurances)- $450

Transportation (including gas, tolls, Ubers to/from airport, parking) – $200

Food – $210

Souvenirs – $85

Entertainment (including whale watching, glacier boat tour, blue lagoon, LAVA center, and Vestrahorn) – $285

Travel Insurance – $80

TOTAL – $2685
Languages
We had no difficulties with the language barrier. In our week here, we only came across one Icelandic person that didn't speak English. All road signs and everything are also in English (besides Icelandic names). The Icelandic language is really difficult! Usually when I visit another country, I at least try to learn a few phrases in their language, but I couldn't even pronounce most words because of all the letters!
Weather
Weather in Iceland is very unpredictable and you need to be prepared for anything. Being there the first week in September, we figured we wouldn't get snow, but knew it was possible. Luckily no snow and mostly gorgeous weather the whole week! We had two days that rained off and on, but the rest were sunny! I noticed that in the southwest, it seemed to be windier than the rest of the country (at least while we were there).
Overall Tips
If driving the Ring Road, make sure you have plenty of gas. There were a few stretches where there was no civilization for hours, so I was glad we had a full tank.

Dress in layers. It can go from being freezing and windy, to warm and sunny.

Buy some food at a grocery store to keep your costs down. The cheaper grocery stores are Bonus and Kronan.

Try the Appelsin drink! It tastes similar to orange soda. We always had a bottle in the car for the long drives.

It's nice to have some flexibility in your schedule to allow for bad weather. Our last day was predicted to be rainy so I changed our hike to be the day before that.

If you don't want to get an international data plan, you can buy a SIM card for your phone once you're in Iceland. My mom did this for her Android phone. While it was time consuming to set up the data plan, it ended up working really well and it was nice to have plenty of data when we needed it! Making local phone calls was also easier this way than on my international phone.
---
Check out my video on our time in Iceland!
---
You may also be interested in:
How to Spend a Day in Reykjavik