My boyfriend Sam and I spent 4.5 days in Paris over New Year's Week. Paris was even better than I had imagined, with astonishing sites, mouth-watering food, and mild winter weather. I've written about my experiences in the City of Lights to help you plan a similar trip of your own!
Itinerary
This is what we did during our time in Paris. Read my blog posts for things to do and where to eat for more details!
Saturday 12/28: Land in Paris 1:30pm, get to Airbnb around 4pm, unpack and relax, explore and eat in Le Marais
Sunday 12/29: Explore Ile de la Cite and Latin Quarter. Sites include Notre Dame, Shakespeare and Co, Conciergerie, and Sainte Chapelle
Monday 12/30: Sunrise at the Trocadero, Arc de Triomphe, Champs-Elysees, Louvre
Tuesday 12/31: Montmartre and Sacre Coeur, Tuileries Gardens, dinner near Trocadero and Trocadero for New Year's Eve
Wednesday 1/1: late morning brunch, sightseeing, Rue Cler, Pont de Bir-Hakeim, fly out that evening
Transportation
Getting to and from the airport
Paris has an extensive metro system that is very easy to use. There is a train that goes from the CDG airport directly to the city. I had looked ahead of time where we needed to go and the train we needed ended at Gare du Nord. We followed signs for RER B and made sure we got on the one ending at Gare du Nord. If you look on Google Maps, you can choose the "public transportation" option, and it will tell you exactly what train you need to get closest to your destination. The train into the city cost us €11 each. Much cheaper than Uber or a taxi, since the airport is about 30 km outside of the city center.
Once at Gare du Nord, you can walk to a metro stop to take you to your final destination. However, while we were here, France was having a transportation strike and the metro was closed. We took an Uber to our Airbnb.
Getting back to the airport at the end of our trip was a little more difficult, as we thought we had followed signs for trains to the airport, but that led us to a platform where no trains were running. After talking to some other girls who were also looking for the airport (look for other people with luggage!) as well as some metro workers, we found the airport train on the platform and were thrilled we made it in time! During the strike, that train was only running every 30 minutes instead of every 10 minutes.
Getting around the city
The transportation strike was our biggest disappointment of the trip. We had chosen to stay a little further out than we would have if we'd known there hadn't been a metro option. The metros were on strike the entire time we were in town, with the exception of a few stations being open during rush hour. So instead of taking a $2 metro to get all the way into the city, our other option was to Uber, which cost us about $30 each trip on average.
On New Year's Eve, the city was crawling with even more tourists than the previous days, and we had trouble getting an Uber a couple times when we requested one. When we were headed to dinner across town, it ended up costing $70 because the demand was so high. Yikes! At least our dinner wasn't super expensive!
There is another option for transportation, an electric scooter. We saw tons of people using these while we were there. We decided against this option since it was really cold and there was lots of traffic.
Weather
Since our trip was in the winter, I was dreading that the weather would be cold, rainy, and miserable the whole time we were there. I was so happy that was not the case! Our first three days were sunny with highs in the mid/high 40s. Our last day was super foggy and in the mid 30s, so it was not quite as enjoyable as the others, but not terrible either.
What to wear
I packed sweaters to wear every day along with jeans or fleece lined leggings. That along with warm boots, a scarf, gloves, a hat, and warm jacket kept me very comfortable! I brought a sweater for each day of the trip, but looking back, I wish I would have brought fewer sweaters and re-worn them. They are so bulky and since I was wearing my jacket the whole time, it didn't really matter for picture purposes.
Language
French people speak French! But most of the people we encountered also spoke at least a little English too. It was very helpful to know a few phrases in French, and especially some food. Some of the restaurants we went to only had menus in French. When we didn't know what things were, we were able to look them up on our phones.
Where we stayed
We stayed in an Airbnb just outside of the Le Marais neighborhood. I was so happy with our location, besides the fact that the metros weren't running. I was originally thinking it would be easy to go back into the city center for dinner a couple nights, but that wasn't the case. So instead, we ate dinner every night (except NYE) in Le Marais, which is charming and filled with a ton of cute restaurants.
Money
Most of the countries in the European Union take the Euro, and France is no exception. Currently, one Euro is equal to about $1.10 USD. Paris was fairly expensive, but I thought the food and drink prices were similar to most big American cities. Nothing was outrageously priced that we encountered, except for the $70 Uber we took on New Year's Eve.
We typically ate out 2 or 3 times a day and had wine with dinner every night, so you could cut costs if you made your own food for a few meals or skipped drinks. We didn't go to any extremely fancy restaurants and all of our dinners cost under €100 total for the two of us.
Costs per Person
Flight from ATL to CDG (including baggage fees): $1,155
Lodging 4 nights: $340
Food & drinks: $280
Activities: $55
Transportation (Ubers & train from airport): $215
Souvenirs: $35
TOTAL: $1,980
New Year's Eve
I didn't know what to expect spending New Year's in a foreign country. Would everything be closed on New Year's Day? Would all restaurants have expensive fixed menus on New Year's Eve? What was the best thing to do for the countdown to the New Year?
I'll start by saying that NYE and NYD were very crowded with tourists everywhere we walked. Traffic was also TERRIBLE, probably largely because of the metros being closed. Everything was still open on NYE, but some smaller shops closed early. We had made a reservation online about a month ahead of time for dinner that evening at a bistro near the Trocadero at 8pm. After we finished around 10pm, we walked to the Trocadero which was packed with people waiting to see the Eiffel Tower at midnight. We sat around for awhile, originally thinking we would wait until midnight, but ultimately deciding to go home around 11. The fear of not being able to get an Uber home or potentially paying a premium price again had set in.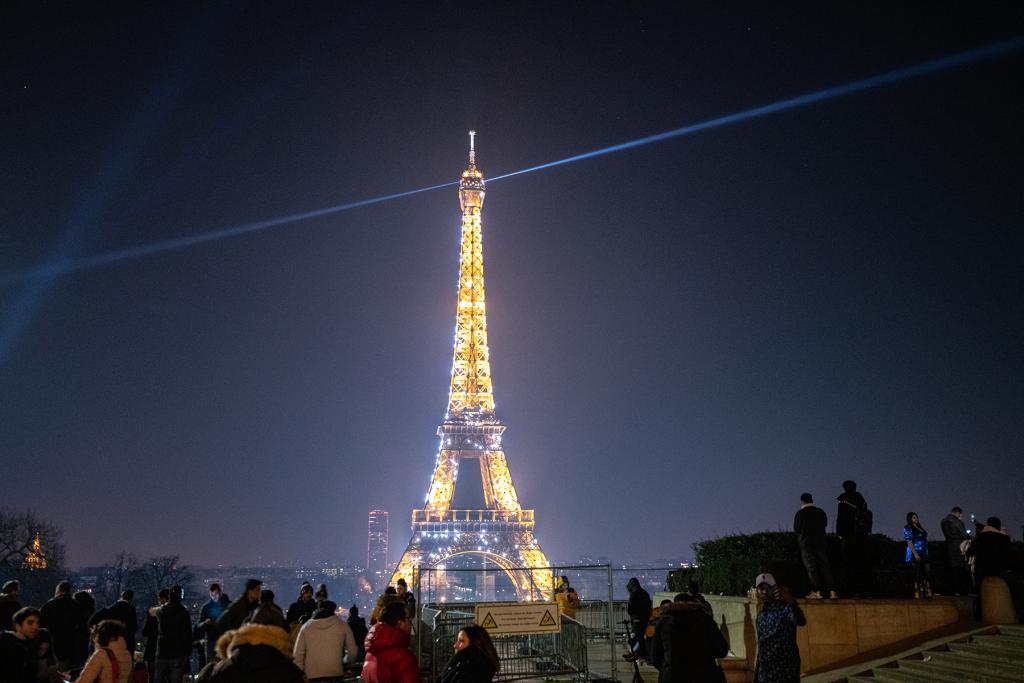 We slept in a little on New Year's Day and organized our suitcases before heading out for the day. There was a cute brunch restaurant near our apartment that we planned on going to if it was open. It wasn't, but a cafe down the block was. Later that day, we mostly just walked around the city, taking pictures and catching things we had missed in previous days. I'd say about half of the shops and restaurants were still open. Later that afternoon, we came back to pick up our bags and then took the train back to the airport.
Overall Thoughts
I loved Paris! My only complaint about the city is how crowded it was. We typically stray away from super touristy places, so this was a struggle for us. I'd say the winter is the best time to come, but not over a major holiday.
---
You may also be interested in:
How to See Paris in 4 Days
Where to Eat in Paris
18 Photos That Will Make You Want to Visit Paris