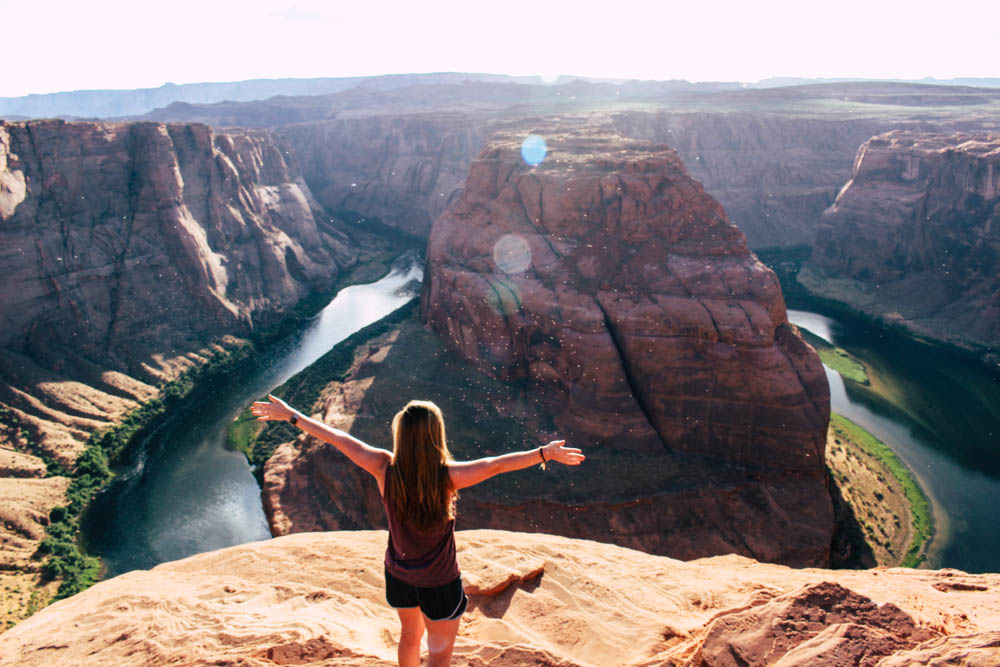 I spent four days in Arizona, Utah and Nevada over Memorial Day Weekend with three friends and we had an amazing time! The goal of this post is to tell you all of the logistics and things I learned in case you are trying to plan a similar trip!
Our Itinerary
We landed in Las Vegas on Thursday night around 10 pm. We had time to walk around to casinos and see the strip for a few hours before going to sleep at the Excalibur.
The official day 1 of our trip started early in Vegas. We took an Uber to the airport (very close to the Excalibur) and picked up our rental car. The Hoover Dam was on the way to the Grand Canyon (only a quick 30 minute detour). Day 1 had the most driving. Las Vegas to the Grand Canyon was about a four hour drive. After the Grand Canyon, we drove another two hours to Page, AZ, where we stayed the night.
Day 2 started early again, as our tour of Antelope Canyon started at 8:10 am. We were done around 9:30 and headed back to our hotel to pack up and check out. After getting lunch, we rented paddle boards and drove to Lake Powell to paddle around. We were tired and dehydrated after a couple hours so we went back to the dock and loaded up our boards. I was so glad we had packed sandwiches for each day so we didn't have to stop for dinner and could head straight to Horseshoe Bend for sunset. We were a couple hours early, but it felt great to chill on the edge and watch the sun go down with a bottle of wine. That night, we stayed in Kanab, UT, approximately one hour from Page.
We wanted to get to Zion early on Day 3 to avoid the crowds of Memorial Day Weekend, but they were unavoidable. We had about an hour drive to Zion, and by the time we arrived at 8 am, there was a line to get on the shuttle that was literally outside of the park. Our only planned activity for the day was hiking Angels Landing, and it took all day because of the crowds. Our hotel for the night was in Springdale, UT, only a five minute drive from the Zion Visitors Center.
Day 4 started the earliest, because we had to get back to Vegas for our flights that night, but still wanted to fit in one last hike. We were at Zion by 7 am and finished our hike around 12:30 pm, allowing an hour to get back to our car on the shuttle and drop off our gear at the rental company. We then drove 2.5 hours back to Vegas and dropped off Jessie at the airport. Our flight back to Atlanta wasn't until midnight, so we hung out there for a few hours and made a quick trip to the Seven Magic Mountains south of town.
We landed in Atlanta at 6:30 am on Tuesday. Despite the awful non-reclining seats of Frontier Airlines, I was actually able to get some sleep on the flight. I got to work a little late and was more productive than I expected.
Driving Route
The total driving time for our route was 11.5 hours. I liked how we split up the driving time. We didn't have to spend too long driving any particular day. My map of our route is below.
Costs
I spent $858 total on this trip. Here is my cost breakdown (per person):
Flight $285

Rental car $40

Gas $20

Hotels $170

Antelope Canyon tour + tip $30

Gear rental $25

SUP rental $45

Ubers & parking $15

Souvenirs $90

Restaurant meals $95

Groceries $15

Park entrance fees $28
Weather
The weather was perfect the weekend we went! Vegas was hot with highs in the 90s. The Grand Canyon was chilly (lows in the 30s / highs in low 70s) and a second layer felt perfect when we weren't walking around. Page and Zion had highs in the low 80s. It was primarily sunny the entire time we were there. I was glad we didn't wait to go any later in the summer, before it gets really hot.
Time Zones
Time Zones are something I originally didn't account for. Las Vegas is in the pacific time zone. Arizona is in the mountain time zone, but the state doesn't follow daylight savings (no idea why), so when we were there it was essentially on pacific time. Utah is in mountain time. We ultimately lost an hour when we were driving to Utah, but gained it back on our drive back to Vegas.
National Park Pass
The national park pass costs $80 and is good for one year from when you buy it. To get into the Grand Canyon, Glen Canyon (Lake Powell), and Zion, the separate park fees totaled exactly $80. It made more sense for us to get the annual pass in case any of us wanted to go to a national park sometime in the next year (highly likely). It also made entering the park way easier, so we didn't have to stop and pay every time, just flash our pass and be on our way.
---
You may also be interested in:
Hoover Dam and the Grand Canyon
Antelope Canyon, Lake Powell, and Horseshoe Bend
Hiking Angels Landing in Zion National Park