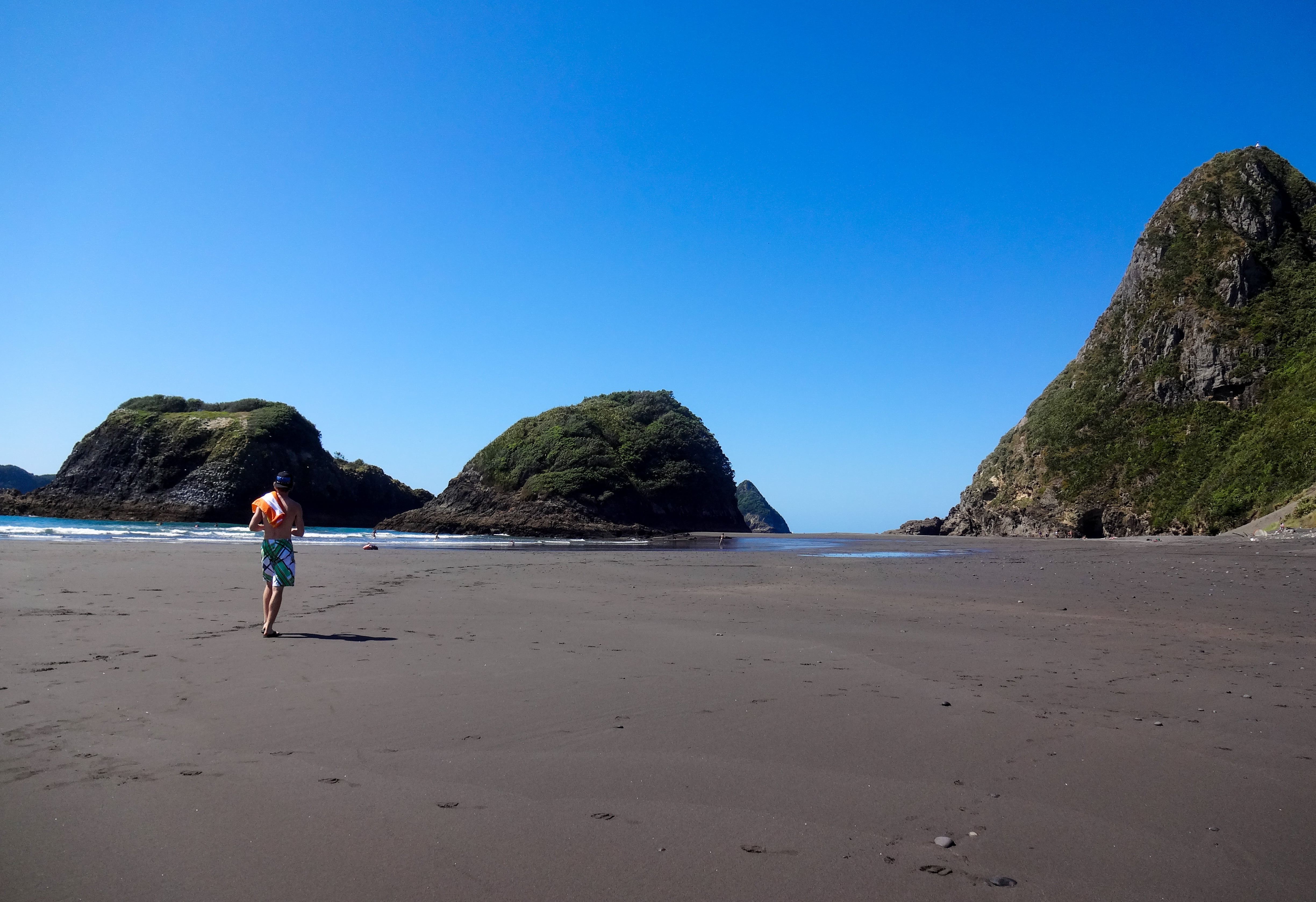 On the third three-day weekend of my study abroad program in New Zealand, six of us took a road trip to New Plymouth, a city on the west coast of the North Island. New Plymouth is known for its black volcanic sand beaches, protruding seamounts, and proximity to Mount Taranaki.
Friday
Our first planned stop was to see the Rivendell site from the movie the Lord of the Rings, which is just north of Wellington (our home base). We drove down an extremely narrow and winding road that was terrifying whenever another car passed us. When we finally arrived at the site, we realized that we would have to hike a little way to get there. We weren't dressed for hiking, so we moved on to our next stop, Feilding, but not before we stopped to take pictures with some friendly cows.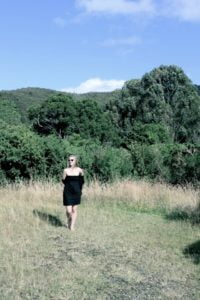 Feilding has won the award of "most beautiful town of New Zealand" 16 times! The town was very charming, and I could see why. We ate lunch at a bakery and walked around the farmers market that was set up on the streets. I tried apple wine from a very friendly vendor at the market.
By the time we got to Whanganui, we were in need of a bathroom and coffee stop. At our stop, we came across a beautiful garden next to a lake with lots of birds. The lake is called Lake Virginia and the gardens are called Winter Gardens. Entry is free, and we walked through the gardens for a bit, taking in all the tropical flowers. There is also an easy path around Lake Virginia that we didn't take advantage of, but definitely would have if we had more time! I grabbed ice cream before we left for New Plymouth.
We had campsite reservations at the Fitzroy Campsite in New Plymouth. Since none of us had phones or GPS, we asked some friendly locals where the campsite was when we got into town. It was so nice! Our view was incredible, overlooking the beach, ocean, and seamounts. We set up our amazing three-bedroom tent and then drove into town. The six of us ate dinner at a sushi place.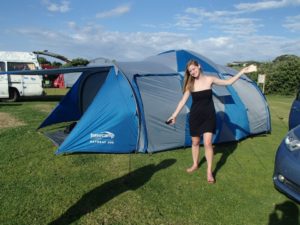 After dinner, we walked down on the Coastal Walkway, a nice paved track along the ocean with great views. They have some interesting statues and art installations as well.
On our way back to the campsite, we noticed an advertisement for the Festival of Lights. We decided to check it out. It was free and really cool! The whole garden was decorated in lights. There was a cover band at the festival and we happened to catch the last few songs.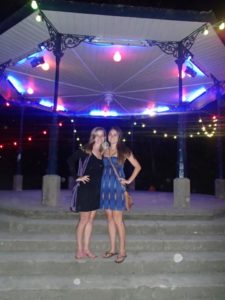 We came back to the campsite and walked down to the beach with a bottle of champagne. We met some locals and they told us to find a lagoon tomorrow at Back Beach that not many people know about. I loved how well our unplanned day turned out!
Saturday
Chris and I woke up early to take Kaitlin and Peter to hike Mount Taranaki. Chris, Kaitlyn, Leonid and I planned to spend the day on the beach instead. When we got back, we did yoga at the campsite and enjoyed the fantastic weather. We drove into town and ate breakfast at a bar outside.
The black sand beach was only a 10-minute walk from our campsite, so we went down and laid out. Next, we drove to Back Beach, in hopes of finding the secret lagoon the locals told us about. We followed their instructions, and all swam out between two seamounts. The current was pulling us towards the mounts, while we were trying to swim back to shore. We were all cold, and then Chris got stung by a jellyfish, so we didn't end up finding the lagoon. When we finally made it back to the beach, we laid out on the hot black sand to warm up.

Our plan for the night was to have a bonfire at the beach and make dinner. We stopped at a grocery store on the way back from the beach to get sausages and veggies for dinner. Once we had picked Peter and Kaitlin up from their hike (which they loved, by the way), we went back to the campsite to set up for dinner. Half of the group collected wood for the bonfire on the beach, and the other half prepared food in foil packs. We cooked the sausages on sticks and threw the veggie foil packs on the embers. It was an amazing night under the stars. This was also the night that we created New Zealand s'mores: two Tim Tams (New Zealand cookies that I fell in love with) with a toasted marshmallow in between!
Sunday
We were planning to hike Mt. Taranaki this morning, but when the alarm went off at 7am, we decided to skip the hike and sleep a couple more hours. The rest of the day was fairly uneventful. We stopped for breakfast in New Plymouth before making the 4.5 hour drive back to Wellington.
Overall, I loved New Plymouth and our road trip. It was a great weekend!
---