I spent six weeks studying in New Zealand in January and February 2013. I went with a program from Georgia Tech (my alma mater) with 49 other GT students. After New Zealand, we spent four weeks in Australia and two weeks in Fiji. It was an experience of a lifetime, and one that truly spurred my love of travel.

Our first weekend trip in New Zealand was to the beautiful national park of Abel Tasman. The park is located on the north side of the South Island. We left Wellington early Friday morning and took the ferry to Picton. We then rented cars and drove the rest of the way. All of our group stayed in the Paradiso Hostel located in Nelson, about an hour from Abel Tasman.
Friday
We got up really early and walked to the ferry terminal. It was a bit confusing to find, but we made it to the terminal before final boarding call. The boat was a lot bigger than I expected. We sat up on the top deck and took pictures of the scenery. It was nice and warm outside until we started moving. The wind was brutal, but the stunning scenery when approaching the South Island made up for the discomfort.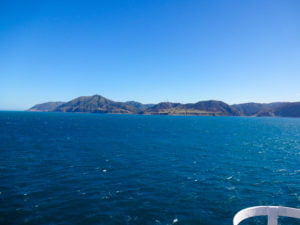 Our group got off the boat and walked to the rental car place to get our cars. I was one of the drivers because New Zealand requires you to be over 21 and I was one of the few that actually was. It was my first time driving on the left side of the road! We named our car Sheila and the other half of the group's van Bruce. We wanted the names to portray New Zealand Kiwis. From Nelson, we headed straight for Abel Tasman park to hike. The entire drive was jaw-droppingly beautiful. Each time I rounded another curve, my mind was blown again, as I had never seen any scenery as beautiful as this. I also noticed that the beaches along the drive were huge! It was low tide, and when high tide came later that evening, there was no beach at all.
We parked in Marahau (the southern side of the park) at the closest public parking we could find to the south side of the Abel Tasman Coast Track. From here we walked about 3.5 miles to Apple Tree Bay. The hike was gorgeous. It starts out along a very long bridge that goes over a marshy/sandy area. Then it climbs up along a cliff through a forest, allowing you to still see the ocean below on parts of the hike. The trail continues on for a total of 37 miles, but we stopped at the Apple Tree Bay beach and played on the rocks for awhile before heading back.
On our way back to Nelson, we wanted to stop for dinner. Most of the restaurants were already closed and it was only 9 pm! We finally found a seafood restaurant called Styx and I got a seafood pizza. We didn't know exactly how to get to the hostel, but somehow stumbled upon it. As we were pulling onto the street, I turned onto the right side of the street. My backseat driver friends screamed "LEFT SIDE!" and I was thankful it wasn't a busy street! We chilled at the hostel that evening since we were getting up early the next morning.
Saturday
We woke up very early again, had toast for breakfast at the hostel, and drove to Abel Tasman. We rented our kayaks from Marahau Sea Kayaks and headed to the ocean. They gave us a brief orientation about how to roll our kayaks if we got turned upside down from the waves.
We paddled for a couple hours and stopped to have lunch on the beach. I was glad we packed PB&Js because I was starving! It was perfect weather outside, but the sun was intense! I must've applied sunscreen half a dozen times and still looked like a lobster at the end of the day.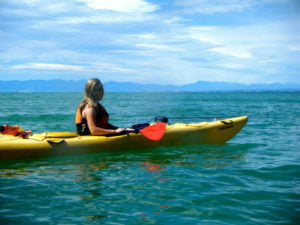 After that we paddled over to some coves and caves to explore. Next we paddled around another island where there were baby seals everywhere. We went around to the different families to take a look and then stopped at another beach. Several of us walked over to a baby seal and got within a couple feet of it. The mom was nowhere to be seen.
I sunbathed for a bit and then it was time to go back. Paddling back to shore was rough because everyone was tired, and we were going against the wind. On our way, we noticed some penguins on the shore and paddled over.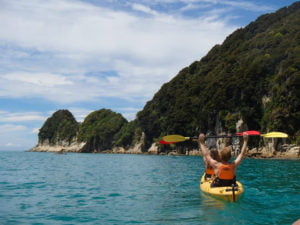 After we kayaked, Kaitlyn, Chris, Nick and I drove together. We stopped at several places along the drive to take pictures with a giant kiwi statue and some sheep we saw along the side of the road. Did you know there are about 7 sheep for every person living in New Zealand?!
We were thinking about going to a winery the next day, so we pulled in a vineyard on the way to get an idea of prices. They had just closed but the owner was super friendly. The view from his back porch overlooking the vineyard and mountains was phenomenal. Nick bought a bottle of wine and the owner suggested some restaurants we try.
The four of us were starving so we headed to a Mexican Brewery called the Golden Bear Brewery only five minutes from the winery in the town of Mapua. There was a small restaurant plaza on the ocean with a few cute restaurants. We got fish tacos and burritos with beers and then skipped rocks on the water (I attempted but failed).
We finally got back to the hostel and found a note from the rest of our group that they had gone to a bar. The four of us played cards at the hostel until we joined them at the bar in Nelson.
Sunday
After another not-so-great breakfast in the hostel, we checked out. Our 11-person group headed to downtown Nelson and got a good breakfast at a cafe. None of us had seen much of Nelson so far, so we walked around town and explored.
Later, we drove halfway back to Abel Tasman to go on a hike recommended to us by the hostel owners. We climbed to the top of a waterfall that had an amazing view at the top. The hike continued, and we were able to stand under a beautiful waterfall which was ice cold, but felt great after working up a sweat on the hike. Near the car park, there was a bridge that was about 20 feet over a river. We decided to jump off it and the thrill was awesome!
We changed and went to a Thai restaurant recommended to us by the winery owner. By the time we were done with dinner, we realized how late it was. We still had to get back to Picton (in the rain), so we only had enough time to make one ice cream stop. At our final gas fill up, we scrambled to get all of our things together. Chris and I dropped everyone off with our bags at the ferry terminal five minutes before the final boarding call. We still had to return the cars! We dropped the car keys in the rental company's box and sprinted a quarter mile back to the terminal and arrived in at final boarding. Talk about cutting it close!
It had been a long weekend and most of us fell asleep on the ferry. We arrived back at Wellington at 1:30 am and I was grateful that we had arranged to have a shuttle van waiting on us. My bed never felt so great!
---
My study abroad experience came before my passion for photography, so I've borrowed a few pictures from my friend Angelena (on Instagram @angelena_fiorito) who was on the trip with me. She is about to move to New Zealand for a year, so check out her Instagram to see her new adventures!