I spent six weeks studying in Wellington, New Zealand in January and February 2013. I went with a program from Georgia Tech (my alma mater) with 49 other GT students. After New Zealand, we spent four weeks in Australia, and two weeks in Fiji. It was an experience of a lifetime, and one that truly spurred my love of travel.
Our home base in New Zealand was the city of Wellington, located at the southern tip of the country's North Island. Its central location was perfect for us, since we took full advantage of our three-day weekends to travel all over the country. We spent two weekends in Wellington, along with all of our weekdays, so I feel like I really got to know the city. My other weekend trips included Abel Tasman, Lake Taupo, New Plymouth, and Queenstown.
Wellington is the capital and second biggest city in New Zealand, after Auckland. It is much smaller than Auckland, with a population of just over 200,000. The city is very walk-able, although it is really hilly. We didn't have cars while we were here, so we walked everywhere. Our group stayed at the Weir House, a dormitory at the Victoria University of Wellington. It is located at the top of a huge hill, so needless to say, we were in shape by the end of our trip! I've made a guide of everything we did in Wellington that I thoroughly enjoyed.
Activities
Te Papa Museum
The Museum of New Zealand Te Papa Tongarewa is New Zealand's national museum. I'm not usually big on museums, but this one is really cool. This was one of the first things we did when we arrived in Wellington. Te Papa features several exhibits that display New Zealand's history and culture. A big part of the culture includes the Lord of the Rings franchise. My favorite part was the life-sized trolls that look pretty menacing!
Free Concerts in the Botanical Gardens
I always enjoy going to botanical gardens when I visit a city, and Wellington's gardens are no exception. One evening after class, a group of us headed to the gardens in attempt to study outdoors. We heard what we thought sounded like live music, so we followed the sound until we found a concert! I later found out that they have free concerts every evening in the summer. What a treat!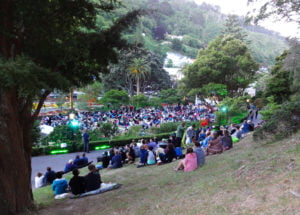 Visit the Beach at Oriental Bay
Wellington is not known for its beaches, but when you are coming from a cold climate in early January, you want to get warmed up by the hot sun! On our first day in Wellington, we went to the beach at Oriental Bay. It is fairly small and was crowded when we arrived. The water was cold, but it felt amazing to lay in the sand.
Hike Mount Victoria
If you are looking for a relatively easy hike with amazing views of the city, definitely head to Mount Victoria! You can walk a 4.7 km (~2.9 mi) loop that stops at the Mount Victoria lookout, a viewpoint that gives 360-degree views of the city. You also can drive to the top if you don't care to hike. Either way, I highly recommend.
Take a trip up the Cable Car
Wellington's Cable Car has been in service for over 100 years! The five-minute ride takes you from the city center, up to the Kelburn neighborhood (where we were staying at the Weir House). Surprisingly, I only took it once near the end of our trip and wished I would've taken it more. It only costs 4 NZD (~3 USD) one way.
Take a Lord of the Rings Tour at Weta
Weta Digital is a company that does digital effects for movies. They did all the effects in the Lord of the Rings movies, and other well-known movies such as District 9 and Avatar. They have a workshop in Wellington where they house thousands of props created for these movies. We even got to see an artist making props for a new movie and meet one of the co-founders of the company near the end of our tour!
Visit Cuba Street
The section of Cuba Street between Dixon and Ghuznee Streets is for pedestrians only and has lots of cute shops and restaurants. There were street artists playing music most of the times we went there. You can easily spend a few hours hanging out and people watching.
Watch Parliament in action at the Parliament Building
New Zealand's Parliament is located in the Beehive building. We went here on a field trip for our history class. The Public Gallery is open any time the Parliament is in session, where you can sit and watch them in action. You can also take a guided tour of the building, which we did not do. I enjoyed getting to see a part of New Zealand's culture here!
Check out marine life at the Te Kopahou Marine Reserve
The Te Kopahou Reserve is located about 15 minutes outside of town. We came here on a biology class field trip. We saw so much marine life in the tidal pools, including a huge sun star, sea urchins, brittle stars, and many more.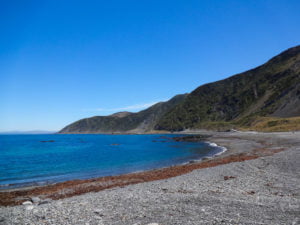 Zealandia Reserve
Zealandia is an urban ecosanctuary 10 minutes from the city. It is completely fenced in to preserve the ecosystem. Most of the wildlife you will see here include birds and reptiles. It was pouring the day we visited, but we still had a blast.
Eat & Drink
We had a chef that cooked most of our food while we were in Wellington, but I skipped those meals a few times to try some amazing places around the city.
Sprig & Fern
Sprig & Fern is a brewery and cidery chain that has several locations across New Zealand. We visited the Wellington and Nelson locations during our time in NZ. Their cider is especially amazing, and we all loved how you could take it away in 2L bottles!
Try Tip Top Ice Cream
Tip Top claims to be the world's best ice cream and I completely agree. It is sold in gas stations and ice cream shops all over the country, so it's easy to find. New Zealand's iconic flavor is called Hokey Pokey, which is vanilla ice cream with honeycomb. It was my favorite by far.
Eat a Crepe at Crepes a Go Go
This crepe stand is located street-side on Manners Street. I tried most of the sweet flavors while I was there, and they were all amazing. They also have savory flavors! How could you resist?
Kelburn Cafe
I came here for brunch once (I wish I would've had time to come more!) and got the French toast with bananas and bacon. It was amazing.
Mac's Brewbar
Mac's is in a great building located right on the water. The atmosphere was friendly and allowed us to try a few beers over the course of couple hours.
Viva Mexico
If you're craving Mexican food and are near Cuba Street, give Viva Mexico a try! We came here for lunch one day and sat out on their adorable patio. The food was delicious!
Stop by the New World grocery store
While you're in New Zealand, you should try the classics! Tim Tams (chocolate wafer cookies), Vegemite (a food spread that I was not fond of, but hey, you have to try it once!), and Anzac biscuits (cookies made with oats) are just a few.
---
My study abroad experience came before my passion for photography, so I've borrowed a few pictures from my friend Angelena (on Instagram @angelena_fiorito) who was on the trip with me. She is about to move to New Zealand for a year, so check out her Instagram to see her new adventures!