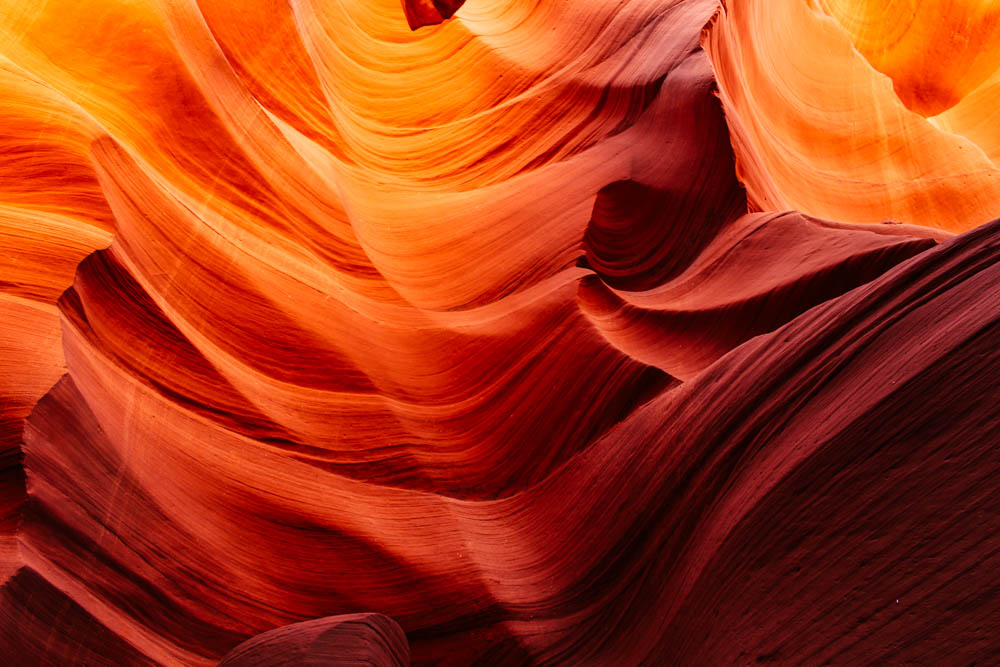 In case you missed my previous post, I recently traveled to Las Vegas, the Grand Canyon, Glen Canyon, and Zion with my friends Rachel, Ashley, and Jessie over Memorial Day Weekend. The previous day, we visited the Grand Canyon. On Day 2, we would be tackling Glen Canyon, which includes Antelope Canyon, Lake Powell, and Horseshoe Bend.
I got up bright and early at 6 am to drone outside of our hotel in Page, AZ. I wish I would've researched the location a little more beforehand; our hotel was located within 1.5 miles of an airport, so I wasn't able to fly. I got back to the room as a fire alarm started. We all grabbed our valuables and waited outside for half an hour. Luckily it wasn't a real fire and we were able to rush through our morning routines to still make it to Antelope Canyon by 8 am!
Antelope Canyon
Antelope Canyon is a slot canyon located in Page, AZ on Navajo land. Due to the high volume of tourists and vandalism issues in the past, it is only accessible by tour. We booked through Dixie Ellis' Lower Antelope Canyon tours. I'm glad we got there as early as we did. We arrived at 8 for our 8:30 tour. They asked if we'd like to move up to the 8:10 tour and we gladly accepted. It was still a nice temperature outside, which made the half hour wait to get into the canyon tolerable. By the time we were done, it was much hotter and the line almost twice as long.
The canyon is a 10 minute walk from the parking lot and it takes about an hour to walk through (including plenty of time to stop and take pictures). Our tour guide, Brandon, was really helpful and even pointed out neat places to take pictures. He also told us how far we were through the canyon so we would conserve our camera batteries to last the entire trip.
Antelope Canyon is so beautiful! No matter where I pointed my camera, I was able to get an interesting picture. I would highly suggest a visit if you are in the area.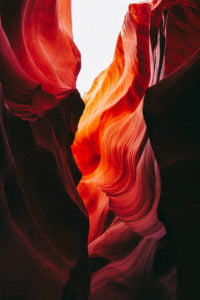 Droning
When we left the Navajo land, we pulled over and found a parking lot so I could take my drone
up. I bought it a couple months ago and have been so excited to take it on this trip and get amazing videos and pictures from a different perspective. We spent about 15 minutes recording, before heading back to the hotel to check out. We had lunch at the Chill n Grill in town and had great sandwiches.
Lake Powell
I did my research ahead of time and discovered how beautiful Lake Powell is! I had never heard anything about it, but saw that we could rent paddle boards at Lake Powell Paddleboards. The professional board-loaders stacked all four boards on top of our Kia Soul and then we drove 15 minutes, back past Antelope Canyon and to the boat ramp. The lady at the rental place was so helpful and gave us a map and directions for the best route to paddle board.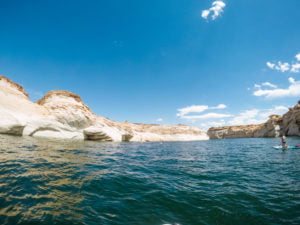 We got in the water (which was ice cold, by the way) and headed to the narrow canyon she told us about. While we were out on the open lake, there were lots of boats flying by, making it difficult to stand with the waves. We paddled on our knees most of time until we got to the canyon, a no-wake zone.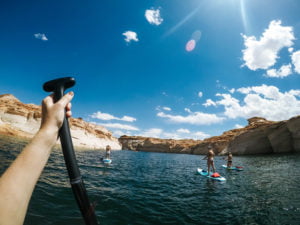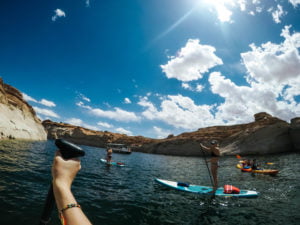 It was very hot outside, but I splashed water on myself whenever I would switch paddle directions, which felt perfect. We got to a wider part of the canyon and stopped to lay down and relax on the boards. The way back seemed longer (it always does) and we were grateful to reach the boat ramp after several hours of paddling.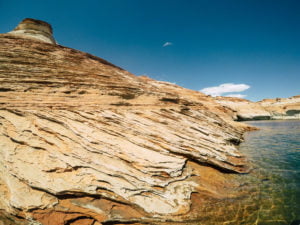 Back into Town
We somehow managed to load all four boards onto the top of our car without too much of a struggle. It definitely helped that we paid attention to how the professionals did it before we unloaded. We dropped off the boards and asked for the best place to get ice cream in town. The lady recommended Slackers. Let me tell you, ice cream has never tasted so good.
Our last stop of the day was Horseshoe Bend. This is what I was most looking forward to, and I couldn't wait to relax and enjoy the sunset. Someone got the genius idea of getting a bottle of wine to watch the sunset with, so we stopped by Walmart on the way.
Horseshoe Bend
As we approached the parking lot for Horseshoe Bend, cars were stopped on the shoulder about half a mile back. It took us a minute to realize they were actually parking because the parking lot was presumably full. Ashley volunteered to run ahead while we waited on the shoulder in our Kia. There were actually a few spots free, so we parked up close to the trail head.
We started the hike, which is only a half mile walk up over a sandy hill. Once you start coming down the hill, you can see the canyon and realize how huge this thing really is. The bend is accurately named, and is the location where the Colorado river bends in the shape of a horseshoe and has carved away thousands of years' worth of sediment.
Large groups of tourists were gathered near the center of the bend. We assumed that was where the best views were. Our plan was to start near the left side, where people were scarcer, and walk towards the right until we found a place to sit for an hour and enjoy our wine and sandwiches. The views were pretty similar all the way around, but the middle did have a really large rock you could stand on to take pictures with less obstructions below.
We walked almost all the way to the right and settled on a rock with no one near us. People gave us a few judgey looks for having a bottle of wine (and drinking directly from it), but it was worth it. Perfect end to a great day.
More Driving
The next day we would be hiking in Zion, which is a two hour drive from Page. We drove a little over halfway to Kanab, UT, and stayed in an Airbnb. I really enjoyed not staying in a hotel for a night, since we had a living room, kitchen, and two bedrooms to spread out in. We rotated taking showers and I backed up my pictures before calling it a night at 12.
See my video below on day 2 of our southwest adventure!
---
You may also be interested in:
Hoover Dam and the Grand Canyon
Hiking Angels Landing in Zion National Park