I woke up this morning so excited to get to Zion National Park and hike Angels Landing. I'd heard so many amazing things and was eager to get going. (If you missed my previous posts, you can read about Day 1 and Day 2 to catch up.) I got up at 6 am with hopes to drone around our Airbnb property. Surprise, surprise, I couldn't because we were close to an airport. It's frustrating, because a lot of these small towns have airports, and there's nowhere to stay that's a safe distance from the airports. Oh well, I was able to get some cool footage on our drive to Zion.
Kanab to Zion
We left at 6:45, with hopes to get to Zion by 7:45 and beat the crowds. After a few stops along the way, it was closer to 8 by the time we got there. We came in through the east entrance. I'm so glad we did, because we drove through the park for about 20 minutes before reaching the Visitor Center. The whole drive was gorgeous and we even saw some wildlife on the way!
Zion
There was absolutely no parking in the main lots so we drove to overflow parking and lucked out. Zion requires all visitors to park near the Visitor Center and take the shuttle around the park. Normally this would be nice, but since it was Memorial Day, it was crazy busy. Once we walked over to the Visitor Center shuttle stop, we noticed the huge line. At first, it looked like there were about 100 people in it, but then we noticed that it kept going.
As we continued down the line, I still couldn't see the end! The line ended up being at least a mile long. It literally went outside of the park. Since there were four of us, we took turns leaving the line to visit the restrooms and gift shop. At first, it felt like the line wasn't moving, but once we got near the front, we were steadily walking. I was impressed by how many shuttles they had. A ranger told us that they were letting on 68 people every 4 minutes.
We waited for about an hour and a half total, and got on the shuttle at 10. It was a later start than I had planned, so we figured we wouldn't be able to do much except for our main hike: Angels Landing. The shuttle to The Grotto stop took about 30 minutes. Finally we started our hike, in the heat of the day.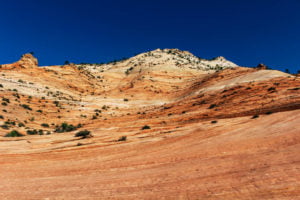 West Rim Trail to Angels Landing
Angels Landing is a fin-like mountain formation that juts out into the center of the canyon. Hikers can walk along the ridge, with steep drop-offs on both sides. Definitely not for those with a fear of heights!
From the shuttle stop, we crossed the bridge to the start of the West Rim Trail, with about 1,000 other people. I wasn't expecting the trail to be as strenuous as it is. It starts out at a pretty steep incline, and doesn't get much easier. The majority of the trail is exposed to the sun, which makes it a lot harder in the middle of the day. After a consistent climb, we reached Refrigerator Canyon, a nice shady break with a less-steep incline. Only to realize we had reached the hardest spot: a series of switchbacks that take you to the top of the canyon.
Once you arrive at the top, the West Rim Trail ends and Angels Landing Begins. There is a nice, flat lookout area, where people who don't want to continue onto the next part can wait and enjoy the view. By the time we reached this point, there were several hundred people waiting in line. We figured this was a good time to eat our sandwiches while we were waiting.
Angels Landing
After we waited for about half an hour, we started the ascent of Angels Landing. The trail is only about two bodies wide. They have a metal chain going up along the ridge that you can hold on to. This was only slightly comforting to me. The part I was most nervous about was the fact that it's a two-way trail. The majority of the trail doesn't have enough room for two people to comfortably fit, so we had to wait in groups on the side while other groups were descending.
Overall, it wasn't as scary as I expected. I kept my head down most of the time, focusing on where to put my feet. The path was wide enough so I didn't have to look down at the drop when I didn't want to. I got a rush whenever I would stop to look around. We made it to the top around 1:30. I was pleasantly surprised by how much space there was, and how few people were hanging out there. We had plenty of room to take pictures and chill for 20 minutes or so.
We decided to head back down. I was more nervous about this part, since you must look down and see the drop offs. However, it was actually easier than going up! We were going slow enough (waiting on people to take their time coming up) so my knees didn't hurt much, and we had gotten much more confident by this point, so I felt more comfortable than on the way up.
There was one scary point, when a guy trying to get around us decided to take a "shortcut" and jumped down several feet, and landed about 6 inches from the edge of the path. Everyone on the trail yelled at him and he apologized.
By the time we got back to the West Rim Trail, we were so ready to be done. Our legs were shaking and I had run out of water a while ago (before we even reached the top). I was so excited that they had fresh spring water at the shuttle stop and I filled up my water bladder and bottle. We got on the shuttle at 4:30 to ride back to our car. As we were sitting on the shuttle, an ambulance and several police cars flew by, sirens blaring, and we were so afraid someone fell off Angels Landing. The shuttle driver informed us that someone just fell off their bike and hit their head, but they would be okay.
Springdale
Our hotel for the night was in Springdale, UT, which is only a 5 minute drive from the south entrance of Zion. Since we finished our hike with plenty of time and were exhausted and hungry, we decided to get dinner and get to bed early. But first, we had to stop at Zion Adventure Company to rent our gear for the Narrows hike the next day.
We ate dinner at Bit & Spur, a Tex Mex restaurant in Springdale. I had the chicken enchiladas and we split an oreo ice cream pie for dessert. So yummy! They had a really cute porch that wraps all the way around the restaurant with plenty of seating. We enjoyed it all.
Next, we checked in at the hotel and the manager informed us that they had a hot tub. Nothing sounded better at that moment. We relaxed for awhile and then took our turns showering, before getting into bed early by 10.
See my video below on our Angels Landing hike!
---
You may also be interested in:
Hoover Dam and the Grand Canyon
Antelope Canyon, Lake Powell, and Horseshoe Bend