This was an amazing hike to the largest icefield entirely within the US! Harding Icefield is composed of 40 glaciers and spans over 1100 square miles. While you can see Exit Glacier from the drive in and other easier trails nearby, a hike up the Harding Icefield trail is required to see the actual icefield. It is possible to complete this hike in a day, or camp at the top like we did.
Harding Icefield is located in Kenai Fjords National Park. This is the only part of the national park that you can access by land. The rest of the park is only accessible by water. While it is a national park, there was no entrance fee to hike here.
Trail Info
Length: 10.2 miles round trip to the top and back, plus another 0.4 miles round trip (or more) to get to a camping spot
Elevation gain: 3800 feet
Time: it took us about 7 hours total, although it's possible to do it quicker with fewer stops
We had the most amazing weather for our two days hiking here. I actually rearranged our trip schedule because I knew we would want good weather for this hike. We were originally supposed to do this Monday night, but with lots of rain forecasted, we switched it to Wednesday. Boy, am I glad we did! At the start of our hike the first afternoon, it was about 60 degrees F. As we climbed to the top and the sun set, it was 45-50F at the top. By the next morning, it had dropped to about 20F! We had clear skies the entire time.
After completing this trail, I think about it in four distinct sections. The first section is the paved part that takes you from the parking lot to the official start of the trail. The next is a seriously steep hike up through the forest. Then you leave the trees and hike up through tundra meadows. The last part is a steep climb through lots of rocks.
You'll start the hike at the Exit Glacier Nature Center parking lot. Follow the signs to Harding Icefield.
Section 1: Paved Path
Length: About 0.9 miles
Elevation Gain: Close to 0 feet
You may be thinking "a paved part of a hiking trail?". Well when I first read about this hike, I completely negated this section, as I did on the way in. On the way down though, I had forgotten how far it really was. My body was so tired and ready to be back in the car, but we still had almost a mile left to get there. It is flat and easy though.
Section 2: Steep Forest
Length: About 1.4 miles to get to Marmot Meadows from the start of the official trail
Elevation gain: About 1400 feet
As soon as the official trail starts, the hike gains significant elevation. You will be gaining about 1000 feet of elevation per mile for most of the hike. This section is primarily through trees and you won't get much of a view, with the exception of the glacier peeking out occasionally. About 0.5 miles into this section, I was tired. The steep elevation made the entire hike feel longer in distance than it was. This part is a steady climb, with several switchbacks and few breaks.
Section 3: Tundra Meadows
Length: About 1.8 miles
Elevation gain: About 1800 feet
This is the part of the hike that really gets good! The first sign we noticed was to Marmot Meadows, a pretty meadow with the first good overlook of Exit Glacier. To see the meadow, you'll take a short side trail. We chose not to stop here, because there were several other people at the meadow and at that point, our bodies needed us to keep going. There are many amazing views to come, so don't feel like a stop at Marmot Meadows is necessary.
You'll climb up for a while through a beautiful grassy tundra void of trees with great views of the glacier. The climb does not let up though. I really started to slow down here, partly because of the views but mostly because my body was exhausted. This is the first spot where you get a good look at the Icefield, and not just the one glacier. It looked like an ocean to me, with the mountain peaks sticking out like islands.
Section 4: Rocky Struggle
Length: About 1 mile
Elevation gain: About 600 feet
About a mile from the top, the grass stops and the trail continues through more rocky terrain. It is easy to lose the trail here, as we did a couple times, especially when crossing streams. The last stretch is a few rolling hills. Every time we would approach the top of a hill, I would think "this must be the top!", but nope, another hill to go. Near the top is an emergency shelter. It was such a steep climb to get there, but I knew the top was at least close if the shelter was here. Once you get to the shelter, there are two more hills to climb and then you are there! We reached the top around 6:30pm. I felt like I had gone way more than 5.1 miles!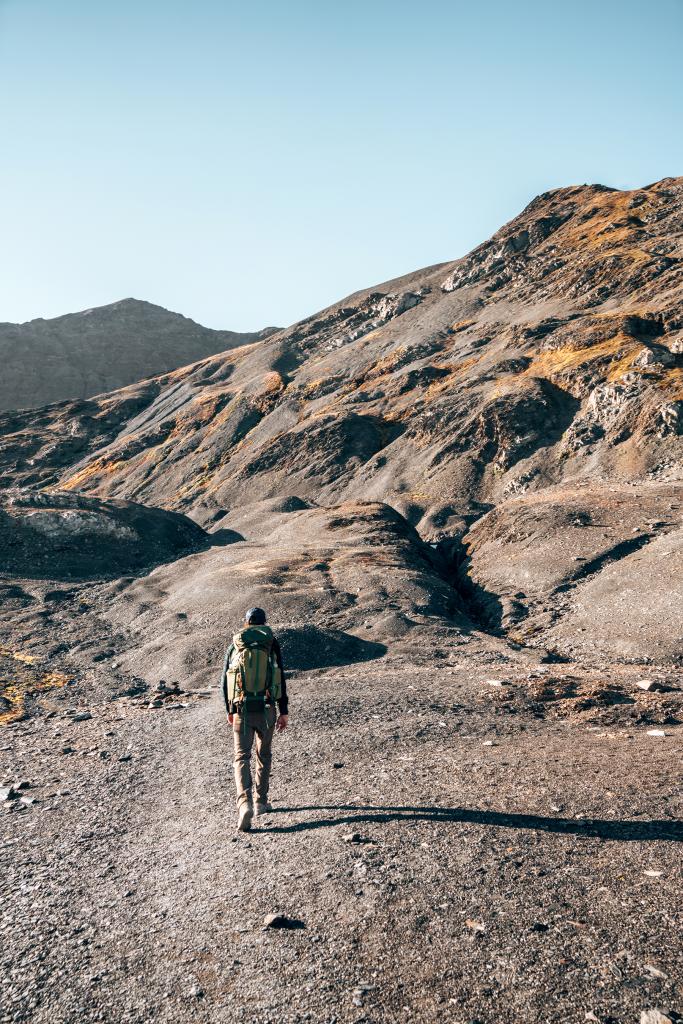 The view at the top really is spectacular. You can see nothing but the icefield for miles. We didn't spend too much time here, as we wanted to set up camp and make dinner.
Setting Up Camp
There are no designated campsites, so we weren't sure the best place to go. We ended up following the path to get down to the glacier about a quarter mile and found a few grassy, level(ish) spots. We chose one spot that was slightly enclosed by rocks on the backside, thinking it may block some wind. Of course, we had an excellent view out the front.
After setting up the tent and taking some pictures, we chose a spot about 100 feet away from our camp to make dinner. This is important when camping in bear territory. You don't want anything in your tent to smell like food in case a curious bear wanders by.
A Relaxing Evening
We had gotten a backpackers' meal (dehydrated beef stroganoff that you add hot water to) at REI while we were in Anchorage. We got one that was two servings, but wished we had gotten two because we were still hungry after sharing it! Sam and I were the only ones who camped up there that night. It was an amazing, yet slightly scary feeling. After dinner, we made some tea and watched the sunset over the mountains west of the glacier. Once the sun set around 8:30, the temperature dropped and we decided to go to bed, since there wasn't really anything else to do. We cracked open our hand warmers and crawled into our sleeping bags.
Camping Experience
I probably fell asleep by 9 and was sleeping really well until I got an elbow in my side at 1am. Sam whispered to me "there is an animal circling our tent". Not what you want to hear when you are the only ones around for miles in the middle of nowhere! After several minutes of laying in complete silence, bear spray in hand, the sound went away, and Sam drifted back off to sleep. I was still paranoid though and was wide awake for a couple more hours. We heard the sound again a little later. I'm still not sure if it was actually an animal, or just the wind moving my tent against my backpack.
After I finally fell asleep again, we woke up to the wind whipping our rain fly. It was so strong that it had pulled up several of our stakes and the tent had shifted about a foot downhill. We knew we needed to get out and re-stake the tent. Sam got out first, anchoring the stakes with heavy rocks. He got everything adjusted and I decided I may as well get up to pee, since I had been holding it since the animal incident. When we were both outside, we looked up and were in awe by the stars. I'm glad we got up! The only thing that would've made it more amazing is if the northern lights were out.
It had gotten really cold (around 20 degrees F) and I couldn't feel my toes, even with two pairs of socks on. I got back in my sleeping bag, put my beanie down over my face, buried myself in my sleeping bag and slept soundly until around 8am.
Waking Up to an Epic View
Sam woke me up and got out to make us some coffee. Once I unzipped the rain fly, I was once again amazed by how incredible our view was. I got up to join him and we had oatmeal for breakfast. We enjoyed our breakfast before packing up camp and heading down.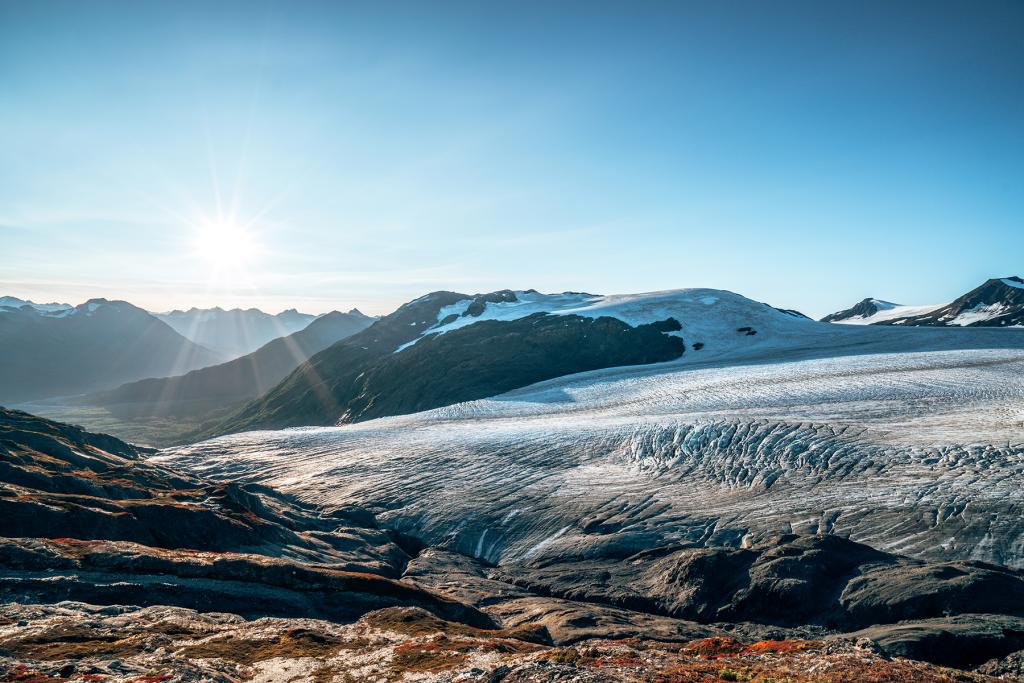 Coming Down
We left the top around 9am. I thought coming down would go quicker, but with the steepness of the trail, we had to take it a little slower to make it easier on our knees. I was really thankful I brought hiking poles to lessen the impact. As we were leaving the top, the first hiker of the day approached us and said he had passed a couple black bears on his way up. We knew to keep an eye out for them and maintain a conversation the whole time, so we didn't surprise them if we were to come into close range with them.
As we went farther, we passed more and more people who looked like they were struggling as much as I was the previous day. I was glad we were coming down at that point. I was thrilled to reach the parking lot and let my body rest after this grueling hike!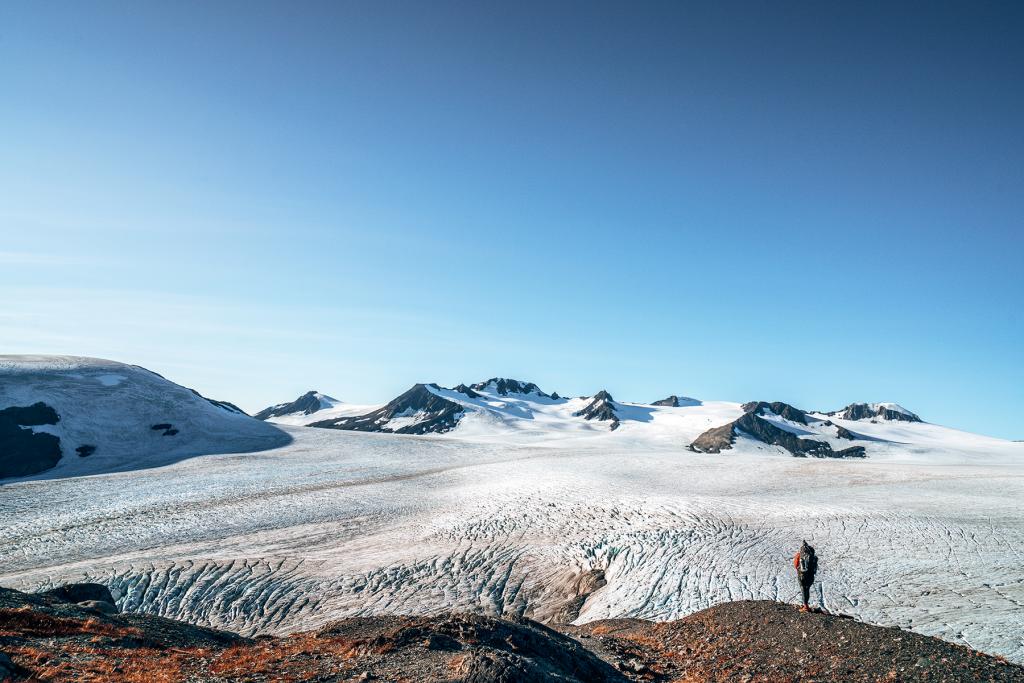 Tips
A bear canister is required and absolutely necessary. You must put all food, trash, cooking supplies, and toiletries inside. Anything that may have a human scent on it.
Bring hand warmers and be prepared for colder weather than you think it will be. Seward was forecasted to have a low of 45F that night. When we woke up, Seward was actually 33F, and it is much colder when you are in a higher elevation.
I was very glad I brought my hiking poles. I used them on the way up and down, and they helped me catch my balance a couple times with my big backpack.
Once you get to the third section of the hike, there are very few trees or shade. Bring sunscreen or a hat.
Pay attention to the direction that you should be going. The trail zigzags a few times on the last section, and it's easy to miss a turn and keep going in the wrong direction.
If you are camping, anchor the stakes of your tent with rocks on top. It gets windy!
We didn't have cell service on most of the hike, but got full LTE service at the top.
---
You may also be interested in: