Our next stop on our South American trip after the Galápagos was Cusco, Peru. Cusco was the historic capital of the Inca Empire until the Spanish conquest in the 1500s. Today, Cusco is the city closest to Machu Picchu, where most tourists spend a few days. I didn't expect the city to be as big as it is; Cusco's population is almost a half million people. While the city is large, the touristy parts are all fairly close to each other and are walkable.
The elevation of Cusco was much higher than either Carson or I had ever been before: 11,000 feet. I didn't notice its effects until a few hours after our plane had landed.
Airbnb
We stayed in an Airbnb very close to the main square called Plaza de Armas. Our host, Robert, was waiting for us when we arrived and greeted us with cocoa tea on the beautiful balcony overlooking the city. Cocoa leaves are prevalent here and are used to combat altitude sickness. Robert described to us the best restaurants nearby the apartment. We were starving so we went straight to lunch at the closest restaurant.
La Chomba
La Chomba is an authentic Peruvian restaurant. When we walked in, it was clear that we were the only non-locals. There were musicians singing and everyone was having a great time. We sat down and realized that the entire menu was in Quechua, the language of the indigenous people of Peru. It took us a few minutes to realize that, but after we couldn't recognize any of the words we knew something was up. Not having access to Wi-Fi, we pointed to something that looked good that the people next to us were eating. We think that I got pork and Carson got beef. Not entirely sure though. The meal was great and a perfect introduction to Peru.
Plaza de Armas
Plaza de Armas is the main square in Cusco. It holds two large churches: the Cusco Cathedral and the Church La Compañía de Jesús. The square is surrounded by the churches on two sides in addition to restaurants and pubs on the other sides. It costs money to go into either of the churches, so we continued on to San Pedro Market.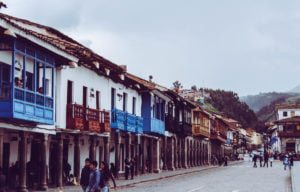 San Pedro Market
This market has all the souvenirs you could ever dream of buying plus more. And everything is incredibly cheap! For example, we got warm ski hats for only 10 soles (about $3)! We spent a couple hours here, stopping at just about every booth and making sure we didn't see anything we liked better than the things we'd already bought.
Qorikancha & Santo Domingo Church and Convent
Qorikancha was the Inca Temple of the Sun when the Incas ruled Cusco. When the Spanish took over, they plundered Qorikancha's riches and built the Santo Domingo Church and Convent over the Inca ruins. The church is located in town and we were able to step in for free and take it all in for a few minutes. The ruins were closed by the time we got there, so we observed from outside.
Mushroom Lounge for Pisco Sours
Robert had recommended the Mushroom Lounge to us and insisted that we try a Pisco Sour while we were in Peru. A Pisco Sour is an authentic Peruvian cocktail, with the base alcoholic ingredient being Pisco. Pisco is a type of brandy produced in Peru and Chile. We went here for happy hour and got their drink special. The lounge overlooks Plaza de Armas and we enjoyed sitting at the balcony and people watching. This place had a club feel and we were the only customers there at that time. I'm guessing it gets a lot more popular as the night goes on. Great drinks though!
Inka Grill
While we were enjoying our drinks at the Mushroom Lounge, it started pouring. We had been blessed with beautiful weather in Cusco so far, so we decided that instead of complaining about walking back in the rain, we'd find a nearby restaurant for dinner instead. The Inka Grill is located next door to the Mushroom Lounge and we didn't even have to step out in the rain since the pathway is covered. This restaurant is a little pricier than some other restaurants we had considered, but the price was worth it! I got an alpaca steak covered in a fried egg, with plantains and rice as my sides. Alpaca honestly tasted like chicken and I would definitely eat this meal again!
Jack's Cafe
Jack's Cafe was recommended to us by multiple people. They have amazing breakfast and drinks. We went here for breakfast the next morning. Carson and I both ordered cocoa tea and they brought us each a somewhat large (and adorable) tea pot filled with cocoa leaves and water. I ordered a breakfast sandwich with eggs and bacon and Carson got the pancakes. We loved this restaurant so much that we came back the morning after we got back from the Inca Trail and ordered the same meals!
Horseback Tour
While we were planning things to do in Cusco, my friend Christo recommended we see the ruins near Cusco by taking a horseback tour. He gave me contact information for a tour guide he had met while he was in Cusco and we set it up. Jimmy picked us up after we had breakfast and drove us up the mountain to where the horses were. We picked our horses (mine was Napoleon and Carson's was Sebastian) and started on our tour.
We got to see some amazing countryside that I'm sure we never would've stumbled upon otherwise. It was so quiet out there, only the sheep baa-ing broke the silence. We rode for about three hours. The tour ended at the Sacsayhuaman ruins, an Inca fortress temple. We thought the fee to enter the ruins was a little steep, so we climbed to the Cristo Blanco statue next door.
Cristo Blanco
This statue can be reached by foot from the Plaza de Armas, or if you're already at the Sacsayhuaman ruins like we were, it's another 10 minute hike uphill. The statue is strategically placed, so the whole town can see it. Likewise, you can see the whole town from the base. We got a sense of how big Cusco really is.
While we were there, a little local girl came up to me and asked for "una foto". I said "no gracias" thinking she wanted to take a picture of me for money. A few minutes later, her mother came up and asked if I would be in the photograph with her. How funny! I guess they don't see white people very often.
San Cristobal Church
The walk to Plaza de Armas is a steep 20 minute hike straight down. On our way we saw a beautiful church called San Cristobal. This church had a similar view to the Cristo Blanco statue. We hung out outside here and watched the llamas graze. It was such a beautiful day out!
Lunch & Pisco Sour
We had a couple hours to kill before our next stop so we decided to get some food in the Plaza de Armas. Several hosts were standing outside with their restaurants' menus, trying to get any customer they could. We found one that had an appealing menu and the host mentioned that if we ordered an entree, we could each get a free Pisco Sour. Fine with us! I got trout ceviche with corn and sweet potatoes. The corn kernels here are HUGE by the way and so tasty.
Choco Museo
Our final stop of the day was a chocolate-making workshop at Choco Museo. We had such a great time! Our guide walked us through the entire chocolate-making process, from roasting the beans to having edible chocolate to take home. When we were pouring the chocolate into the molds, we also got to pick out extras to put inside our bars. I chose marshmallows and sea salt.
We spent the rest of the evening packing for the Inca Trail and got to sleep early.
See my video below on our trip in the Galápagos, Cusco, and Lima!
---
You may also be interested in: