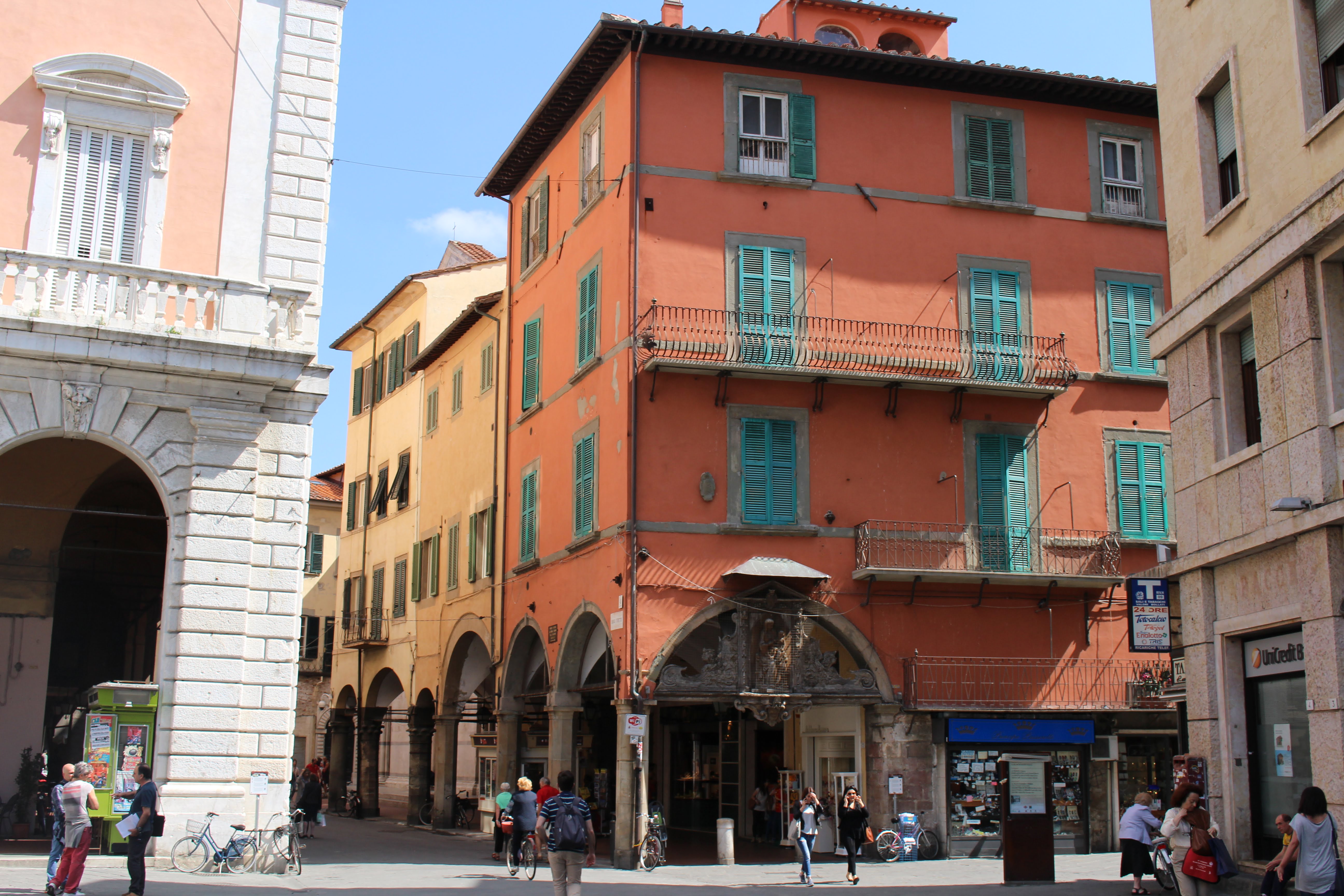 My mom and I continued on our European trip, waking very early in Rome and taking the train to Pisa, Italy. We had bought our train tickets to Florence the day before and planned on spending the day in Pisa before returning to Florence that evening. We had tried to book a taxi the night before to take us to the train station, but our limited Italian got us nowhere with the non-English speaking taxi companies. Unfortunately, we also couldn't find anyone on Uber to help us on this leg, so we went to the next plan: walk and start early.
We walked outside at 4:30 am, nervous about missing our 7 am train to Florence. The atmosphere at such an early hour was so different from the hustle and bustle of the day before. Absolutely no one was around and being on such a beautiful street felt almost like we were on a movie set! As we were walking, the only cab around happened to drive by. We flagged him down and he took us directly to the Termini train station. We arrived before the station even opened, so we sat and people watched. Eventually, a breakfast restaurant opened and we got pastries to go. It was so nice not being in a rush getting to transportation for once.
Train Ride
We rode to Florence via Italo, a high-speed Italian train company. Florence is located northwest of Rome, and it would take about 3 hours by driving. I was wondering how the train would get us there in 1.5 hours. We hopped on board and stored our luggage in the front of the car. There wasn't much space and we were glad we got on first, although that meant our luggage was at the bottom of the pile when we got off. After we had been riding a bit, I noticed the speedometer near the front of the car. 220 mph!!
The scenery, although going by very fast, was spectacular! It was typical scenery of Tuscany like in the travel brochures: the tall Italian Cypress trees, Tuscan-style homes on the hillsides and soft rolling green mountains in the background. This was the only time we would see the Italian countryside on our trip and we tried to take it all in.
When we arrived in Florence, we checked our suitcases in the Left Luggage area and bought tickets for the next train to Pisa. While we were waiting, we visited the bathroom and had to pay 1 Euro each to enter. I had never seen that before and wished I had just gone on the train. The train from Florence to Pisa was not high speed, and felt more like a metro. Hot and crowded with no air conditioning, I was glad the ride was only an hour long.
Pisa
From the Pisa train station, we started walking to the only thing I knew existed in Pisa, the Leaning Tower. Forgetting to print out a map ahead of time, we just followed people out of the train terminal figuring that is probably where most of the people were going. It's about a 30 minute walk, with one section passing through a very picturesque old street full of Renaissance-style buildings that had been converted to a shopping mall, so we took advantage and stopped for lunch and a little shopping. We enjoyed some margherita pizza at lunch. I was surprised that the pizza here isn't better since it originated in Italy. I definitely prefer the pizza I've had in the States.
We walked along Corso Italia, crossing over the Arno river, and it reminded me of Rome, but more open and slightly cleaner. Since the Leaning Tower is the main attraction here, from this point we were able to follow everyone else walking there and didn't need a map. When I finally saw it from afar, it looked unreal. In pictures, it almost looks like the photographer angled the camera, but in real life you can tell that it is definitely crooked.
Leaning Tower
The Tower is the freestanding bell tower of the Pisa cathedral. The reason for its tilt is an inadequate foundation and soft ground on one side. I couldn't believe that it was still standing today, after tilting like that for over 600 years. It's crazy that an architectural mistake has become so famous! It had been recently cleaned and was bright white while we were there.
We walked around the plaza and peeked in the cathedral, but everything was so crowded. We laid down on the grass and took in the beautiful weather for a while, also taking time to take the obligatory photo where I was holding up the tower, before heading back to the train.
---
You may also be interested in:
How to Spend 24 Hours in Florence