My mom and I spent 2.5 weeks in Europe after I graduated college in May 2015. We visited Italy and Greece, with a stopover in Dublin. In Italy, we spent 4 days in Rome, 1 day in Pisa and 1 day in Florence.
Flying to Rome from Dublin
We got to the airport dark and early to find several very long lines to the Ryanair check-in desk. Mom and I had never flown Ryanair before, and we were glad we got there when we did. We got all the way through one of the lines and were told we were supposed to print our boarding passes before we got there, so we had to stand in another very long line to pay to get our passes printed. By the time that was done, we had about an hour to get through security and get to the gate, so another sprint was required. My mom wasn't doing so well after she hurt her knee in the airport yesterday, but she somehow made it. Turns out, we sprinted just to we could stand in line at the gate for another 30 minutes.
Getting to Town from Ciampino
Getting to see the Vatican and Colosseum from the air was amazing. Once we landed in the Ciampino airport in Rome we had to wait in another long line for the bus to get to the town center that we paid for on the plane. I guess everyone else on our flight had the same idea. There were a few other buses with no lines and I wish we had just waited until we got there.
Here I was in a beautiful city that was brand new to me, I slept the whole bus ride. I could barely keep my eyes open. From the bus drop off, we took a cab to our apartment on the Via del Corso that we found on Airbnb to check in and drop our bags. First stop: food! I tried the spaghetti carbonara that everyone raved about and was not disappointed. The streets are so adorable and I couldn't get over how everything is so charming, like Disney World, except that this was the real thing.
Colosseum
As an introduction to Rome, we decided to see the Colosseum first, so we walked all the way there from our apartment. By the way, it doesn't look as far on the map as it is in actuality. The view of the city as we walked displayed hundreds of years of the Roman past; remnants of each era preserved for the next, making layers of visible history at every turn.
The Colosseum was built in 80 AD, to hold gladiator battles and contests. Today, the Colosseum is over-crowded and hard to imagine what it was really like back in the day since all that is left are the structural supports. We had downloaded the Rick Steves Audio Europe Travel app, which has free audio tours you can listen to while at certain sites in Europe. The tour helped my imagination and I could better envision 80,000 spectators watching the gladiators almost 2000 years ago.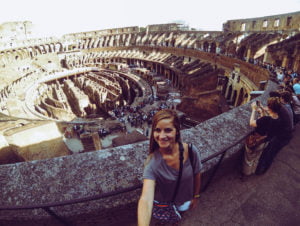 Roman Forum
Next, we went to the Roman Forum to see all the ruins from the Romans' historic government buildings. A lot of the ruins are just rubble, but there are some structures still standing. We noticed some dark clouds heading our way so we took cover in a pizza shop while getting dinner. We walked around a little after dark and got to bed early so we could finally adjust to the new time schedule.
Pastries and Cappuccinos
We had beautiful weather the next day, and we stopped at a bakery to get croissants and cappuccinos, both staples in Italy. A lot of the cafes have standing tables only, where you can sip on a small (sometimes shot glass sized) cappuccino and enjoy for a while before continuing on with your day. I love how the Italians really enjoy their meal times and sit and talk for hours. It doesn't feel like anyone is in a rush here. Pro tip: try a chocolate croissant!
Vatican
We decided to walk to the Vatican because it was only about 30 minutes from our apartment. I was so thankful my mom had bought our tickets online before we left home because the line was so far down the street, you couldn't see the end of it. I'm sure we would've had to wait for a few hours. There was a huge stone wall surrounding the city that made it look like a fort. We walked right in and went through the huge museum that was founded in the early 16th century, where the Catholic Church houses their most prized possessions, roughly 70,000 works of which 20,000 are on display, including an original mummy from the Egyptian tombs that is thousands of years old.
The museum ended at the Sistine Chapel, where no pictures were allowed to be taken, and talking was limited to a whisper. When new crowds walked in, the volume would slowly rise, then the guards would yell "silence" in several languages and the sound dropped off. The beauty is indescribable and we stood there for about an hour and stared at the artwork.
We went outside and to St. Peters through a secret door only for tour groups. It felt sneaky, but I'm so glad we did because the normal line to get into St. Peters looked like it would take multiple hours. The Basilica was amazing and huge. It's two football fields long and holds 60,000 people- the largest church in the world! Everything is ornately decorated. I'd never seen a church like this before. I was completely in awe.
Walking in the Rain
When we were ready to leave, we walked outside and it was raining. We ducked under some of the only covering there is and got our rain jackets and ponchos out. The weather report showed no break in the rain any time soon. We accepted the fact that we were going to get wet. We set out in the downpour and were instantly soaked.
I didn't think ahead of time about how difficult it would be to navigate with a paper map in the rain. I navigated with my phone which seemed to take us the most roundabout way. It took over an hour to get back, but I was having so much fun being carefree in the rain and snapping pictures of the slick streets. After a snuggly nap in my dry bed, we went back out for dinner, walked around getting souvenirs, and hung out on the Spanish steps.
Spanish Steps
The Spanish Steps link the Spanish Embassy and Trinità dei Monti church with the piazza below. Today, it is a common place for people to come and hang out on the steps. While we were here, the church at the top was being renovated, so we didn't get the classic view from below. We read about being careful about pick-pockets in this area and were cautious, but never felt threatened by anyone or anything going on here.
Cathedrals around the City
We stopped in several cathedrals around Rome- they're everywhere! You can go in most of them for free. Each one is so ornate and jaw-dropping. I wish more US churches were like this! Keep in mind that it is respectful to have your shoulders and knees covered when inside, and some churches will ask you to leave if you don't follow these rules. I kept a sarong to wrap around my waist when I was wearing shorts.
Trevi Fountain
The Trevi Fountain is the largest baroque fountain in Rome. It is believed that if you throw a coin into the fountain with your right hand over your left shoulder, you will return to Rome one day. While we were here, the fountain was under renovation and all of the water was gone. But they did have a bridge walking over the fountain! There was a sign requesting no coin throwing, but we had already done it before we saw the sign. How could we not want to return to this place?!
The Food!
How does anyone living in Italy not weigh 300 pounds? I swear, I gained at least 5 pounds in just the week I was there. There are so many cute restaurants, located off the beaten path with the most incredible atmosphere and mouthwatering food. I ate pasta for most meals with wine, since it is typically cheaper than water here. My favorite Italian food is lasagna, and I literally had that for at least half of my meals. Each time, it was different, with each person's unique spin on it.
Pantheon
The Pantheon is a former Roman temple (now church) that was built in 128 AD. Most of the building is a rotunda with concrete dome. There is a circular hole in the top that allows light inside. When it is raining outside, it's also raining inside. There are no light fixtures inside- everything is lit by only the sunlight. It's incredibly well preserved. It sure doesn't feel like it was built almost 2000 years ago!
Piazza Navona
This Piazza has two large fountains on either end, one of them being the famous Four Rivers Fountain, with tons of local artists in between, displaying their work. There are churches and restaurants surrounding it, making it a very popular tourist place.
Trastevere
The Trastevere neighborhood is on the west side of the Tiber River. It is said to be one of Rome's favorite neighborhoods, and I understood the appeal. After meandering through the narrow ancient streets, we came across the Piazza de Santa Maria, where a large fountain was placed. Several people were sitting on the steps surrounding the fountain and we thought this would be a good place to rest our feet. We stepped inside the Basilica de Santa Maria and it was beautiful. It is one of the oldest churches in Rome and is famous for some of its mosaic works.
My Thoughts on Rome
How could you not fall in love with Rome? I've heard from several friends that Rome is overrated and overcrowded. I completely disagree. Yes, the tourist destinations like the Colosseum and Vatican were packed, but it was easy to step off onto a side street to get some peace and quiet. Rome, I will be back!
Next stop: Pisa. Stay tuned!
---
You may also be interested in:
How to Spend 24 Hours in Florence