I traveled to Peru and Ecuador for 12 days with my friend Carson in March. I wanted to give you guys the logistics of my vacation in case you are planning a similar trip.
Trip Itinerary
Day 1 – Fly from Atlanta to Quito, Ecuador in evening; stay in Quito

Day 2 – Fly from Quito to Guayaquil (1 hour layover) to Galapagos; rest of day in Galapagos – beach and Darwin's Research Station

Day 3 – Galapagos – Tour of Santa Cruz island, Tortuga Bay

Day 4 – Fly Galapagos to Guayaquil (1 hour layover) to Quito (4 hour layover) to Lima; stay in Lima near airport

Day 5 – Fly Lima to Cusco, rest of day in Cusco

Day 6 – Cusco

Day 7 – Inca Trail day 1

Day 8 – Inca Trail day 2

Day 9 – Inca Trail day 3

Day 10 – Inca Trail day 4, Machu Picchu, back to Cusco

Day 11 – Fly Cusco to Lima, rest of day in Lima

Day 12 – Leave Lima at 1 am, land in Atlanta 9 am
Getting to the Galapagos
The Galapagos Islands are located about 600 miles off the shore of Ecuador and it is a hassle to get there. On day 2 of our trip, we flew from Quito to Guayaquil and had a 1 hour layover. In the Quito airport, we got our bags checked before the security line, which is required when visiting the Galapagos. They make you buy a transit control card  ($20) to show them when you enter and exit the island. This helps them keep track of who all is there.
Luckily, we were able to stay on the plane at our Guayaquil layover so we didn't have to deal with the boarding process. We landed at the Baltra airport, which is on a separate island from Santa Cruz. When everyone enters the airport from the plane, they must pay a $100 national park entrance fee. Then, they inspect the inside of your carry-ons, and a drug-sniffing dog inspects your checked bags. It's a long process that you should allow at least 30 minutes for.
Santa Cruz is very close, but you must take a bus from the airport to get to the ferry. The ferry cost $1 per person. We then took a bus from the ferry to get to the opposite side of the island. I didn't realize how big Santa Cruz is! It took about an hour to get to the town of Puerto Ayora, where we were staying. That bus ride only cost $2, which is a bargain compared to the $20+ taxi rides. When we got dropped off on the main strip, we walked another 5-10 minutes to our hostel. These roads are not made for dragging large suitcases on. I'd recommend taking a taxi from the bus, as they only cost a dollar or two in town.
Currency in Ecuador
Ecuador uses the American dollar as their currency. How convenient! Everything in the Galapagos is very expensive for South America. It is slightly more expensive that what I'm used to paying in Atlanta, but still an affordable trip once you're there.
Currency in Peru
Peru's currency is the Peruvian Sole. 1 US dollar was equivalent to about 3.3 Soles when we were there. However, everything is extremely cheap here! Prices were about what I would expect in US dollars, and I had to keep reminding myself that I could divide that price by 3 to see what I'd actually be paying!
Trip Cost
I spent about $3,200 overall on this trip. Flights cost $1,700 for all of the legs. Our Inca Trail Trek cost $700, leaving approximately $800 for lodging, food, travel insurance, taxis/ubers, activities and the entrance fee to the Galapagos. I also ended up spending another $400 on a new GoPro after I dropped my old one in the ocean!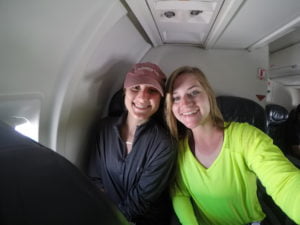 Language
The official language of Ecuador and Peru is Spanish. When we were preparing for our trip, our friends that had visited these countries said that we would be fine as English speakers, because everyone speaks English here. Wrong! In the Galapagos, almost no one that we encountered spoke English, and the few that did only knew basic vocabulary. Google Translate saved us a few times. I was glad I had brushed up on my basic Spanish using the Duolingo app. More people spoke English in Cusco, but it was still a struggle at times.
Weather
The Galapagos islands are HOT! The weather forecast predicted it to be in the high 70s when we were there, but we were instantly sweating when we got off the plane. It was at least 85 both days we were there and fairly humid.
Our Cusco weather was perfect. We were really bummed when we checked the weather a couple days ahead to see 80% chance of rain the whole time we were in Cusco and on the Inca Trail, but we really got lucky! It was in the high 60s during both days and only rained once both days we were there. When it does rain, it pours, and it only lasts for an hour or two.
When we got off the bus for the Inca Trail, the it was raining. It only rained one other time, and part of Day 3 we were walking in a cloud, but besides that we had good weather. It changes quickly; one minute it is hot and sunny in the valley, and when you approach the passes at higher elevations, it is cold and windy. Dress in layers!
Lima is coastal and much warmer than Cusco and other cities up in the mountains. It was sunny and 85 degrees the day we were there, making it very hard to return to the 40 degree rain in Atlanta the next day.
Bikes in Galapagos
Santa Cruz, like I previously mentioned, is much bigger than I expected. It was really nice to be able to ride our free rental bikes from our hostel around town. The coastal part is very flat, and an easy ride. If you ride up in the highlands, however, I'd imagine it's much harder. We didn't have time to go up there. All of the roads in town have designated two-lane bike roads that are separated from the street, making me very comfortable while riding there.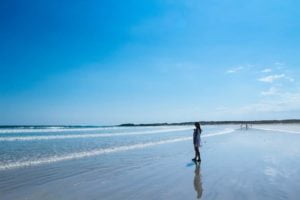 Water
Don't drink the water! It has bacteria that we aren't used to in the US. We bought bottled water until we got to our Airbnb in Cusco. It was actually difficult to get at restaurants sometimes. We bought the gallon jugs and just refilled our water bottles to take with us during the days. In Cusco, we had a kitchen so we could boil water and save some money.
Elevation in Cusco and the Inca Trail
Cusco is at an elevation of just over 11,000 ft. The highest elevation I had been before was only about 5,000 ft so this was a big jump. Carson and I bought altitude sickness pills before our trip. You must have a prescription when buying them in the states. You can buy them over the counter in Peru. We started taking them two days before we got to Cusco. I didn't feel the elevation effects at all until we were there for a few hours. Once we started walking at a quick pace uphill, I noticed I was getting more out of breath than usual. We slowed it down a bit and I felt fine. Carson never felt any symptoms in Cusco.
On the trail, I felt fine the whole time. The only time I really felt it, was when I was climbing up the mountain. It definitely made it harder to breath. Carson suffered from altitude sickness on days two through four of the trail. She was dizzy, had a headache, and her vision was going in and out.
Travel Insurance
Travel insurance is one thing I will never go without when on an international trip! This covers a wide range of things, from emergency medical (which can have huge charges in a foreign country), to loss or damage of baggage. This trip was the first time I've ever had to file a claim though! I claimed my lost GoPro with my World Nomads insurance, and was reimbursed the replacement cost of my old GoPro! I'd say it's absolutely worth it, only costing about $75-100 depending on how long you're gone.
I think that covers it! Read my previous posts to catch up on the rest of my trip.
See my video below on our trip to the Galapagos Islands, Cusco, and Lima!
---
You may also be interested in: