My friend Carson and I had traveled to the Galapagos Islands, Cusco, and the Inca trail on our South American trip so far. On our last day in Peru, we flew from Cusco to Lima in the morning. We spent the rest of the day in Lima, before flying back to Atlanta that night.
Lima is huge! I had no idea but the population is over 8 million. There are people walking everywhere, and it kind of reminded me of New York in that aspect.
Lima Airport
The Lima airport is chaotic and unorganized. When we got off our plane from Cusco and went to the baggage carousels, everyone from our flight was gathered around the announcement screen for at least 20 minutes waiting to find out which carousel our luggage would be coming out on. How hard is it to assign us to one of the empty carousels?
Since it's a single runway airport, most flights are consistently delayed, and the gate number isn't even displayed until the flight is supposed to take off. We freaked out a couple times before we learned that.
Carson and I checked our bags in the Left Luggage area in the airport for the day and went outside to look for a ride into town. We were bombarded with taxi drivers standing at the entrance asking if we wanted a ride, but their price quotes were outrageous. We decided to go with Uber, since it was a much more reasonable price and we were low on soles (Peruvian currency).
The airport is so busy that the front pick-up / drop-off lane is jam-packed with traffic 24 hours a day. The Uber driver accepted our ride as he was passing the pick-up area so we had to wait 30 minutes for him to circle the loop again and pick us up, with the taxi drivers hassling us the entire time. We finally got picked up and headed straight for La Iglesia y Convento de San Francisco.
Iglesia y Convento de San Francisco
After we were in the Uber for a little while, I opened Google Maps on my phone (I downloaded the maps ahead of time so I didn't have to use cellular data) to check that we were going the right way. Nope! Drivers here don't seem to like to use GPS. We had to tell the guy to turn around a few times, even though he claimed he knew where he was going. When he pulled into a gated residential community, we knew he didn't.
After an hour long trip that should've taken half the time, we arrived at the beautiful Church and Convent of San Francisco. Construction of the Spanish-style buildings was completed in 1774. We headed for the tour line and were pleased to hear that they provide tours in both Spanish and English! The tour was cheap (about $2) and lasted an hour. Forgive me for not having pictures, no photography is allowed inside!
We were most impressed with the library. It holds 25,000 historic books and has spiral staircases. They had large music books (think 4 feet tall) that they would display for the choir in the church back in the day.
When we were done with the church tour, we walked downstairs to the catacombs. It's estimated that 25,000 bodies were buried here in order to be closer to God. The only bones that remain today are the skulls, legs and arms because those are the strongest bones and haven't disintegrated.
Main Square of Lima
From the church, we walked about two blocks to the main square. We were here on a Sunday afternoon and it was packed. It seemed like a lot of locals hung out here. I loved looking at the Spanish architecture and was surprised by how many buildings were bright yellow. We spent 20 minutes here enjoying the weather and deciding what we wanted to do next. The sun was starting to set and we decided to go to Miraflores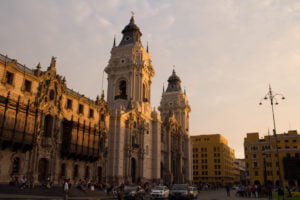 Miraflores
Miraflores is a residential and tourist district located on the coast of Peru. Our Uber driver dropped us off at Parque Salazar. This park has a great view of the ocean. We arrived just as the sun was setting over the water. Underneath the park is a large mall with tons of nice restaurants with balconies overlooking the ocean. We decided to go to La Bonbonniere for their lasagna and wine. It was the perfect last meal of the trip!
Parque de la Reserva
Several people had recommended visiting Parque de la Reserva. The park has several large fountains that light up with music. It sounds cheesy but it was actually really cool! It only cost 4 soles to get in. We spent about an hour here walking around and watching the kids jump in and out of the fountains.
I started out annoyed with Lima (thanks to the airport), but by the end of the day I really loved it! I would definitely come back and spend more time here.
See my video below on our trip to the Galapagos Islands, Cusco, and Lima!
---
You may also be interested in: