Burj Khalifa and Dubai Mall
The Burj Khalifa is the tallest building in the world at 154 stories or ½ mile tall! My friend Rasha who I was visiting had already been to the top, so I did this trip solo. I booked my appointment online the day before, meaning I just had to show up at my designated time and walk right in. However, finding the entrance to the Burj inside the Dubai Mall was a challenge in itself. I took the futuristic-looking metro to the mall and walked over the very long skybridge to get inside.
Once inside the mall, there are hardly any signs to find the Burj! The Dubai Mall is the largest mall in the world (by total area). It is four stories tall and holds over 1,200 stores. You can imagine how I got lost. I had to ask three people for directions before a janitor finally pointed me in the right direction! I barely made it to my appointment in time. When I arrived, they sent me straight on to an almost-full elevator that propelled us all the way to the top in about 60 seconds.
I arrived at level 125, which is the second highest level that visitors can go. Admission to this level is a considerable amount cheaper than the exclusive top level, and I figured I could see just as well from a few floors down. They have an observation deck that is open to the outside where you can get a great view of the city. You are so high up that the rest of the skyscrapers in Dubai look tiny. I was able to see "The World" man-made islands that are constructed in the shape of a world map. I stayed at the top for about 30 minutes and then came down and met Rasha for lunch in the mall.
We finished lunch just in time to see the free fountain show at 1pm right outside of the mall. Middle eastern music plays while the fountains dance in front of the Burj Khalifa. It only lasts a few minutes, but is worth checking out. After that we walked around the mall to see the aquarium and waterfall inside!
Sailing
Rasha loves to sail and has friends in Dubai that are part of the Dubai Offshore Sailing Club. The club is exclusive, but you can pay a small fee to receive a guest pass if you know a member. We came here after the mall and chilled on the club's private beach for a couple of hours. On Tuesdays, they have casual sailing races so Rasha and I joined. I don't have much sailing experience, so I mostly observed and took pictures. We were out during sunset and the view was incredible. We were sailing along the coast by the Burj Al Arab, one of the most luxurious hotels in the world. The architecture of the hotel mimics that of a sailboat, so it felt very appropriate that we were viewing it while sailing.
When sailing was over, we stuck around at the club and had dinner and a couple of beers. While it's generally illegal to serve alcohol in the UAE, there are a few places like hotels and the sailing club that are allowed to sell it.
Ladies' Night
After the sailing club, we met up with some of Rasha's friends for her friend Hannah's birthday. Tuesday is ladies' night in Dubai! We walked to one of the hotels in the JBR area. The top floor of the hotel is a night club. They serve free champagne to women all night long. Unlike ladies' nights in the US which have primarily men attending, this club was 99% women. Being a Tuesday, there weren't many people there at all. A server brought out a huge bucket of ice with champagne and once we were close to finishing our drinks, they ran over and refilled them immediately. We found it a little boring and were driving to Oman the next morning, so we didn't stay too long.
Mall of the Emirates
This mall is similar to the Dubai Mall, but instead of having an aquarium, there's an indoor ski resort! I actually liked this mall better, because with only 700+ stores it felt easier to navigate and get around. We ate lunch at the restaurant PAUL. If you like French cafes, do yourself a favor and go to PAUL. I had the most amazing sandwich there, and we ate there twice the week I was in town.
Miracle Garden
The Dubai Miracle Garden is the world's largest natural flower garden, featuring over 109 million flowers. They even have a mini Burj Khalifa covered in plants! When we were there, it was covered in oranges. I wouldn't say this is a must-see, but if you have time and like flowers you should check it out!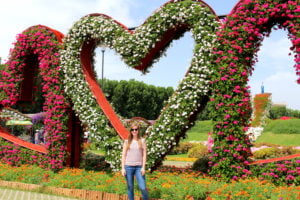 Madinat Jumeirah
Madinat Jumeirah is a resort in Dubai with several restaurants and touristy shops designed to resemble an Arabian town. We came here my last night in town and did some souvenir shopping. The shops are pricey so I only got a postcard. There is a small creek that runs through the resort and if you want to get to the other side, you must take an abra across. The abras are technically for resort guests only, but if you are going to one of the restaurants like we were, you can climb aboard. The layout of the resort can be a bit confusing, but there are lots of staff around to help you go the right direction.
We ate at Khaymat Al Bahar, a Lebanese restaurant. Rasha's coupon book had a discount, so we were actually able to afford the meal. I had shawarma (my favorite middle eastern food), seeing as this was my last meal in the middle east. We lucked out and were seated outside with an amazing view of the Burj Al Arab from our table. A belly dancer came out when we were finishing up our food (which neither of us are fond of) so we thought it was a good time to leave. We walked down to the boardwalk over the ocean right next to the Burj Al Arab and took a few pictures. Perfect last night in Dubai!
---

You may also be interested in:
Dubai Part I: Dubai Museum, Gold Souk, and Desert Safari