When we first drove into the city, I felt like I was entering the future. Skyscrapers are everywhere and so many of them have creative architecture. This makes sense because Dubai is relatively new compared to most modern cities. Dubai found oil in the late 1960s, and after that the metropolis started to boom. Since the city was built so quickly, the roads are laid out very inefficiently. To get to my friend Rasha's apartment we had to circle around her building twice on multiple exit ramps. That can be a nightmare when dealing with rush hour.
Dubai has a population of around 2.7 million, which seemed really low to me considering all of the apartment skyscrapers I saw. I'm assuming those aren't all at 100% occupancy. The city itself is very narrow. You can get to the desert from the coast in about 20 minutes.
My overall thoughts on Dubai:
Just about everything is more expensive here than the US. You can easily pay over $30 per person for a casual meal.

I felt safe the entire time I was here. Dubai has a very low crime rate and people were very friendly and welcoming in general.

The UAE is an Islamic country. You must be respectful of their culture, including the way you dress. I was so glad I was with a friend that is familiar with the culture, so I could ask her if I was ever unsure if it was okay to do something.

It's extremely hot, even when I went in April! I brought jeans to wear a few days, and regretted it. The most comfortable outfit I brought included a pair of flowy cotton pants and a lightweight cardigan that allowed air to circulate.
Dubai Museum
Rasha made sure I experienced the cheesiness of the Dubai Museum. The entrance fee is only 3 dirhams (about $1) and it is quite entertaining. The museum is located inside the Al Fahidi Fort. It goes through the history of Dubai, and has several figurines of the Emirati people throughout the ages. It kind of reminded me of the old Spaceship Earth ride at Epcot in Disney World. We walked through the museum, not taking too much time to read everything, and spent about 30 minutes there.
Souks
From the Dubai Museum, we took an abra (water taxi) across Dubai Creek to get to the souks. There are several different souks, including the gold souk, spice souk, and perfume souk. We stuck to the gold souk to see the largest gold ring in the world, which is currently valued at $3 million. I would hardly call it a ring since it's bigger than my head. Most of the items here were way out of my price range, so we stuck to window shopping. This area is super touristy, and the shop owners will harass you to come to their stores and buy something. I recommend that you definitely haggle on the prices! I bought a magnet that was originally priced at $20 and I was able to get it down to $5.
Desert Safari
My #1 goal of this trip was to ride a camel. I had read that there were desert safaris that take you out to the desert, let you ride camels, take you dune bashing, and fix you a nice meal with belly dancing as entertainment. I decided we were doing it and dragged Rasha along. Rasha had a coupon book that we used to find dozens of different companies providing buy one get one free safaris. We called multiple companies that didn't answer the phone, so when we finally got one that answered, we booked it immediately for the next day.
The whole experience was so entertaining. It was very corny and unorganized, but we were laughing the whole time so I would 100% do it again. The safari company told us to meet the driver at the LuLu's Hypermarket (similar to Walmart) parking lot. The driver verified we were the right people by calling the phone number he had written down for us. The process of rounding people up took about 20 minutes. The website was vague and made it seem like we would be riding to the desert in four wheel drive SUVs. Imagine our confusion when we were led to the back parking lot of Lulu's into an old bus. It seemed a bit sketchy, but our driver hardly spoke any English so we just went with it.
We drove about an hour into the desert and kept thinking we must be about to stop and get into the SUVs. The driver then stopped at a gas station and got out without saying a word. We sat there for at least 20 minutes before one lady got off, saying she was going to the bathroom. At that moment, the driver got back on the bus and started driving away. We all had to yell at him to get him to stop and wait for the lady, and he seemed very irritated about it.
We got back on the highway and drove a little while longer. I noticed that there were wild camels roaming in the desert. So cool! The driver finally stopped on the side of the road and told us to get out. At this point we were thinking "is this where we die?" Enter the 4WD SUVs! We piled in and I lucked out on getting the front passenger seat. We went dune bashing for a few minutes and I was pretty sure the car was going to flip a couple times, but the driver seemed confident. He dropped us off near a crowd of people with a few camels walking around in circles. This wasn't what I expected, but it would do.
We headed straight to the camel riding line. When we finally got to the front of the line, we were taking pictures of the camel and another tourist volunteered to take our pictures as we rode on the camel. How lucky! Riding the camel itself was great, but a little jerky when it stands up and sits down. After we were done with our ride, one of the guides told us we had two hours until dinner. We had no idea what else we were supposed to do for that long, so we walked out into the desert a little and took sunset pictures.
There was a huge buffet for dinner with many options, but we stuck to what we knew: hummus and kabobs. The dinner was great and we had entertainment. I really enjoyed the man dancing in his costume covered in lights, but thought the belly dancer was a little much. When dinner was over, they corralled us back to the vans and we somehow found the right driver, unlike two other unlucky girls originally in our group. If I ever did this again, I would do a little more research and read reviews to know exactly what type of company I was dealing with. I guess you get what you pay for.
On the way back, I noticed several cars parked on the side of the road with people sitting next to grills. Rasha explained that it's a middle eastern tradition for families to BBQ out in the desert. We could see the Burj Khalifa (tallest building in the world) from way out in the desert with its twinkling lights. Such a beautiful end to the night.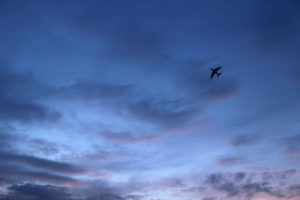 ---
You may also be interested in:
Dubai Part II: Burj Khalifa, Sailing, and Lots of Shopping