These are the places we ate and drank during our three days in Budapest! We had a late breakfast each morning, so didn't feel the need to eat lunch as well.
Breakfast & Coffee
Budapest Baristas
Restaurant Atmosphere: Super cute coffee and breakfast restaurant. There are a few tables downstairs, and then a second floor that is open in the center so you can see below.
What We Tried: We got the Croque Monsieur and Croque Madame. Basically toast with ham, cheese, and fried egg or bacon on top. Very good! The coffee was also yummy.
Fekete
Restaurant Atmosphere: This is another coffee and breakfast spot with a handful of indoor tables and an outdoor courtyard with lots of seating as well. It was freezing the day we were here so everyone was inside. Once we ordered, we snagged a spot for the two of us at a large 8-person table, shared with 6 others.
What We Tried: I got a smoked salmon sandwich that also had a fried egg on top. It also came with a side salad, which I thought was weird for breakfast, but Hungarians seem to like their salads! I'm not sure what Sam ordered. He was trying to ask for an English breakfast, but I don't think the server understood, and he did not like what he ended up getting. Mine was really good though.
Peet and the Flat White
Restaurant Atmosphere: This was our favorite coffee we got in Budapest! We actually came here every day we were here. The first two days were just for coffee and the third day we got breakfast. There are several tables (all indoors) with a good view of the busy street outside.
What We Tried: The flat whites and hot chocolates were amazing. For breakfast, I got a French toast, but instead of covering it in syrup and powdered sugar, they topped it with cheese and bacon. It was good, but not my favorite breakfast. Sam loved his English breakfast that he finally got.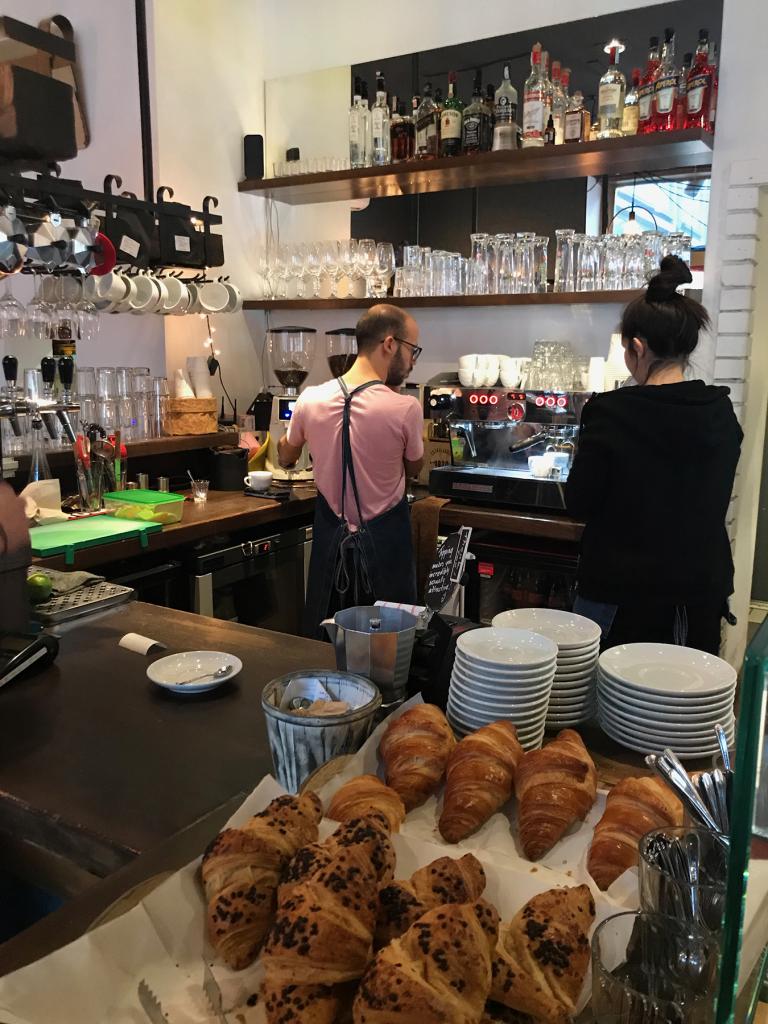 Dinner
Hadik
Restaurant Atmosphere: This place is huge! We walked in on one side with a decent sized room, and then continued into another large room. There is also a second floor that was closed. I guess they open it when it's busier. This restaurant is a legendary cafe that has been open for over 100 years. It was nice that it was within walking distance of our Airbnb and was recommended by our host.
What We Tried: I got the shrimp risotto. It was good but not the best risotto I've had.
Getto Gulyas
Restaurant Atmosphere: Really cute and quite busy for 5pm! We were luckily sat right away, but we noticed several people get turned away without reservations after us.
What We Tried: Sam and I got two of Hungary's classics: goulash and chicken paprikash with egg noodles. Both were amazing! We also got wine and our bill was SO CHEAP (about $16 USD total).
Dessert
Molnar's Kurtoskalacs
Restaurant Atmosphere: This is a popular sweets shop that specializes in Chimney Cake. There was a long line when we arrived after dinner on our last night, but it moved fairly quickly.
What We Tried: Chimney Cake, the official dessert of Hungary, is a long cylindrical cake with a hole in the middle. The taste resembles a churro or doughnut. You can get many different toppings, but we opted for the classic cinnamon sugar. Amazing!
Drinks
Szimpla Kert
Restaurant Atmosphere: Szimpla Kert is the original ruin bar of Budapest. The best word to describe Szimpla Kert is eclectic. Housed in what used to be a factory, there are tons of rooms to discover with oddities like bathtubs to sit in, an old car made into bar seating, and plants growing everywhere. Definitely worth checking out even if you don't stay for a drink.
What We Tried: Sam got a beer and I tried Palinka, a Hungarian liquor. I was expecting the liquor to be sweeter, but it was served in a shot glass and tasted like flavored cheap vodka. Not a fan.
Mazel Tov
Restaurant Atmosphere: Mazel Tov is also a ruin bar, but has a completely different vibe. This bar felt much more sophisticated than the last. They serve drinks and Middle Eastern cuisine.
What We Tried: We were getting cold at this point, so we warmed up with some hot mixed drinks. They were good!
We were really happy with the food we had in Budapest and especially how cheap everything was. It made up for how expensive our first half of the trip was in Paris!
---
You may also be interested in these posts:
What To Do With Three Days in Budapest
Budapest Trip Logistics
16 Photos That Will Make You Want to Visit Budapest