Budapest is such a cool and funky city with an eclectic vibe. Our #1 reason for coming here in the winter was to visit the infamous thermal baths. They did not disappoint! We spent three full days and four nights here, and I felt like that was plenty of time to see everything Budapest had to offer.
Budapest was originally two separate towns: Buda and Pest. Buda is on the west side of the river and is the more historic and hilly side. Pest is on the east and is a bit more modern and flat. We had originally booked an Airbnb on the Pest side, but when the host cancelled last minute, we booked on the Buda side (mostly because of the view from the apartment's balcony), close to the river. Boy, was I glad we ended up here! It was an amazing view and we were close to everything.
Read further to see what all we did in our three days here!
Day One
We arrived late Wednesday night, so we slept in a little Thursday morning before starting our day. I had no agenda, but knew I wanted to do at least one thermal bath a day. We started with breakfast at Budapest Baristas (more to come on where all we ate on my next post) and then took the metro to the Parliament building, one of the most iconic spots in the city.
Parliament
Budapest's Parliament building has some of the most impressive architecture I've ever seen! The building is massive, and you can see it from many points around the city. I thought it was interesting to learn that they had a contest for the design of the building, and the two runner ups were built across the square as other government buildings.
Visitors can take a tour of the inside of the building if you've booked your ticket ahead of time. Definitely try to make a reservation at least a few weeks before your trip! We were indifferent about the tour and didn't want to commit to a time in the middle of the day before we had planned anything yet, so we skipped it.
Instead, we admired it from the outside and even saw the changing of the guards' ceremony, which looked more like a hokey dance to me. Still kind of fun to see. From here, we walked down by the Danube River and took in the view of Buda.
Shoes on the Danube
A couple blocks down from Parliament is a memorial called Shoes on the Danube. This memorial is in the very spot that many Jews were shot during World War II. They were forced to take off their shoes and clothes, were shot, and their bodies fell into the river. Very moving when you are standing in the exact same place where something so awful happened.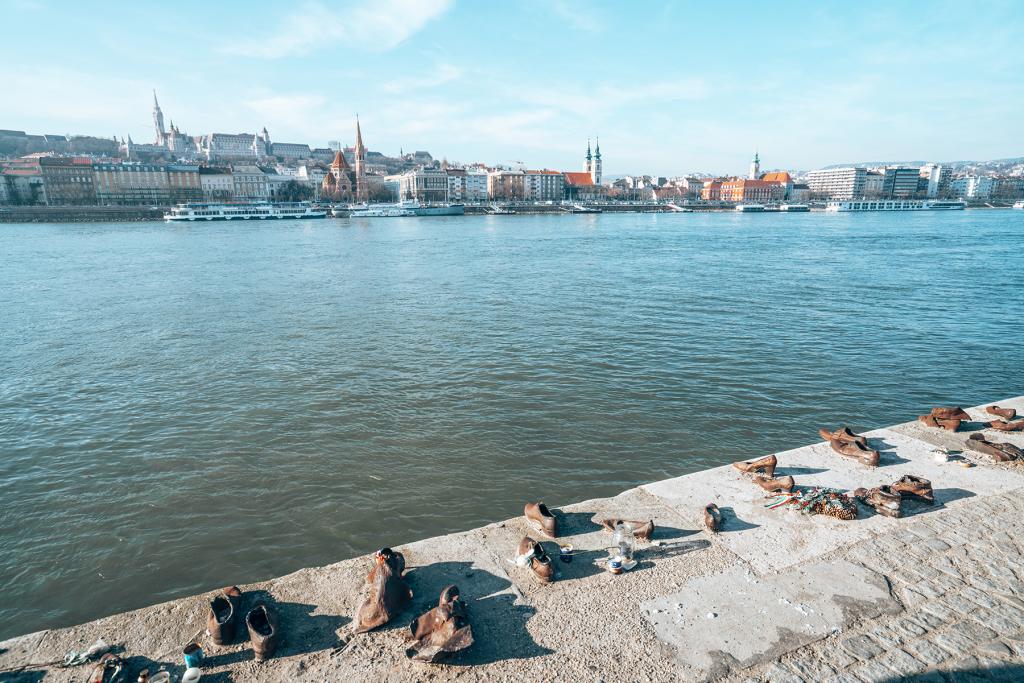 Liberty Square
From the Danube, we walked inland a few more blocks to Liberty Square. It was here where we learned how much Hungarians love their statues. They're everywhere! Ronald Reagan, a US Army Officer, and a memorial to the Soviet liberation of Hungary are just a few that we saw in this square alone. The square borders the US Embassy and the Hungarian National Bank. We wandered down the length of it and on to St. Stephen's Basilica.
St. Stephen's Basilica
St. Stephen's is the largest church in Budapest. Entrance to the basilica is free (they ask you to make a small donation), or you can go up to the top of the dome for HUF 500 (~$1.50 USD). We decided to just go in the basilica for now since we hadn't pulled out cash yet, and if we felt like we missed out, go up to the dome later. The basilica was gorgeous inside! They still had Christmas trees set up around some of the chapels. It's definitely worth checking out. From the basilica, we wandered around doing some souvenir shopping and then headed to the famous Chain Bridge.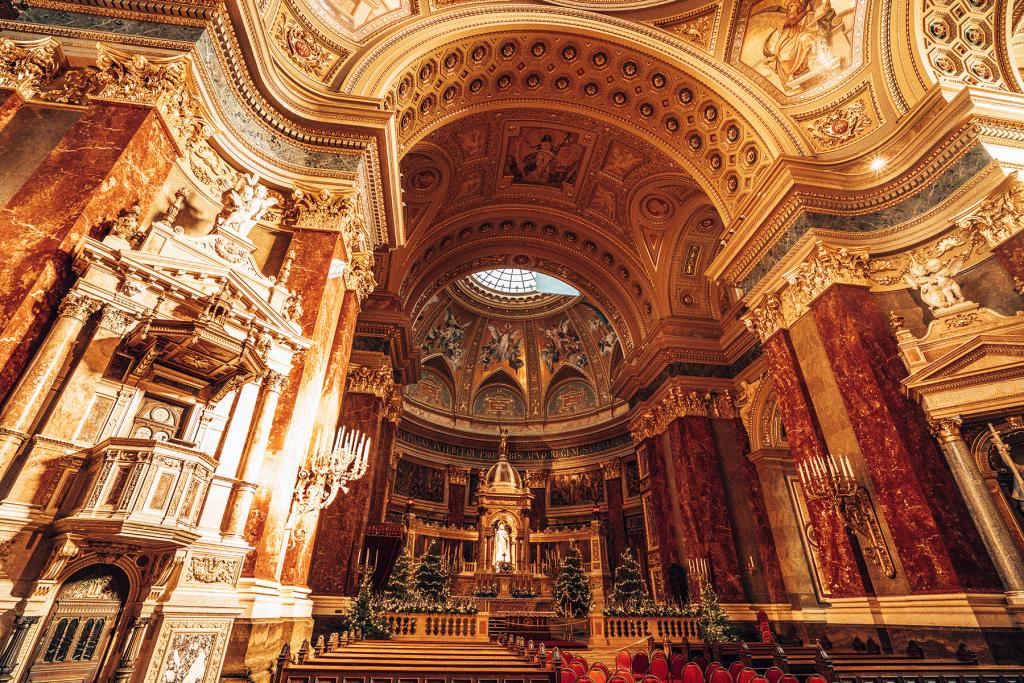 Szechenyi Chain Bridge
The Szechenyi Chain Bridge crosses the Danube River, connecting Buda and Pest. It is one of several beautiful bridges in Budapest. My favorite was the Liberty Bridge (maybe because we could see it from our Airbnb balcony). The Chain Bridge was completed in 1849 and was the first permanent bridge in the city. It was the second largest suspension bridge in the world at the time. The road hangs on iron chains, supported by two large stone pillars. Very impressive!
Central Market Hall
Next came our longest walk of the day, to Central Market Hall (AKA Great Market Hall). It is the largest and oldest indoor market in Budapest. The Market has prepared food stalls, unprepared food to take home, and lots of souvenir shops. We were hoping to stop and get a snack somewhere, but there weren't as many food stalls as we had expected and it was fairly busy, so we moved on. We walked back to our apartment, stopping at a grocery store along the way to get a few snacks for the next couple days.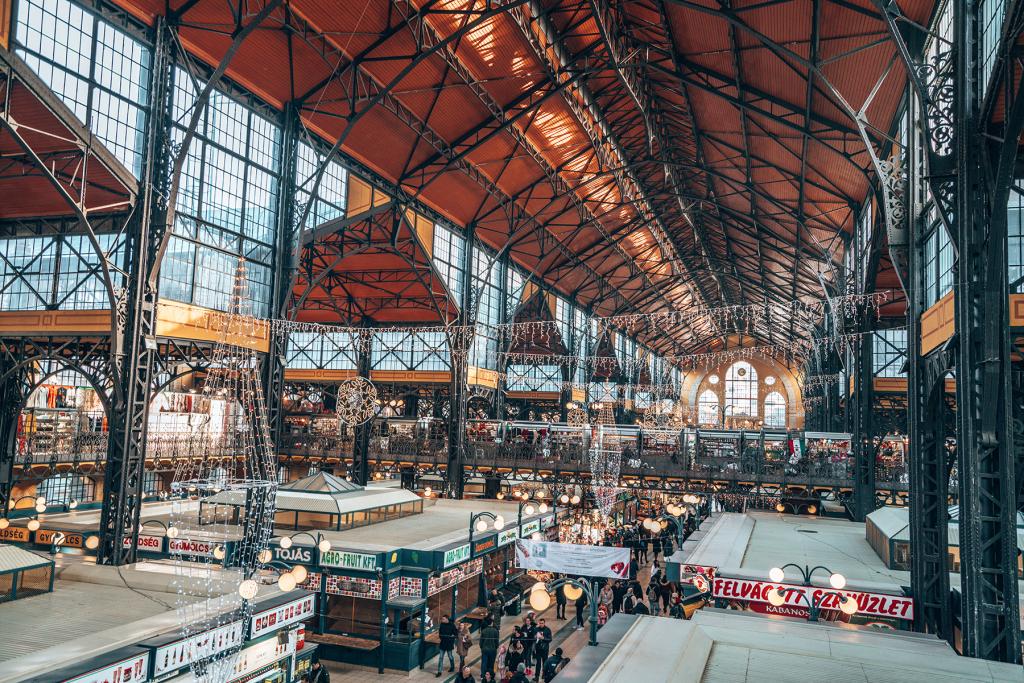 Gellert Thermal Bath
The Thermal Baths were what we were most excited about, and I was so happy to finally go! We were staying right across the street, so we changed into our swimsuits before we left. We arrived around 4:30pm and found an unorganized chaotic mess of people waiting to buy tickets inside. There were four ticket booths open at each corner of the space, with everyone waiting in a cluster in the middle. It was hard to tell if there was actually a line or not. We finally found what we were pretty sure was a line and waited for about 30 minutes before we were able to buy our tickets.
You have the option to change in a locker room or changing cabins. Changing cabins cost extra, so we were fine in the locker room, especially since we already had our suits on. Little did we know, the locker room is co-ed, is very cramped, and there are mirrors everywhere, making it hard to change without people seeing you. I would definitely spring for the changing cabin next time. We tossed our stuff in the locker and made our way to the thermal baths.
There is an option to rent a towel or swimsuit, but we brought our own of each of these. I always bring a little dry-fast towel with me when I travel for this type of thing.
Thermal Baths
There are two separate thermal bath rooms in Gellert, one originally was for men only, and one for women only, but they are both now co-ed. We preferred the original men's room because it was more ornately decorated, and it has the hottest pool of the four. There are two separate pools in each room, one really hot and one cooler. We got in the hotter pool first and then moved to the other one after we were over-heated.
This bath house is only indoors and is beautifully decorated with colored tiles and fountains in the thermal bath rooms. I loved it! It was so nice to be staying nearby too, so we didn't even cool down completely before we got back to the apartment.
See the Parliament building at night from across the river
After Gellert, we hung out at the apartment for a bit before heading to dinner nearby. Then we took the tram down the river to see the Parliament Building from across the Danube. What a spectacular sight! During the day, there are lots of boats parked along the side, but at night they clear out, leaving more room to take pictures.
Day Two
Fisherman's Bastion
We started day two around 9am, hoping to get to Fisherman's Bastion before most of the other tourists in the city did. When we arrived it wasn't too crowded, but we probably should've left about 30 minutes earlier.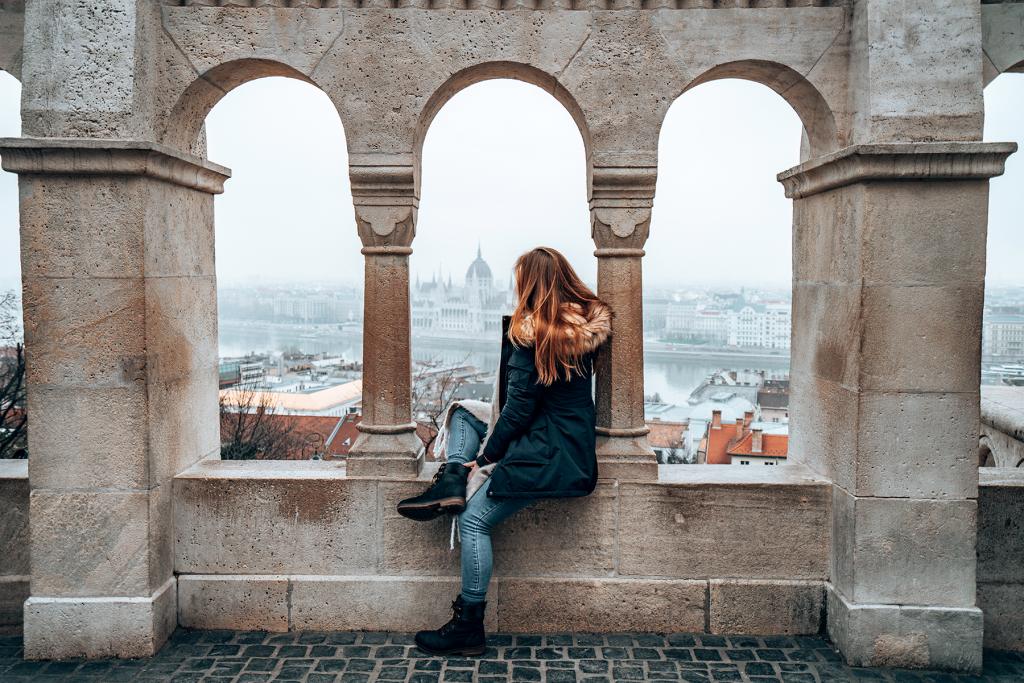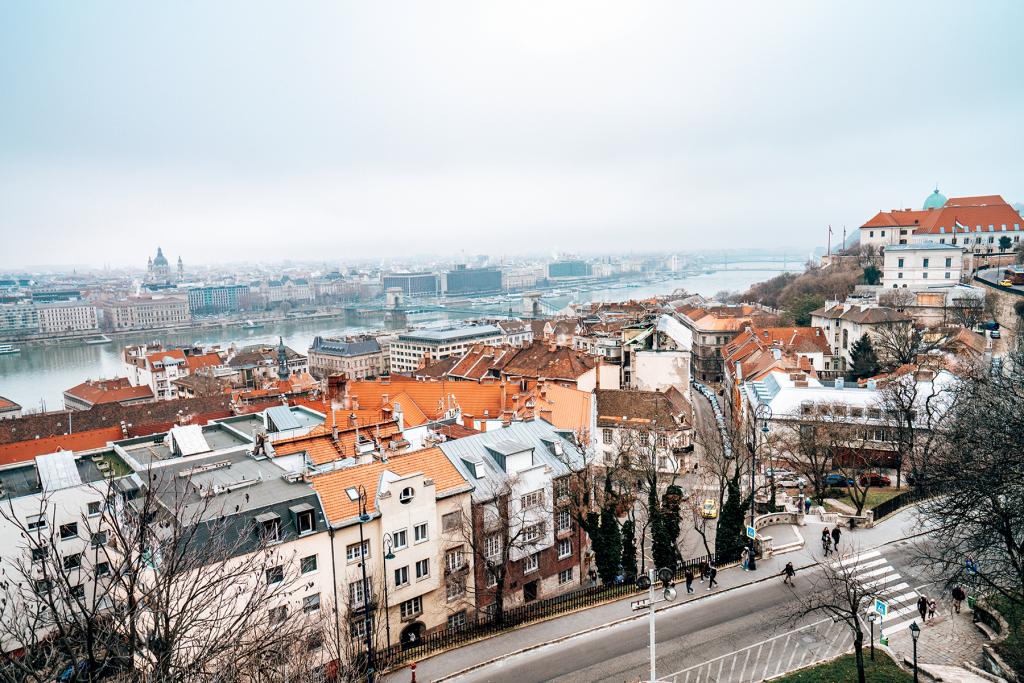 Fisherman's Bastion is a monument on top of the hill on the Buda side. Its seven towers symbolize the leaders of the seven tribes who founded Hungary in 895.
Entrance to the main part is free, and it costs a little to go up on the top normally but is free in the winter. We spent around 30 minutes here wandering around and taking pictures. You can see all of Budapest from here, and it's really cool to see the Parliament Building from this angle.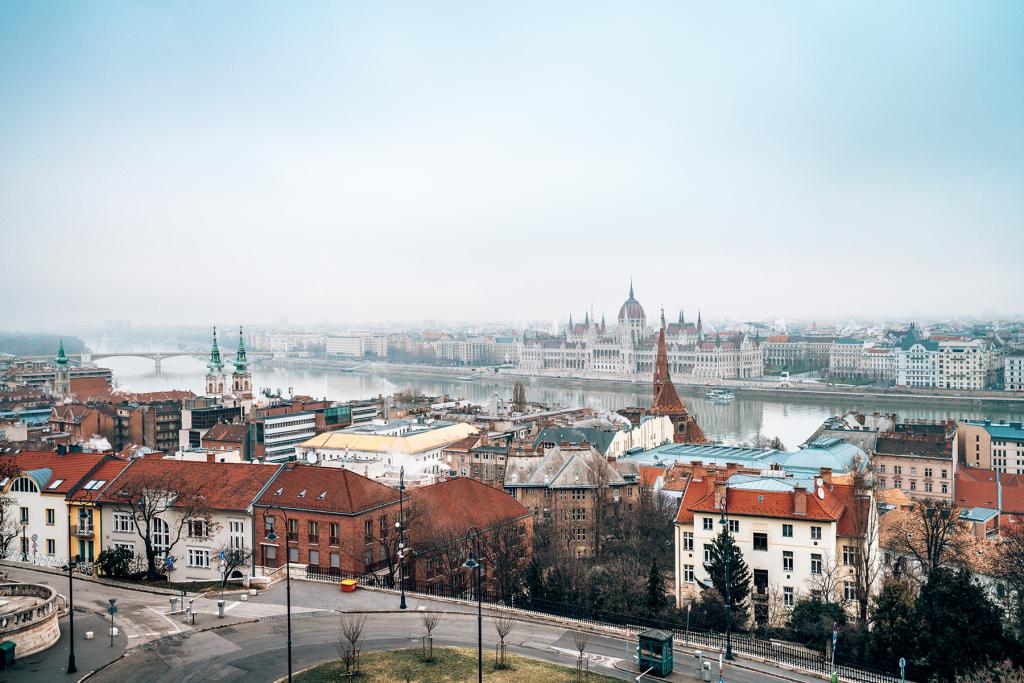 Matthias Church
Located directly behind the Bastion is Matthias Church. The architecture on the outside of the building is very interesting and what I picture when I think of Eastern European architecture. It's been around since the late 13th century. I'd heard that the inside isn't as impressive as the outside, so we just admired its exterior.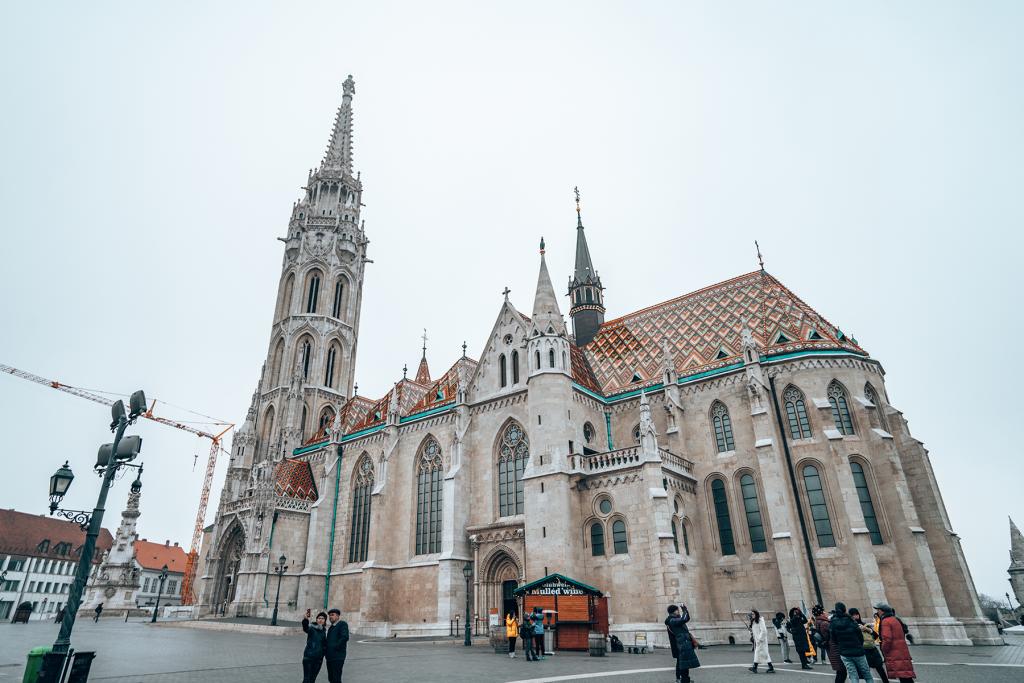 Breakfast
From Matthias Church, we walked down the hill to the nearest metro stop and headed over to Fekete, a cute and small breakfast spot. My food was delicious! Next, we took the metro to the House of Terror.
House of Terror
The House of Terror sounds like a haunted house, but it is actually a museum containing exhibits related to the fascist and communist regimes in Budapest around the WWII era. The building it is located in was the original headquarters for both regimes. Many people were imprisoned, tortured, and killed in this very basement.
We came here on our coldest day and there was a long line down the street when we arrived around 11am. There wasn't much of a waiting area inside and the line moved very slowly. We waited about 45 minutes. I would recommend having some kind of literature or audio guide to walk you through the museum. I had the Rick Steves Budapest Guide Book and it was perfect. He told us exactly where to start and described each room in detail (but not too much detail). I wouldn't have gotten nearly as much out of the museum if I hadn't had something describing what we were looking at. You can also rent audio guides here.
They require you to check all bags and coats for free, which was nice to get a break from carrying my bag around. No pictures are permitted, allowing you to spend all of your time soaking in the exhibits. We spent around an hour here and thoroughly enjoyed it. I highly recommend coming!
Heroes' Square
After the House of Terror, we took the tram a few stops northeast to Heroes' Square. This distance is easily walk-able, but we were terribly cold (it didn't get above freezing the whole day). The tram drops you at Heroes' Square, which features a memorial to many leaders of Hungary. This is a large square that you can quickly walk through on your way to City Park.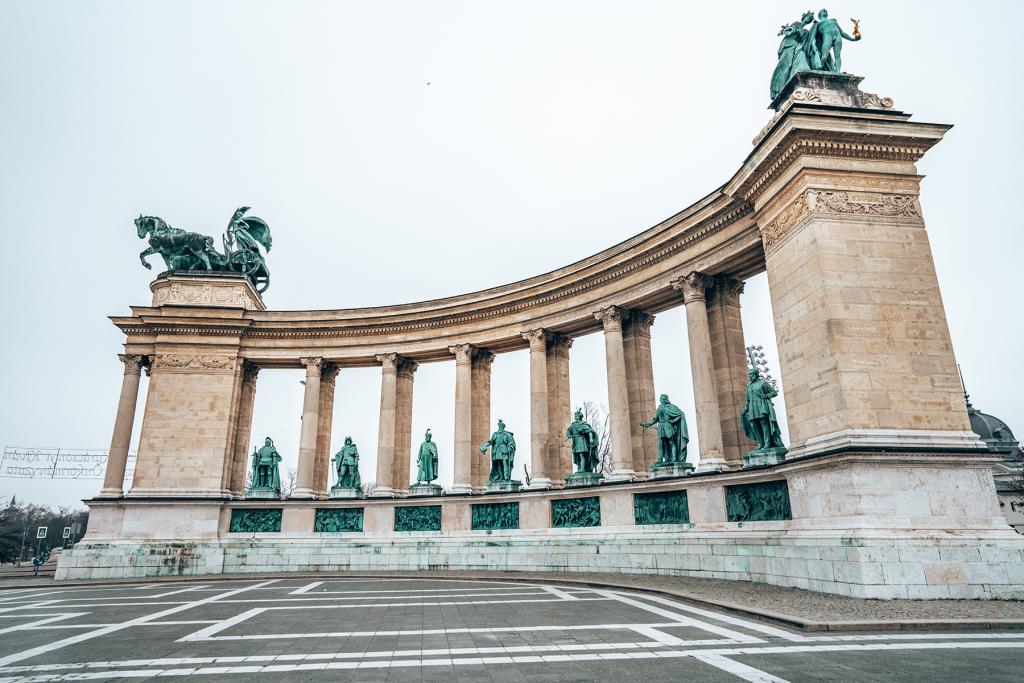 Vajdahunyad Castle
Located inside City Park is the Vajdahunyad Castle. This is not a real castle, but a replica of a Transylvanian Castle built for the Millennial Exhibition in the early 1900s. We didn't go inside and walked around the complex instead. There are a few other buildings to check out as well, including a small chapel with an amazing entrance.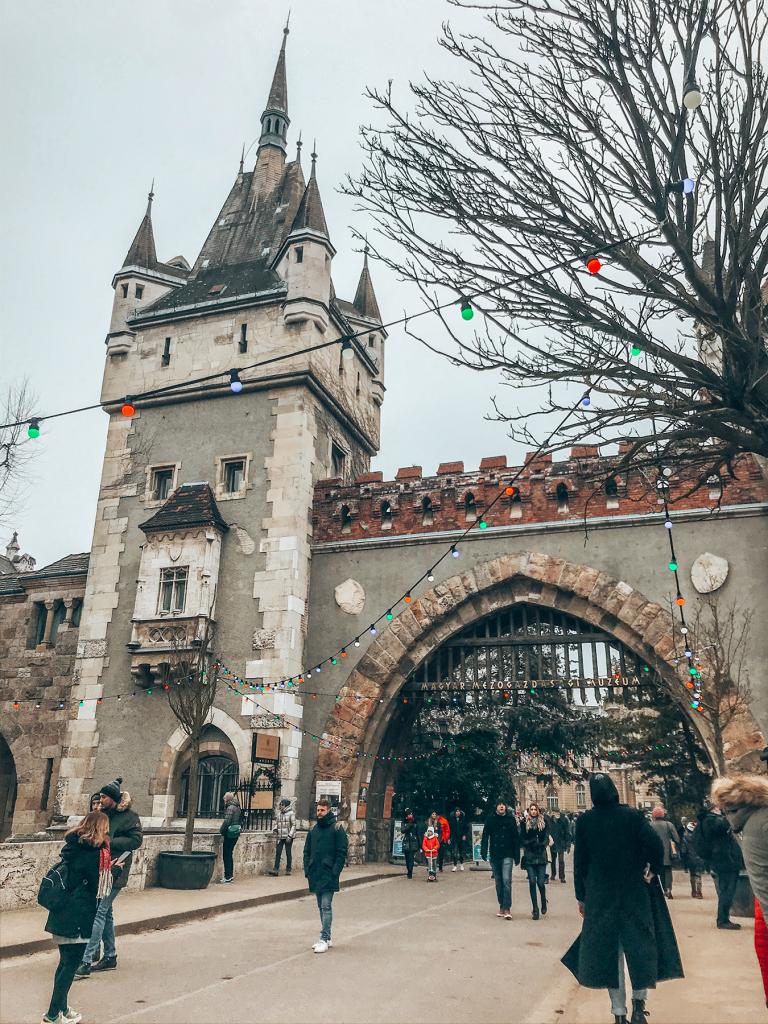 The ice skating rink next to the castle looked like a winter-lover's dream! However, we were ready to warm up at our thermal bath stop for the day, Szechenyi.
Szechenyi Thermal Bath
Szechenyi is arguably the most well-recognized and touristy thermal bath in Budapest. Unlike Gellert Baths, the biggest pool here is outdoors. We were excited to see the steam rolling off the pools. Similar to the Gellert Baths, there was a long line of people waiting to buy tickets when we arrived around 5pm. However, the lines were somewhat organized and less frustrating than our experience the previous day.
We also decided to "splurge" for a changing cabin today (it was only a couple extra US dollars). Fortunately, they let us share one, so the difference in price wasn't really noticeable. We really liked having a place to leave our stuff and change in and out of our swimsuits.
Walking outside to the pool was not fun! You have to go a little way down some slippery stairs, and as tempting as it was to run to the pool, I was sure to walk slowly and avoid falling. They have a small foot-deep pool to step in before you get in the main pool. I assumed this would be warm and jumped right in, but it was ice cold!
Finally, we had made it to the main pool, and while it felt much better than standing outside in a bikini, the water just wasn't hot enough for how cold it was outside. I had to be covered up to my chin to be comfortable. After we spent our time in the outdoor pool, we quickly walked to the inside pool. This was not very pretty (especially compared to the Gellert Baths) and super crowded.
Christmas Market
After our bath experience, we stopped at the Christmas market outside of Vajdahunyad Castle. I tried langos, the Hungarian street food I'd heard so much about (fried dough with sour cream and cheese toppings).
The langos was amazing and filling! We were exhausted at that point, so we came back to the Airbnb for an early night.
Day Three
It was our last day in Budapest and we had seen pretty much everything that was on our list. The final day's plan was to relax and take it easy.
Rudas Thermal Bath
We started our day at our last thermal bath, Rudas. Since it was only a ten minute walk from our Airbnb, we rolled out of bed and went straight there. We would later come back to our apartment after to shower and get ready for the day. There were almost no other visitors here when we arrived at 9:15am. We bought a combination ticket that included both the thermal bath and wellness sides. I recommend this; it was more expensive than the baths our previous days, but worth it to spend a few hours here!
I forgot to ask for a changing cabin this time, so they gave us lockers. That really was no problem, since there were plenty of changing stalls you could go in for privacy and it wasn't crowded at all.
Wellness Side
I most wanted to go to the rooftop pool, located in the wellness section. Since it was still early, we headed there first before it filled up. There were only about a dozen other people on the rooftop, and we could see the Danube River from the pool. The temperature of the pool there was PERFECT (finally!) and I could've spent hours soaking in my spot.
Thermal Baths Side
We did want to check out the rest of the spa though, so next we went to the thermal bath side. One thing to note is that on weekdays, the thermal baths at Rudas only allow one gender, meaning if you want to go with your significant other, you have to visit on the weekends. The thermal baths here were indoors, in one big dimly lit room. It wasn't quite as beautifully decorated as Gellert, but it felt the most authentic of the three and I really enjoyed it.
Our last stop at Rudas was in the sauna. It felt so great to heat up before we would be walking outside.
So overall, I liked Rudas Baths the best out of the three thermal baths we went to. Glad we saved the best for last!
Shopping
After we'd gotten ready for the day, we headed over to the Pest side to do some shopping. Sam is really into film photography, so we went to some camera stores and then stopped at a vintage clothing store.
Szimpla Kert
I'd heard a lot about the ruin bars of Budapest and we still hadn't checked any out at this point! Our next stop was Szimpla Kert, the original ruin bar. Each ruin bar has a completely different personality. These bars are located in the Jewish quarter in the ruins of abandoned buildings.
The best word to describe Szimpla Kert is eclectic. Housed in what used to be a factory, there are tons of rooms to discover with oddities like bathtubs to sit in, an old car made into bar seating, and plants growing everywhere. Sam got a beer and I tried Palinka, a Hungarian liquor.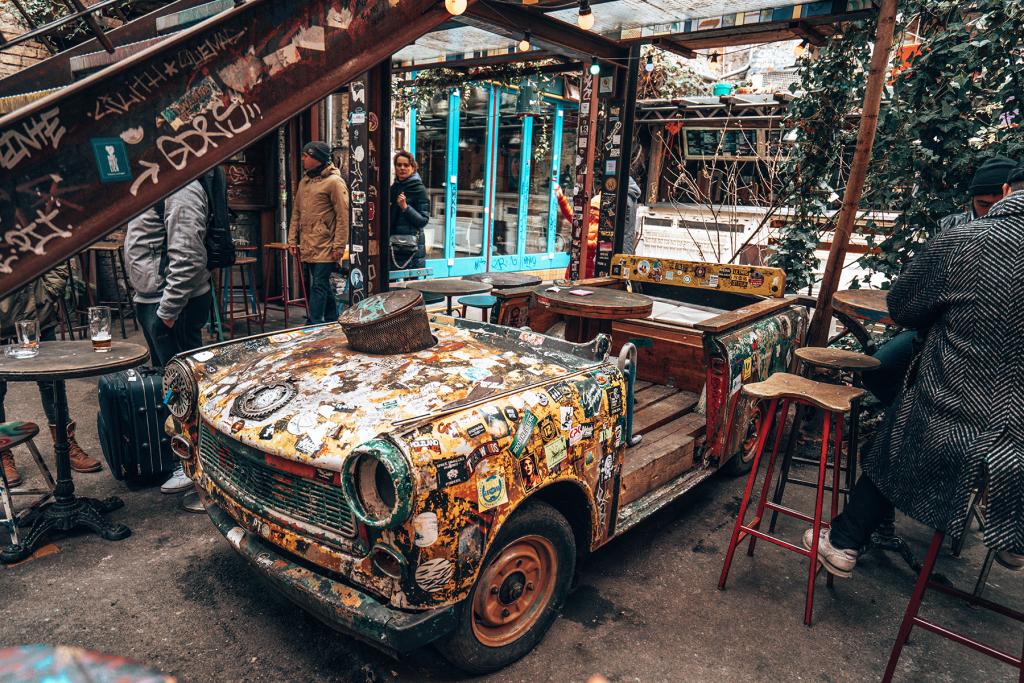 Mazel Tov
Our next ruin bar was called Mazel Tov. This bar felt much more sophisticated than the last. They serve drinks and Middle Eastern cuisine. We were getting cold at this point, so we warmed up with some hot mixed drinks.
Dinner
It was our last meal and we still hadn't tried traditional Hungarian dishes, so we walked to the highly recommended Getto Gulyas. We arrived around 5pm, and it was already packed! The host seated us right away, but I noticed he turned away several people after us. Sam and I got two of Hungary's classics: goulash and chicken paprikash with egg noodles. Both were amazing! We also got wine and our bill was SO CHEAP (about $16 USD total).
Chimney cake
I still hadn't gotten the infamous chimney cake, so we walked to Molnar's Kurtoskalacs, a sweets shop that specializes in them. Chimney cake, the official dessert of Hungary, is a cylindrical cake with a hole in the middle. The taste resembles a churro or doughnut. You can get many different toppings, but we opted for the classic cinnamon sugar. Amazing!
Overall Thoughts
Budapest was an amazing city to explore for three days. The weather really wasn't that bad in early January! I would love to go back here one day.
---
You may also be interested in these posts:
Budapest Trip Logistics
Where to Eat and Drink in Budapest
16 Photos That Will Make You Want to Visit Budapest
---