In our eight days in Portugal, we ate at a lot of restaurants in Porto, Lisbon, and Lagos. These are the ones I would recommend out of all the places we tried, organized by type of food!
Portuguese Food
Cantinho da Se
Location: Porto
Restaurant atmosphere: There was only one other group of customers in the restaurant while we were here for our late lunch. The manager had a bit of an attitude with us when we asked for tap water. He told us we would have to buy water and he didn't allow us to drink out of our own bottles. That annoyed me, but at least the food was good!
What we tried: Prawns and the classic Francesinha. The Franceshinha is a Portuguese sandwich consisting of ham, sausage, and steak, covered with melted cheese and a sauce made of beer and tomato sauce. I'm glad we split the Franceshina because it would've been way too rich and heavy for just me!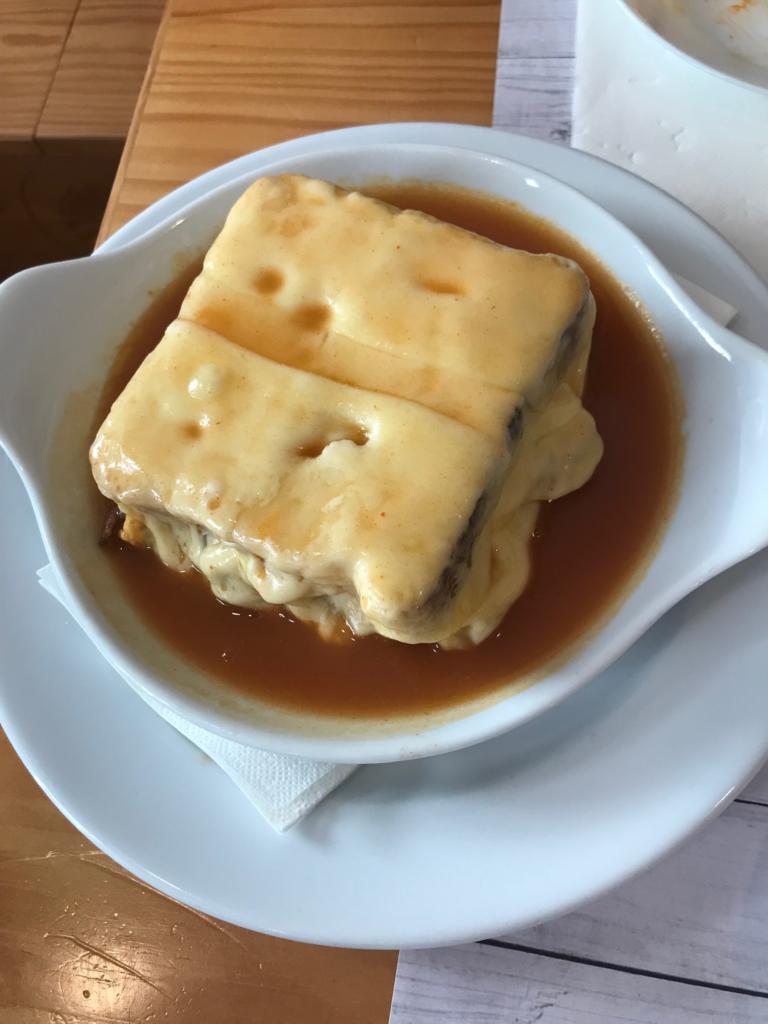 Bacchus Vini
Location: Porto
Restaurant atmosphere: The restaurant is located in a small narrow building with not much seating. There are a few tables outside along the river, but they were all taken when we arrived. We were seated at the table right by the open window in front, which was the next best thing. The coolest part of the evening was when the waiters would come shave off slices of the cured ham next to us for the charcuterie boards!
What we tried: One of the meat and cheese boards recommended by our waitress and a sampling of six port wines. The restaurant's sommelier explained in detail the wines and best combinations of cheeses, etc. This is where we discovered pumpkin jam and Serra da Estrela cheese. We proceeded to go to the grocery store the next day and buy about 10 jars of pumpkin jam to take home.
Restaurante A Forja
Location: Lagos
Restaurant atmosphere: This restaurant is super authentic. It reminded me of going to eat at your grandmother's house. We were warned the atmosphere wasn't great beforehand and the food makes up for it.
What we tried: We tried the classic Portuguese dish: cod with boiled potatoes and veggies and also the sea bass. I usually love cod, but it wasn't my favorite here. The sea bass was awesome, however, I also really enjoyed the potatoes which I didn't expect.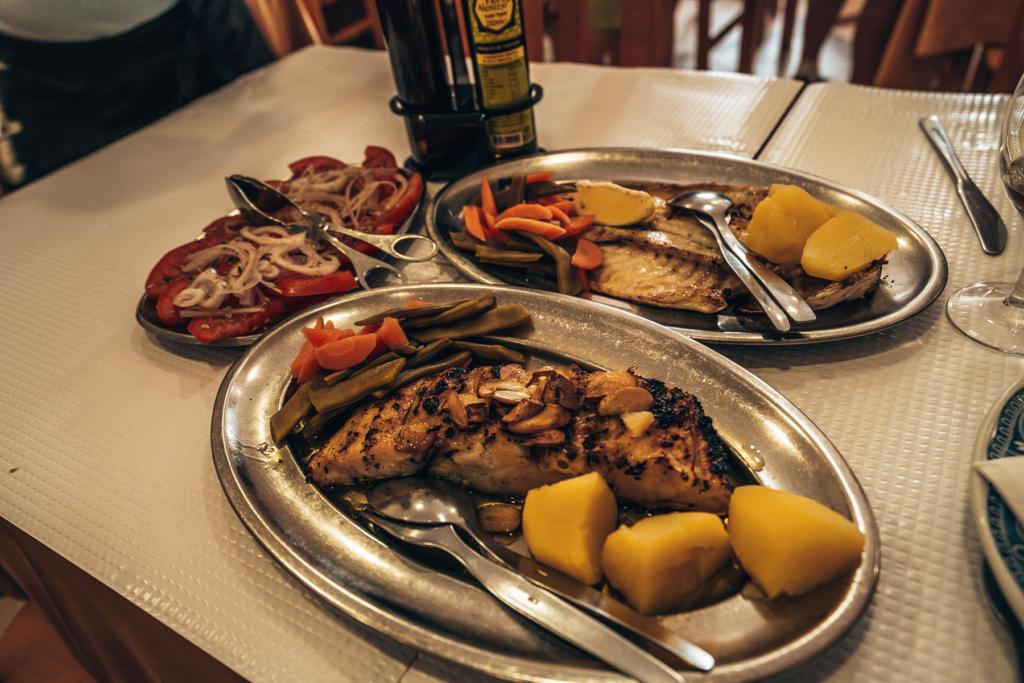 Mini Bar Teatro
Location: Lisbon
Restaurant atmosphere: Dimly lit and romantic atmosphere. It would be perfect for a date night. It's located in the same building as an old theater.
What we tried: All the foods you can order are fairly small, tapas style. You can order individually or a whole menu, which is what we did. The chef chooses what he wants you to try and you just tell them if you have any allergies.
We didn't have any courses we hated, but some were better than others. The first few were okay-tasting and small. We were a little worried we would leave still hungry. Once we got to the bigger portions, the braised tuna with sushi rice and oxtail with maize porridge, we were in heaven.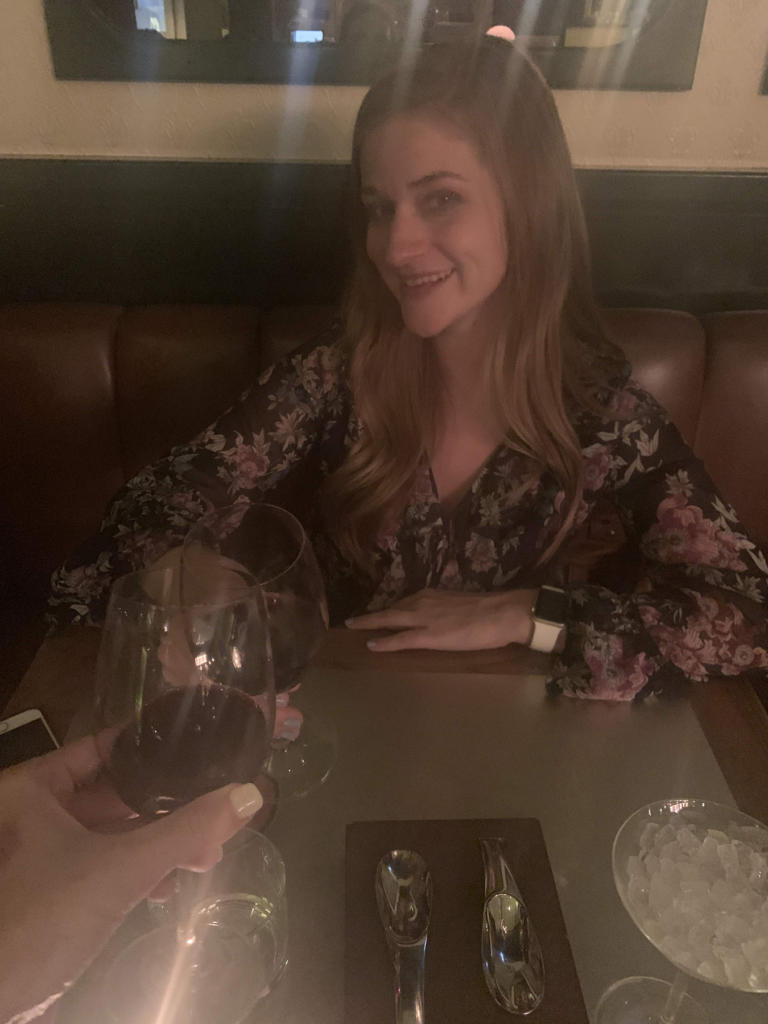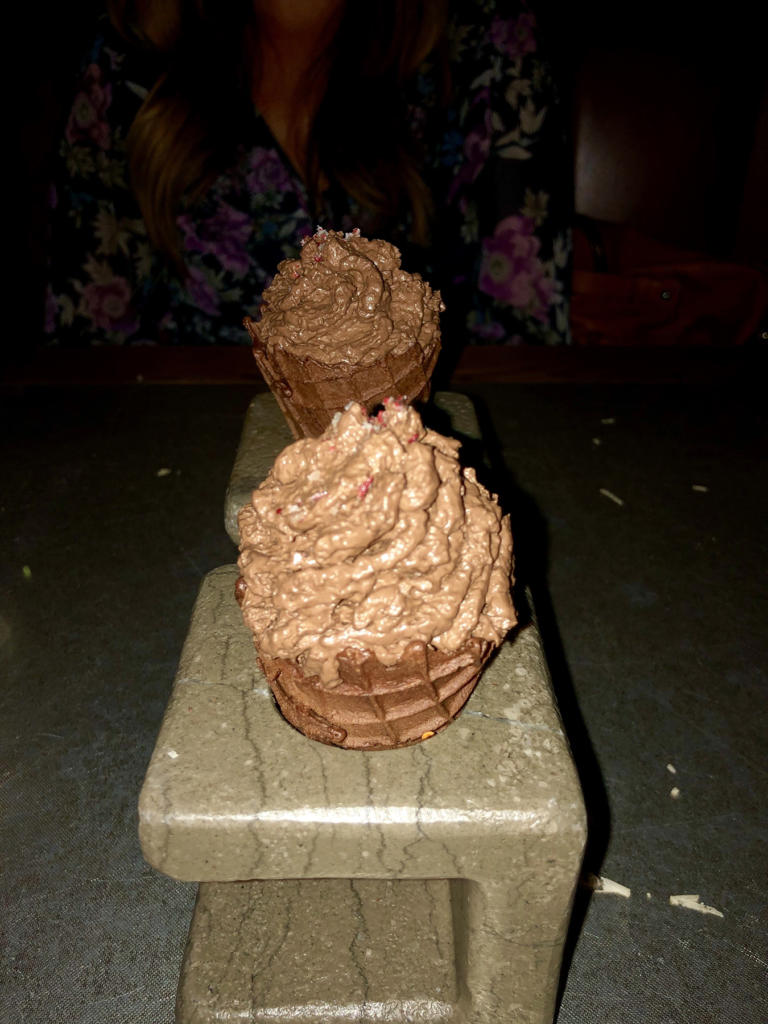 Pastel De Natas
Pasteis de Belem
Location: Lisbon
Restaurant atmosphere: Hot and crowded! We waited in the long line to take our pastries to go and ate them in the park across the street.
Manteigaria
Location: Lisbon & Porto
Restaurant atmosphere: Not crowded at all. One half of the building is the kitchen where the chefs are making the pastries behind a glass wall. The other half has a standing eating area where you can watch them work while you enjoy your tasty Pastel de Natas.
Fabrica de Nata
Location: Lisbon & Porto
Restaurant atmosphere: Similar to Manteigaria, where the chefs are baking behind a glass wall and you can watch.
Asian
My Sushi
Location: Lagos
Restaurant atmosphere: Small and crowded. We were sitting about six inches from the table next to us.
What we tried: I can't remember exactly what we ordered, but you can get unlimited sushi (as long as you keep finishing it), so we tried like ten different rolls, along with edamame and miso soup.
Confraria in Time Out Market
Location: Lisbon
Restaurant atmosphere: Since the restaurant is inside Time Out Market, all of the seating is open in a food court type area. It took us over 20 minutes to find a spot for two people to sit around 2pm. We noticed after we had eaten that there were several empty tables just outside of the main area in the perimeter around the outside of the restaurants. This is where we ate our dessert!
What we tried: We split a poke bowl and it was great! It was enough for two people to split if you aren't starving.
Illegal Chinese Restaurants
Location: Lisbon
Restaurant atmosphere: This was such a cool experience! Apparently there are lots of Chinese restaurants being run illegally out of the owner's apartments. We were told about this by Kelsey's friend who used to live here. He ate at one of the restaurants regularly and recommended one place in particular. However, he didn't tell us exactly where it was, except for a few landmarks to look for. When we finally found it, we were so excited!
What we tried: We got dumplings as an appetizer and I also got the orange chicken. The food was the best Chinese food I've ever had. Very authentic.
Mexican
Pistola y Corazon
Location: Lisbon
Restaurant atmosphere: Really cool vibes. We got there around 4:30pm because we heard it gets busy later and they don't take reservations. The waiter was super friendly.
What we tried: Between the two of us, we ordered three orders with three tacos each. We got the lamb (my favorite), shrimp, and al pastor (wasn't crazy about these).
Italian
Da Praca in LX Factory
Location: Lisbon
Restaurant atmosphere: The LX Factory is an edgier area, housed in an old industrial complex. Most of the restaurants have some seating outdoors along the street and more tables inside. We ate outside at Da Praca.
What we tried: I got the spaghetti carbonara and Kelsey got a burger. Both were amazing! We also got a pitcher of sangria and it was yummy.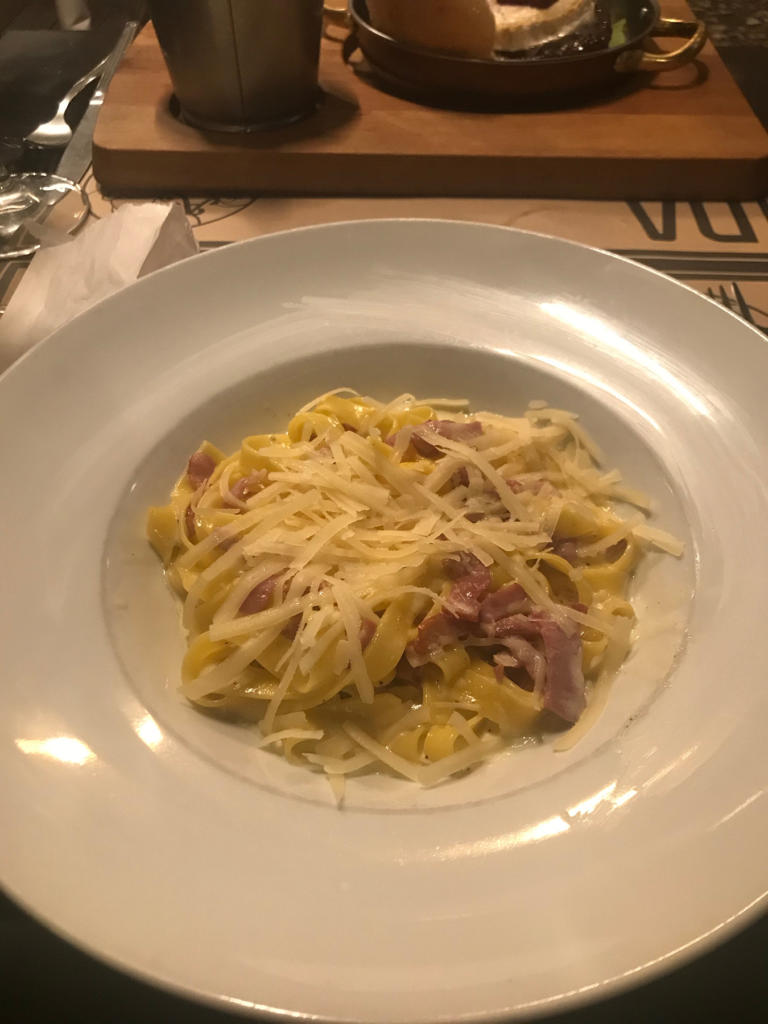 Pizzolini
Location: Lagos
Restaurant atmosphere: Quieter, on the outskirts of town. There weren't many people here when we arrived and our pizza came out pronto!
What we tried: We got a pizza with sausage and peppers on it. Loved it.
Yummy Breakfasts
The Portuguese know how to do breakfast! I typically got a cappuccino, fresh orange juice, yogurt parfaits, and some sort of toast at each place we went.
Linha22
Location: Porto
Restaurant atmosphere: Super small and quaint. Linha22 is primarily a guesthouse, but it was recommended to us and we are so glad we stopped here. We sat at the only outdoor table on the street, with a view of Clerigos Church in front of me.
What we tried: Cappuccinos, orange juice, meat, cheese, toast, yogurt, and jams.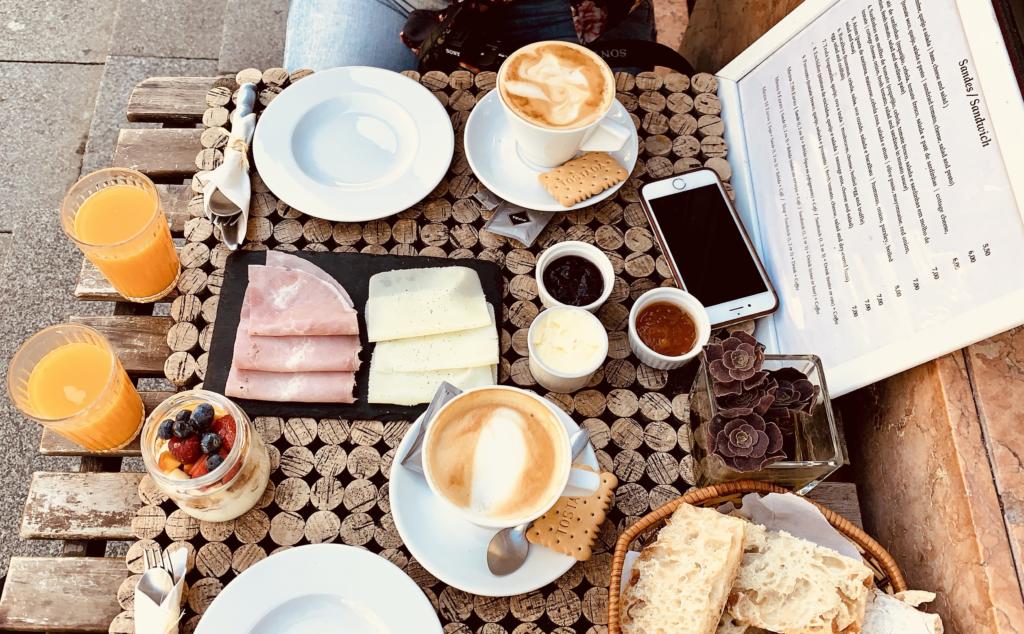 Goji
Location: Lagos
Restaurant atmosphere: Adorable outdoor patio! Inside was too hot for us to eat at so we waited for an indoor table.
What we tried: I got the toast with peanut butter, honey, chia, and cinnamon and a yogurt parfait with fresh squeezed OJ and tea. It was so good!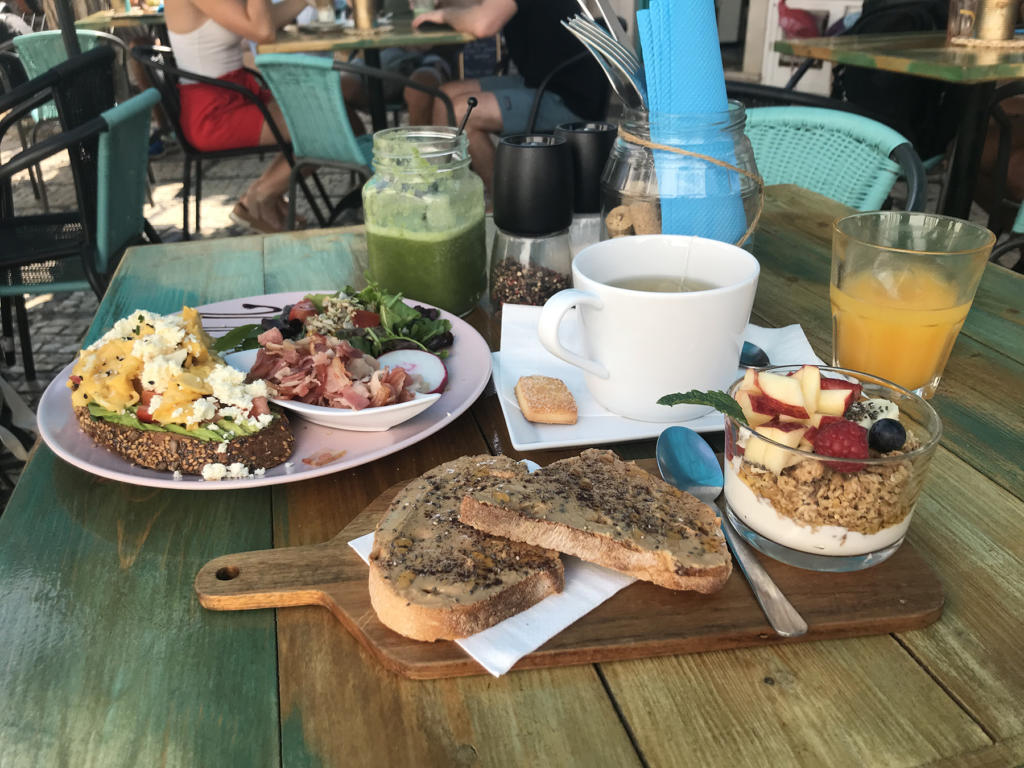 Heim Cafe
Location: Lisbon
Restaurant atmosphere: Several people had recommended the Heim Cafe for breakfast. It's a bit out of the way from everything else we were doing this day, so we took an Uber. We arrived around 9:45am, and there were still plenty of tables inside, although the few tables outside were taken. It started to get busy around 10:30 as we were finishing up. I loved the atmosphere. There were a ton of plants around, making it feel like we were at home.
What we tried: I got the yogurt parfait, waffles, and scrambled eggs and avocado toast. So yummy and such a cute restaurant!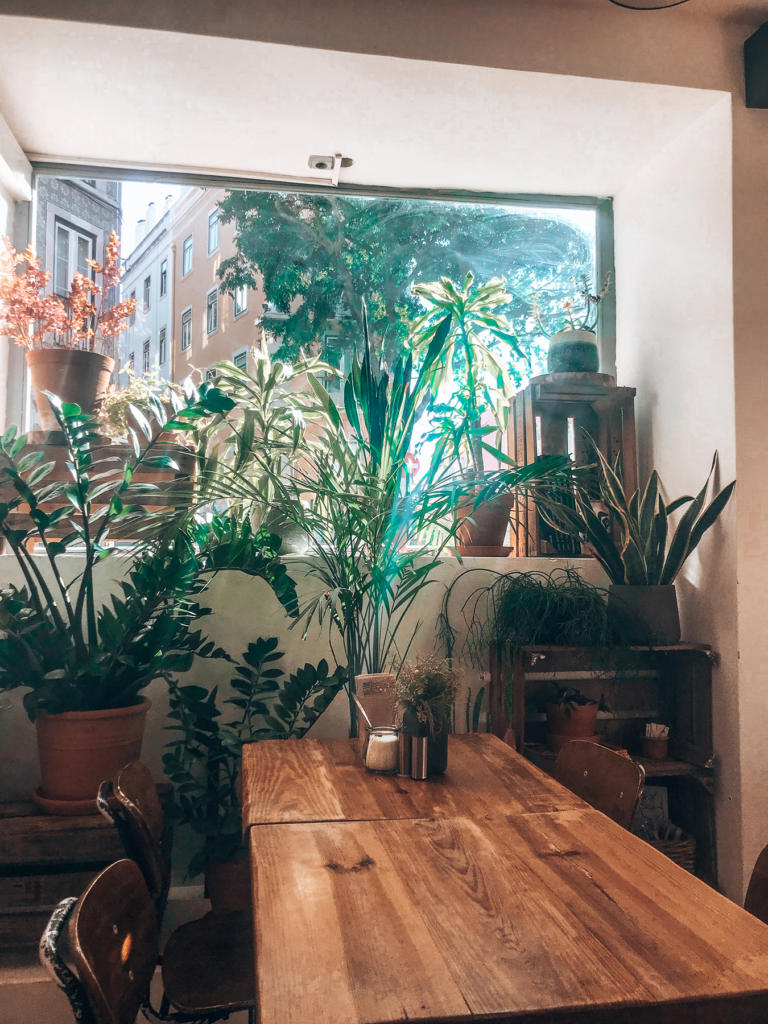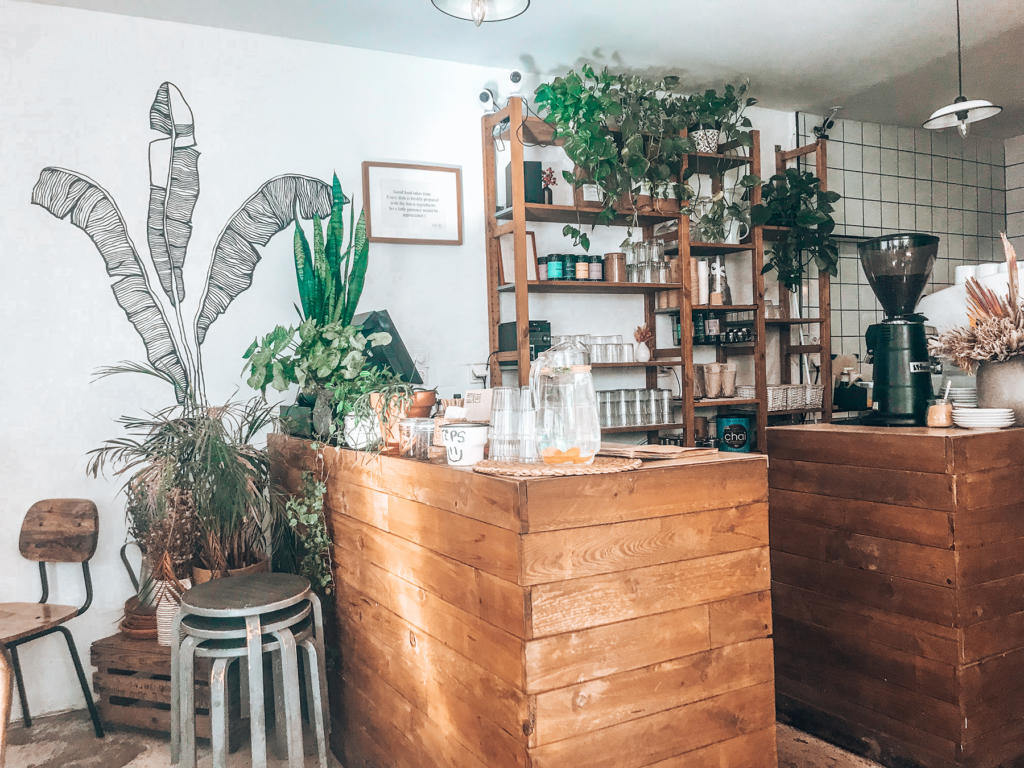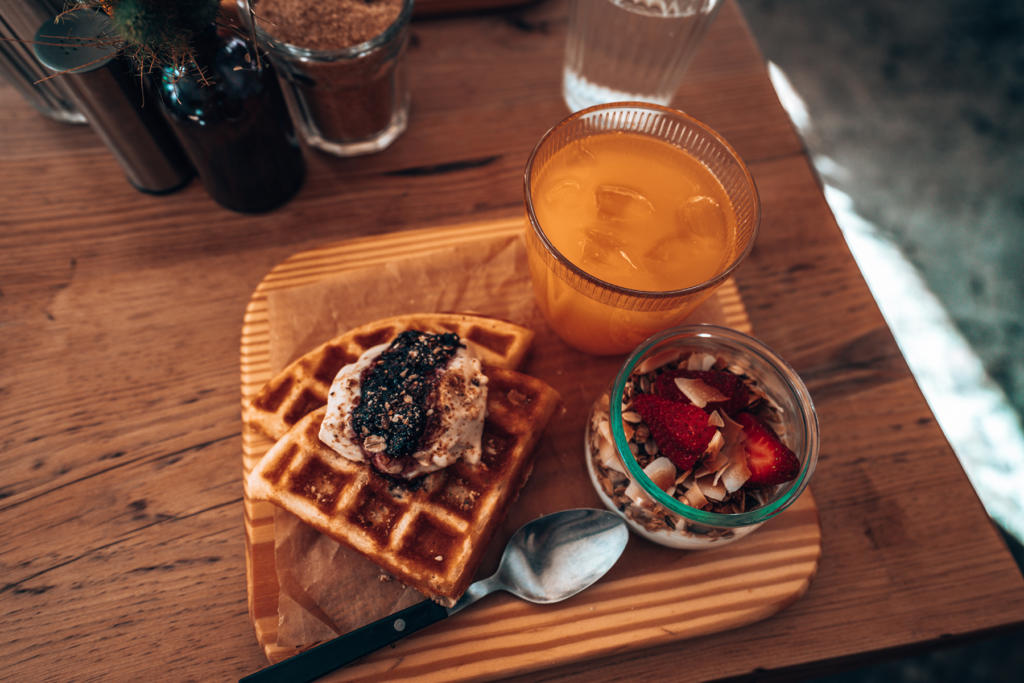 Fabrica Coffee Roasters
Location: Lisbon
Restaurant atmosphere: Really cute on the inside and front patio. We ate on the patio. We got here early enough, around 9:30am, and there were plenty of tables outside available.
What we tried: Kelsey and I both got avocado toast and yogurt parfaits and we split a ham and cheese croissant. I also got a very yummy cappuccino.
Burgers / Sandwiches
A Sandeira
Location: Porto
Restaurant atmosphere: We were pleasantly surprised when we arrived and saw a tiny shop with about 5 tables inside. Luckily, we found a spot for two people and sat down.
What we tried: I got the "Paris", a sandwich with smoked salmon and feta cheese. Kelsey and I also split the caprese salad skewers, which were fantastic.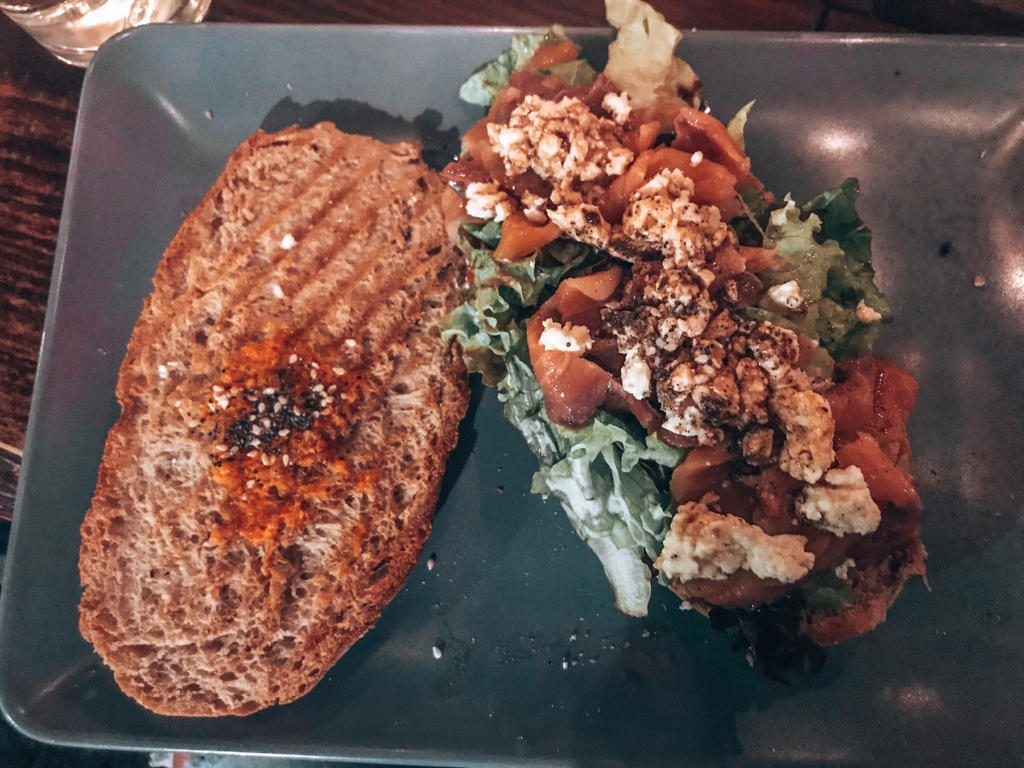 Enigma
Location: Batalha
Restaurant atmosphere: Casual bar atmosphere.
What we tried: We each got a different burger and split them both. They were both amazing and so different from a traditional American burger.
Drinks
Calem Winery
Location: Porto
Atmosphere: We did a winery tour with a fado show (traditional Portuguese music). Make sure to make a reservation ahead of time as they don't allow walk ins for the fado show option.
What we tried: The winery gave us two samples of white and red port wine.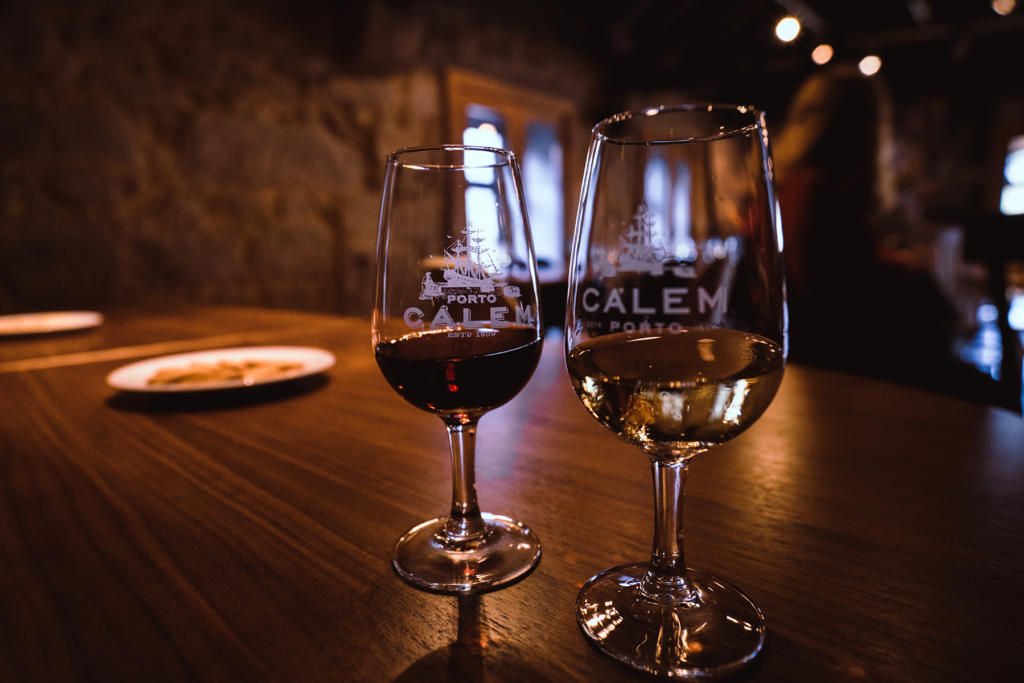 The Garden
Location: Lagos
Restaurant atmosphere: Really cool, all outdoors on a patio surrounded by greenery. I wished we would've eaten dinner here!
What we tried: The sangria. It was my favorite we had in Portugal!
PARK Bar
Location: Lisbon
Atmosphere: Crowded during sunset but amazing views! They had great music. It was all outside, so wouldn't be the place to come during bad weather.
What we tried: Mojitos. Easily the best mojito I've ever had.
Noobai
Location: Lisbon
Restaurant atmosphere: Amazing views of Lisbon! There are three levels, each with a view and it's all covered but open air.
What we tried: We got the sangria with mint and lime. Different but good!
---
You may also be interested in:
Day Trips from Lisbon
Two Days in Porto
36 Hours in the Algarve
Day Trip to Sintra
Lisbon Guide
32 Photos That Will Make You Want to Visit Portugal