I spent eight days in Portugal the first week in September with my friend Kelsey. We bounced all over, starting in Porto, moving to Lagos and the Algarve coast, and ending in Lisbon. I've included all the logistics I think are necessary to plan a similar trip to Portugal!
Itinerary
Saturday 8/31: Land in Lisbon at 8 am, Praia da Ursa, Obiodos, Nazare, evening in Porto
Sunday 9/1: Full day in Porto
Monday 9/2: Morning in Porto, Stop at Batalha Monastery along drive to Algarve, evening in Lagos
Tuesday 9/3: Lagos beach and hiking day
Wednesday 9/4: Morning in Lagos, afternoon and evening in Lisbon
Thursday 9/5: Day trip to Sintra, evening in Lisbon
Friday 9/6: Full day in Lisbon
Saturday 9/7: Full day in Lisbon
Sunday 9/8: Fly home to Atlanta
Flights
Kelsey and I were flying from Atlanta, Georgia. Unfortunately, direct flights to Lisbon were VERY expensive, so we had a connection each way. On the flight there, we flew through Boston. Paris was our connection on the way home. Even with connections, the flights were expensive compared to most western European flights. It could be because we went over Labor Day week.
Driving
Driving in Portugal was a breeze! They have a really nice highway system that runs the length of the country. There are tolls, which are quite steep in some areas, mainly the Algarve. We spent about $115 total in tolls alone to drive from Lisbon to Porto to the Algarve and back to Lisbon.
Gas is not cheap, but if you've driven elsewhere in Europe, you would probably be expecting that. When we were there it was around $1.60/liter or ~$6/gallon. We chose a very fuel-efficient car, so we only paid about $70 for gas total.
Having a car in Lisbon and Porto is not necessary and parking can be difficult to find and expensive. For this reason, we chose to drop off the car back at the airport when we arrived back in Lisbon and relied on Ubers and public transportation our last few days. While we were in Porto, we made sure to get an Airbnb with free parking included, and then left the car there for the two days we were in town.
While having a car is not at all necessary if you are staying in the bigger cities, I loved having it as transportation between our destinations so we could stop at short side trips along the way. It was also great to have in the Algarve, as things are more spread out down there and public transportation is harder to come by.
One thing I read before we left was that it is necessary to have an International Driver's Permit in Portugal. This was not mandated by the rental companies but would come in handy if you got in an accident or were pulled over by police. The permit is easy to get at your local AAA office and is good for a year. I got one just in case, but never used it.
Food
We ate really well in Portugal! Food is cheap, which helped my budget for the trip. We averaged about two meals eating out per day, while we would snack for the rest of the day or stop for a quick Pastel de Nata. Read my blog about the places we ate and drank at here.
Money
Portugal uses the Euro and most places accept cards. I pulled out €100 from an ATM when we arrived in Lisbon and it easily lasted me the whole week.
Cost per Person in USD
Flights to Lisbon (including baggage fees): $1,515
Lodging 8 nights: $345
Food: $390
Activities: $75
Rental car: $120
Gas: $80
Other transportation (ubers, metro, train, tolls): $110
Souvenirs: $100
Travel insurance: $75
TOTAL: $2,810
Note that I was traveling with one other person, so if you were to do this trip on your own, it would be more expensive.
Languages
The Portuguese speak (you guessed it) Portuguese! Most people we interacted with also spoke English though. We only had a couple encounters where the shop owners didn't speak any English, but we managed to figure out the basics of what they were saying! Every important sign is in both Portuguese and English.
Weather
The weather was gorgeous while we were there the first week of September. It turned out to be hotter than predicted. Porto and Lagos were in the high 80s F and Lisbon was in the mid 90s F. Fortunately, it cools off a lot at night, so the only time it was really hot was midafternoon. We chose to come back and nap at our Airbnb a couple afternoons when it was uncomfortably warm outside.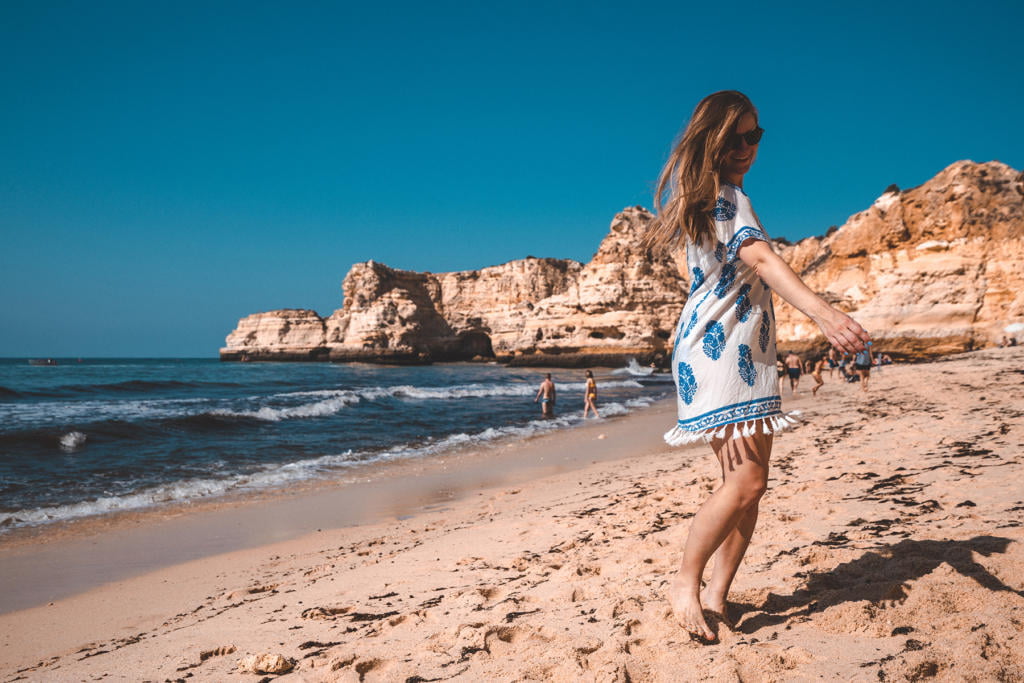 Lodging
We stayed in four Airbnbs on our trip. One in Porto, which was about a 15 minute walk north of the main sites. This location was perfect in our opinion for the price. The only downside is that it's all uphill walking home at night, but Ubers are cheap, so we took one home both nights!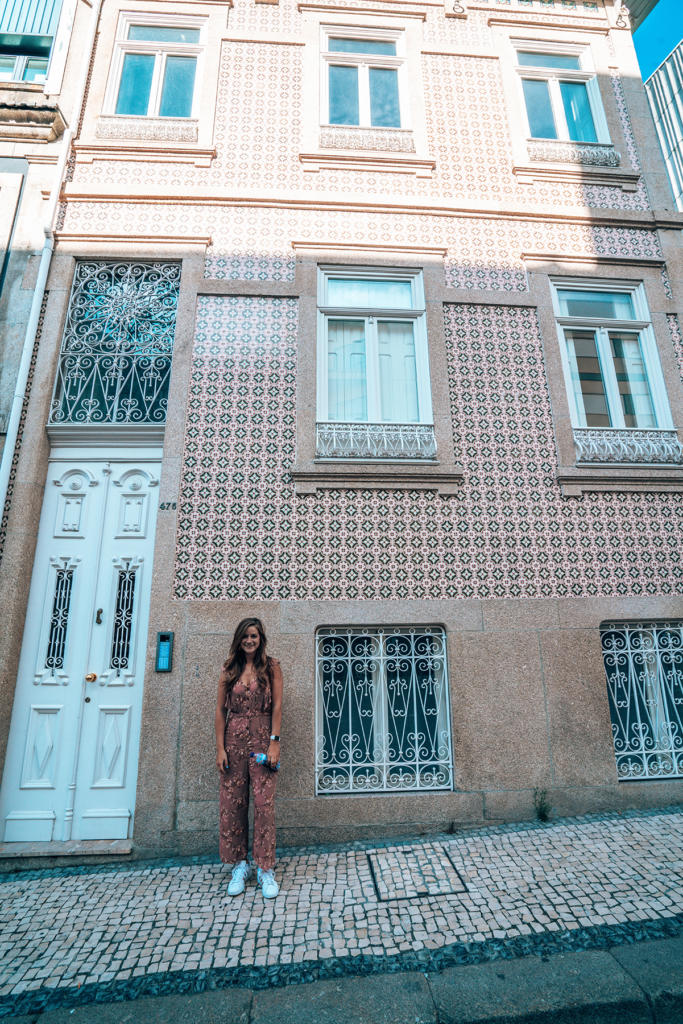 We had an Airbnb in Lagos only a five minute walk from downtown. This made it really easy to walk into town for dinner both nights. Our main day here was spent at the beach (via driving) so you could stay anywhere if you don't want to stay in Lagos itself.
Our third Airbnb was in Lisbon on Rua Augusta, a busy pedestrian-only shopping street. The Airbnb was on the fourth floor, overlooking the street. It was the perfect location. If I come back to Lisbon, I'll be staying in this same area, if not the same Airbnb.
We had a very early flight our last morning, so we moved to an Airbnb right next to the airport our last night. Our hosts were great and scheduled us a taxi pick up for 3am the next morning and we had a 4 minute ride to the airport.
Overall Thoughts
Portugal is a beautiful country with a diverse landscape and friendly people. I would love to go back one day!
---
You may also be interested in:
Day Trips from Lisbon
Two Days in Porto
36 Hours in the Algarve
Day Trip to Sintra
Lisbon Guide
32 Photos That Will Make You Want to Visit Portugal
Where to Eat and Drink in Portugal