Bonjour! New Year's week was spent in Paris. What a magical place it was to ring in the new decade! We were in Paris for about four and a half days before moving on to Budapest.
We landed in Paris early Saturday afternoon, but by the time we took the metro into the city, Ubered to our apartment and got checked in, it was dinner time. We wandered the streets of Le Marais, the neighborhood we were staying in, until we found an adorable restaurant specializing in charcuteries and wines (more details on all the food we ate here!). We called it quits early that night as we were exhausted from our long flight the night before.
I came into Paris not having much of a plan for what we would do each day. We had booked the Louvre ahead of time with a time slot, so that was the only thing that was certain. I had a long list of things I wanted to see and do but was sure we wouldn't get to it all.
The original plan was to spend our first full day in Strasbourg, France exploring the Christmas markets. However, there was a major train strike in France while we were there. This caused most trains to be cancelled and metros as well. That meant we had to skip Strasbourg. I was a little bummed but didn't mind having extra time to see more things in Paris.
Continue reading to hear about what we did with our next full four days in the City of Lights! We did a lot of walking and much more Ubering that we had planned on since the metro was down.
Day One
Place des Vosges
We started our day around sunrise (8:30am in the winter) at the Place des Vosges, the oldest planned square in Paris. The square is surrounded by classic French architecture buildings and it was a great introduction to the city.
From here, we walked to breakfast and then towards Ile de la Cite, the island that Notre Dame is on.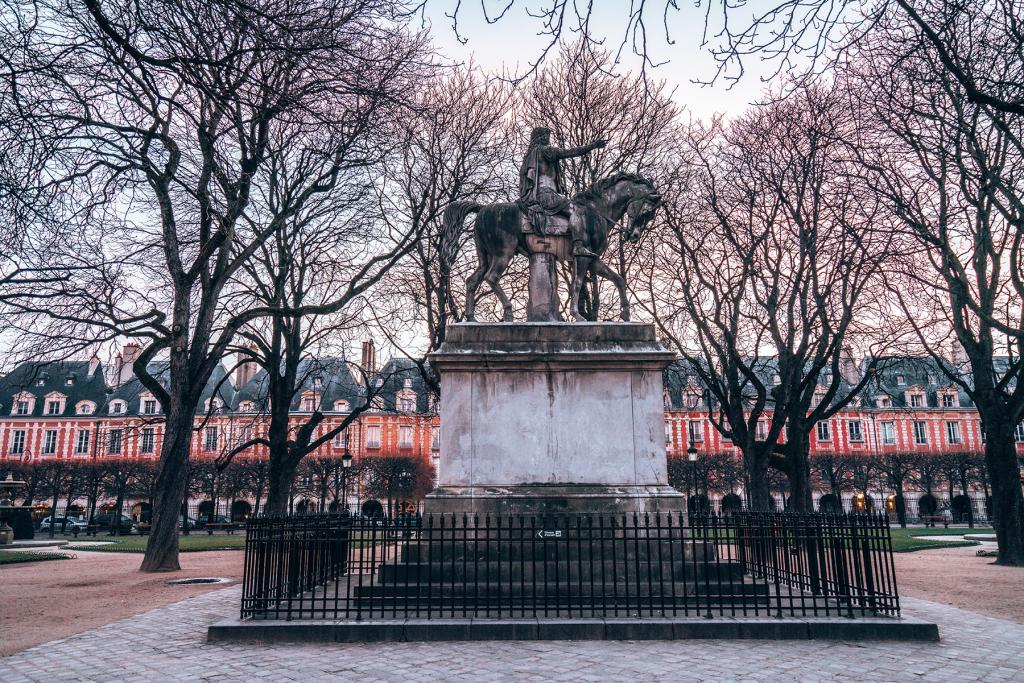 See Hôtel de Ville
The Hôtel de Ville is not a hotel but is actually the headquarters of the municipality of Paris. It has been the headquarters since 1357, when it was first completed. The ornate architecture is worth noticing as you walk by.
Notre Dame
The Catholic cathedral of Notre Dame has been around since 1260. It is one of the most recognized symbols of Paris. The cathedral was at the top of my bucket list and I was devastated when it was damaged by a fire earlier in 2019. However, the majority of it is still standing. We walked around it starting at the front, moving to the back, and then crossing the river. With all the walls up around the grounds blocking any visitors from entry, the only decent view we got was from across the river.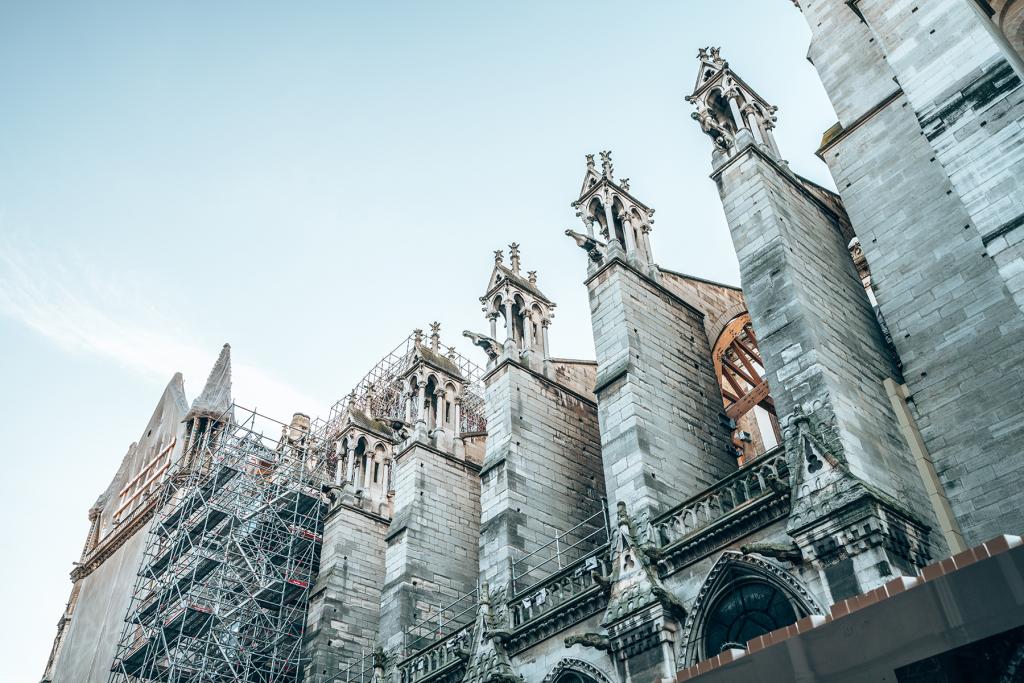 While we couldn't go inside, it was still worth seeing. Not everyone will get to say they witnessed this part of history!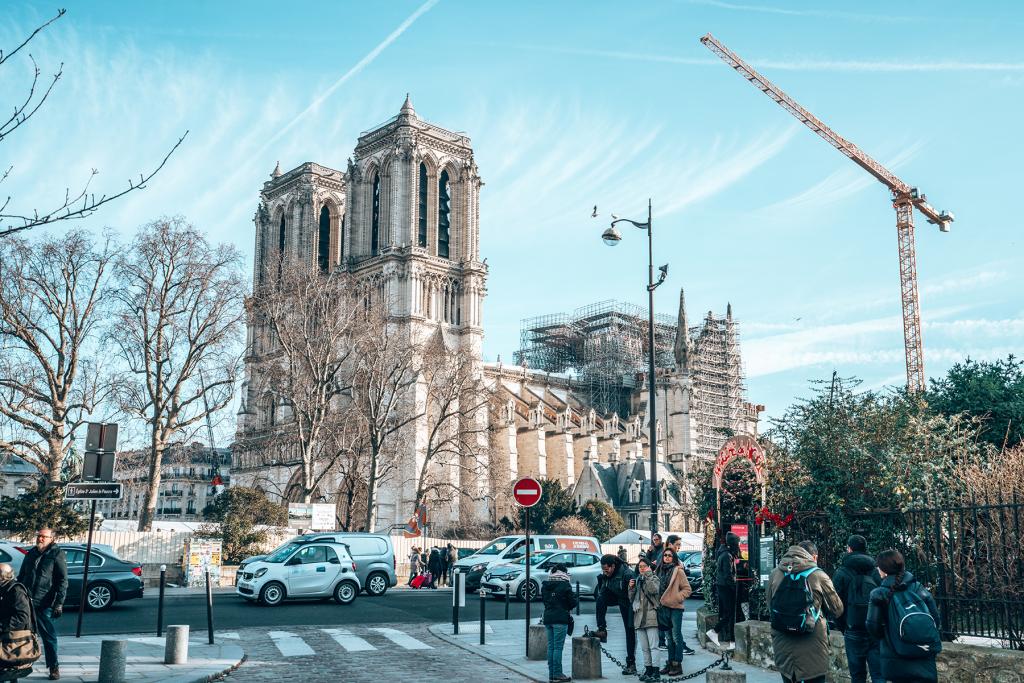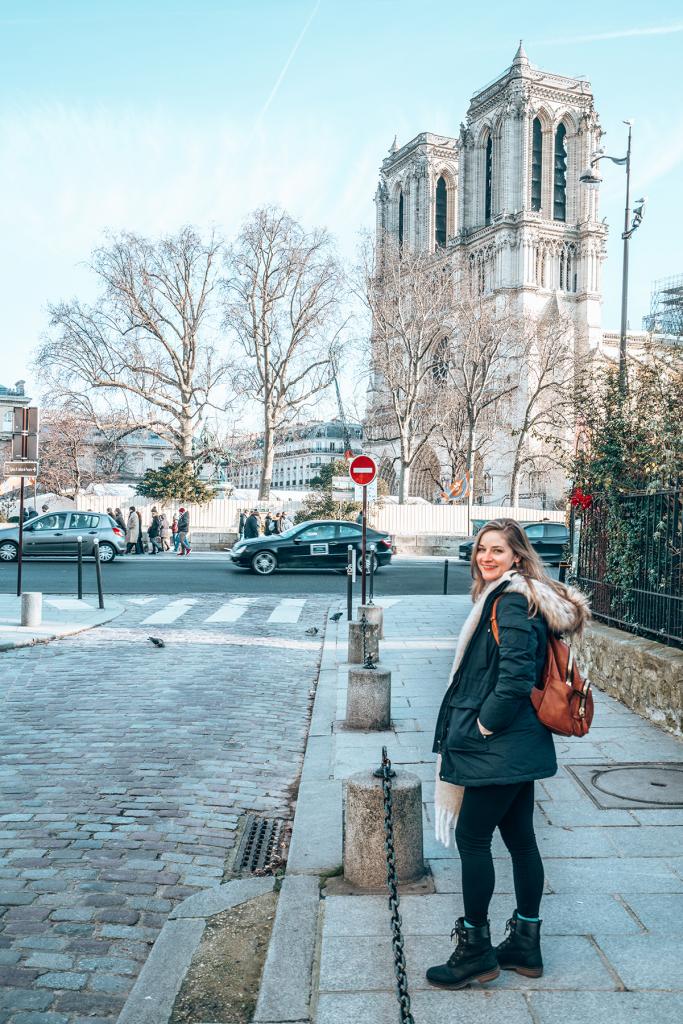 Latin Quarter
From Notre Dame, we wandered down to the Latin Quarter. It was still morning and the streets were quiet. I loved the charming streets in this area and would've liked to have come back in the evening for dinner.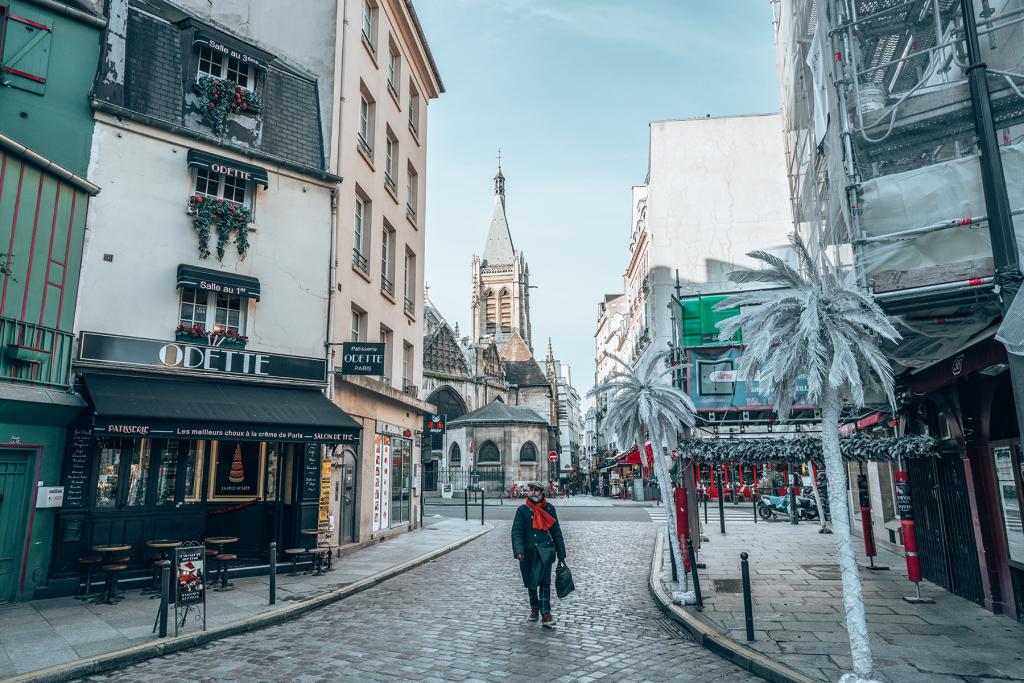 We stopped by Shakespeare and Company, a famous second-hand bookstore. I was disappointed that they didn't open until 12 on Sundays so we didn't get to check it out. The cafe was open though, and we got coffees to take with us on our walk.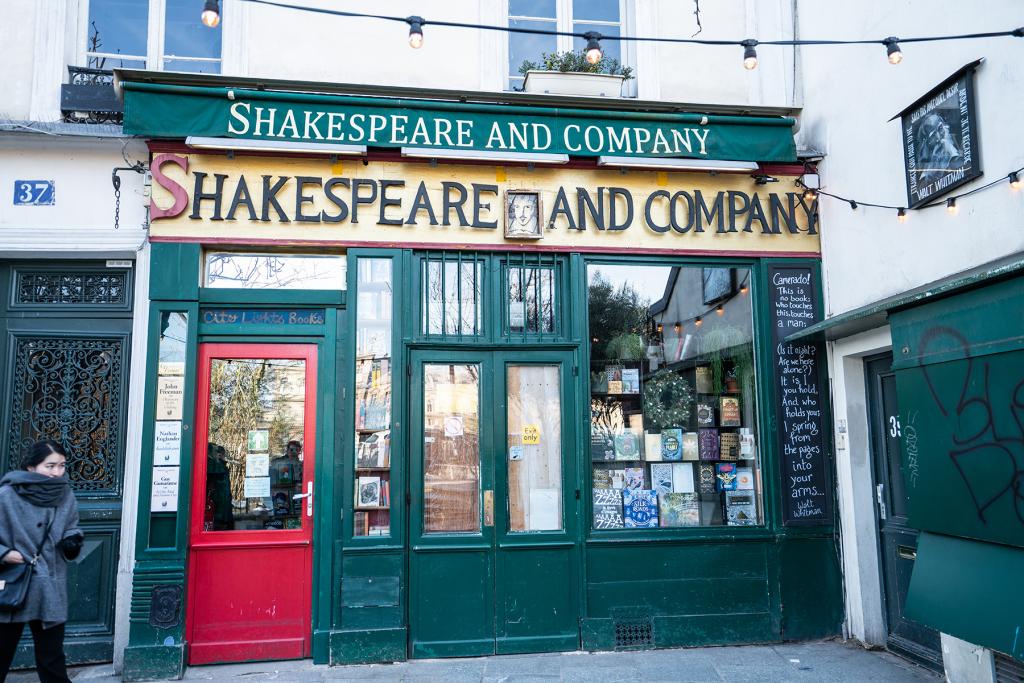 Across the street from the bookstore was a temporary Christmas market in the tiny park. They had about 20 stalls selling gifts, ornaments, and mulled wine. There was even a French Santa!
Conciergerie
After we got our fill of wandering the Latin Quarter and filled up on French onion soup for lunch, we walked over to the Conciergerie. This was a prison during the French Revolution. Hundreds of prisoners were kept here, including Queen Marie Antoinette.
One fact I found interesting here was that the prisoners were forced to pay for their board, allowing rich people to have large quarters, and the less fortunate were stuck in the dreary basement.
I thought it was interesting to see the prison quarters, but we only spent about 30 minutes here. The majority of the museum was a tribute to Marie Antoinette, which I wasn't as interested in.
The Conciergerie, Sainte Chapelle, and Palais de Justice are all in the same complex. You can buy a combination ticket for the Conciergerie and Sainte Chapelle which is just a few more Euro than the ticket to only Sainte Chapelle. The ticket line for Sainte Chapelle was way down the street when we arrived, so we headed to the Conciergerie first. We got our tickets and walked right in. If you are planning to go to Sainte Chapelle anyways, this is an easy way to skip the line and also see another cool place!
Cost of Conciergerie alone: €9
Cost of Sainte Chapelle & Conciergerie Combo Ticket: €15
Sainte Chapelle
The royal chapel of Sainte Chapelle is known for its magnificent stained glass windows. You have to go through security to enter the courtyard it's in and it is not visible from the street. We skipped the enormous line with our Conciergerie combo tickets and walked right in.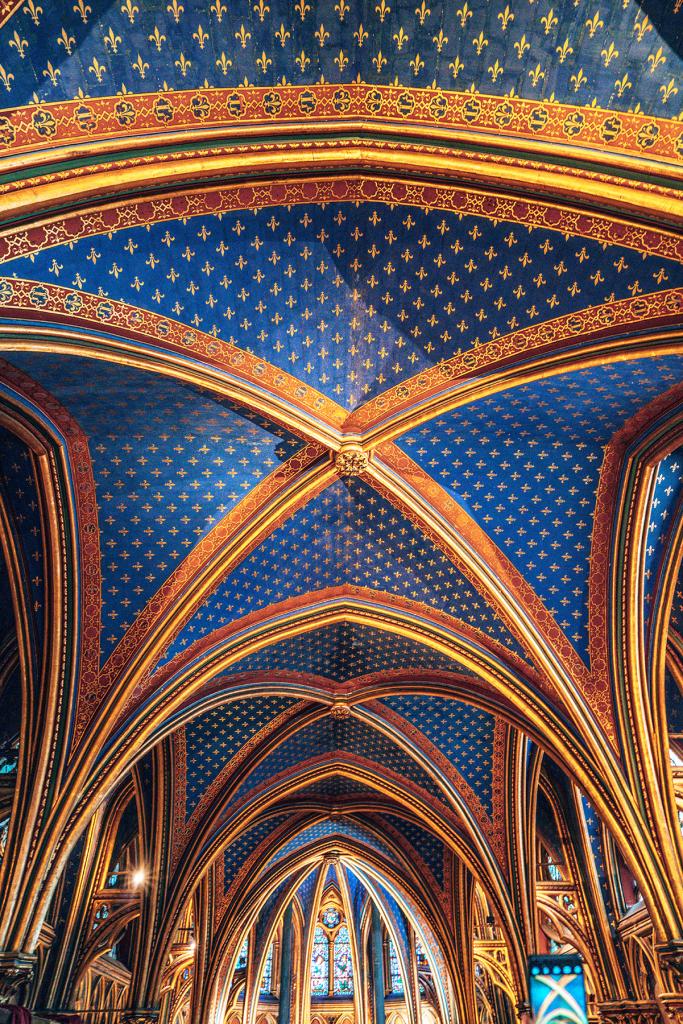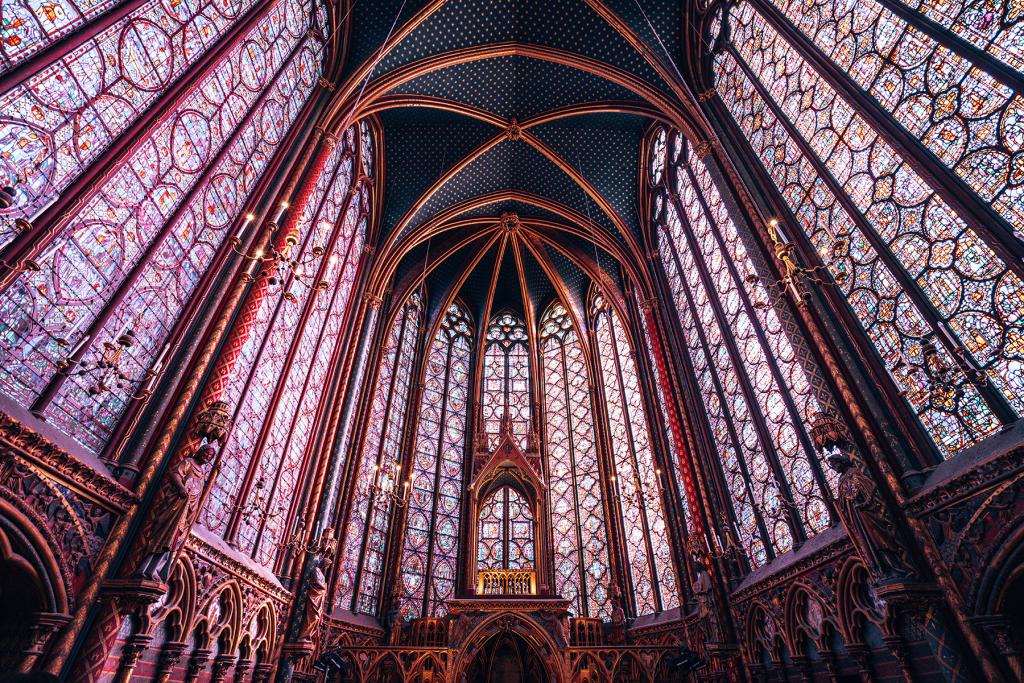 Visitors enter through the basement, which is surprisingly beautiful. Then you'll have to walk up a tight spiral staircase to enter the chapel. The stained glass is breathtaking! I was expecting the chapel to be much bigger, but it is fairly small and intimate compared to other churches in Europe. Definitely worth seeing, but we only stayed here for about ten minutes before moving on.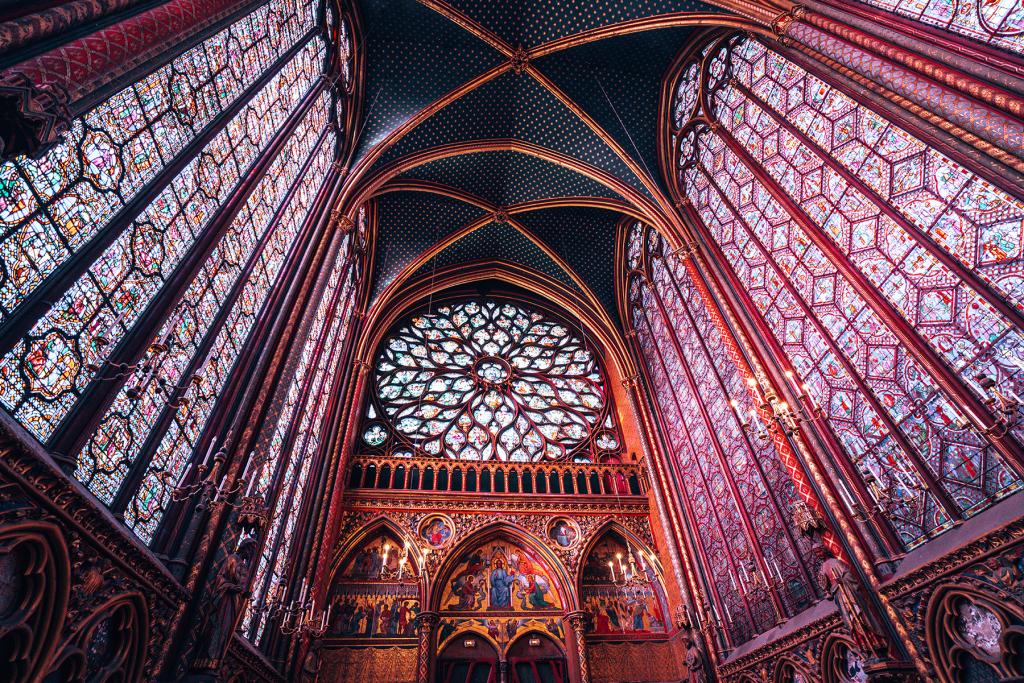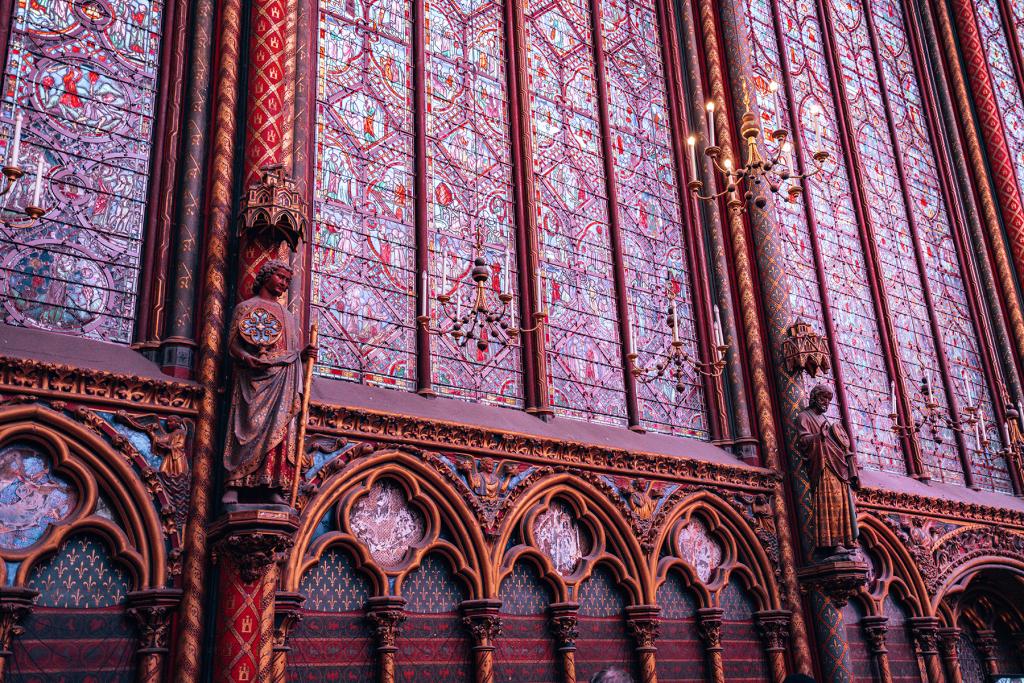 Cost of Sainte Chapelle alone: €10
Cost of Sainte Chapelle & Conciergerie Combo Ticket: €15
Day Two
Sunrise at the Trocadero
We elected to skip going to the top of the Eiffel Tower and instead see it from across the river at the Trocadero at sunrise. What an amazing view! The sun rises behind the tower, so it made for a beautiful show.
We also saw the Eiffel Tower from the Champ de Mars, the park in front of it. I wasn't as impressed with this view. When we were there, the grass was super muddy and there were so many people on the paths that it made it less enjoyable. I would pick the Trocadero hands down.
From the Trocadero, we got breakfast at a cafe and then walked 20 minutes to the Arc de Triomphe.
Arc de Triomphe
I knew going to the top of the Arc de Triomphe was one of my must-dos for the trip, so I had bought our tickets online ahead of time. We arrived about 20 minutes after opening time and walked past the already super long line with our skip-the-line ticket. Once you enter the Arc, it is 300 steps up a spiral staircase. We entered the rooftop slightly out of breath from the steep climb and were left speechless at the views! You can see everything in Paris from here. The Eiffel Tower isn't far, and Sacre Coeur is very visible up on its hill in Montmartre.
This is probably my favorite thing we did in Paris. I elected to go to the top of the Arc instead of the Eiffel Tower so we could have the Eiffel Tower in our view! I have no regrets.
Cost of Arc de Triomphe ticket: €13
Champs-Elysees
From the Arc de Triomphe, we strolled down one of the most recognizable avenues in the world, Champs-Elysees. We did some shopping as well and attempted to have lunch at Laduree (famous for their macarons), but the line was down the street and we were running out of time before our appointment at the Louvre. Instead, we Ubered to a restaurant near the Louvre to eat more French onion soup.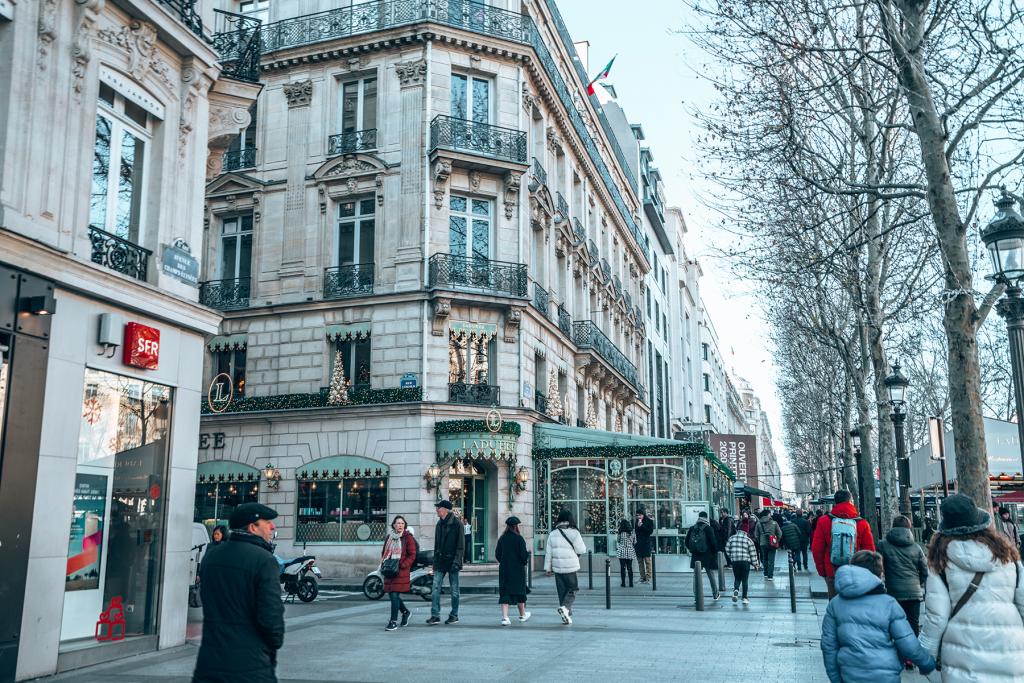 Louvre
Our ticket for the Louvre was at 1:30pm. The main entrance had a line that seemed to be about a mile long, so we entered through the Richelieu entrance, which had no queue. Inside was chaos, with thousands of people walking in every direction and stopping in their path in front of us. We really wanted to see the Mona Lisa, but when we got to the area, we discovered that there was another line to get into the room it is housed in. The line was at least 300 people long and wrapped around a couple times. We decided it wasn't worth it, so we walked by the room's entry room and got a glimpse of the painting from afar. Good enough for me!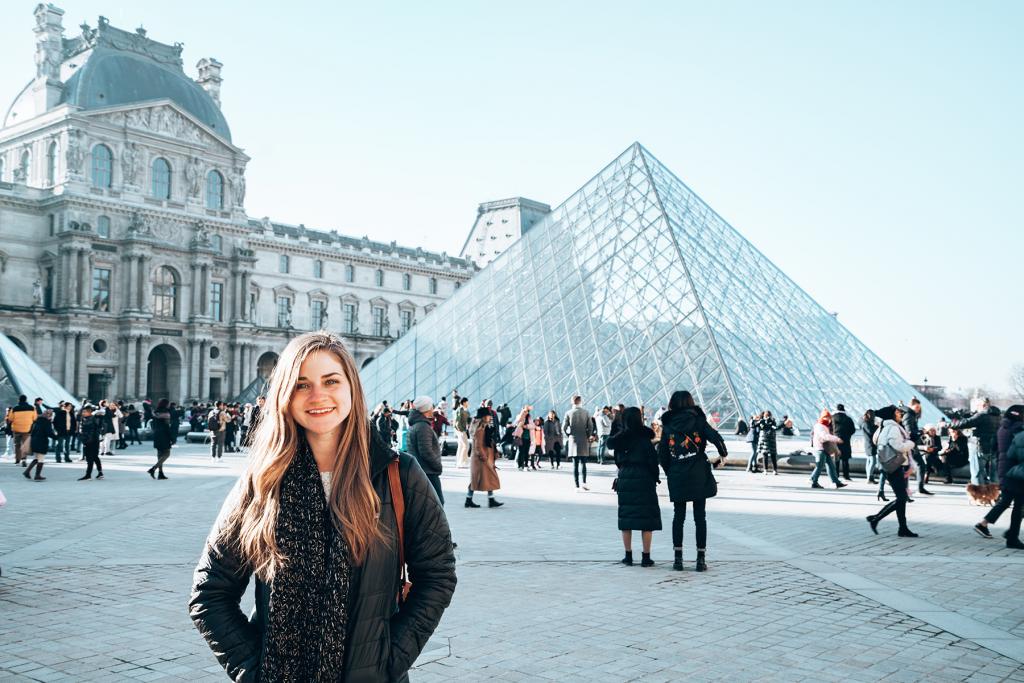 We wandered around the rest of that building, seeing some more paintings and sculptures. After about 45 minutes the crowds were too much for us to handle, so we headed back to our Airbnb.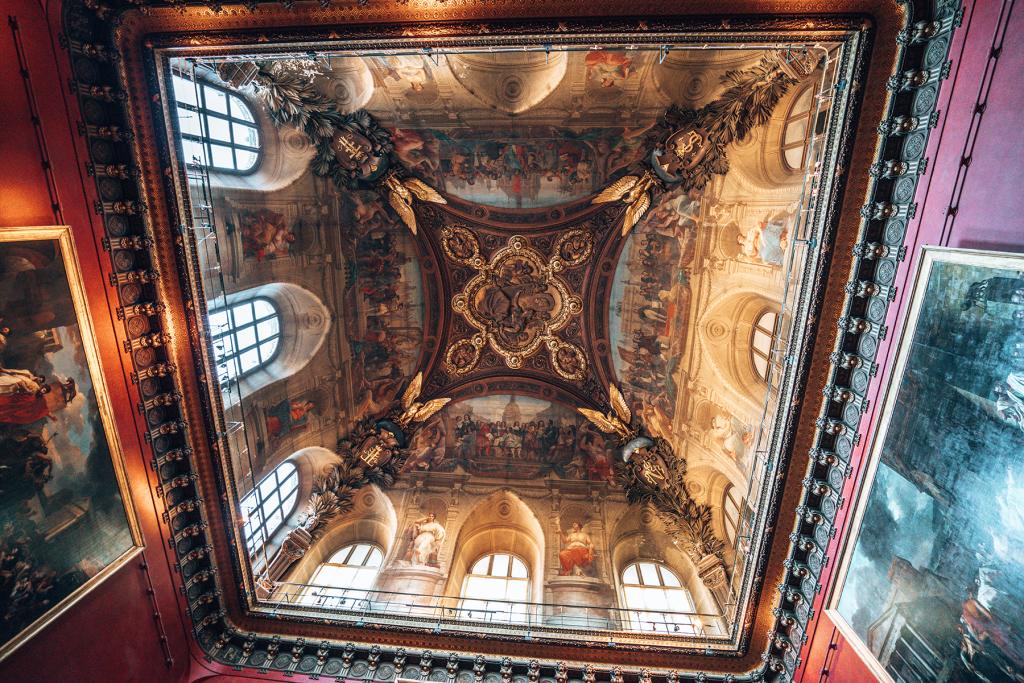 This museum is massive! I could see how you could easily spend a whole day here if you are an art lover and don't mind crowds.
Cost of Louvre ticket: €17
Rue Cremieux
After we got to our Airbnb, we napped for a little bit and headed down to Rue Cremieux, a quiet street filled with colorful houses. There were a few other tourists there taking photos, and I could tell the residents there weren't crazy about that. We quietly took our pictures then left shortly after and went to dinner.
Day Three
We slept in a little today and Ubered up to the Montmartre neighborhood after grabbing a coffee and a croissant. We arrived at Sacre Coeur via Uber around 10:15 and it was already crazy busy!
Sacre Coeur
The Sacre Coeur Basilica is a popular landmark that stands at the highest point in Paris. We walked through the Basilica for free before making our way up to the dome.
The dome is located at the top of the Basilica and requires you to walk up 300 steps in a cramped spiral staircase. Not the most fun for a claustrophobic person like me. But once at the top, WOW! The views are amazing. On a clear day like when we were there, you can see the Eiffel Tower a few miles away. This was one of my favorite things we did in Paris. Can you tell I like good views?
Cost of dome ticket: €7
Wander through the streets of Montmartre
When we were done at Sacre Coeur a little after 11, we had some time to kill before our lunch reservation at 12. I'd heard that the streets of Montmartre are quaint and nice to walk through. There were times where I didn't feel like I was in the busy metropolis of Paris, and instead was in a small French village. We wandered around, taking plenty of pictures, and made our way down to the restaurant Pink Mamma for lunch.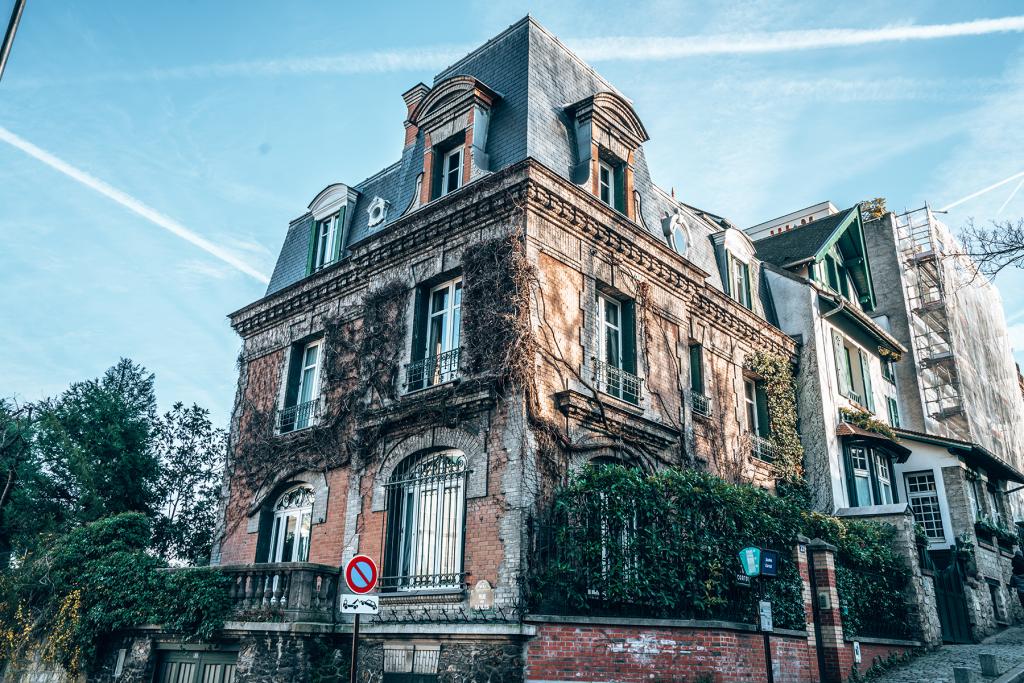 Tuileries Gardens
After lunch, we had plenty of time to kill before our 8pm New Year's Eve dinner reservation. We walked down all the way to the Tuileries Gardens, about 30 minutes from Montmartre. There were a few stores I wanted to stop at along the way to break up the walk.
The Tuileries Gardens are next to the Louvre. We could've seen them yesterday after our museum visit if we hadn't been so fed up of crowds at that point. There was a big Christmas market still going on at the edge of the park with a Ferris wheel, lots of fair-style rides, and food stands. We wandered through and then arrived at a fountain, sitting to enjoy the warm sunshine and rest our feet. It was amazing to me that these gardens have been around since the 1500s.
Pont des Arts
We still had a little energy left in us, so we walked a bit further to see the Pont des Arts bridge. This was the famous "love locks" bridge that has since had all of the locks removed. The tradition was to leave a lock with your loved one on the bridge and then throw the key into the Seine River. With over 700,000 locks on the bridge, the structural integrity was in question, so the locks were removed.
Shopping at street vendors along Seine
Lots of vendors were set up at their stands selling books and souvenirs. We wandered along until I found the perfect postcard. I was shocked to read that these "Bouquinistes" only pay about €100 a year for their stand's rent. Seems like a good deal to me!
From here, we Ubered back to our apartment to nap and get ready for our evening.
Dinner near Trocadero
We ate dinner at La Coincidence, a French bistro about a ten minute walk from the Trocadero. It was the best meal we had in Paris! Definitely recommend.
Trocadero
After dinner, we walked to the Trocadero with plans to watch the Eiffel Tower's light show at midnight for the New Year. However, after waiting around for awhile, we were tired, cold and afraid we wouldn't be able to get an Uber home (or it would be super pricey). We had paid €65 for an Uber to get to dinner earlier and weren't keen on paying more than that on the way home or potentially walking home in uncomfortable shoes. We ended up getting a nice bottle of champagne and celebrating back at our Airbnb at midnight!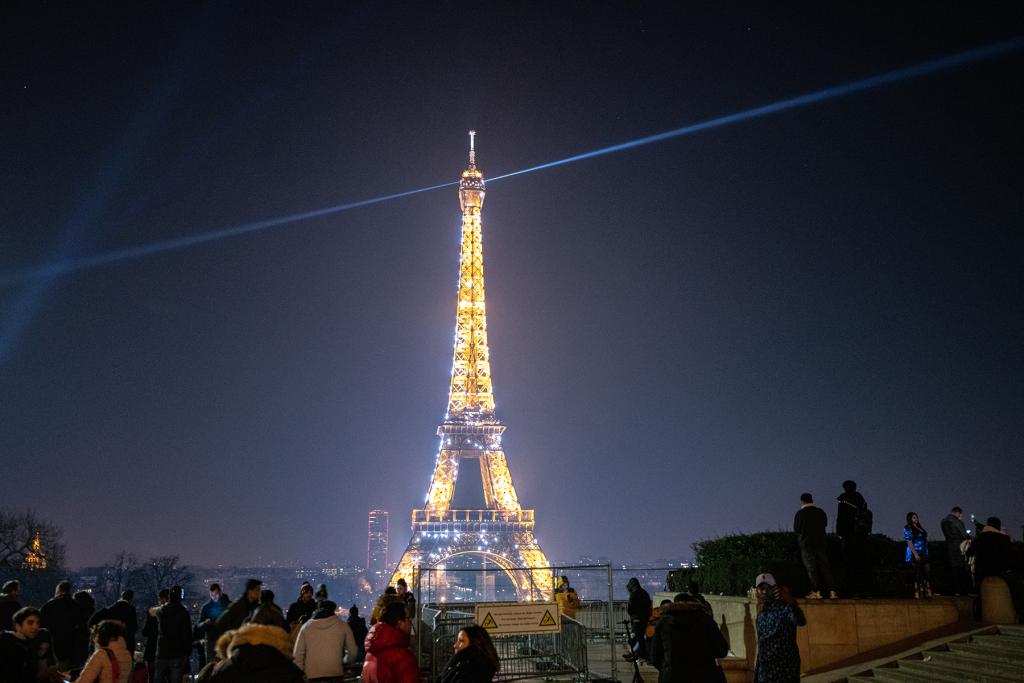 Day Four
We slept in and then got up to pack up our suitcases. Our host was lovely and let us stay at the Airbnb all day since we weren't flying out until that night.
Brunch
I wasn't sure if any restaurants would be open since it was New Year's Day, but we found a popular cafe near our apartment to eat brunch at. It was really yummy!
After brunch, we had no plans for the day, so we decided to Uber back into the city and see a few more things that we had missed.
Petit Palais
Our first stop was the Petit Palais, an art museum in the 8th district. I wasn't interested in the art, but instead the front door. It was epic! We snapped a pic before heading across the street to Pont Alexandre III.
Pont Alexandre III
This bridge is ornately decorated. Four statues prominently stand at each corner. I had to see it before we left.
Rue Cler
Rue Cler is a charming market street about a ten minute walk from Pont Alexandre. Being New Year's Day, there wasn't a market going on, but it was still cute to walk down. And the best part was that they had a Laduree store! It was just a small shop where you could buy macarons and coffee to go, but that's all we needed. Those macarons were delicious!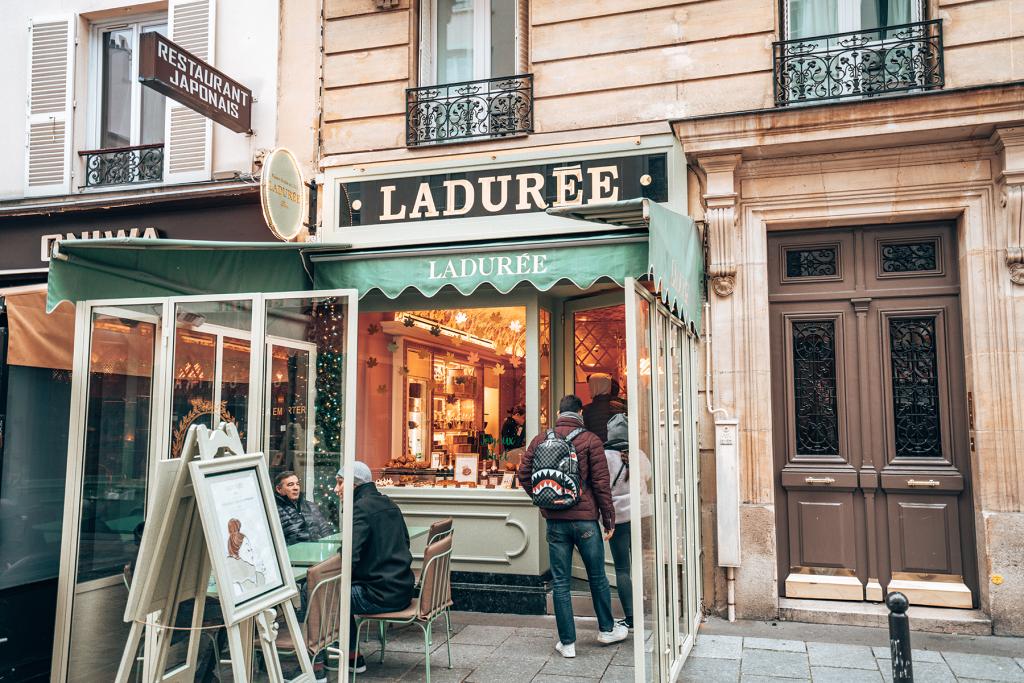 Pont de Bir-Hakeim
After Rue Cler, we walked around the Eiffel Tower taking a few more pictures. It was a very foggy day, so you could only see about half of the Eiffel Tower. From there, we walked to a famous bridge called Pont de Bir-Hakeim. This bridge has been featured in a lot of movies including Inception, so I wanted to check it out. This is a two-level bridge, where the metro passes on the top and cars and pedestrians travel on the bottom.
This was our last sightseeing activity, and from there we walked to an early dinner nearby. Then we made our way back to the CDG airport and flew to Budapest. Stay tuned for more posts about our trip in the next several weeks!
---
You may also be interested in these posts:
Where to Eat in Paris
Logistics of a 4 Day Trip to Paris in Winter
18 Photos That Will Make You Want to Visit Paris
---