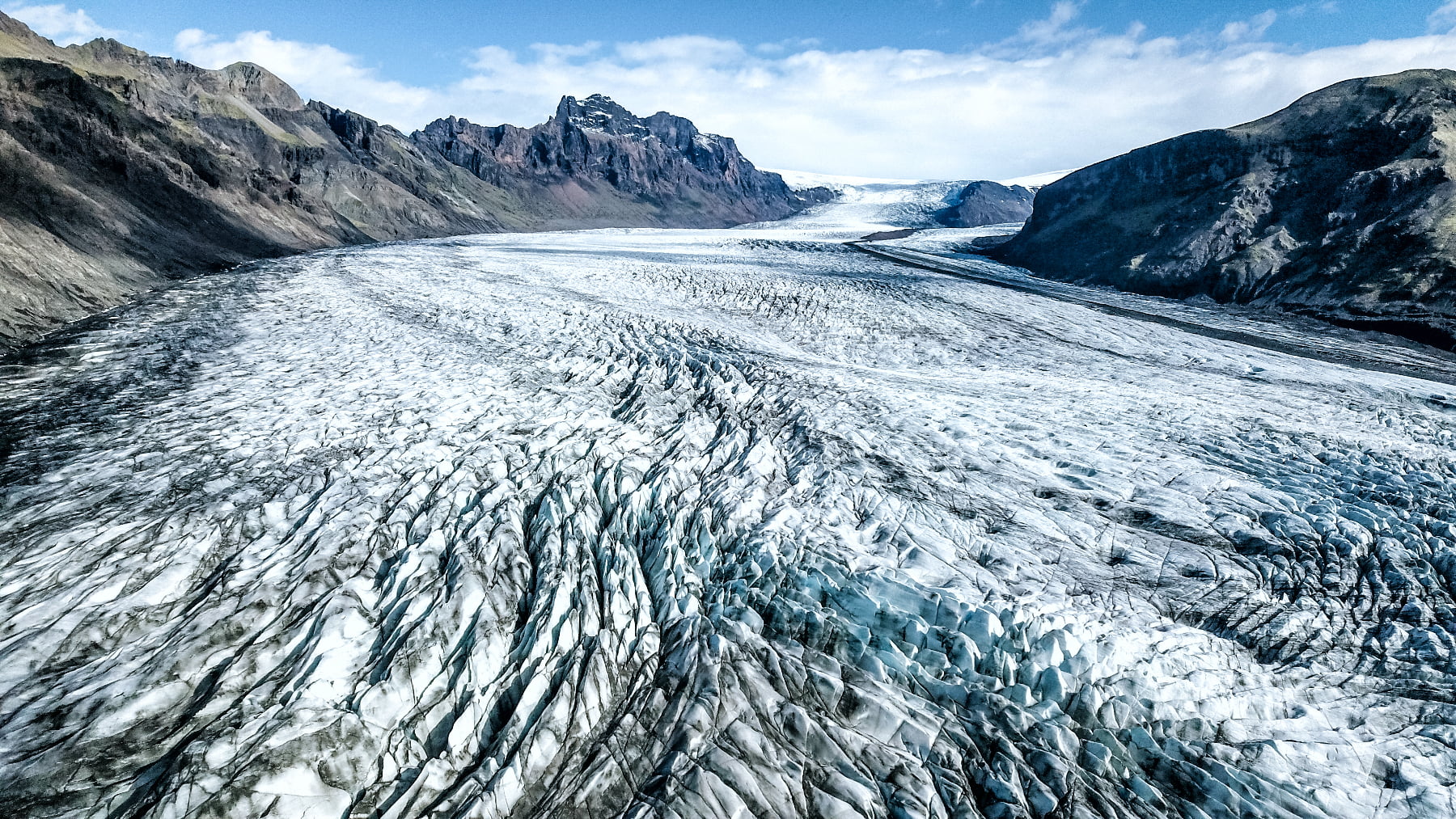 The Vatnajökull glacier was one of the most impressive things we saw in Iceland. It's Europe's largest icecap and covers about 8200 square kilometers (~3200 square miles). It's 1000 meters at its thickest point! You can see it when you're driving a good portion of southern Iceland. The glacier is so big that its several fingers have their own names.
Diamond Beach
This is a black sand beach where icebergs have broken off the glacier, floated out to the ocean, and washed up on the beach. It was cold and misty when we were here, but I don't think that hurt our visit at all! The "diamonds" were so beautiful and made for some really cool pictures. We took some photographs and only stayed for about 15 minutes.
Jökulsárlón Glacier Lagoon
After Diamond Beach, we headed across the street to the glacier lagoon, where the icebergs had broken off of the glacier. While I was watching the icebergs float down the channel and out to the ocean, I noticed a seal swimming along with them! They had boat tours here, but we headed to the next glacier lagoon to do that since it's a little smaller and less known about.
Fjallsárlón Iceberg Boat Tours
Located only ten minutes south of Jökulsárlón, Fjallsárlón is very similar. The reviews we had read said that the boat on this lagoon gets much closer to the glacier so that was another benefit.
Once we checked in with the tour company, we got some tea in their cafe while we waited. Then our guide rounded us up and gave us some heavy water-resistant jackets to wear out on the lagoon. We proceeded to make a short walk down to the lagoon to get in our zodiac boat. There were six of us plus our guide, so it was a small group.
Our guide told us some fun facts like how glaciers are formed and why the icebergs are blue. The coolest part was when he picked up a small chunk of ice and threw it back, telling us to note how much of the iceberg was showing above water. Only about 10%! We got up as close as we could to the glacier but couldn't get right next to it. This is because if a giant chunk falls off into the lagoon, it can cause a major wave that tips the boat. One of the people in our group asked if the small boats would pop if we hit the icebergs and he responded that they actually can push them out of their way if need be! Our time in the boat lasted about 45 minutes before we headed back to shore.
Hike to Skaftafellsjokull Glacier
The walk to Skaftafellsjokull from the Visitors Center is about 2.5 km. It was gorgeous weather when we arrived here and I didn't even need a jacket until we got up closer to the glacier. I had never been so close to a glacier and it was amazing! I took advantage of this amazing spot and got my drone out for some incredible shots above the glacier edge. The best part of this location was the freedom to go anywhere we wanted. No areas were roped off!
Make sure to spend time at a glacier while in Iceland. Something you can't experience in most places of the world!
---