Vik is a town on the southern coast of Iceland. It's only about 2.5 hours east of Reykjavik. There are so many things to see around Vik. These are the few that we chose!
Dyrholaey
Dyrholaey is a peninsula very close to town. You can choose to drive up to the top and look down on the beach or drive out to the beach. A colony of puffins lives here during the summer. The puffins are estimated to leave in late August and we were there the first week in September, so unfortunately they were already gone. We drove up to the top of the peninsula. It was a very rough road with a couple blind turns that I would not recommend driving without a 4×4 car.
Once at the top, the view is breathtaking! It was so amazing to look down on the black sand beach. There were lots of spots to take cool pictures with no guard rails either!
Reynisdrangar
The sea stacks at Reynisdrangar are huge rock formations off the shore. I was excited to learn that this was a filming location of the show Game of Thrones. On the shore are basalt columns on the side of the cliff surrounding a shallow cave you can stand in. This is a popular spot for tourists to sit on the columns and take pictures.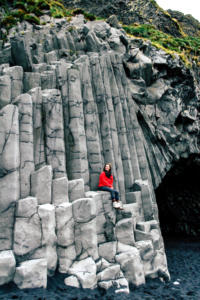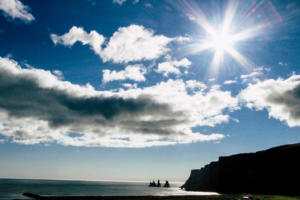 Skogafoss
One of the most popular sites in Iceland is Skogafoss. This impressive waterfall stands 60 m (200 ft) tall. We got here early around 7am because I knew it would get busy even an hour later. Our plan paid off because there was only one other person there when we arrived! After taking pictures at the base, I climbed the stairs up to the top to get a view. I discovered a gate you can walk through with a path that follows the river. Lots of sheep were grazing and I was the only one back there.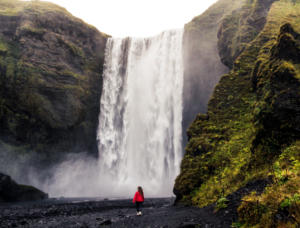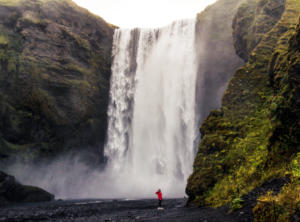 Fjadrargljufur
This canyon is almost an hour northeast of Vik. To get here, you need to drive a few minutes off the ring road. The canyon is about 2 km long. There is a trail that goes along next to the canyon. It had a very different feel from anywhere else we had gone in Iceland. As we walked along the top, looking down on the river below, we commented that it looked like scenery from The Lord of the Rings movies. We didn't spend too long here, but I enjoyed taking the drone overhead!
---