Hiking Gros Piton in Saint Lucia
The Pitons are two large volcanic mountains in Saint Lucia. They are located in the southwestern part of the island, near the town of Soufriere. The two mountains are called Gros Piton (Big Peak) and Petit Piton (Small Peak). Petit Piton is slightly lower in elevation than Gros (Gros is 2600' and Petit is 2500'), but it is much steeper, so it is a more difficult hike.

I came to Saint Lucia knowing I wanted to hike Gros Piton, but we had not planned any excursions to get there. We were staying at the Royalton for my friend Carson's wedding, which is located on the northwestern tip of the island. Although the island is only 27 miles long, the winding mountainous roads with traffic require a long drive to get from one end to the other. The resort works with an excursion company that offered day trips to get down there, but the only day we could go was Sunday and they didn't have tours that day. Our shuttle driver had mentioned that we could hire him to drive us down there, but it would take about two hours each way.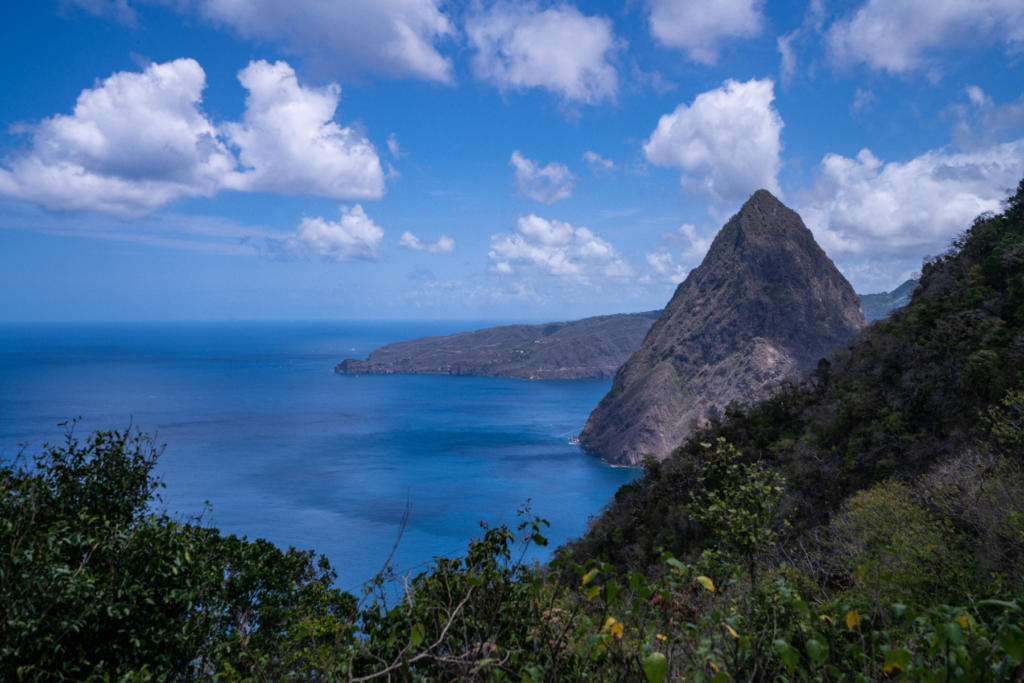 Picking an Excursion
When we got to the beach at the resort, there were several locals selling their own excursion packages. We met one that offered to take us to the Pitons via a speedboat, which would only take 40 minutes! That sounded very appealing since the drive to the resort wasn't easy on our stomachs. He told us we would be joining a tour group that was going to see the volcano and snorkeling near Sugar Beach. They would be dropping us off on their way and we would meet a guide to take us up the mountain.

The trail is government sanctioned, so they require each hiker to pay $50 to hire a guide. While the price was high for a hike, I didn't mind having our guide who knew the trail well and told us he sometimes hiked it twice a day! It was also nice to have someone along pointing out things we never would've known.

The Hike
There are two options for the start of the hike: at the beach or at the village. I hadn't found much detail about the hike in my research so the shorter ride by boat sounded more appealing to us. However, if you are arriving by boat, you must start the hike at the beach which is at sea level. If you start the trail in the village, you will be starting at about 600' in elevation, which means you only have 2000' feet more to go. I wish we would've known that, because we were already tired when the two trails intersected!

The trail is only about 2 miles from the beach to the top, which means that it is very steep. There are points near the top that are 45-50% grade! I knew it would be steep, but don't think I was quite mentally prepared to take it on. As we approached the Pitons from the water, I saw just how tall and steep they really were and wondered what we had gotten ourselves into! By the time we arrived at the beach at 10am, it was already hot. The temperature that day was 85 and it was super humid.

Going Straight Up
Our guide, Rafik, told us the general break down of the trail. It is divided in quarters by elevation, with a rest area at the end of each quarter. The first quarter was the easiest and would take about 30 minutes. The view at this stop was beautiful and looked out over the southern side of the mountain. From here, the trail curves around to the other side. The second quarter takes about 35 minutes and at this stop, you'll get a great view of Petit Piton. The climate starts to change a bit here and becomes more like a rain forest.

The third quarter was the most difficult and took about 50 minutes. At this point it gets much steeper. There are decent rails along the side to help pull yourself up. Some of the steps were no joke at waist level. After already hiking up for over an hour, my legs were tired, and pulling myself up with my arms made it a lot easier. There isn't a view at the third quarter, but instead a very old mango tree to see. The last quarter is only about 20 minutes but is straight up. At this point, we were going so slow because we were so tired so it took us closer to 30.

When I got to the top, I was so exhausted and hungry that I couldn't fully appreciate the view until we sat for awhile. The trail had curved around again so the view was similar to the first quarter stop looking down on the south side, but you could also see the mountains to the east.

Coming Down
I was so tired coming up that I hadn't even considered how difficult it would be to come down. I typically prefer hiking uphill to downhill because it doesn't hurt my knees. Coming down was really tough. There were so many smaller rocks that hurt to step on and I was afraid to roll my ankle. If the trail had been a bit smoother, it would've been way easier. The last half was very slow moving as our knees and ankles were weak. The temperature was getting hotter and sunnier as we moved down also, as there was less tree cover.

When we were about halfway down, our guide got a call from our boat drivers that told us they were leaving to take the other tourists home. This meant that we wouldn't get lunch. At least they were sending another small boat for us. When we FINALLY were done (after about 4.5 hours), I was so excited to run out and put my feet in the ocean. The little boat was waiting for us and took us back to the resort. The ride back was very rough.

Overall, I would only recommend this hike to an experienced hiker who wants a challenge. If you want to fully enjoy your relaxing beach experience I would probably pass. I wouldn't do this hike again. I know I would have regretted it if I hadn't gone, but once is enough for a lifetime.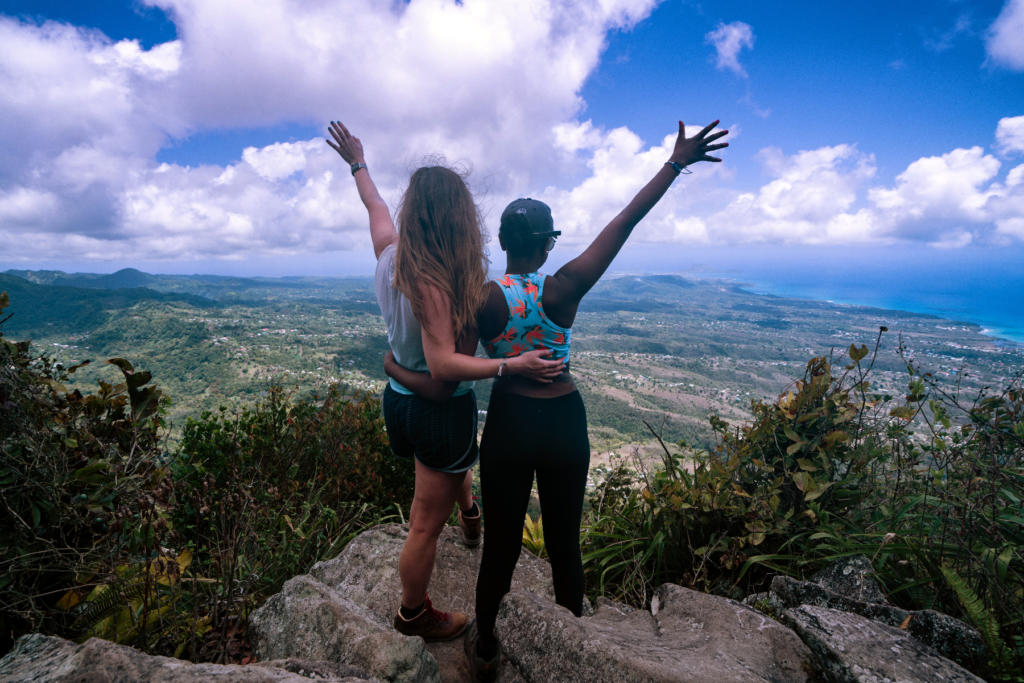 ---