I was in Saint Lucia a couple weeks ago for my friend Carson's wedding. I brought another friend, Joncel, with me. We were gone for a total of five days, Thursday – Monday.

Getting There
Getting to the Royalton was not a quick journey! Luckily, we got a direct flight from Atlanta to Saint Lucia, but the airport is at the other end of the island. You wouldn't think it would take long to get across a 27-mile-long island, but the journey was over two hours for us! Our 4.5 hour flight arrived at 2:30pm and our Delta Vacations package had a shuttle waiting on us to transport us to the resort.

The mountainous roads made for some slow driving. When we got to Castries, the country's capital, it was rush hour and there was much more traffic than I was expecting. The driver told us it would've normally taken about 1.5 hours without traffic. I had heard the roads tend to make people motion sick, so we both took Dramamine 30 minutes before getting on the shuttle. That really helped! I felt fine the whole ride.
The Royalton
The view from the lobby when you arrive is stunning. The pictures on their website don't do it justice! Everything is open air and it overlooks the beach below. This is an all-inclusive resort, so all of the food and drinks you have are included in the price. I was planning to make the most of my money while here! Once we checked in, we headed to our room and stopped by the bar on the way!
All the rooms are facing the ocean, so no one has a bad view! Each building has five floors. We managed to get on the fourth floor of our building, so our view was great. The layout of the rooms was a bit odd. We had two queen beds, which is nice for non-couples, but the beds and bathroom were all in one big room. The only separation was a curtain you could close between the bathtub and beds. If the other person needed to come or go out the front door, your privacy was gone! This wasn't a huge deal, but I wouldn't want to share a room with someone I wasn't super comfortable with.
Pool and Beach
The way the pool was set up next to the beach was perfect! There is basically a line of cabanas, line of chairs, infinity pool, then the beach with tons of chairs. There are a couple other smaller pools further from the beach, but we primarily hung out at this one. This pool also has a swim-up pool bar.
Our group had rented a cabana for the few days we were there, and it was great! First of all, it was super nice to have a home base where everyone could leave their stuff and knew where to meet up. Plus the shade was nice when you got overheated and wanted to sit in the breeze. There was a little pool in front that had jets, so it was like a cool hot tub. We took advantage of that after our grueling Gros Piton hike! There was also a waiter that would come around and take food and drink orders which was nice, although he didn't show up very often!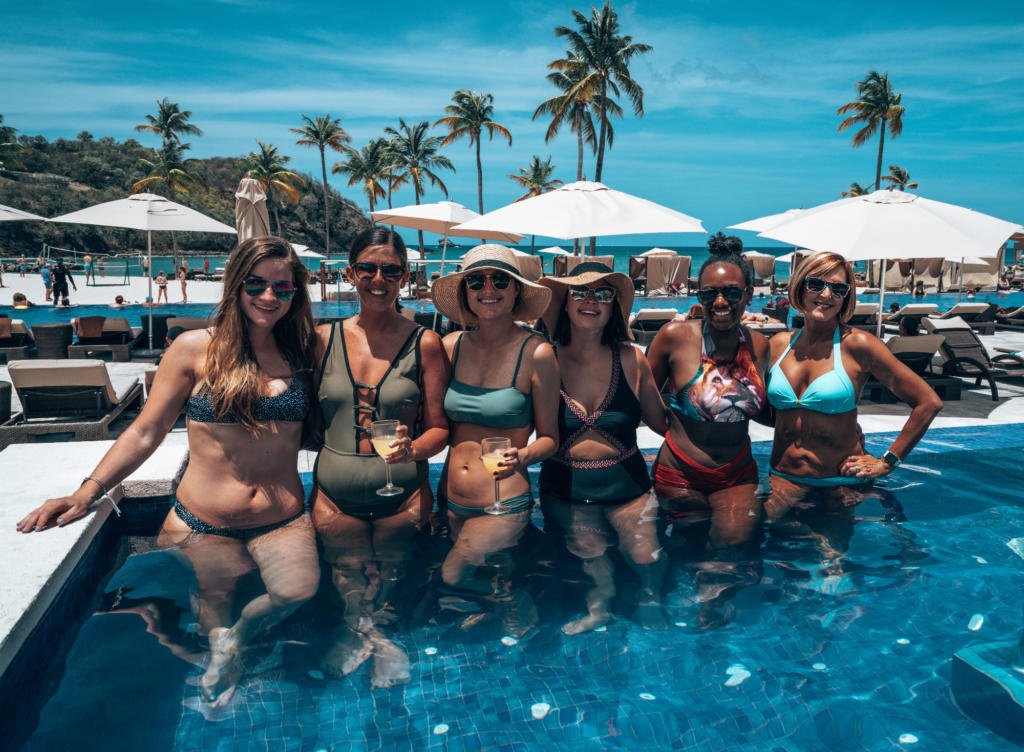 Workout Classes
The resort provided several workout classes each day while we were there. On our first full day there, we had been lounging at the pool all day with drinks, when they started up a water aerobics/dance class. At first we thought it was silly, but most of the girls in our group ended up participating and it was pretty fun. I don't know how many calories I actually burned, but it's better than sitting on the chair! We also did a morning yoga class led by Everton, the head instructor there. It was perfect and got us loose and energized before the wedding on Saturday.
Spa
We got massages at their spa which were really nice! The spa also has a sauna and steam room that you can take advantage of before and after your massage.
The Food
There are a handful of restaurants that you can eat dinner at each night. The cuisine types were Tex-Mex, steakhouse, West Indies, Japanese, Italian, international buffet, and sports bar. When we arrived Thursday, we were really in the mood for Japanese. Our friends told us you had to make reservations ahead of time, so we called but they were fully booked for the night. Bummer! We were going to try the steakhouse instead, but when we arrived they told us it would be an hour wait. We were pretty hungry, so we went across the hall to the West Indies place.
This restaurant was clearly less popular, because we were sat immediately and had our food within about 20 minutes. The food was very good! It was nice to try local food since I knew we wouldn't be spending much time outside of the resort. Our meals on Friday and Saturday were private dining with the wedding group, so we didn't try many other restaurants.

The Japanese Restaurant
We tried calling a few times to make reservations for the Japanese restaurant on Sunday but every time they were closed and wouldn't accept reservations at that time. On Sunday at around 4:30pm, we went in after they had just opened and explained that it was our last night and we really wanted to try the restaurant. The hostess said she could squeeze us in during their first seating.
The restaurant advertised the food as being hibachi and sushi. I was really just wanting sushi, as I wasn't starving, and we weren't in the mood for the whole hibachi show. But hibachi turned out to be our only option and we were seated at the table with about 10 other guests. I asked for the sushi menu, and the waitress told me the only sushi option was as an appetizer, so I requested that. She brought out four measly bites. Glad I was also getting hibachi! The hibachi was very good, but it took over two hours to get out of there. This was the evening after we had hiked Gros Piton and we were ready for bed by the end of dinner!
Breakfasts & Lunches
For breakfasts, the international buffet was the only restaurant open. They had everything you could imagine from around the world, including baked beans and mackerel! Some of the restaurants were open for lunches, but we were never in the mood to leave the beach or pool for a sit-down meal during the day. There was a food truck that we ate at a couple times that had the basics: burgers, hot dogs, quesadillas, nachos, and jerk chicken. It was good and convenient! We also ate at the sports bar one day, which was good.
Room Service
One thing I was really looking forward to was room service. There's nothing like getting back from a long evening of partying and getting a huge pizza as a midnight snack to eat in bed. The food was decent, but it took forever! Every night we tried to order, and it took at least an hour for them to deliver it. Maybe they were hoping we'd fall asleep so they didn't have to give it to us?
The Wedding
Carson and Wil's ceremony was down on a pier over the beach and was absolutely perfect. It was at sunset and the lighting and everything was great. Their reception was at the sky terrace overlooking the ocean. It's all open and only accessible to private parties. This was definitely a great resort for a wedding!
Weather
The weather was excellent while we were here! Saint Lucia has a dry season from January to April and rainy season from June to November. It didn't rain at all while we were there at the end of March, but our hiking guide told us it will occasionally shower off and on during dry season. Each day the high was around 85 and low around 75. Perfect for the beach! The ocean was a little chilly but felt great after sitting in the sun for awhile.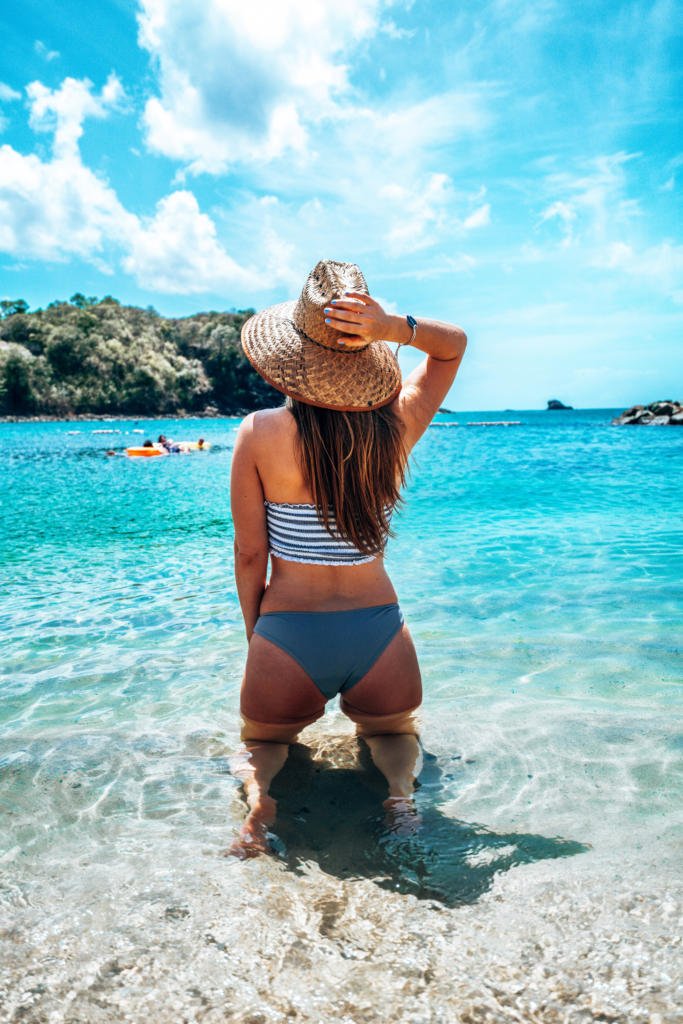 Tips
Take motion sickness medication if riding on the roads
Opt to take tours of the island by boat instead of car or shuttle
Do your research if you plan to go the resort route
You will find many opportunities to sign up for excursions so don't go for the first one you hear about. There may be cheaper or better options for a similar excursion
Overall Thoughts About the Royalton
The Royalton is very beautiful, and I was impressed overall. Most of the staff were very friendly and nice. The only thing that rubbed me the wrong was the restaurant situation that I discussed earlier. If you are paying $600+/night, your service should be perfect. It seemed like they may have been understaffed in that area. For that reason, I would choose to go to a different resort next time I'm in Saint Lucia or explore the island on my own by staying in Airbnbs and renting a car.
---