Joshua Tree is a popular national park in southern California, near Palm Springs. It is known for and named after its Joshua trees that look like they're straight out of a Dr. Seuss book. However, I had no idea of the diverse landscapes we would encounter during our day in the park. My friend Kelsey and I spent one day here during our December trip to Palm Springs for my 30th birthday. I highly recommend visiting this park!
We visited on a Friday in December, and it was really cold! Expect temperatures to be about ten degrees cooler than Palm Springs. It is also very windy since it's in the desert. I was happy that we came on a Friday because it was already decently busy and I'm sure the weekend would've been much busier.
It's also worth noting that we had no cell service the whole time we were in the park, so it is a good idea to do your research what you want to do ahead of time. The National Park's website has some good information about what all there is to do.
Joshua Tree Visitor Center
Before entering the park, we stopped at the Visitor Center in the town of Joshua Tree, which is outside of the park. They have some nice exhibits, bathrooms, and a gift shop. I stamped my national park passport here before heading out. Also note that we didn't see many bathrooms during our day inside the park, so it would be good to visit the bathrooms here.
Coyote Corner
Next, we walked across the street to Coyote Corner, a gift shop that looks like it belongs in an old western movie. They had a bigger variety of gifts here than the Visitor Center, so it is worth checking out if you're in the market for souvenirs.
Joshua Tree Sign at Twentynine Palms Entrance
We made a quick stop at the Joshua Tree entrance sign to get pictures before heading on our way. The park entrance fee is $30 per car for a week. Fortunately, the ranger gave us a map, because I had forgotten to download my GPS maps offline and I had no service the majority of the day.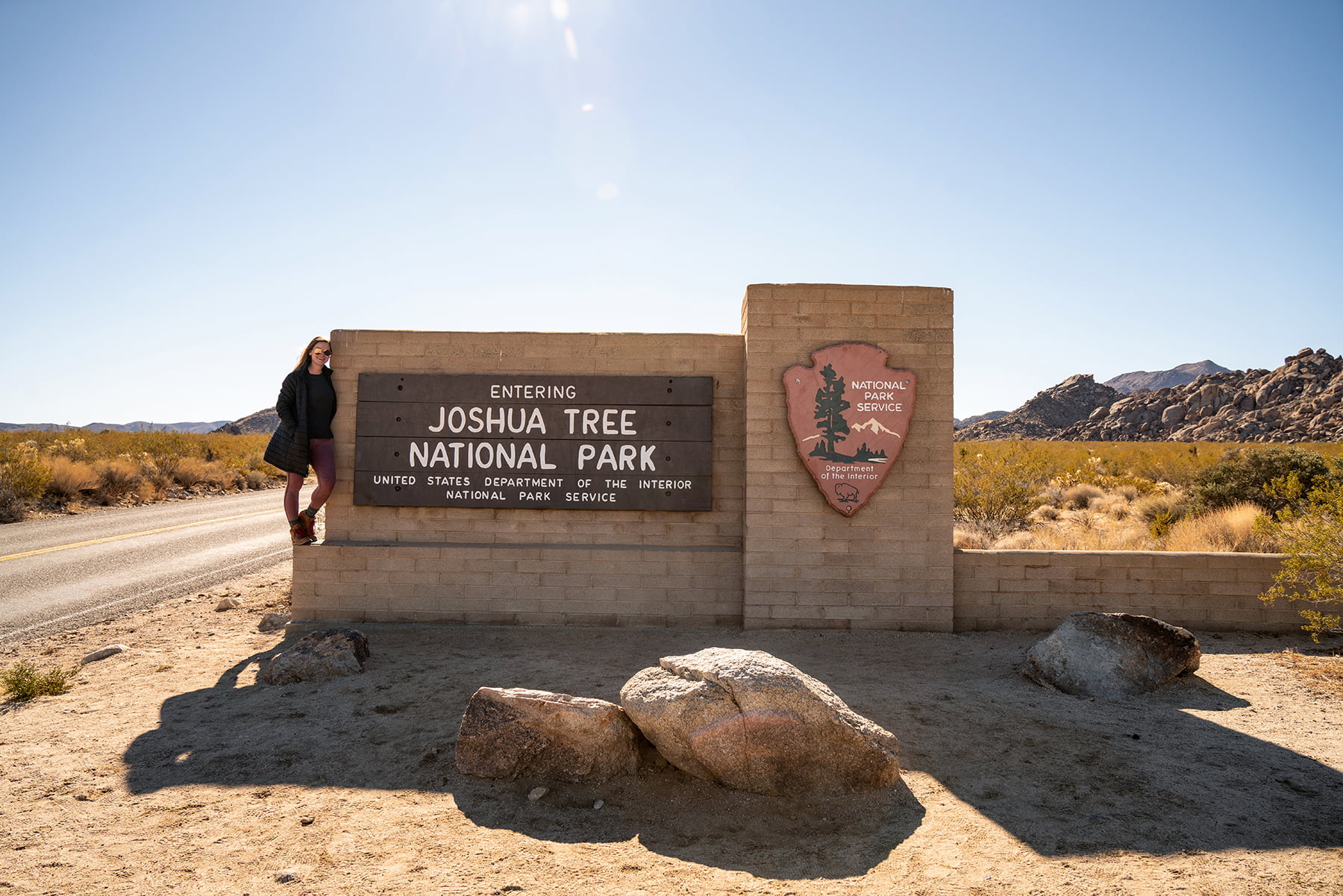 Cholla Cactus Garden
From the entrance, we drove 20 minutes south to the Cholla Cactus Garden. This garden is home to the famous jumping cholla, a unique cactus native to this region. Be careful, as the barbed cactus spines can be really painful and you can attract them even if you don't touch a cactus.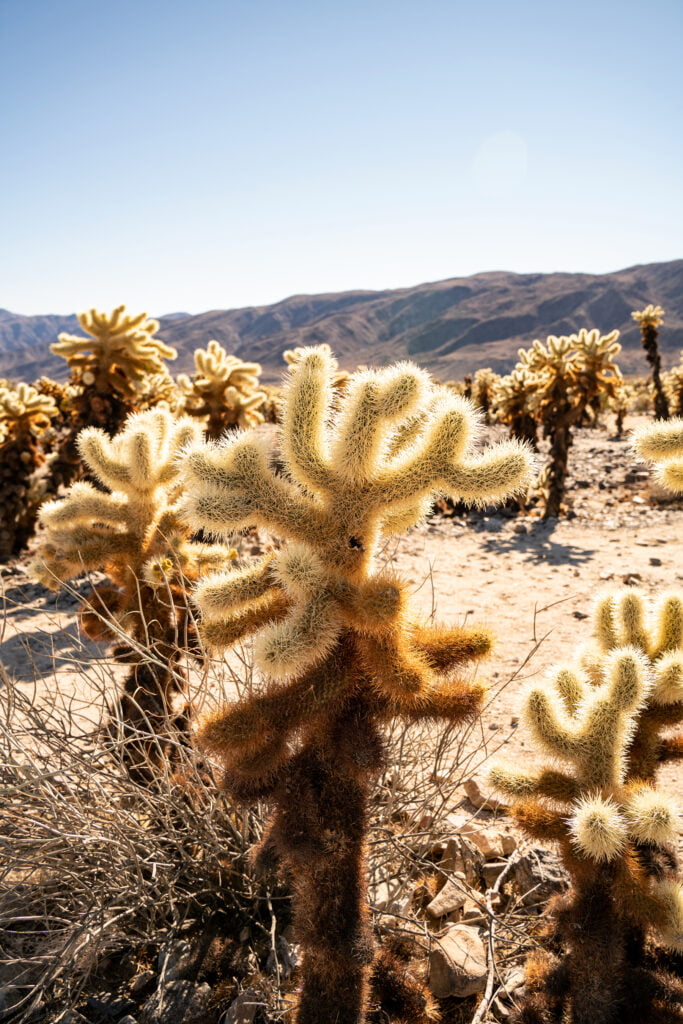 The garden has a 0.2 mile flat trail that loops around. I found these cacti beautiful and also loved the mountainous view behind them.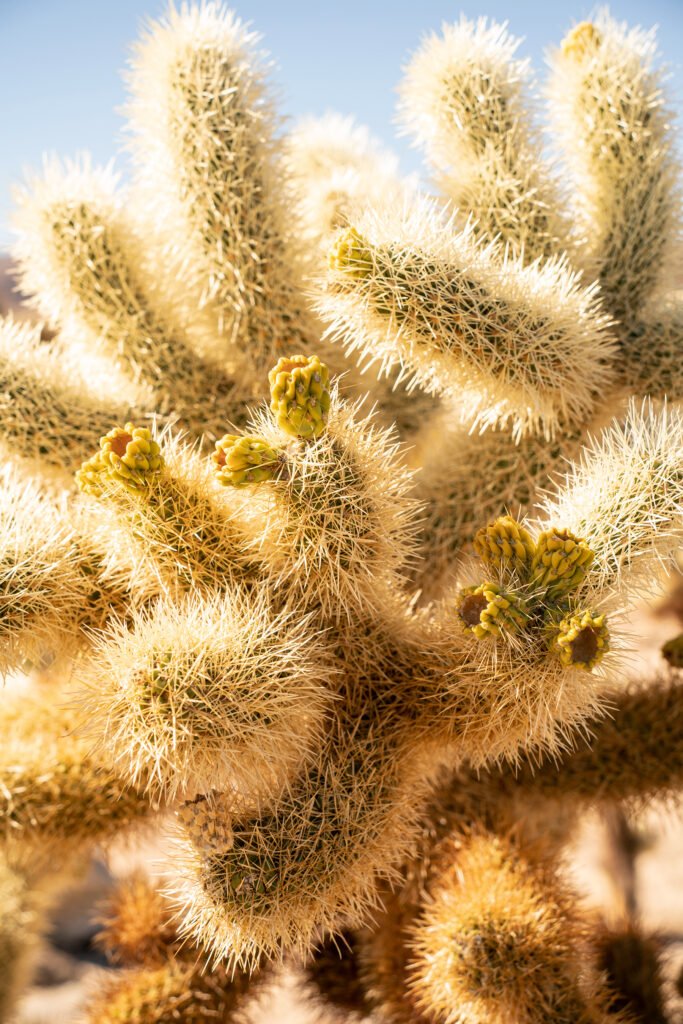 Skull Rock
Our next stop was to see Skull Rock, which is a giant rock that resembles a human skull. There was a line of people waiting to take pictures in front of it, so we didn't bother. However, we climbed up some big rocks and saw a beautiful boulder field.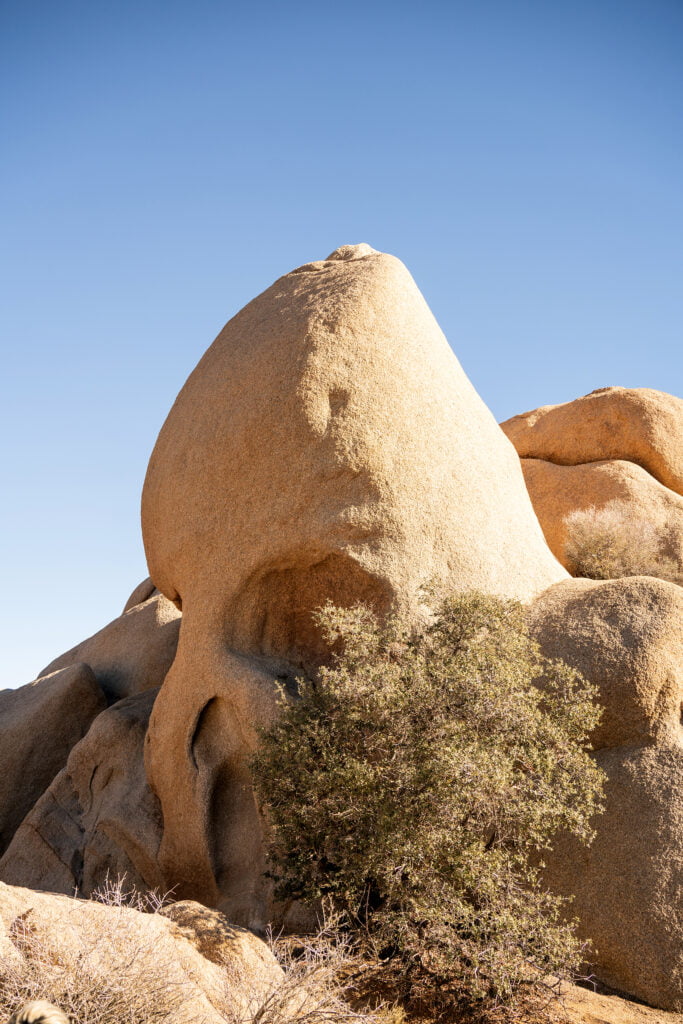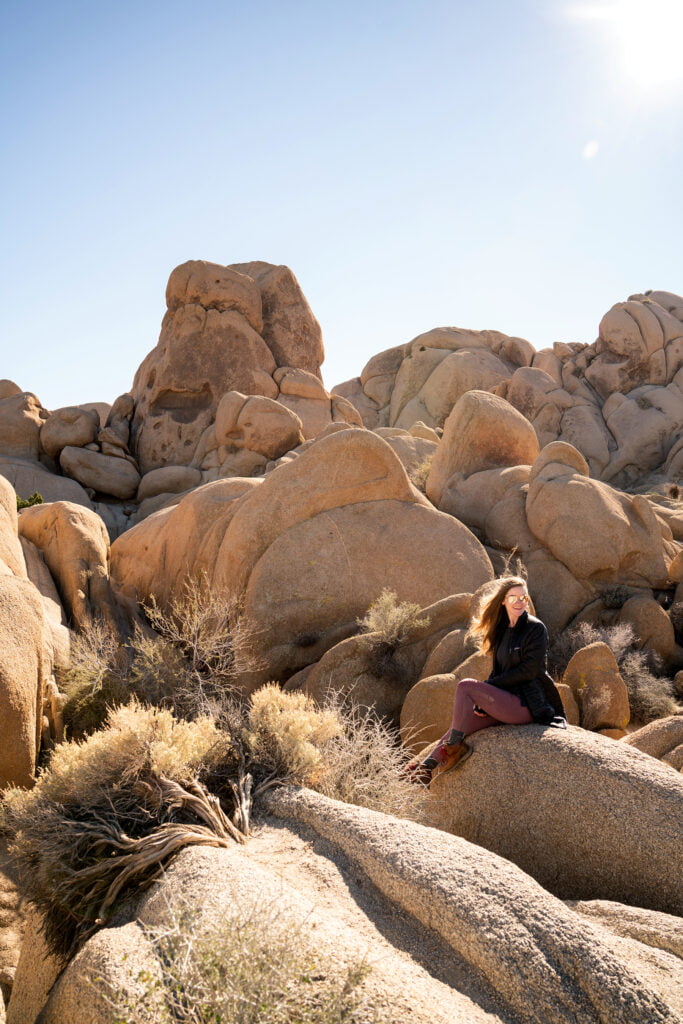 Ryan Mountain
We stopped at the Ryan Mountain trailhead with no intention of hiking. It was just way too cold and windy! There were finally bathrooms at this parking lot and the most picturesque Joshua Trees across the street with a gorgeous mountain backdrop. I loved how diverse the landscapes are in this park. We wanted a picture with Joshua Trees, so we set up the tripod on the other side of the road.
Keys View
My favorite part of the park was our last stop, Keys View. This viewpoint is a little out of the way from the other park sites, but well worth the drive. The road climbs to over 5000 feet in elevation and it is much colder and windier at the top. I am talking so windy, we could barely open the car door and after five minutes of enjoying the view, could hardly feel our fingers. The viewpoint looks out over the city of Palm Springs, the San Andreas fault, and the surrounding mountains. Once again, the landscape is so much different from the rest of the park. You have to check this spot out!
After our short visit to Keyes View we were frozen solid, so we drove back to Palm Springs to warm up. I would've liked to spend more time at this park if it had been a little warmer!
---
You may also be interested in:
Girls' Getaway to Palm Springs