Palm Springs is the perfect location for a girls' getaway. Located in the desert of southern California, it's an amazing oasis to escape to. I traveled here with my friend Kelsey for my 30th birthday in December. We flew into Los Angeles and spent about two and a half days in Palm Springs.
Thursday
We landed in Los Angeles around 10am and headed to pick up our rental car. They let us pick any car, so we chose a Mustang convertible. We were expecting beautiful weather and were excited to drive around with the top down! Since we were already in Los Angeles and couldn't check into our Palm Springs hotel until 4pm, we figured we'd hang out in town a little while before making the drive.
Brunch at Croft Alley
We were starving, so we headed to a cute cafe in West Hollywood recommended by a friend. I got the tuna melt and we split an avocado toast. Both were DELICIOUS!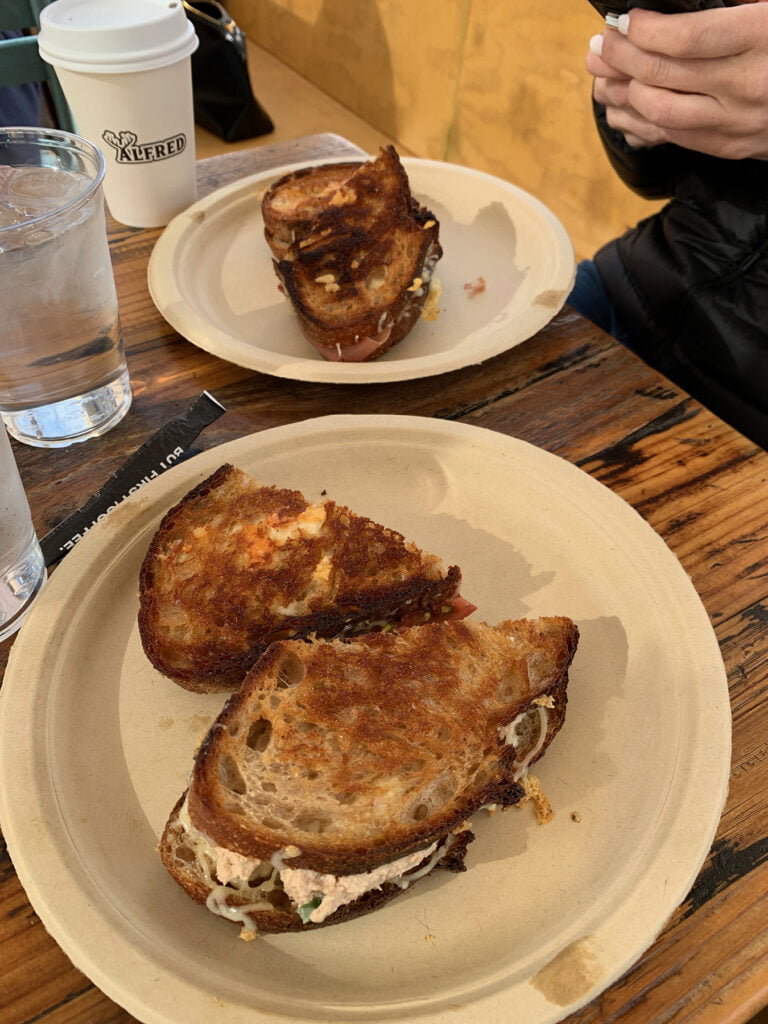 Griffith Observatory
Next, we drove to Griffith Observatory, which sits in the Hollywood Hills. Parking in the main parking lot costs $10. We were only planning to stay for about 30 minutes, but we thought it was worth it. If we'd had more time, I would've liked to hike one of the trails nearby. From the parking lot, we walked to the observatory and saw the beautiful views of downtown LA. You also get a great view of the Hollywood sign from here.
Drive to Palm Springs
We were hoping to leave LA before rush hour, but it seems to always be rush hour there! We left around 1pm and it ended up taking us about three hours to get to Palm Springs. Not too bad when you have sunshine and a convertible!
Check in at the Renaissance
We stayed at the Renaissance Palm Springs. I highly recommend staying there! The location is fabulous (only a two-minute drive to the downtown strip), and it is a beautiful hotel. Their pool and hot tub were really nice too. When the receptionist found out it was my birthday, she treated us to free parking, free breakfasts, and chocolates and snacks.
Dinner and Drinks at Azucar
We made reservations at Azucar a couple weeks earlier because we knew we wanted to go there. Azucar is the cutest restaurant and rooftop bar with boho decor and fantastic food and drinks. I had the blood orange margarita, and it was so delicious that I had another. To eat, we split the truffle fries as an appetizer, and I had the scallops as my main. This restaurant is a bit pricey, but an excellent spot for a special occasion. Our waiter was so friendly and brought out a brownie with a sparkler for my birthday!
We were exhausted after dinner, so we just headed back to the hotel.
Friday
Our second day of the trip was our most adventurous, as we headed to Joshua Tree National Park. We drove about 45 minutes from our hotel to get to the town of Yucca Valley. In town, we picked up sandwiches at Firehouse Subs and got some snacks at Walmart.
Joshua Tree
Highlights from the park included the Cholla Cactus Garden, Skull Rock, Ryan Mountain, and Keyes View. Read my full post about our day in Joshua Tree here.
1501 Uptown Gastropub
After we got back to the hotel, we showered and went to dinner downtown. 1501 Uptown Gastropub was a great spot with a wonderful atmosphere and food. We split the grilled strawberry and burrata salad and then the lobster and crab mac and cheese. Phenomenal!
Saturday
Our third day was our only full day in the Palm Springs area. It was another day with lovely weather, so we started with a hike in Indian Canyons.
Indian Canyons
The Andreas Canyon trail had been recommended to us as an easy but beautiful hike. It sure was! The park costs $12 per adult to get in for the day. The guide at the entrance handed us a map and agreed that Andreas Canyon was an excellent choice. We were one of the only cars parked at the trailhead, so we were eager to start our peaceful hike.
Andreas Canyon is a 1.2 mile loop with very little elevation gain. You start by going through the canyon along a creek lined with palm trees. It really feels like a desert oasis. When you get about halfway, you cross the creek on a small footbridge and climb a little to the valley over the canyon. The views here sweep over the surrounding mountains, and you can see exactly where the creek goes since it has palm trees as its borders. Definitely recommend this hike to anyone! The view to effort ratio is high.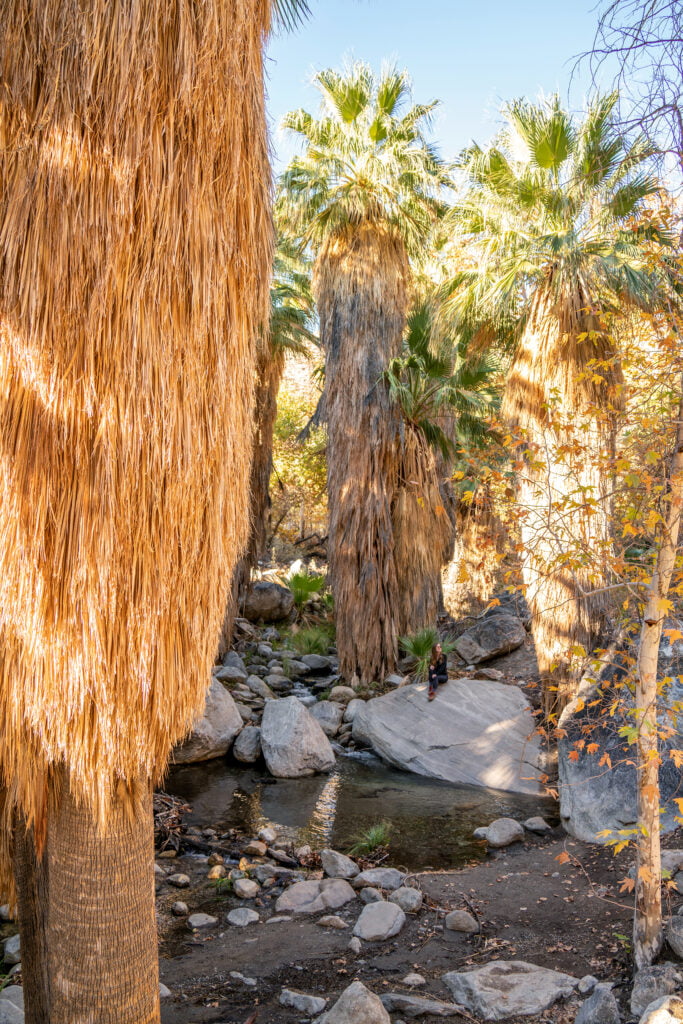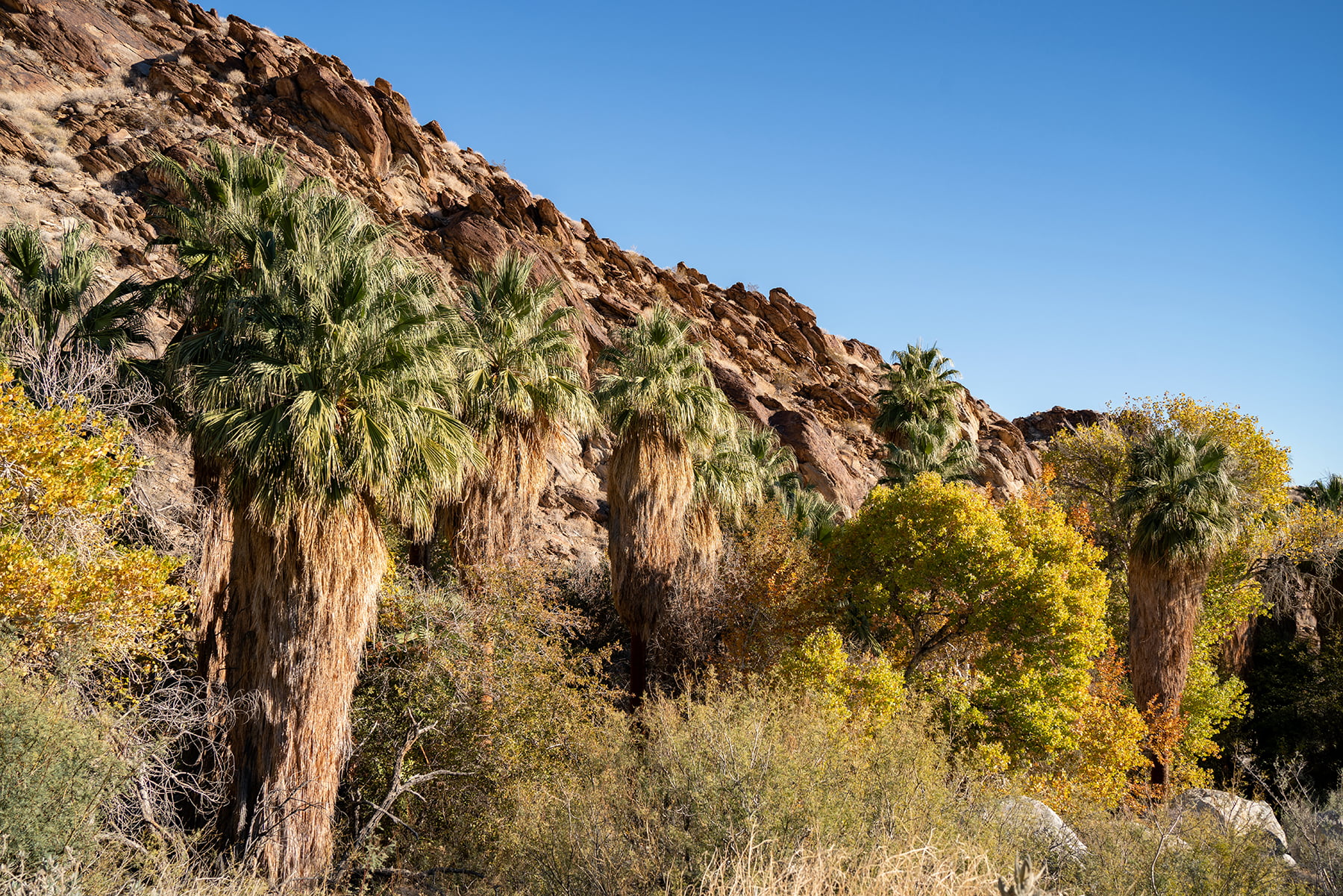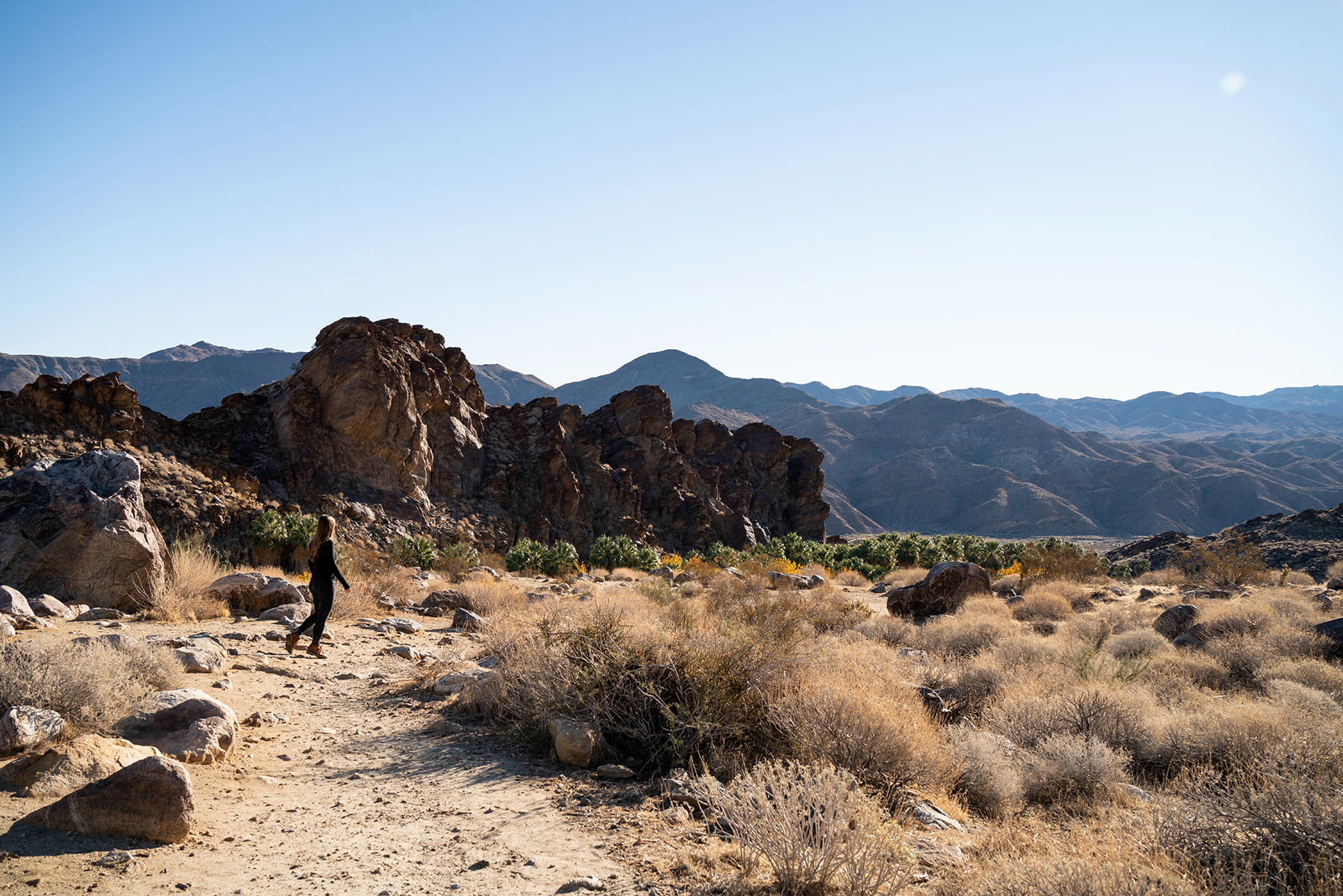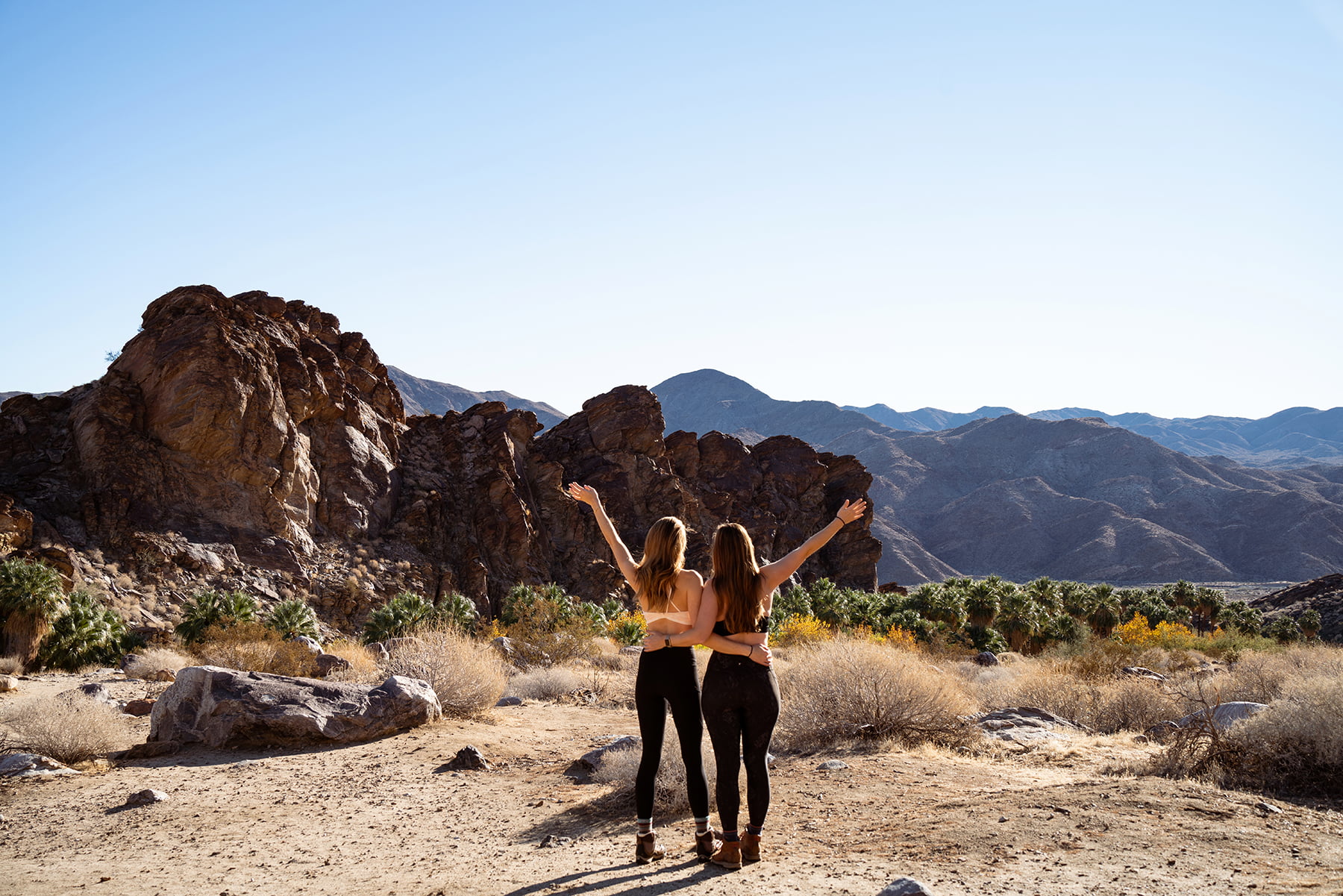 Hot tub at hotel
We finished our morning by soaking in the hot tub back at our hotel. The weather was a little chilly and it felt great to sit in the hot water and sunshine. From here, we showered and headed out for the rest of our day.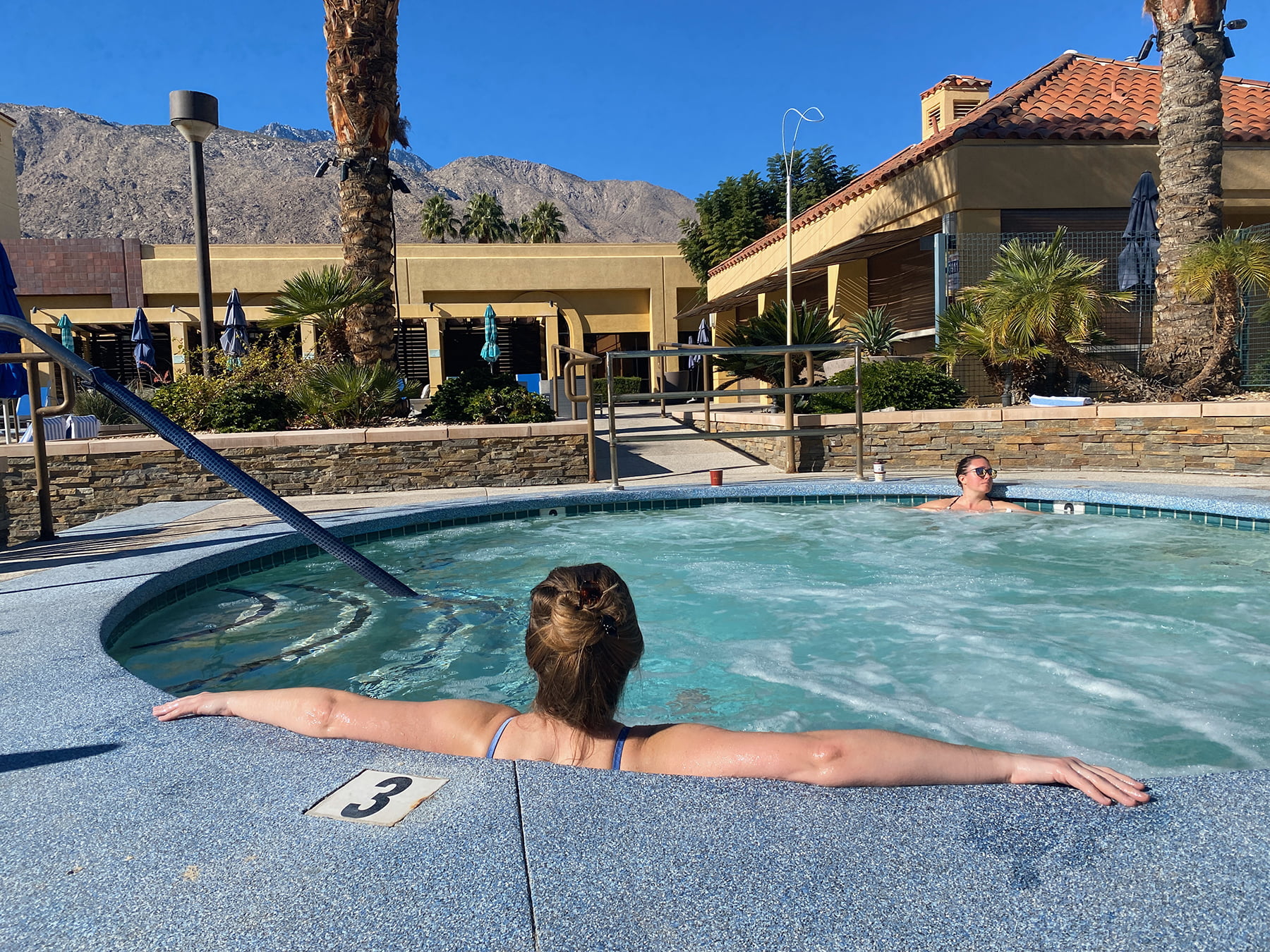 Coffee at French Miso Cafe
We were ready for coffee so we stopped by French Miso Cafe. This place and the little alley it's located in is so cute, and the coffee was good too.
Lunch at Zin American Bistro
We were getting pretty hungry, so we got lunch on the main strip at Zin American Bistro. I was in the mood for breakfast food, so I got eggs, toast, bacon, and breakfast potatoes.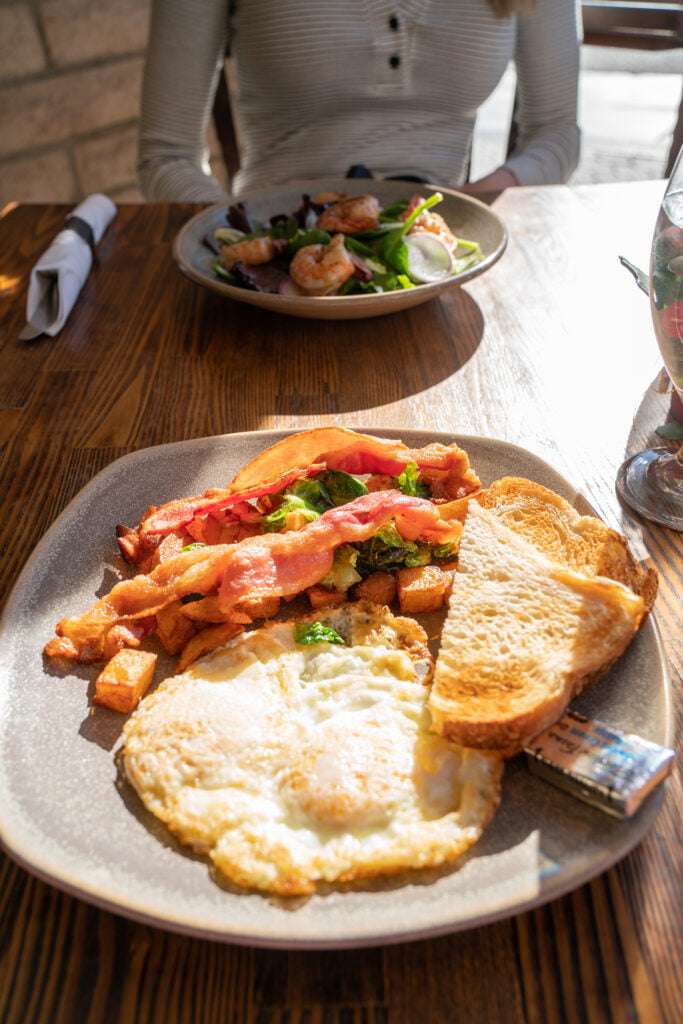 Walk Around Downtown Shops
We walked around looking in some of the shops. The downtown strip is really cute and there are lots of options for shopping and eating.
Sunset Pictures at Palm Springs Wind Farm
The Palm Springs wind farm supplies power to Palm Springs and the entire Coachella Valley. There are 2,700 turbines in the valley, and you will see them as you enter Palm Springs from the west. After we drove by the wind farm our first day, we knew we wanted to come back and take pictures at some point. The best area to view them is near the Palm Springs Amtrak station. We came a little before sunset and the lighting was gorgeous!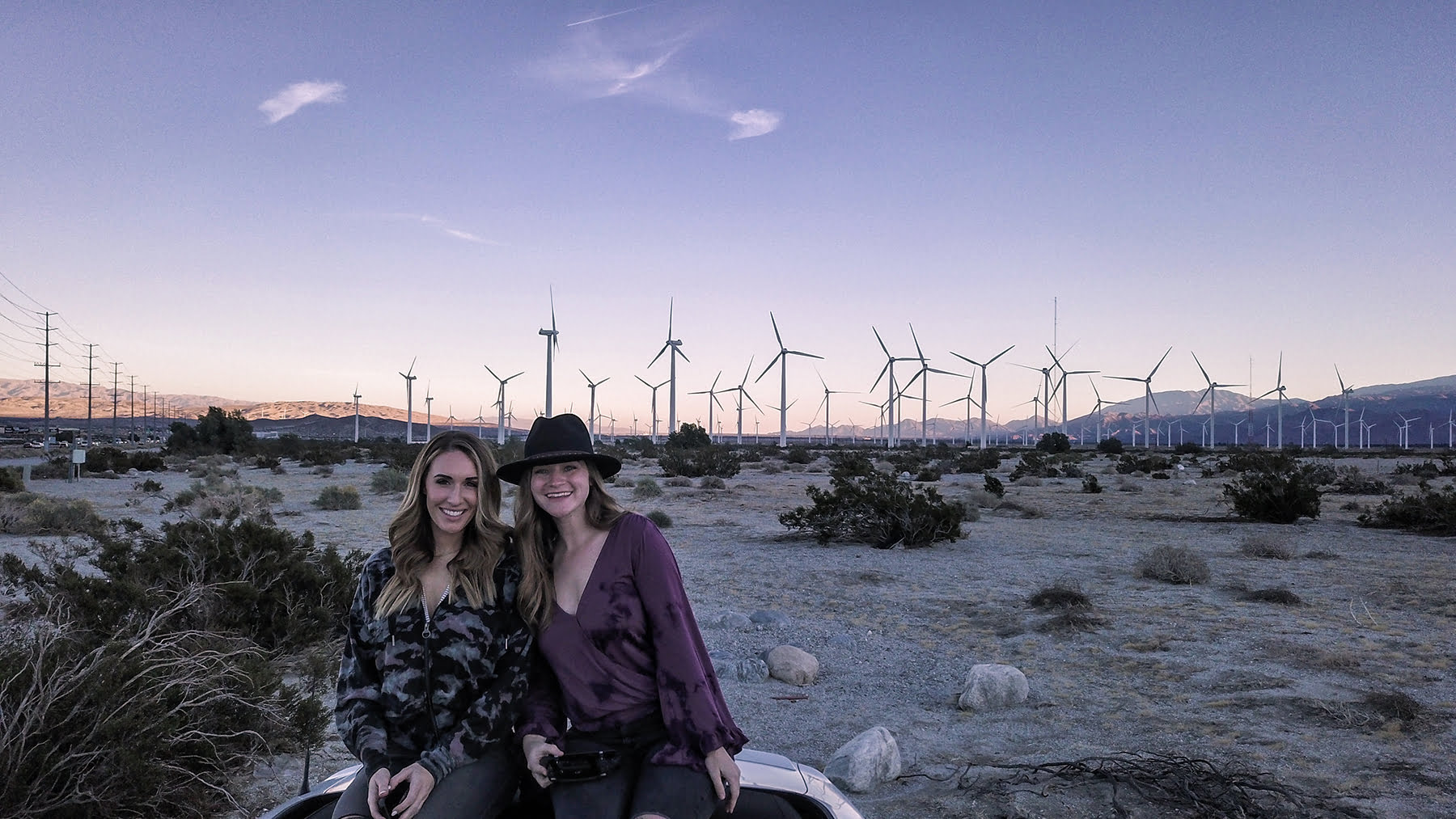 Dinner at Giuseppe's Pizzeria
For our last dinner, we were craving pizza. We went to Giuseppe's Pizzeria. It was very yummy.
Sunday
Our flight from LAX was early Sunday afternoon, so we left Palm Springs first thing in the morning. We met up with my friend Colin in Los Angeles for brunch.
Meet in Paris French Bistro
This cute bistro is located in Culver City, not far from the airport. I got French toast and it was amazing.
Palm Springs was the perfect girls' trip getaway! We had a wonderful three days there.
---
You may also be interested in:
How to Spend One Day in Joshua Tree National Park