Three Day Itinerary for Oahu, Hawaii
I just got back from the most magical nine-day trip to Hawaii with my boyfriend Mike! This was my first trip to the Aloha State, and it did not disappoint. Since I had never been before, I wanted to see as much as possible. This meant we would fit three different islands in our nine days here: Oahu, Kauai, and the Big Island. It was action-packed, but that's just how I like it!
We took two flights from Atlanta to Honolulu, with a stopover in Los Angeles. I preferred doing it this way versus direct, since it gave us a chance to stretch our legs and get food on our 1.5 hour layover. We left on Friday around 2pm and landed in Honolulu at 8pm. I thought landing at this time was perfect because it forced us to adjust to the new time zone. We were exhausted, so we headed to the hotel, only stopping at McDonald's for a quick dinner along the way.
The hotel we chose is called Queen Kapi'olani, which is located in Waikiki. It is at the end of the strip, across the street from the zoo, with an amazing view of Diamond Head Crater. I loved this hotel! We got free valet parking, beach chairs and towels were included, their restaurant was nice, and their coffee bar was very convenient.
Day One
We started our first day in Oahu EARLY. Partly because our bodies were still on east coast time and partly because we had early reservations to go to Pearl Harbor. Mike is a big history buff, so he was extra excited about our first stop.
Pearl Harbor
Our reservations were for 8am at the USS Arizona Memorial. I had booked them the day they released the tickets. The tickets are free, plus a $1 booking fee. There is a limited supply though, so make sure to get tickets as soon as you can. The website suggested arriving an hour early to find parking and go through security. We were running a little late, so we arrived around 7:15. This ended up being perfect. We easily found a spot in the closest parking lot. There was no line through security, so we ended up having plenty of time to spend in the gift shop and museum. You can reserve tickets for the USS Arizona here.
USS Arizona
At 7:45, we met at the designated spot and entered a theater where our park ranger told us everything we needed to know. We boarded the boat to the USS Arizona at 8am and the boat took about 10 minutes to get there. The USS Arizona was a battleship for the US Navy that was sunk in the attack on Pearl Harbor in 1941. 1,177 lives were taken on this ship during the attack, almost half of the service members aboard.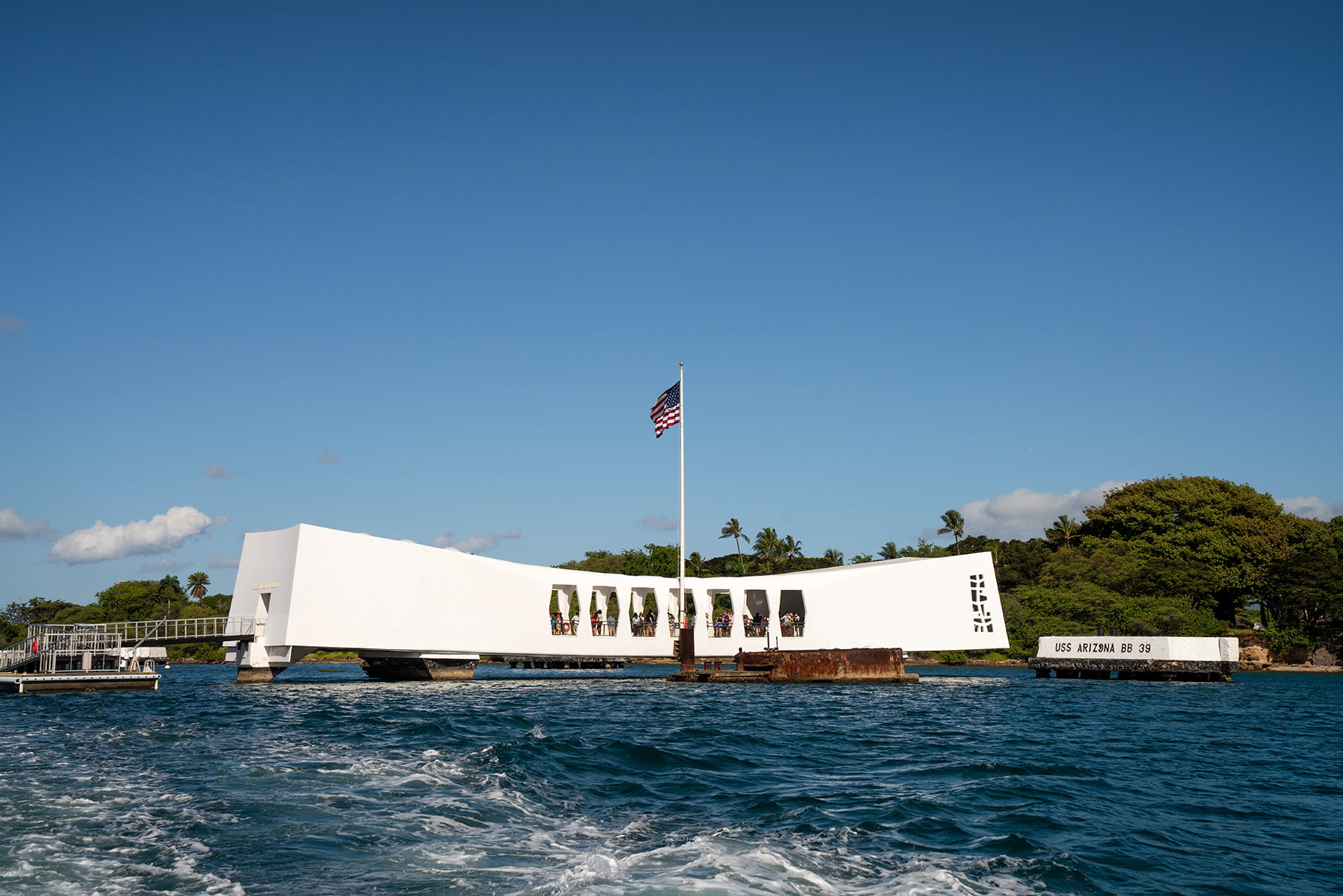 I thought the memorial was really well done. It is built over the top of where the Arizona sank. You can see parts of the ship underwater, and even fuel that is still leaking today! There is also a huge wall at the end of the memorial that lists all the names of people who died here. It is quite moving. The ranger gave us a talk about the architect that designed the memorial and then we headed back. This outing took about an hour total.
USS Missouri
From the visitor center, we walked to the shuttle pickup to take the bus over to Ford Island. The USS Missouri battleship is right next to the USS Arizona, but there is no boat that goes there. The shuttle is quick, free, and worth a ride, even if you don't plan on going to the USS Missouri or Aviation Museum. You walk up to the outside of the USS Missouri and get a great view of the huge battleship as well as the USS Arizona Memorial. You can get tickets online here or buy them in person.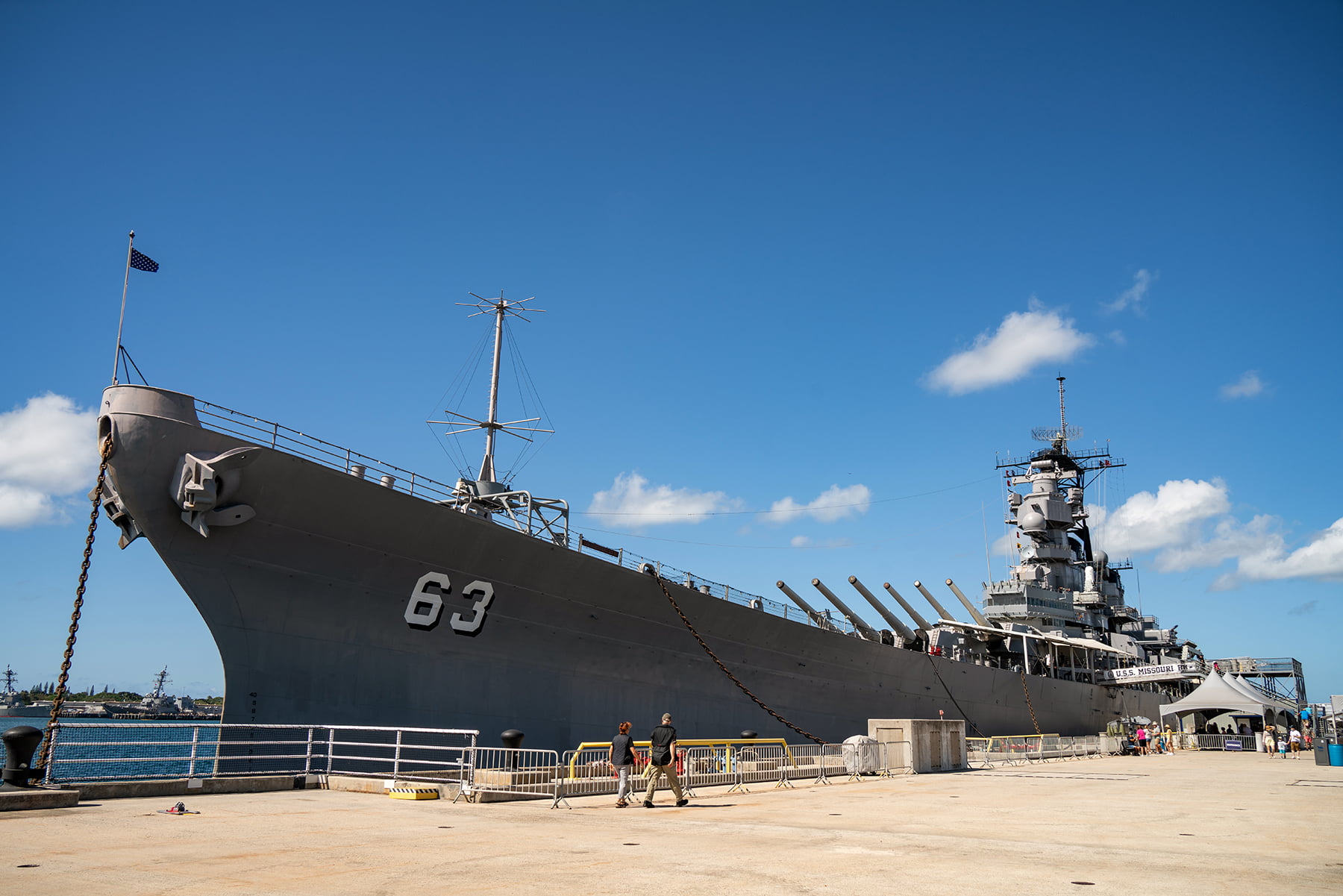 The USS Missouri was the site of Japan's surrender during World War II. It is now decommissioned and was donated to become a museum ship. Tickets cost $35 per adult when we visited, and it was so cool to be able to walk around the decks of the ship. As we were walking up, they let us know a free 30-minute walking tour was starting, so we joined that. It was very informative and definitely improved our visit by providing a lot of context. It was amazing getting to see the massive guns up close. After our 30-minute tour, we spent another 10 minutes walking around on our own and then headed back to the shuttle to go to the Aviation Museum.
Aviation Museum
The Aviation Museum is only a couple minute ride from the USS Missouri. The museum is privately operated and showcases many planes, with the majority relating to the attack on Pearl Harbor. It costs $26 for adults to enter. If you love planes, this is the place for you. We spent about an hour here. This was my least favorite of our three Pearl Harbor stops and I'd say it could be skipped, unless you're a big military or history enthusiast. You can buy tickets online here or in person.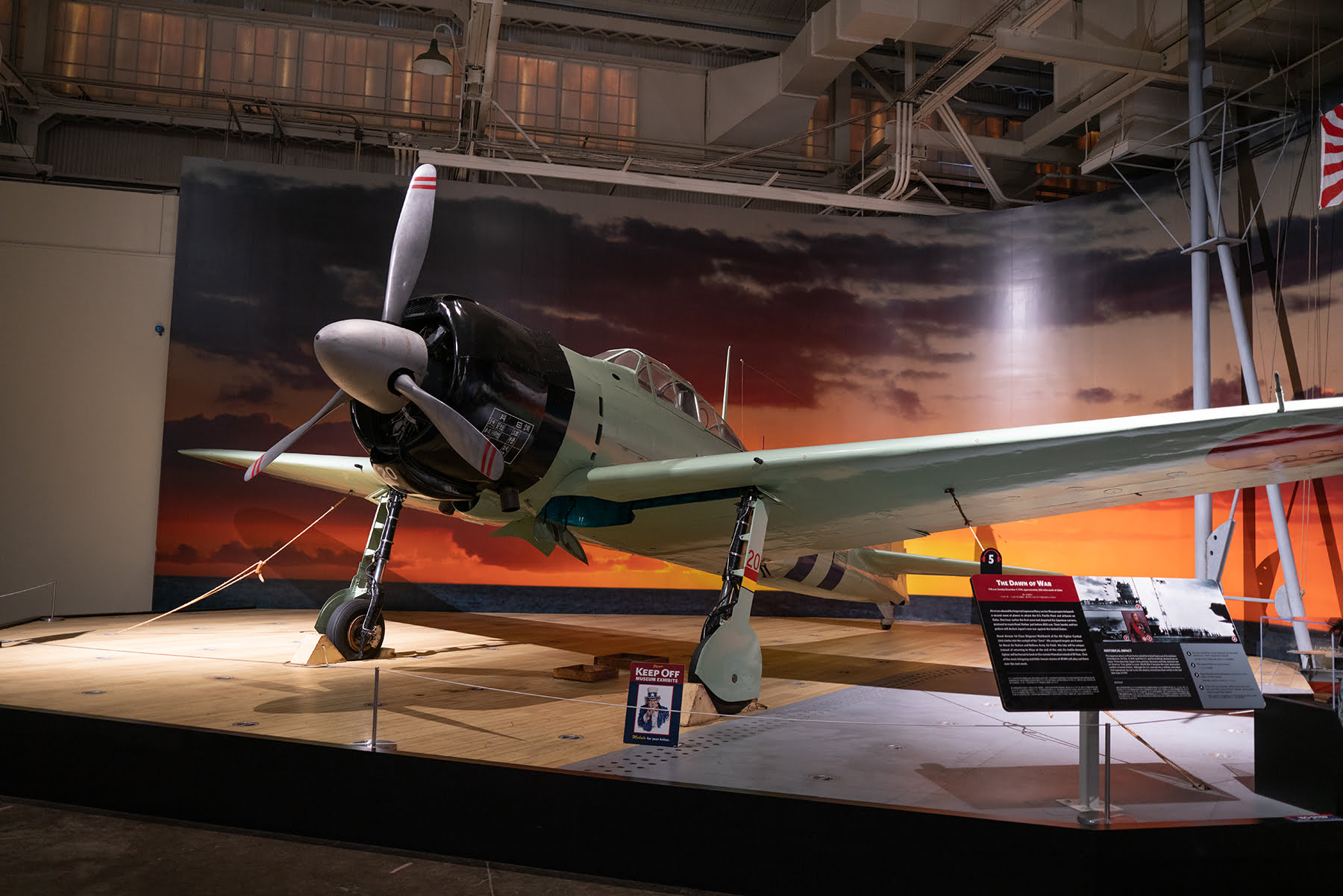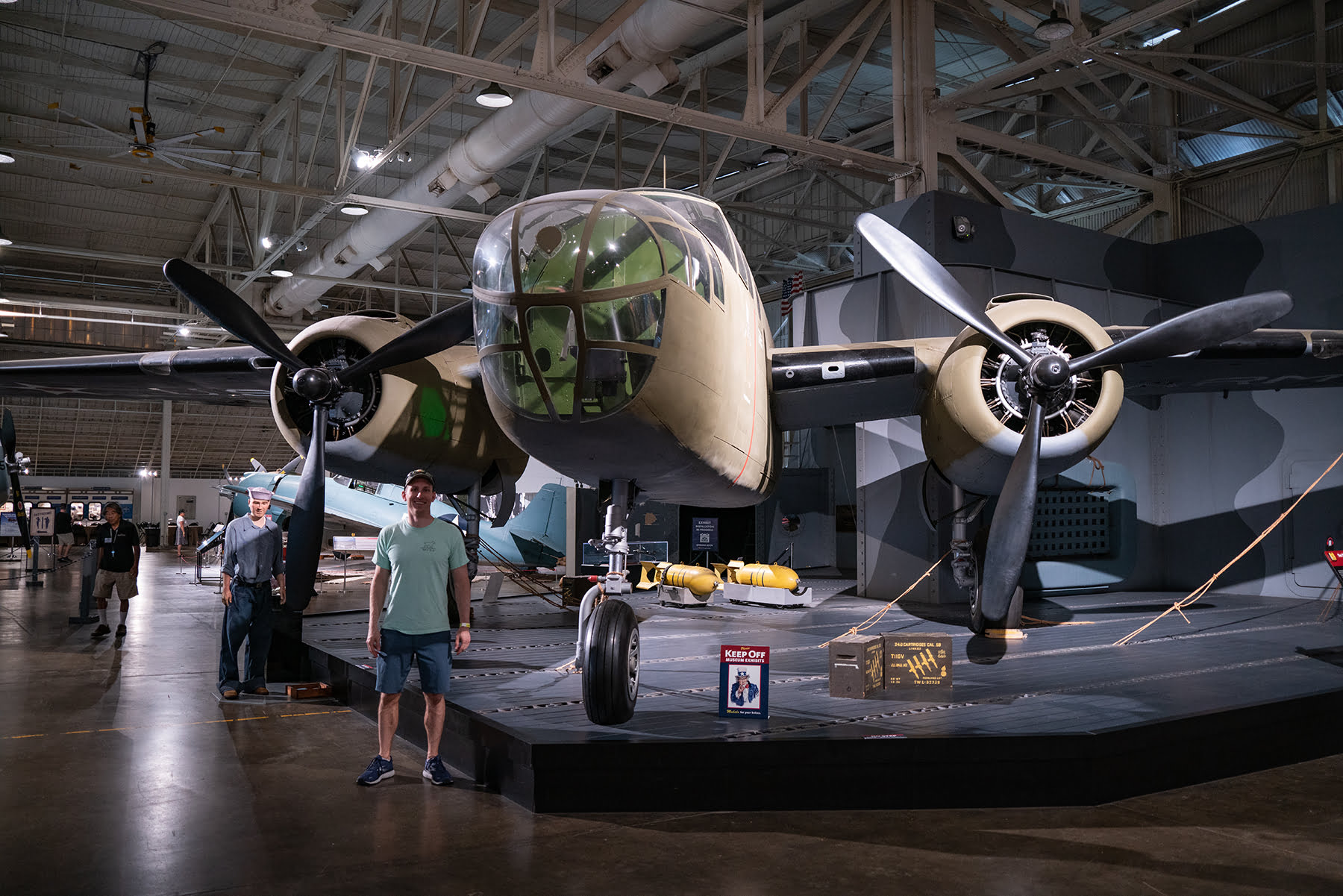 We ended up getting back to our car around 12pm. You could definitely spend an entire day here if you wanted to read everything and also visit the submarine (USS Bowfin).
From here, we grabbed some lunch and stopped at the grocery store to get snacks and Gatorades. We were due for a much-needed nap before heading out for the evening.
Sunset Catamaran
I was very excited to get out on the water our first evening in Oahu. Our group met up on the Waikiki Beach just after 5pm and the boat left the shore at 5:30pm. We headed out to sea and rounded the southern tip of the island by Diamond Head. It was a beautiful view from the water. As we approached the east side of the island, the waves got massive, and it was very windy. The passengers at the front of the boat got soaked more than a few times. We were glad we had coincidentally chosen a spot towards the back of the boat.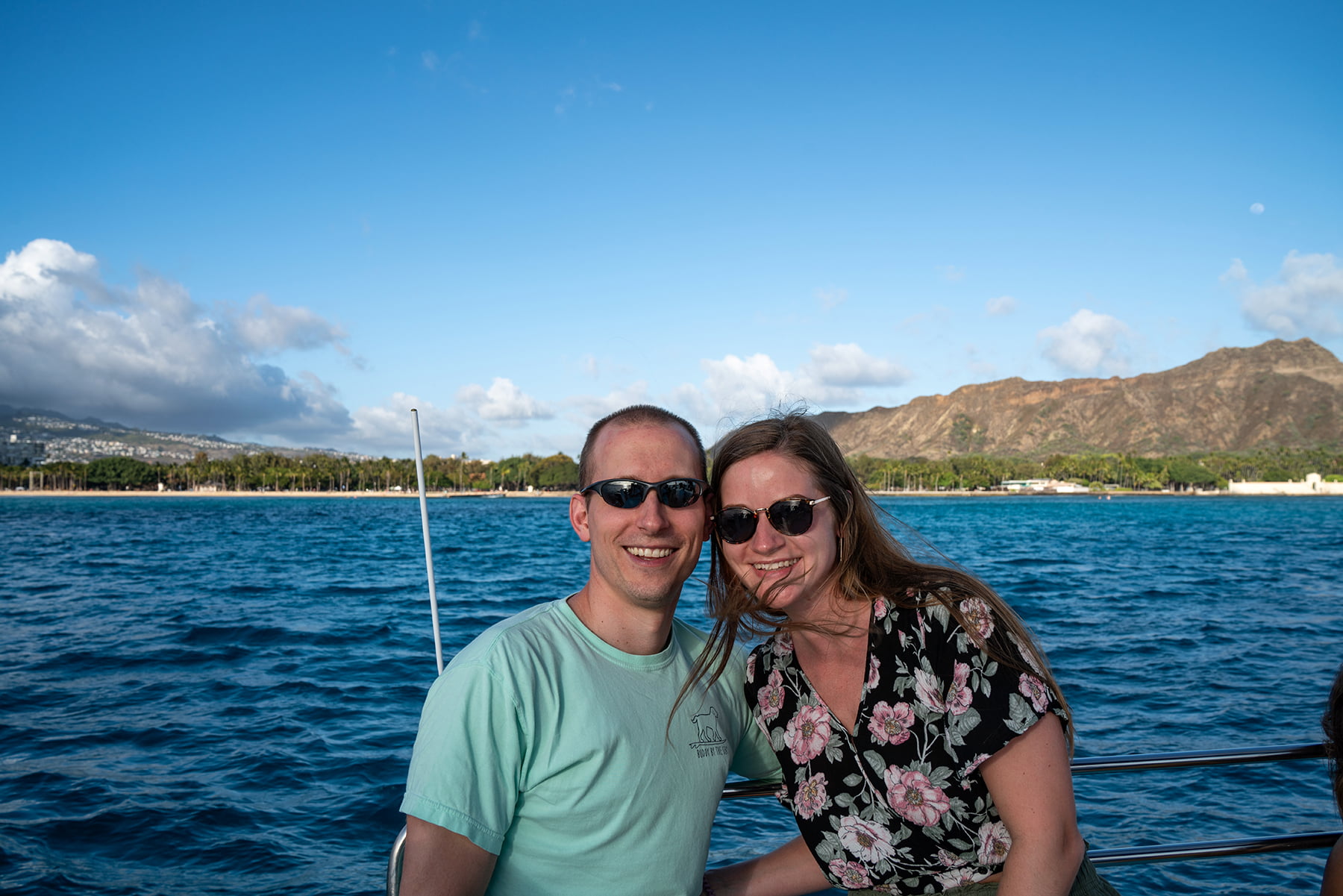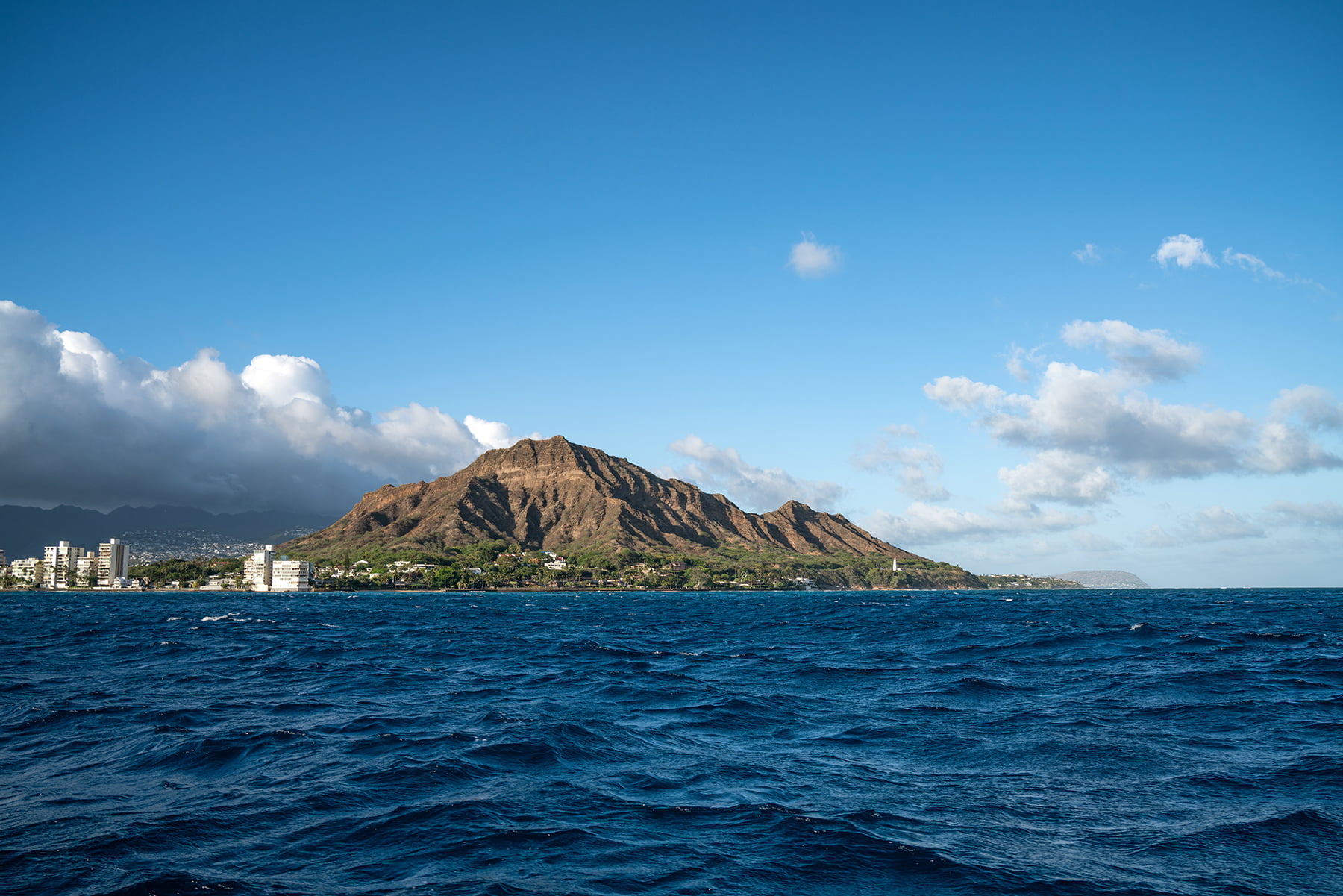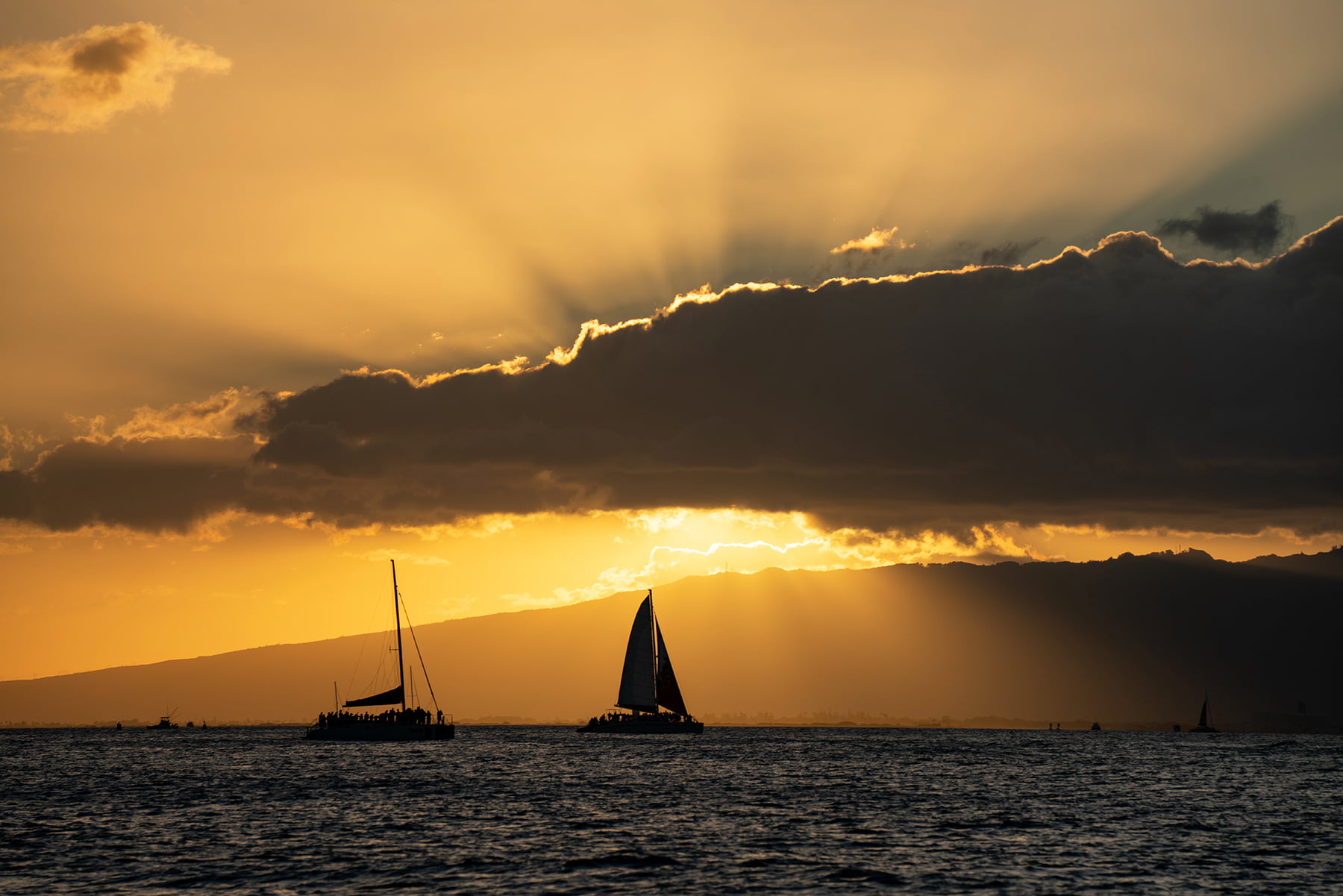 Our captain took us most of the way back to the beach and then parked the boat to watch the sunset for the last 15 minutes or so. We arrived back at shore a little after 7pm. It was a lovely sunset activity, and you can't beat the price at only around $40 per person. We made our reservations with this company online!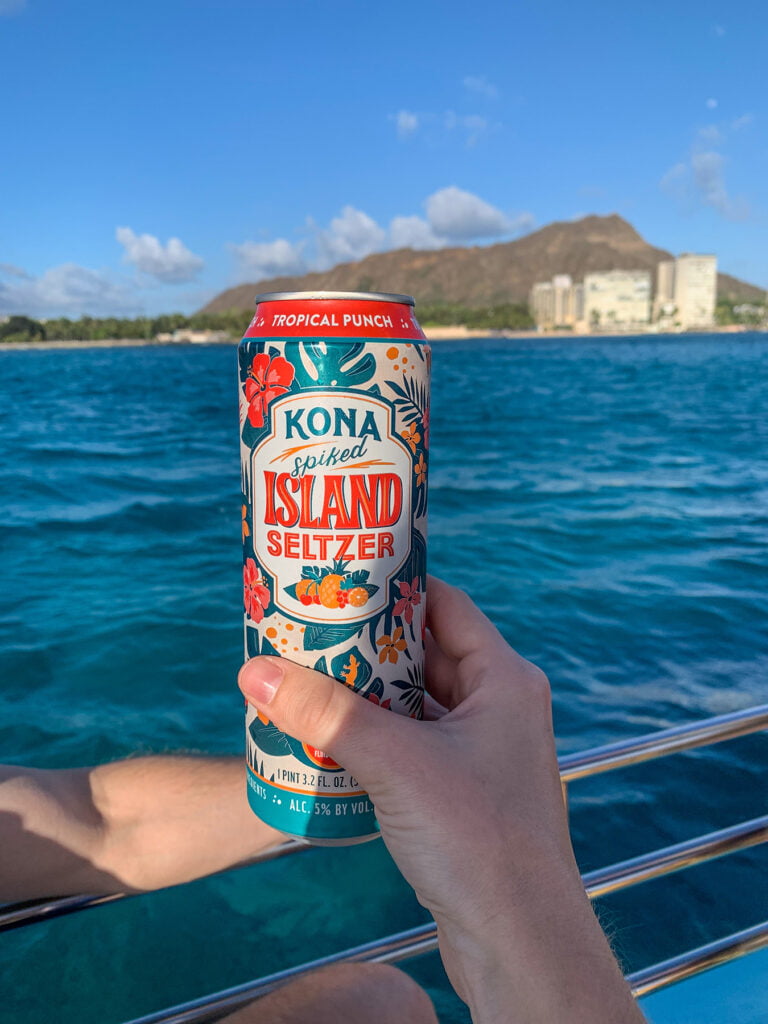 Dinner at Hotel
We had dinner reservations at our hotel restaurant, Deck. After quickly changing in our hotel room, we made it back downstairs just in time. We were seated out on the deck (at our request), which would've been an amazing view of Diamond Head if we were there before sunset. It got quite windy and was even a little chilly. We ended up splitting a four-course meal that was okay overall. Service was a little slow, which normally wouldn't be that big of a deal, but we were so exhausted from not having slept well the night before. The food quality was good but not great. Overall, I loved the atmosphere of the restaurant but would only eat here again if we could see the view during the day.
Day Two
We were able to sleep a little later today as our bodies were starting to adjust to the time change. We left our hotel around 7:30 and went straight to get an acai bowl on the way to our hike at Lanikai Juice. My acai bowl was really good and very filling!
Hike Kuli'ou'ou Ridge
The trailhead starts at the end of a neighborhood street, so there is no designated parking for it. The street parking is all free, but there were not a ton of spots within a close distance. We ended up parking about 0.25 miles away, which was the closest spot we could find. Once the official trail starts, it quickly turns into a forest, and you forget you are in the suburbs of Honolulu. The hike gains elevation quickly and there are many switchbacks to help it not be so steep. The first mile or so was mostly dirt with some volcanic rocks.
As you approach the end of the switchbacks, the terrain turns to pine needles. The trail is marked with pink ribbons. Make sure to pay attention, because we made a wrong turn somewhere and ended up adding about 0.5 miles to the hike. We got lucky though, and the side trail we took dead ended into the main trail.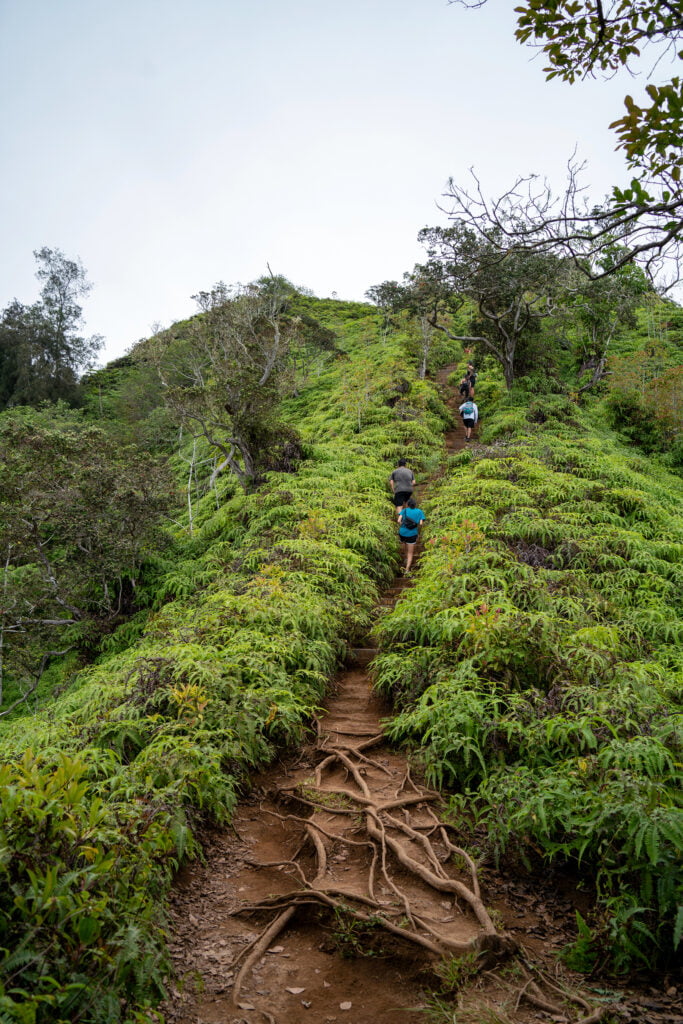 The trail starts to get steeper and there are tons of tree roots to trip over. We each brought a walking stick and we found it very helpful to have them along this section, especially on the way back down. The last section is a series of several stairs that seem to never end. We were so relieved when we finally got to the lookout. The clouds were lingering over the mountains, though, and disrupted our view. We stayed at the top for about 20 minutes and then made our way back down the mountain.
Our hike ended up being just under 6 miles round trip to the car with 1900 feet of elevation gain. I would rank it as strenuous because of the last steep section up the tree roots and stairs. I would recommend this hike if the mountains are not covered by clouds. We were disappointed in how little we were able to see at the top with how much effort we put into the hike.
Lunch at Fresh Catch
We worked up a big appetite, so we stopped to grab a to-go lunch on our way back to our hotel. Fresh Catch serves a large variety of poke and other seafood. I had my first experience picking out which kind of poke out of the 20 or so options. Fortunately, the lady behind the counter was very patient and kind. Mike isn't a poke fan, so he got the fish and chips and said they were delicious. My poke bowl was the best I had on the trip!
Explore North Shore
After finishing our lunch in the hotel room, we showered and got ready for the rest of our day. Then, we made the 45-minute drive across the island, to the North Shore. We listened to a driving tour guide along the way called GyPSy Guide. This app uses your GPS to determine where exactly you're driving and point out things along the way. It costs $13 per location (we just got the one for Oahu). We did like it, but since we were only driving sections of the tour, I don't feel like it was worth it. If you had a day to drive the whole tour and stop along the way, I'd absolutely recommend trying this out.
Shop around Haleiwa
Our first stop at the North Shore was the town of Haleiwa. This is a cute village town with a handful of surf shops and boutiques. We popped into some of these shops before deciding it was time to try shave ice. Matsumoto's is the most popular shave ice, but when we passed by, the line was down the street and was at least 50 people long. No shave ice can be worth waiting that long. I had read that Aoki's was just as good, so we crossed the street and decided to give it a try.
Aoki's Shave Ice
There was only one person in line at Aoki's! I got a mix of Hawaiian blue, guava, and mango flavors. I'd heard a scoop of ice cream along with the cream topping are worth a try, so I added those as well. It was so yummy! The cream and ice cream made the whole thing taste more like ice cream in general, which I loved.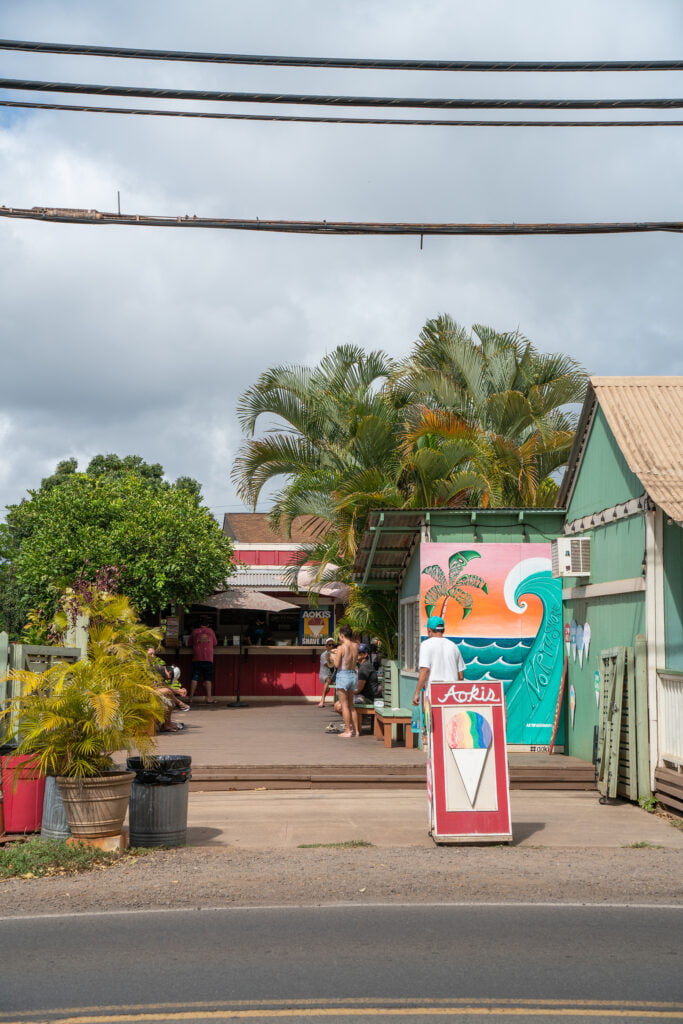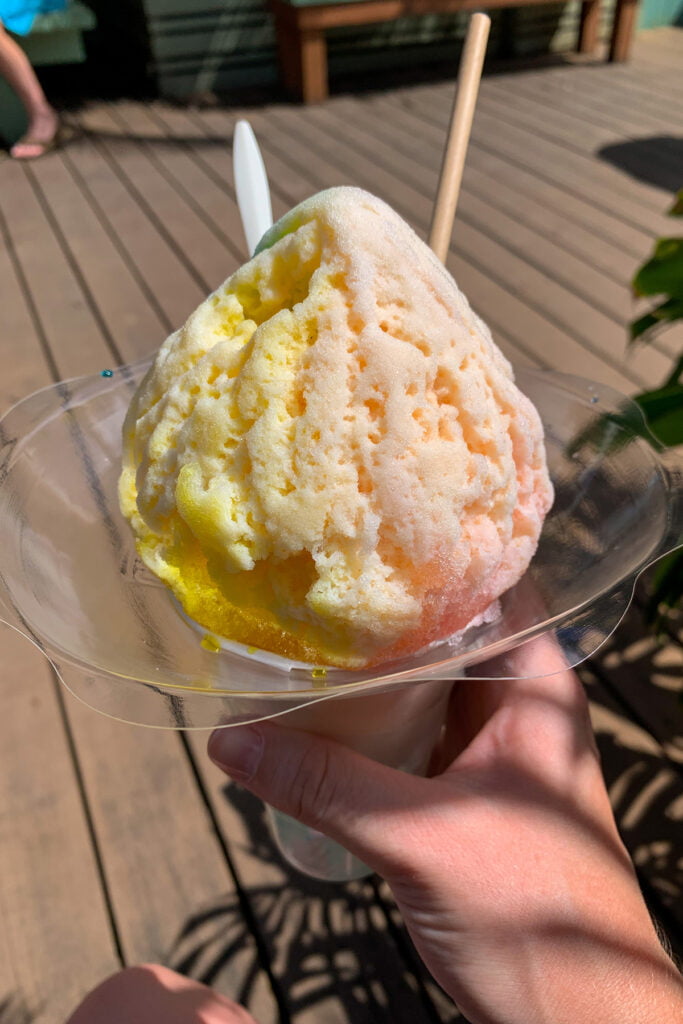 Ali'i Beach Park
After we cooled off with our shave ice, we headed to the beach in town at Ali'i Beach Park. There is a parking lot right next to the beach, along with restrooms. We set up our chairs and hung out here for a bit before it started raining on us.
Banzai Pipeline
Next, we headed to the Banzai Pipeline, a surf spot famous for its barrel waves. The big waves only come in the winter, however, so when we stopped by it was very calm. We knew the waves wouldn't be big but were hoping to see a few surfers. No luck, so we headed out to eat dinner.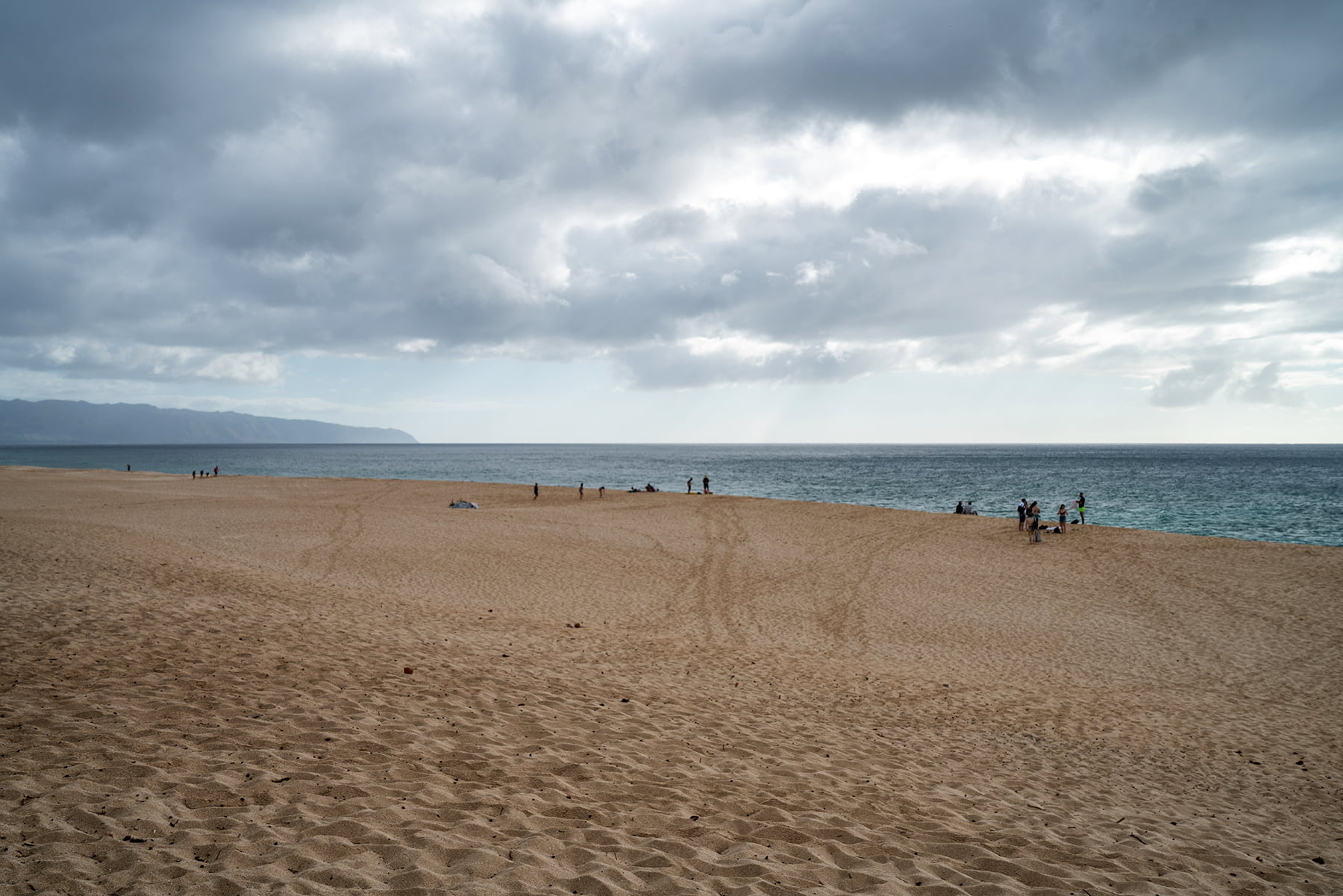 Eat at Food Trucks
There is a small food truck park near the Banzai Pipeline that we stopped at. We chose the taco truck. Mike had a shrimp quesadilla and I had shrimp tacos. They were pretty good!
We were tired from our long day, so we went back to our hotel from there and got gelato down in Waikiki. It was a great day!
Day Three
This was our last day on Oahu before flying to the island of Kauai. We decided to start early again to fit in as much as possible before our flight that evening.
Leonard's Bakery
A great place to stop for the Portuguese Malasada, a sugar-coated doughnut that is popular in Hawaii, is Leonard's Bakery. They were amazing! I got one regular one and one filled with custard. I highly recommend stopping here at some point.
Jurassic Park Tour at Kualoa Ranch
Mike and I are both fans of the Jurassic Park movies, so we were super excited to see an important filming location used in several of them. Kualoa Ranch is a private cattle ranch that was discovered by Steven Spielberg when they needed a place to film some scenes in the original Jurassic Park movie. It has since become a filming set for dozens of movies and TV shows. They offer several different tours, but we chose the one solely focusing on Jurassic Park.
The tour started at 8:20am and we arrived around 7:45 to check in, use their restrooms, and visit the gift shop. We boarded our open-air vehicle and started the 2.5 hour tour on time. Our guide drove us around their 4,000 acre property stopping about five times at different sites from the movies. She showed us scenes from each site which really helped.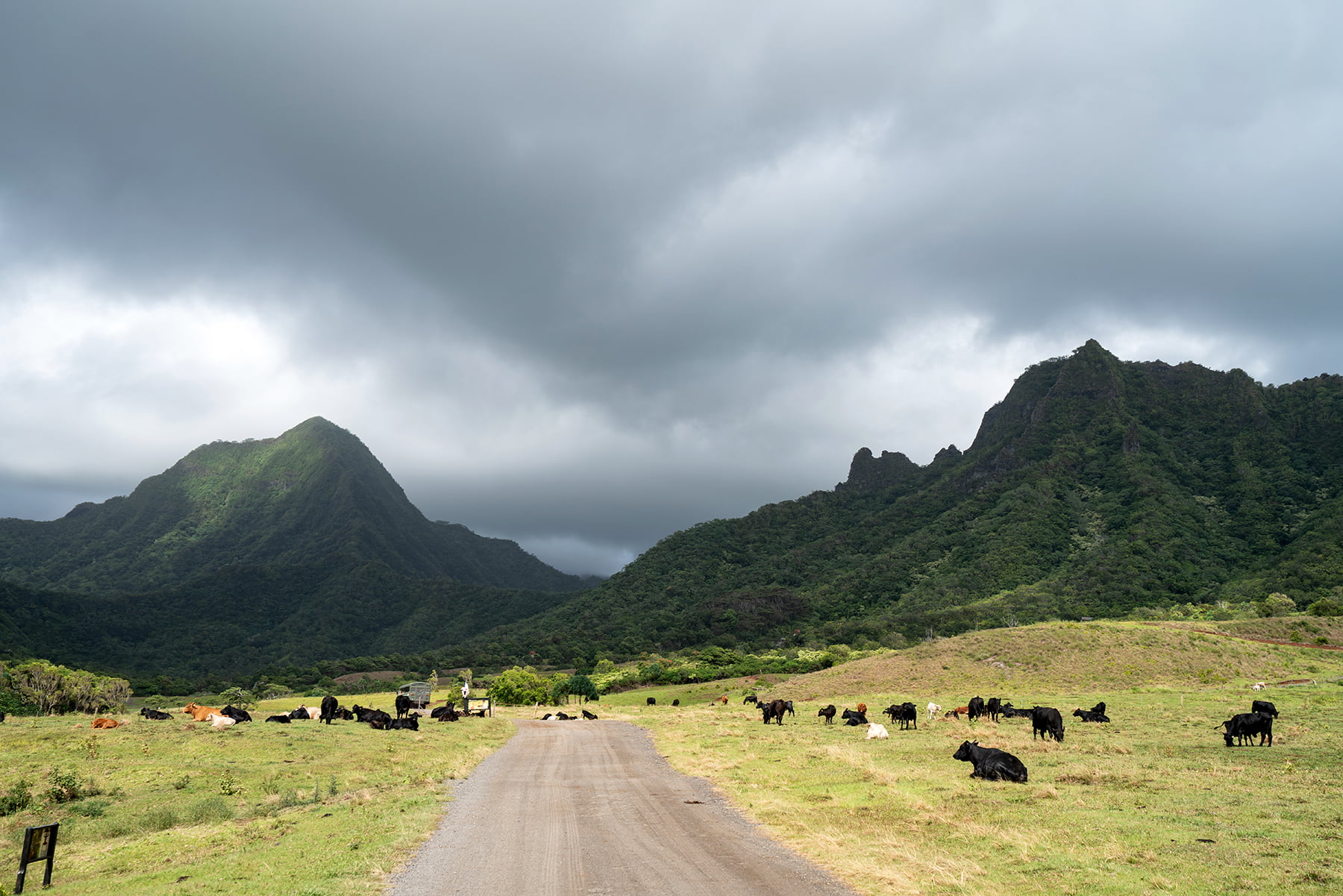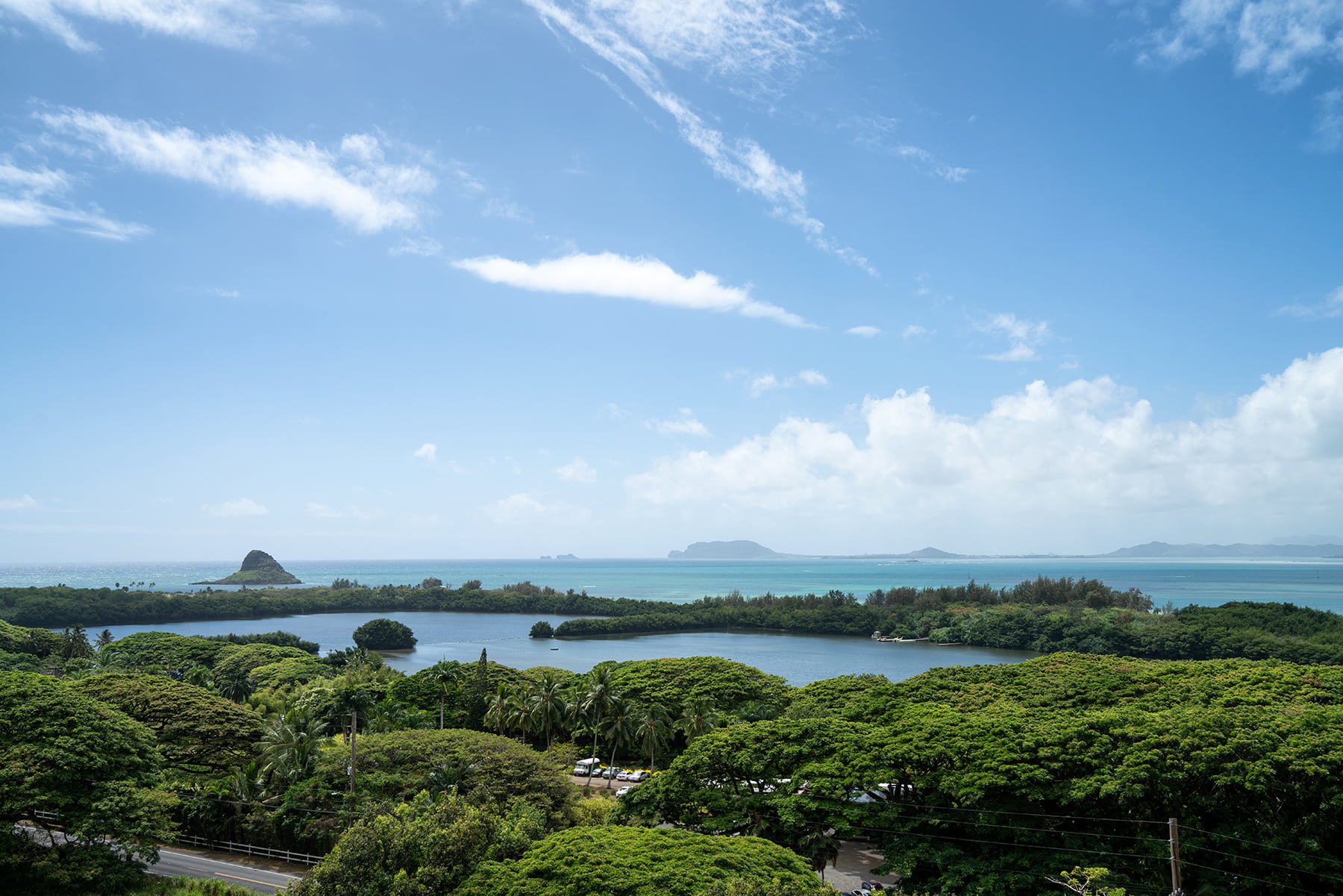 We both loved this tour. It was my favorite thing we did on Oahu. I strongly suggest visiting this awesome ranch!
Kualoa Beach
After our tour, we stopped at the Kualoa Regional Park, just a few minutes from the ranch. There is a sandy beach with a gorgeous view there.
Ho'omaluhia Botanical Garden
Next, we drove down to Kaneohe, which is on the way back towards town. There is a popular botanical garden in this area that is completely free to visit. We didn't have a lot of extra time, so we just drove through it and admired what we could see from the car. It would be great to spend an hour or two here!
Eat at Kalapawai Cafe & Deli
We got lunch at a super cute cafe called Kalapawai. Mike got a salad with blackened fish, and I got a lox bagel. They were both great.
Nu'uanu Pali Lookout
On our drive to the airport, we briefly stopped at the Nu'uanu Pali Lookout. It was right on our way, so it was worth stopping for a few minutes.
From there, we took a 4pm flight from Oahu to Kauai. The flying process between islands was extremely easy and quick. We had a couple delays over the course of the week, but nothing that really affected our itinerary. We were happy with our choice to hop to three islands over our week here!
---
You may also be interested in:
How to Spend Two Days in Kauai
Highlights from the Big Island of Hawaii
Logistics of a 9-Day Trip to Hawaii
30 Photos That Will Make You Want to Visit Hawaii
---