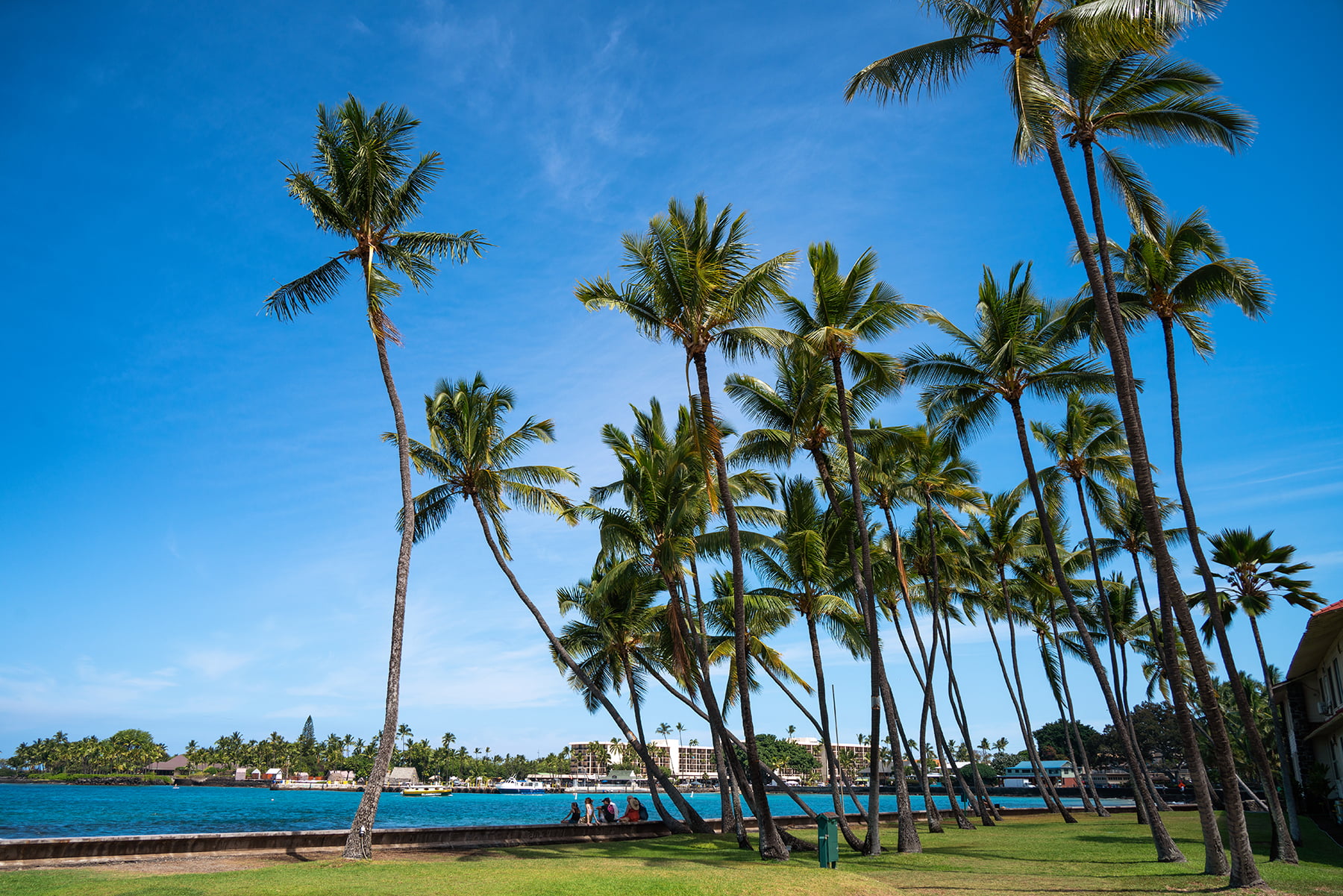 Our last stop on our Hawaii trip was the Big Island. The flight from Kauai ended up being delayed a bit, so we didn't arrive until 7pm. We were very hungry and tired, so instead of going out to eat like we originally planned, we picked up some food and took it to our Airbnb.
Night One
Eat at Kai Eats and Drinks
We were craving pizza, so we came across Kai Eats and Drinks in our online search. We ordered on our way and stopped to pick it up. The restaurant is so cute and right on the water. If we had the energy, I would've loved to eat here. The pizza was really good too!
We arrived at our Airbnb in Kona and ate our dinner. After that, we ran to the grocery store to get breakfast supplies for the next three days. Then straight to bed!
Day One
The weather forecast was not looking great for our three days on the Big Island, with a 100% chance of rain every day. However, it ended up being mostly sunny the entire time in the Kona area, with a few showers here and there. Kona is on the sunny side of the island, so you are least likely to get rain there.
Snorkeling at Kahalu'u Beach Park
I was so excited to go snorkeling on the Big Island. We drove to a beach park about ten minutes south of our Airbnb that has some of the best marine life on the island. There aren't a lot of sandy beaches on the Big Island, most of them having volcanic rock. This beach had a small area where you could set up your beach chairs. The sun warmed us up a little before we went out to snorkel.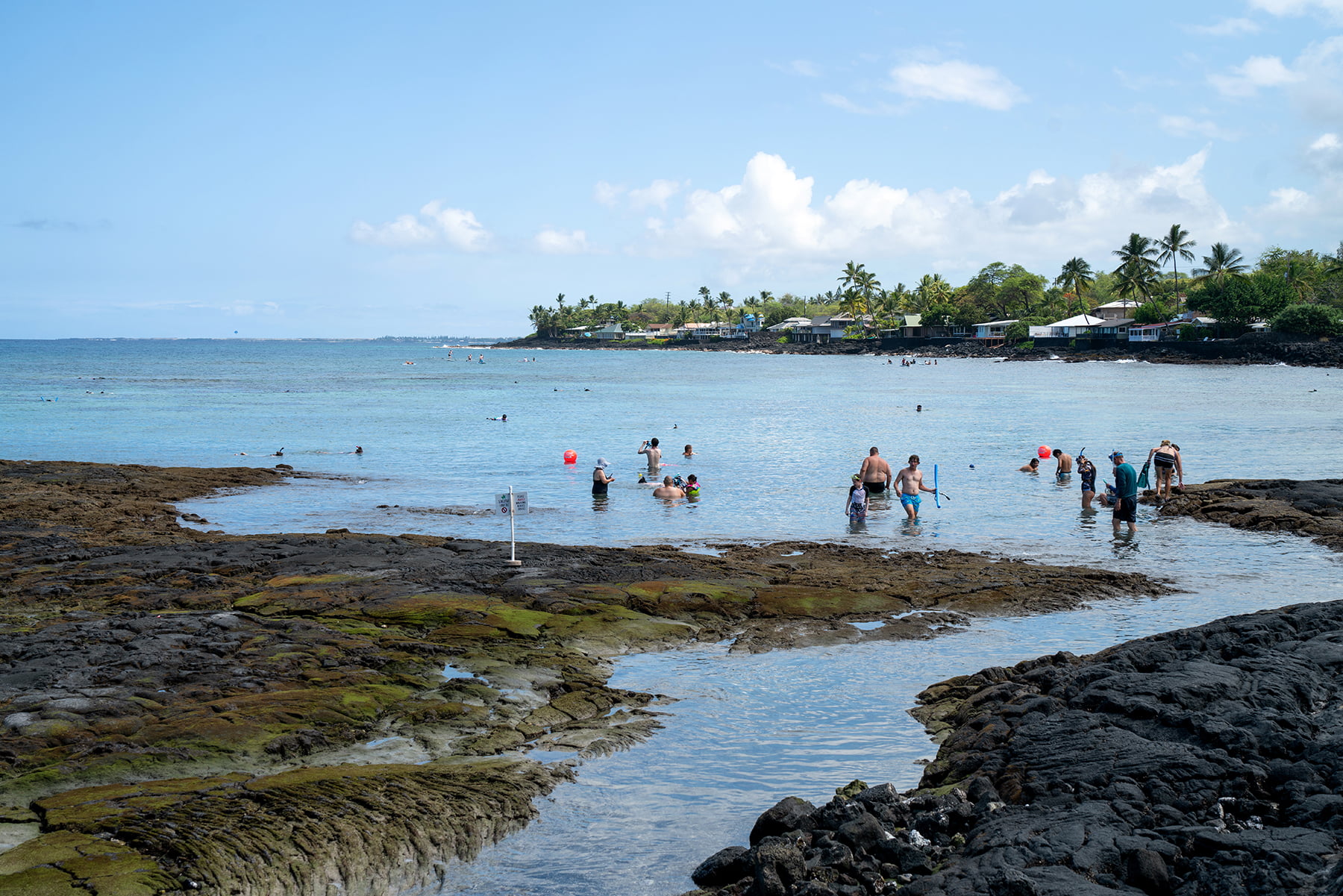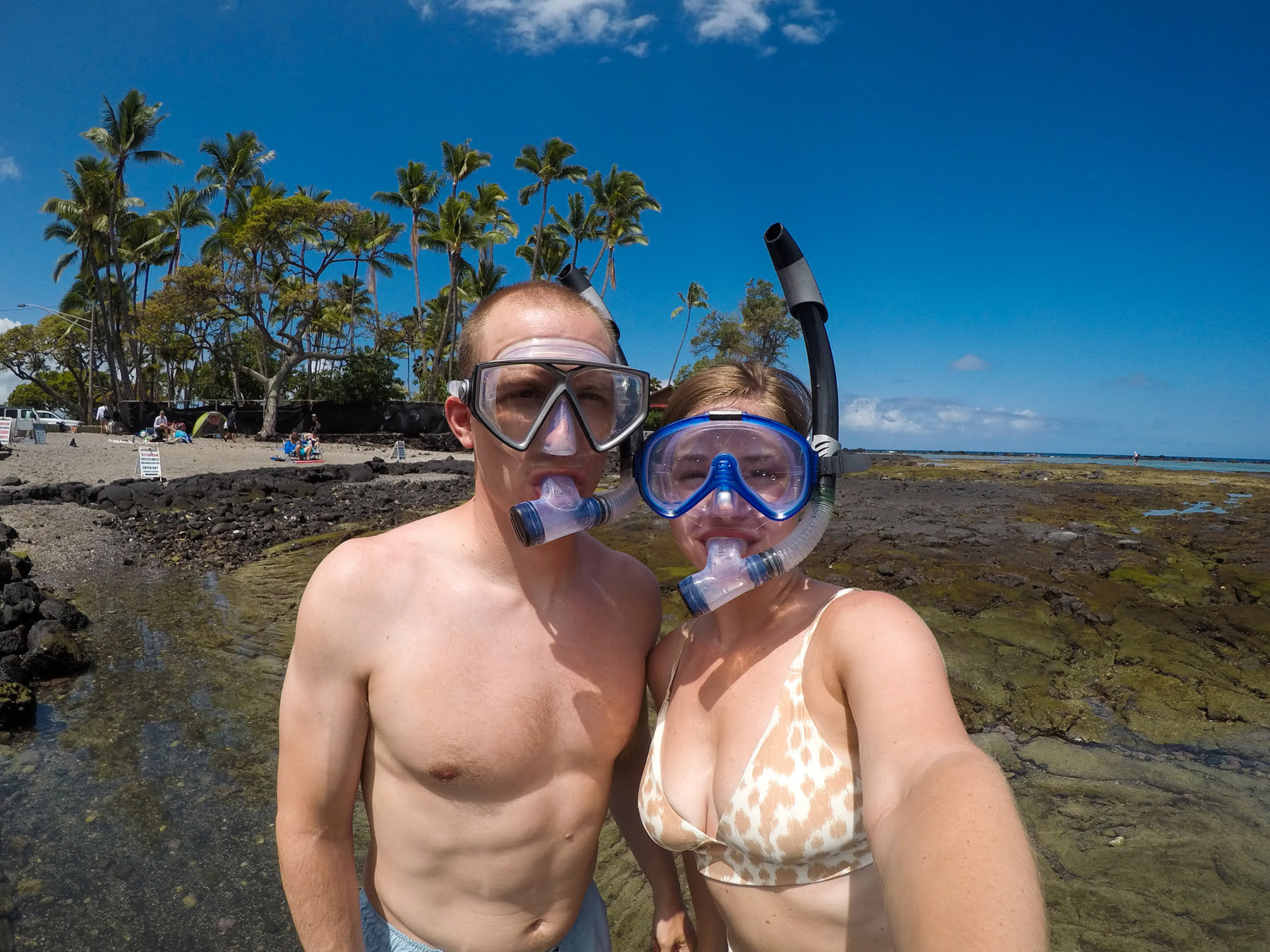 We spent about an hour out in the water and came across so many different kinds of fish in the reef. We heard a few people saying they had seen turtles as well, but didn't come across any ourselves. I recommend coming here if you like to snorkel!
Tacos at Ocean Street Tacos
We worked up an appetite on our snorkeling adventure, so we drove back into town and had a super cheap lunch at a street taco shop. There was no seating, so we stood outside and scarfed them down. These tacos were awesome and perfect if you just want something cheap and quick!
Explore the town of Kona
Kona is a really cute town, so we walked around a bit, poking into some shops. I'm glad we got to spend some time here.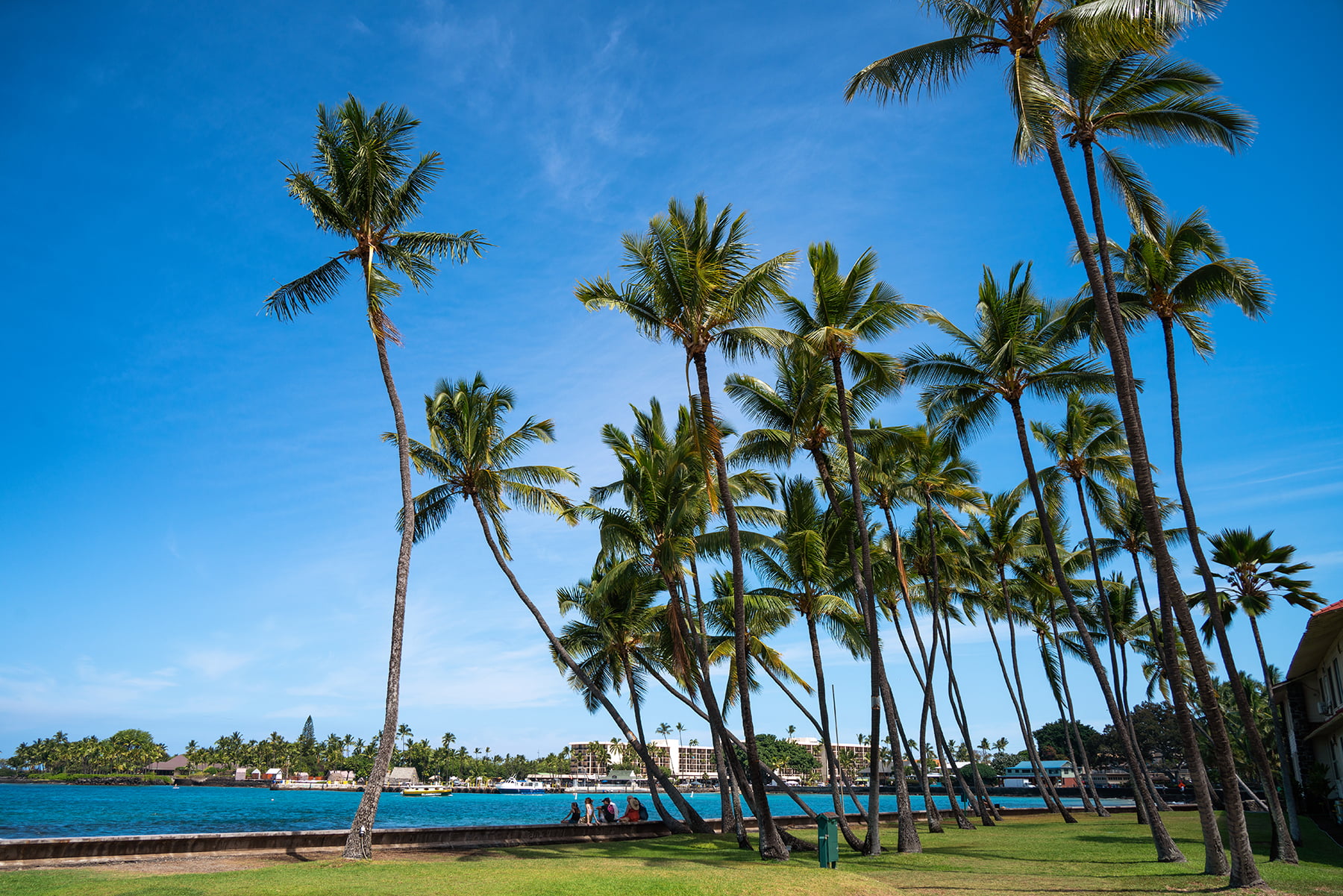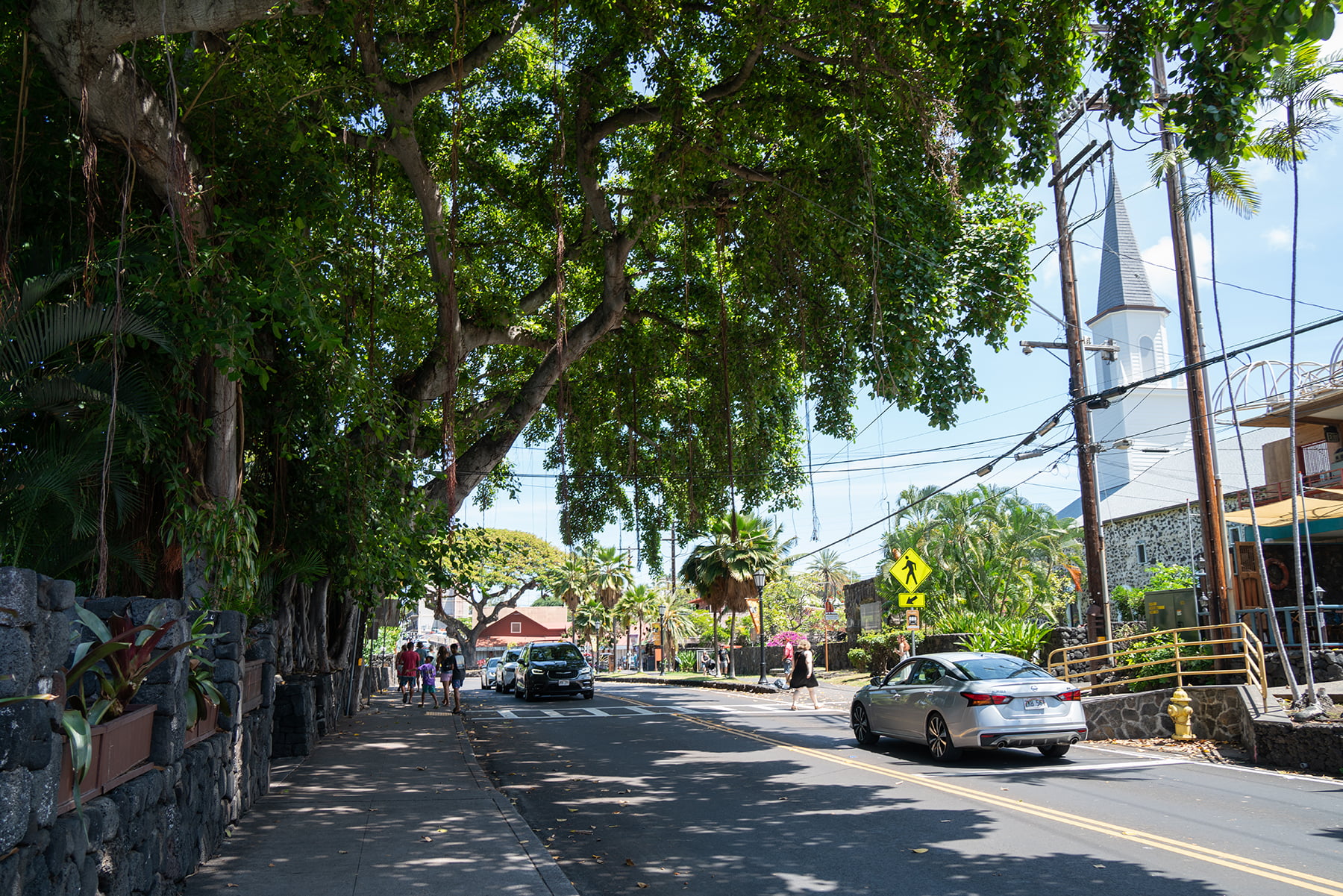 Eat at Umekes Fish Market
Umekes Fish Market was probably my favorite meal we had on the Big Island. I got the poke nachos and Mike got the ahi tuna salad. Both were awesome. We got here on the earlier side for dinner since we had a snorkeling excursion scheduled for 6pm. There was a decently long wait for a table, so we chose to sit at the bar and were able to get seated immediately.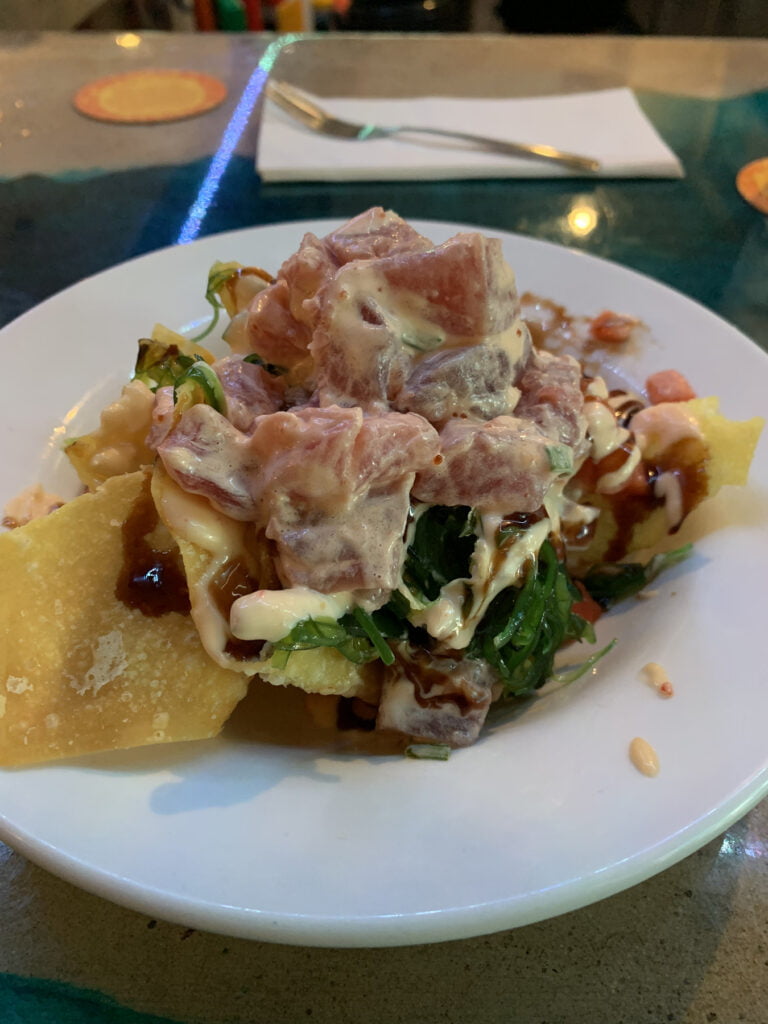 Manta Ray Snorkeling
We weren't done snorkeling for the day. We went out with Big Island Divers on a snorkeling excursion to see manta rays. They had us all meet at the marina at 6pm and we loaded up onto the dive boat. There were about 15 of us on the boat plus a divemaster, snorkel guide, and captain. We rode on the boat 15 minutes up the coast, where they parked and gave us a lesson about manta rays while watching the sun set. While this normally would've been nice, the waves were massive and several people (including Mike) got incredibly seasick while waiting the 30ish minutes to get into the water.
We jumped in the water around the time of sunset. They had a surfboard with handles all the way around it and lights built into the bottom that the snorkelers were to hold onto. The water felt really nice with a wetsuit on, but it cooled off the longer we were there, and I was cold by the time we went back in.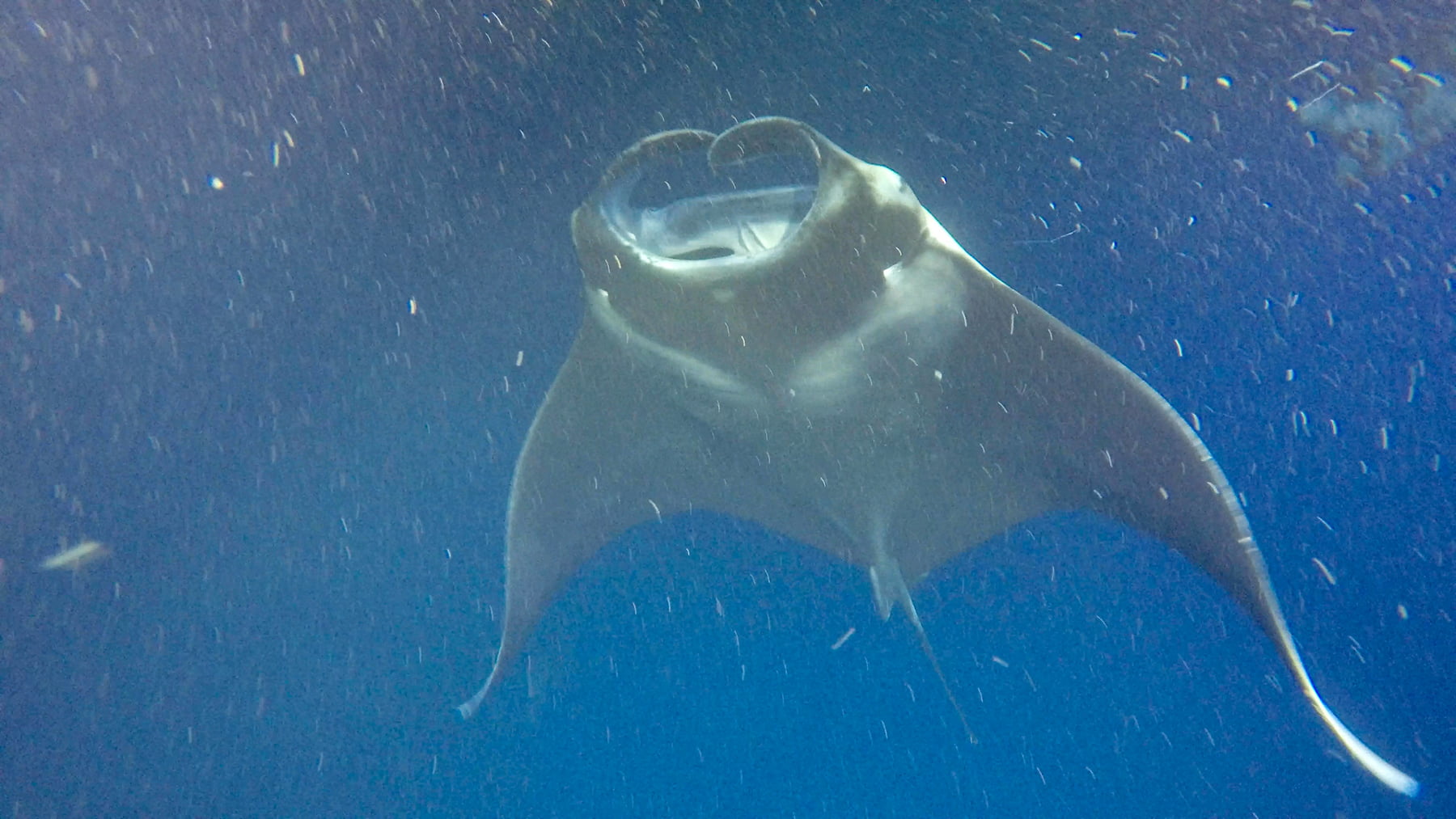 The lights underneath the surfboard attract plankton, which then attract the manta rays. We got to see at least one manta ray come by several times. One time, she got so close, it was almost difficult not to touch her! This was truly an incredible experience. It really gives you a feel for how massive and graceful these creatures are. I would highly recommend this activity.
Day Two
Relax at the Beach or Pool
We started our day out very slowly, since Mike still wasn't feeling well after his seasickness the previous night. We decided to spend the morning taking it easy by the pool at our Airbnb.
Kona Wave Cafe
We eventually ventured into town and I got a late breakfast acai bowl at Kona Wave Cafe. It was yummy!
Farmers Market
Next, we wandered through the farmers market in town. They had tons of fruits, veggies, and local art. The farmers market is open Wednesday through Sunday from 7am to 4pm.
Lunch at Ono Loa Grill
We were getting hungry again, so we picked up some lunch to take back to our Airbnb at Ono Loa Grill. This restaurant claims to have one of the best rated burgers in the US on Yelp. I knew I had to try one. The burgers were amazingly delicious!
After we ate and napped a little, Mike was finally starting to feel a little better. He also knew it was our last full day, so he sucked it up and we drove down to Hawaii Volcanoes National Park. This is a two-hour drive from Kona, so ideally you could spend the whole day here. We primarily wanted to see the erupting volcano glow after dark though, so our goal was to make it there a little before dark.
Punalu'u Black Sand Beach
On the way to Hawaii Volcanoes is one of the few black sand beaches in Hawaii, called Punalu'u. We made a quick stop to see it and happened to find a turtle resting on the shore! Definitely worth a stop!
Hawaii Volcanoes National Park
We arrived at the Visitor Center around 4:30pm. It was starting to rain, and although that was disappointing, it was kind of cool to see another one of the ecosystems on the Big Island. At the higher elevation, it had also dropped about 20 degrees from when we stopped at Punalu'u. A ranger was giving a talk and said at this point in the evening, it wasn't even worth driving south to the Kīlauea Iki Trailhead, since there would be so many cars waiting to get a parking spot. After wandering through the Visitor Center, we decided to check out the Kilauea Overlook, which is in the opposite direction.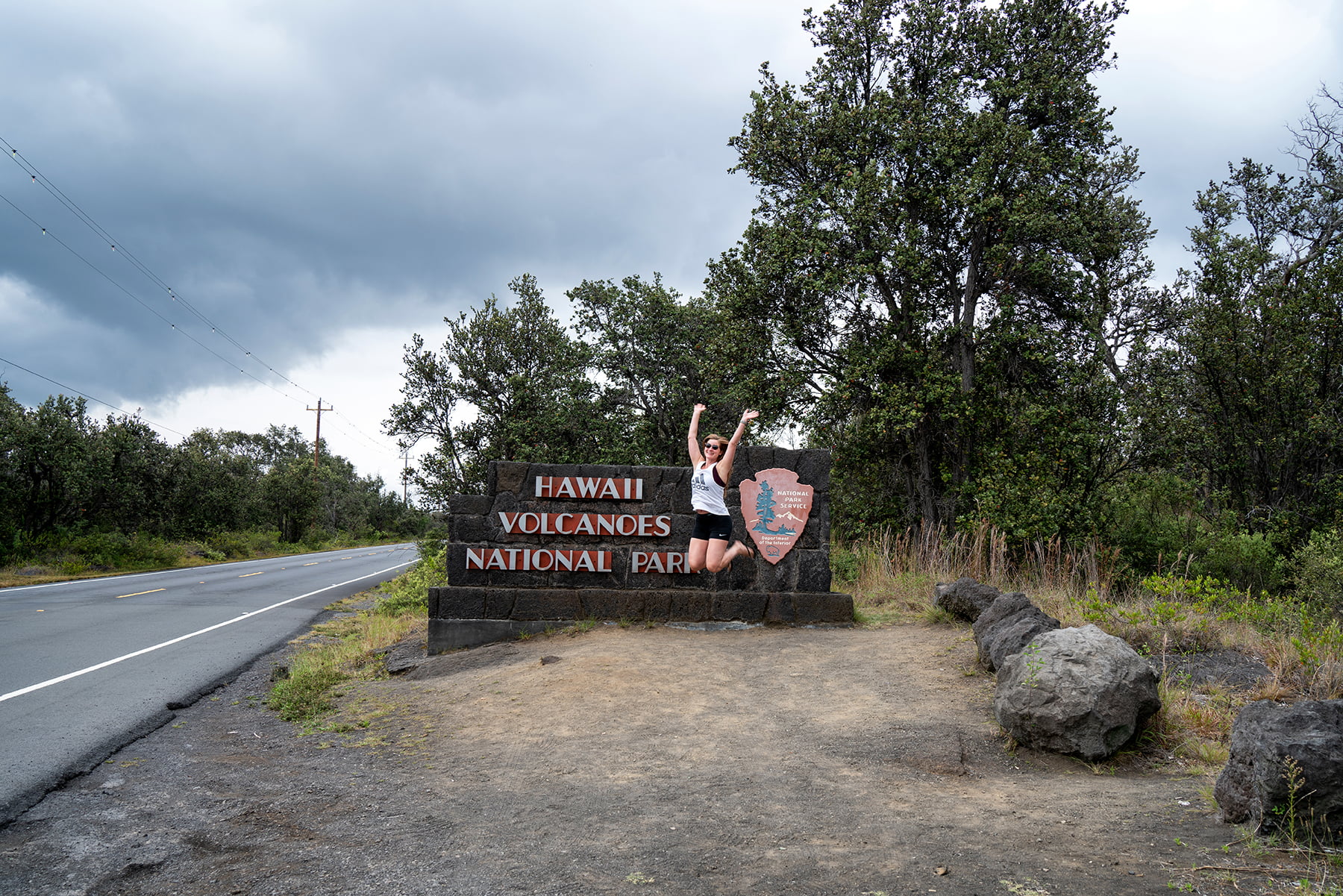 From this overlook, we were able to see the crater of the volcano that's erupting, but couldn't see any lava. It was starting to rain a bit more heavily, so we thought we should try to go to the Thurston lava tube. After all, the tube would be out of the rain. We arrived at the lava tube parking and were shocked that we were one of the only cars in the parking lot. We made the short walk to the lava tube and went inside. It was kind of creepy! There are very dim lights illuminating the path, but they weren't quite bright enough to make me comfortable walking very far inside. We turned around and headed back for the car.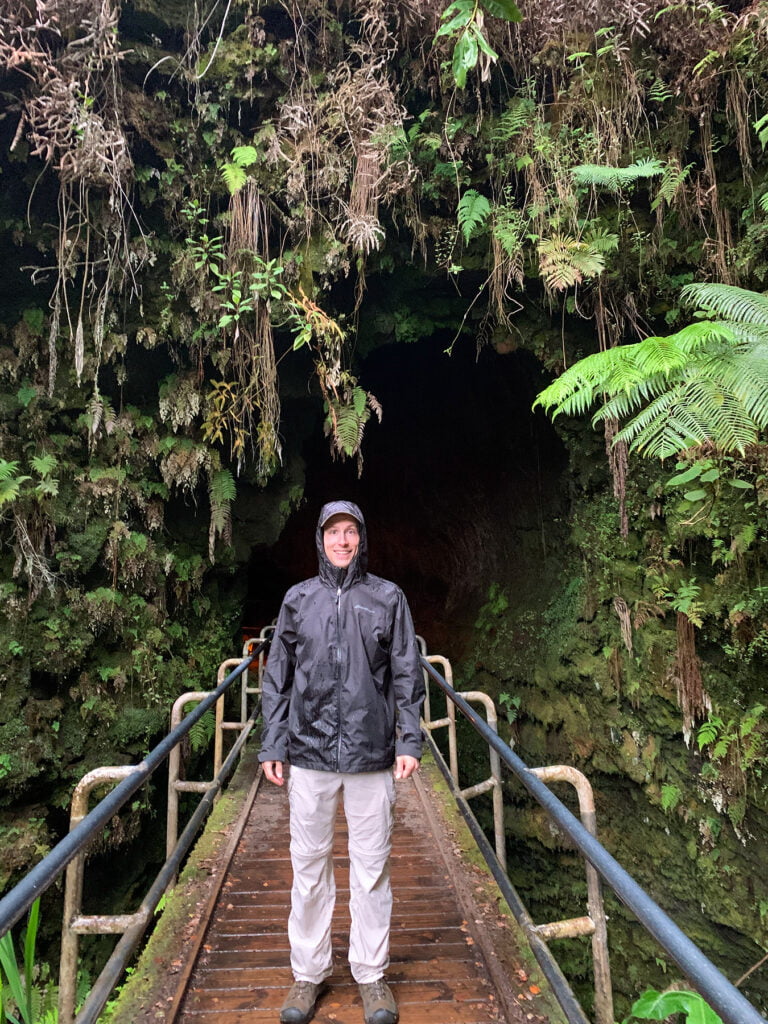 The radar was showing rain for the next couple hours, so we thought this would be a good time to go to dinner. We ended up at the Lava Rock Cafe, which was extremely crowded with only two waitresses working. We managed to get seated fairly quickly. The food was decent, but not incredible. I was just happy to get out of the rain!
We headed back to the park and went to the Kilauea Overlook. It was still raining, and I wasn't overly eager to spend much time outside. We parked the car and walked up toward the overlook. The glow from the lava was illuminating the sky. It was very cool to see. If the weather would've cooperated, I would have loved to spend a little time taking pictures. However, we were thinking about the two hour drive back, so we hit the road.
Our visit to Volcanoes National Park was a bit of a bust, but I would like to come back one day if the weather is nicer!
Day Three
We slept in a little this morning and then spent about an hour by our pool before having to check out of our Airbnb at 11am. We had the rest of the day to kill until our flight at 6pm that evening.
Pu'uhonua O Honaunau National Historical Park
Mike loves history, so I thought a quick visit to the Pu'uhonua O Honaunau National Historical Park would be a nice stop. The park is located about 40 minutes south of Kona. This site was once a place of refuge for those that broke the Kapu laws. If you reached the Puʻuhonua, you would be pardoned by Kahuna and given a second chance at life. We picked up a map when we got to the park and took a self-guided walking tour along a 0.5 mile loop. The map calls out points of interest. It was a good way to spend about 30 minutes.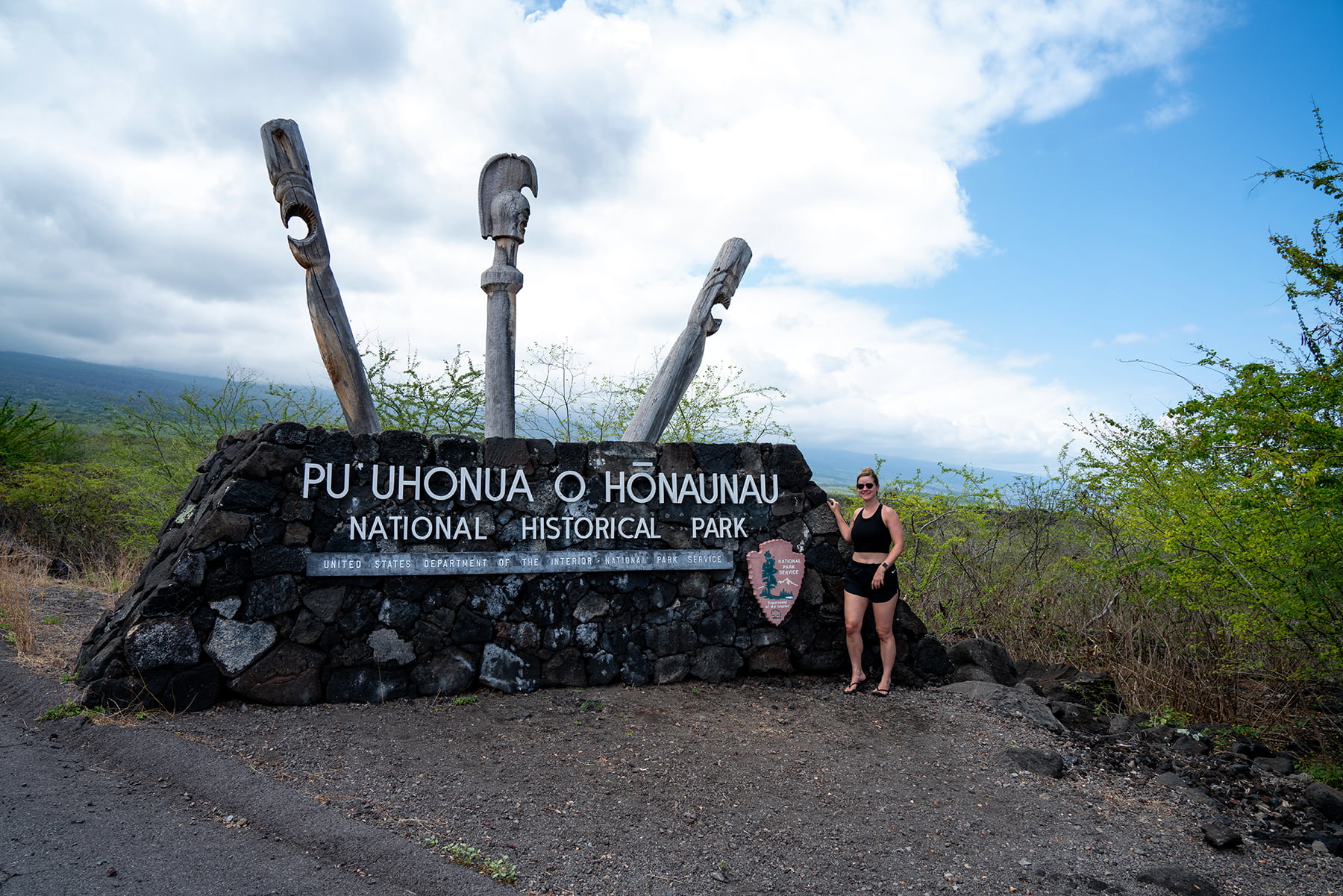 Coffee Farm Tour at Greenwell Farms
Next, we drove 20 minutes in the direction of Kona to a coffee farm called Greenwell Farms. The farm has been there since 1850 and has been in the Greenwell family the entire time. They give free 30-minute tours of the farm every half hour from 9am-3pm. No reservations are required, but they ask you to arrive about 10 minutes before your desired tour time. There are several free coffee samples for you to try when you get there.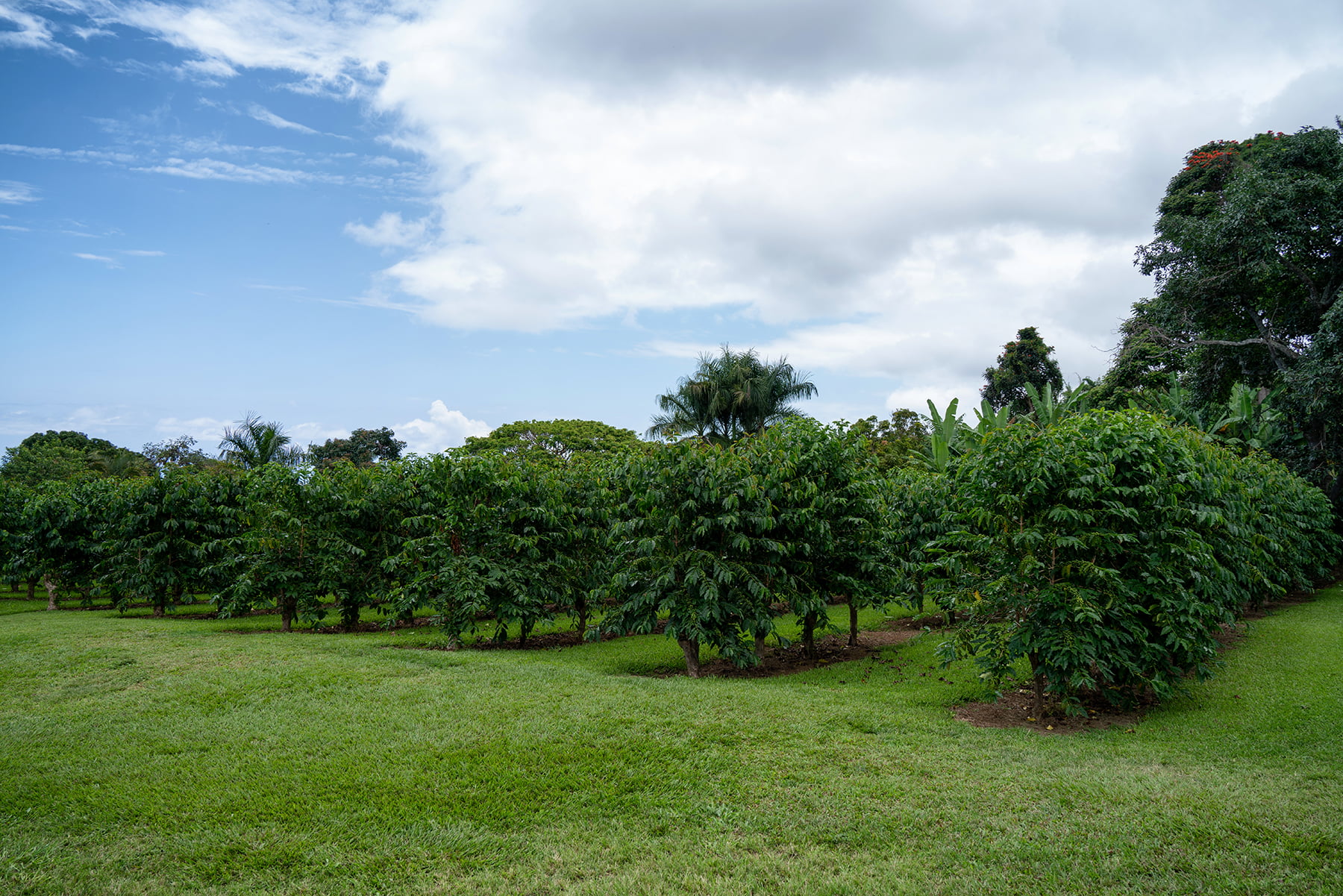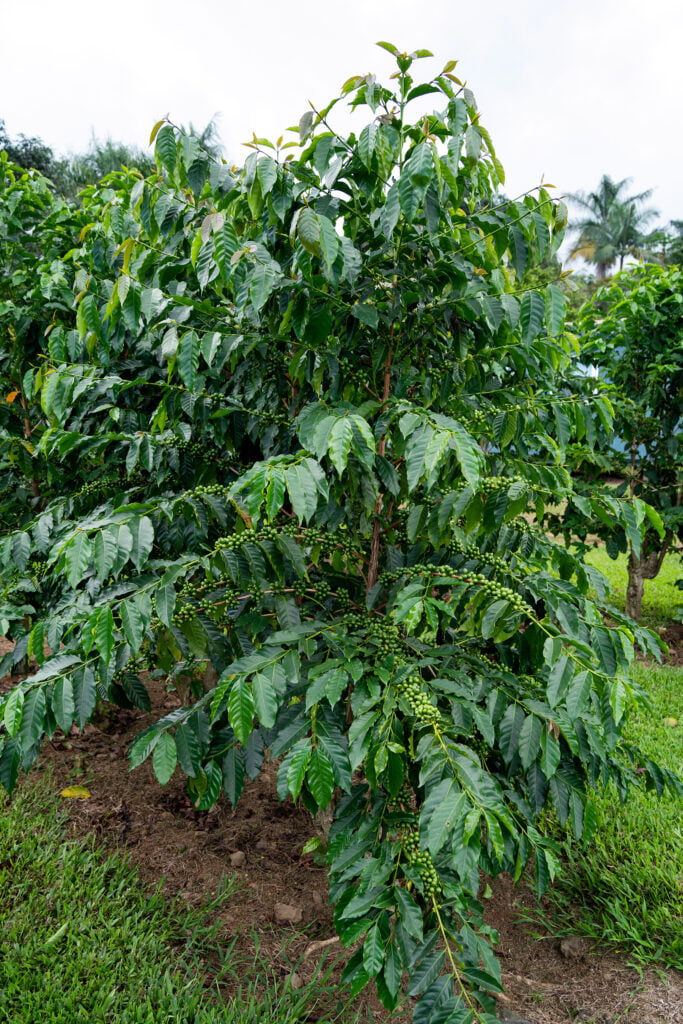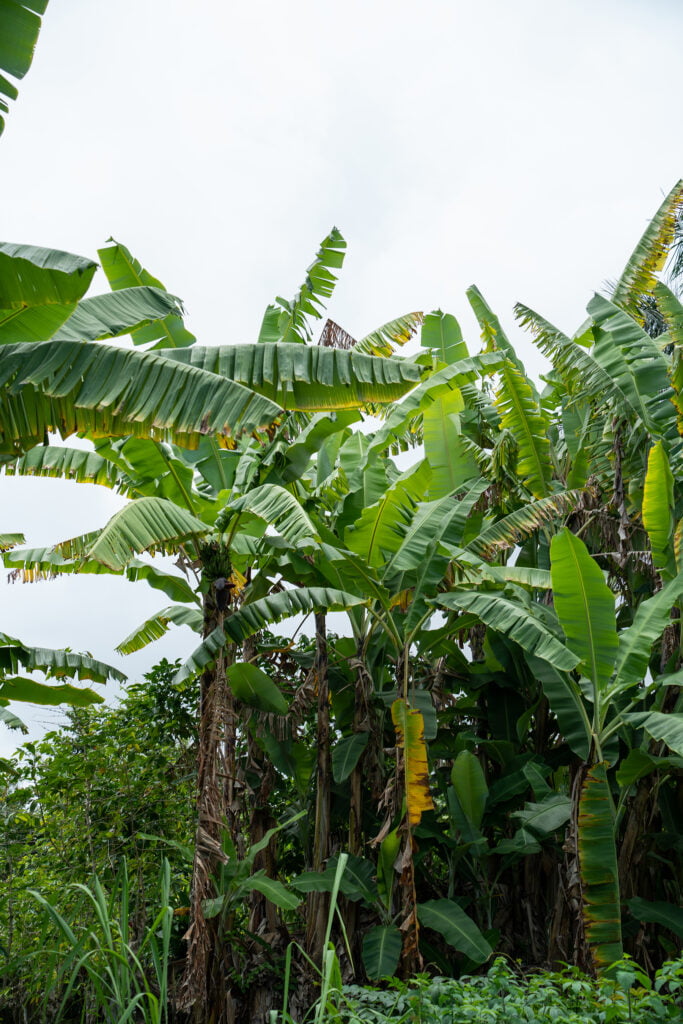 The tour was very informative, and we learned how coffee is made from seed to cup. We ended up buying a couple bags of coffee for gifts.
Lunch at Kona Brewing
After our coffee tour, we were getting very hungry. Kona Brewing was a brewery and restaurant that was recommended to me. We got one of the best pizzas we'd ever had! Their beer was really good too. We sat inside because there was no wait, but the outside patio was super cute.
Overall, we had a great three days on the Big Island of Hawaii. It was the perfect place to end our island-hopping trip.
---
You may also be interested in:
Three Day Itinerary for Oahu
How to Spend Two Days in Kauai
Logistics of a 9-Day Trip to Hawaii
30 Photos That Will Make You Want to Visit Hawaii