I spent the first week of September in Portugal with my friend Kelsey. In the eight days we were there, three and a half of our days were in Lisbon. This was plenty of time in my opinion. We were able to see everything we wanted to, and had enough time for relaxing and even a couple naps. In this guide, I've included everything we did, along with my favorite parts and things that I think could be skipped.
Wednesday afternoon
After our morning in Lagos, we drove straight to Lisbon. I had read that having a car in Lisbon was pointless, so we dropped it off at the airport and took the metro from the airport into the city.
The metro was easy to navigate, but a bit challenging to get around with our big suitcases. From the airport, we had to change lines once and find the hidden elevators, because I was not about to drag that bag all the way up multiple flights of stairs! Our closest stop was near the Rossio Train Station, and then we had about a 5 minute walk to our Airbnb apartment. Normally not an issue at all, but when it's 90F degrees, tons of people are around, and you're tired of pushing a huge suitcase around, an Uber would've been more convenient. Although, the street we were staying on was pedestrian-only, so we would've had to walk a block or two either way.
Check into Airbnb
Our apartment was located on Rua Augusta, a few doors down from Fabrica da Nata, a delicious Pastel de Nata shop (more on that later). We stayed on the top floor, with huge windows that opened up, allowing us to sit on the sill and watch the people below. It was my favorite Airbnb of the trip (and possibly ever). We LOVED being in the center of everything. It made it super convenient to drop by the apartment after we'd been shopping and wanted to drop our bags off, or to nap during the heat of the day.
Pastéis de Belém
Once we were settled, it was around 4pm. With our few hours left of daylight, we wanted to hit the highlights in Belem. Belem is about 25-30 minutes away from central Lisbon by car. We got an Uber from the apartment. You could also take one of the famous trams to get there, but we had heard they aren't fun to take during the heat of the day, when it's hot and crowded.
Our driver dropped us off at our first stop, Pastéis de Belém, home of the original Pastel de Nata. All I can say is YUM! The Pastel de Nata is an eggy custard-filled pastry that is native to Portugal. You will find them everywhere all over the country. Some are mediocre, and some are phenomenal. The key is to get them when they're warm and fresh. Add a little cinnamon and powdered sugar and you will be in heaven!
We took them to go and walked across the street to Jardim Vasco da Gama, a cute park. We sat on the grass and enjoyed the tastiest Pastel de Natas we'd had yet.
Jerónimos Monastery
Located the next block over from Pastéis de Belém is Jerónimos Monastery. We arrived at 5pm, right after the visiting hours were over. However, you can step inside the chapel for free. It's beautiful! The outside is gorgeous as well.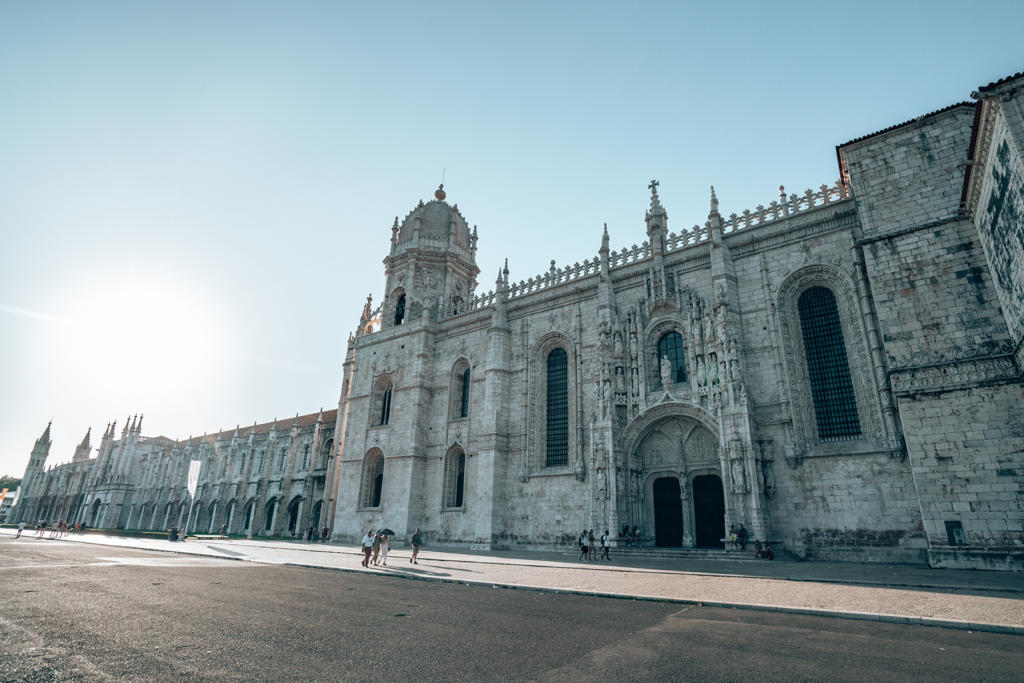 Belém Tower
From the monastery, it's about a 15-minute walk to one of the most popular sites in Lisbon, the Belém Tower. When we arrived, workers were setting up for a music festival, with the stage being on the water almost touching the tower. Way to kill the view! All the tourists were squeezed onto one side of the tower, with a terrible positioning for a photo.
I noticed that the other side of the tower looked open, so we wandered over there around the festival setup. Turns out, it was open and there was no one else there. The lighting was so much better, there was plenty of room, and we could chill and enjoy the view of sailboats passing by.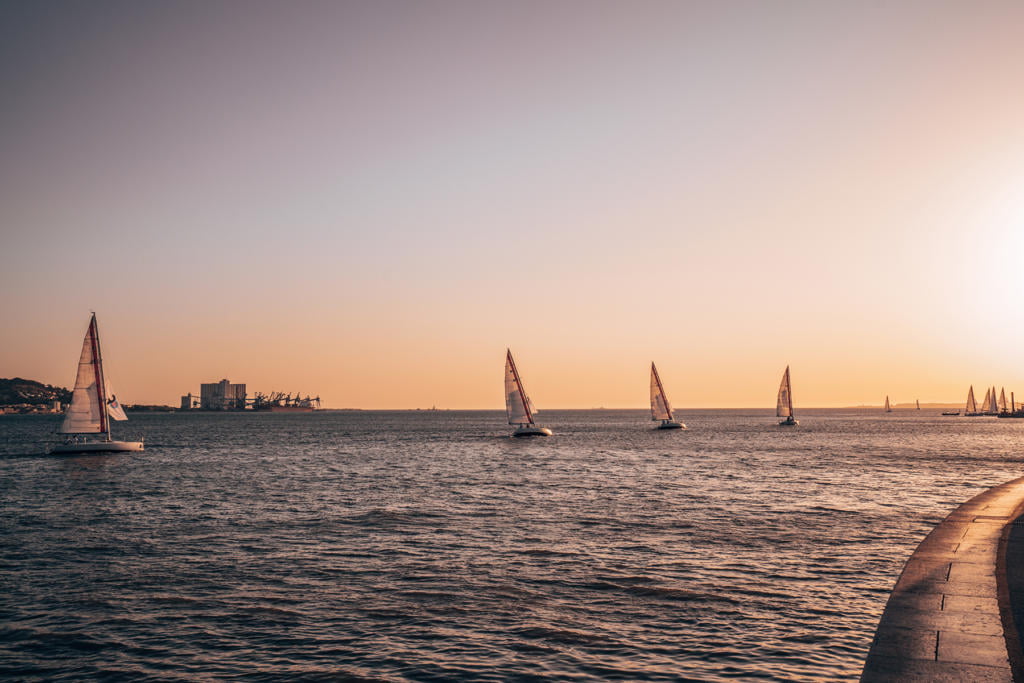 I had read not to waste your time on going inside, so we just sat outside for half an hour before moving on to our next stop.
LX Factory
The LX Factory is a renovated industrial complex with restaurants, shops, bars, cafes, and more. I loved the vibe here and it was one of my favorite places we went in Lisbon!
We wandered around for awhile before stopping for dinner at A Praça. I got the spaghetti carbonara and Kelsey got a burger. Both were amazing! We also split a pitcher of sangria. Wonderful night! After dinner, we Ubered back to our Airbnb and went to bed.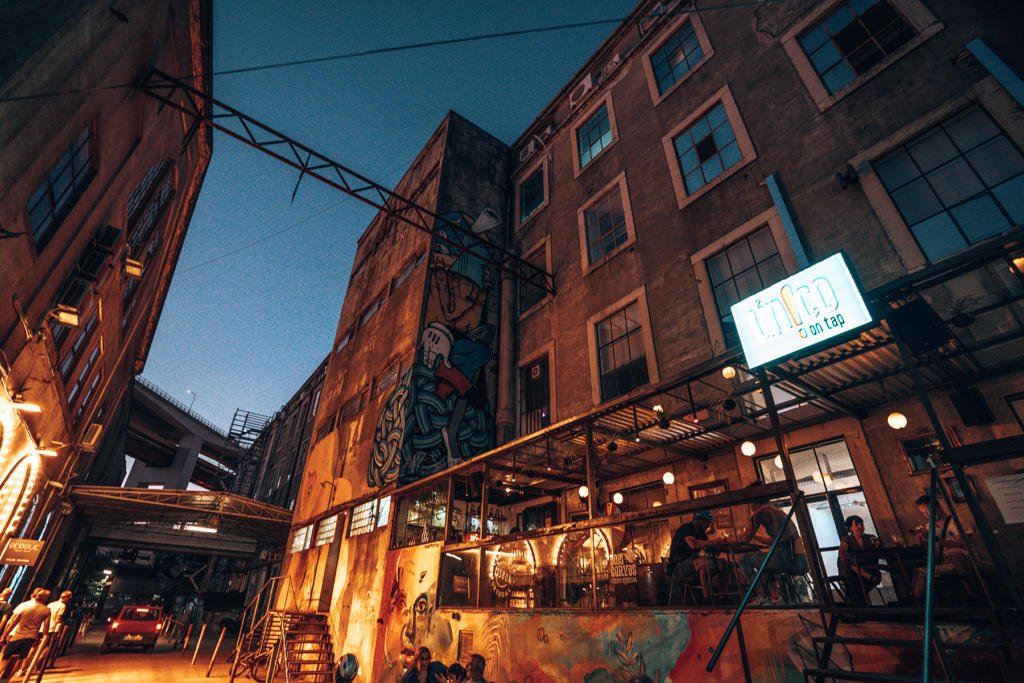 Thursday
Fabrica da Nata
This Pastel de Nata shop was our most visited shop in Portugal. Mostly because it was a few doors down from our Airbnb, but it was also very good! My third favorite Pastel de Nata in Portugal (after Pastéis de Belém and Manteigaria). We grabbed a couple quickly before heading to Sintra for the day.
Sintra
Read my blog post about our day in Sintra!
After we got back, we dropped our stuff off at our apartment, showered, and got ready for the evening. We walked to get drinks at PARK Bar.
PARK Bar
This is an amazing bar on top of a parking garage, with stellar views overlooking Lisbon. We arrived around 6pm just in time for sunset. It's tricky to find- there is no address on Google, just a general area, and you must wander around until you dare to climb a sketchy-looking staircase in a parking deck. We noticed a few other people wandering as well, so we talked to them and all looked together.
The vibe at the bar was awesome- great music, AMAZING mojitos, and lots of people. It was super crowded over by where you can see the sunset, and we weren't able to fight through the crowd to get any decent pictures. We instead found a chair to sit on while enjoying our drinks and the perfect weather.
Dinner at Mini Bar Teatro
From our pre-dinner drinks, we walked to Mini Bar Teatro, our one meal we had planned to splurge on. When I say splurge, I mean in terms of cheap Portuguese foods. I spent about $60 US for my portion of our meal that included 11 small courses and a glass of wine.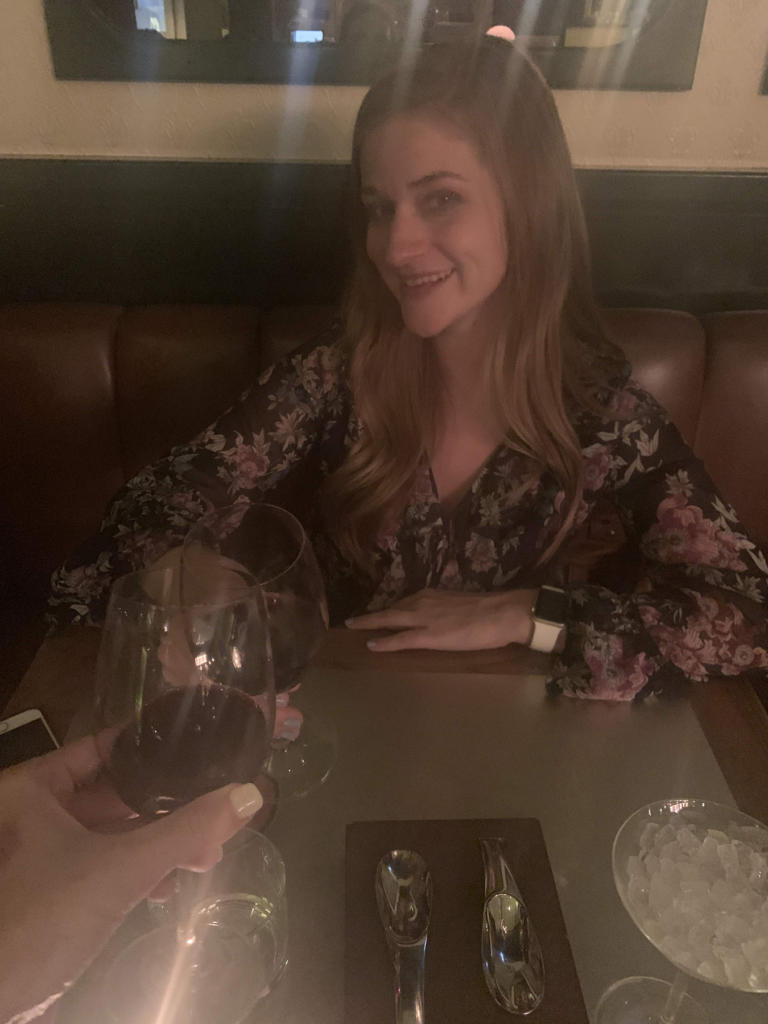 Mini Bar Teatro is named so because it is located in the same building as an old theater. The chef has several restaurants around Portugal. This restaurant is different from others you may have experienced. All the foods you can order are fairly small, tapas style. You can order individually or a whole menu, which is what we did. The chef chooses what he wants you to try and you just tell them if you have any allergies.
We didn't have any courses we hated, but some were better than others. The first few were okay-tasting and small. We were a little worried we would leave still hungry. Once we got to the bigger portions, the braised tuna with sushi rice and oxtail with maize porridge, we were in heaven.
Overall, I would recommend this restaurant if you like trying new things and want a fun experience! We ended up staying for over two hours and really enjoyed our time.
We were exhausted from our long day, so we went back to the apartment after dinner.
Friday
Heim Cafe
Several people we knew that had been to Lisbon recommended the Heim Cafe for breakfast. It's a bit out of the way from everything else we were doing this day, so we took an Uber. We arrived around 9:45am, and there were still plenty of tables inside, although the few tables outside were taken. It started to get busy around 10:30 as we were finishing up.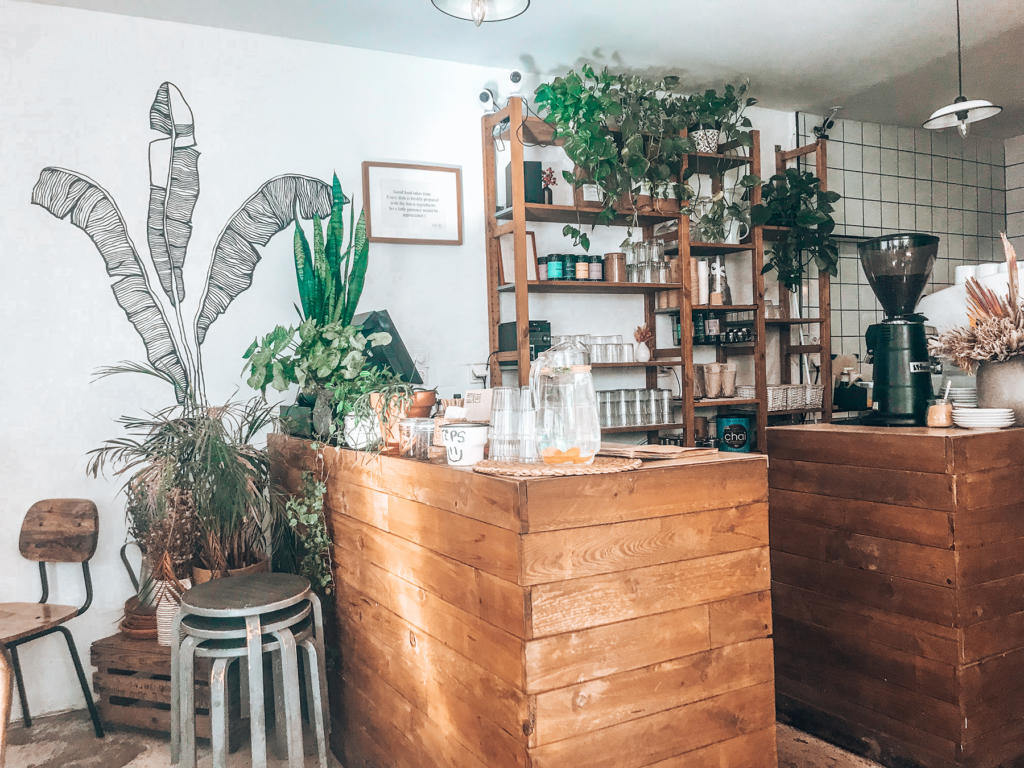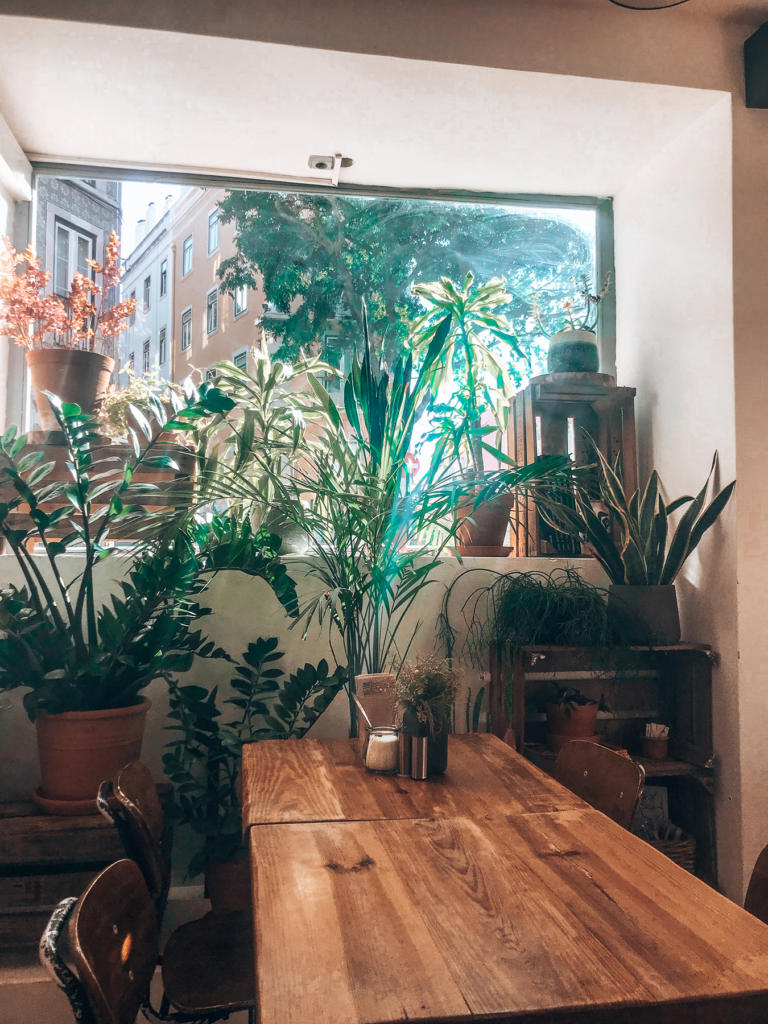 I got the yogurt parfait, waffles, and scrambled eggs and avocado toast. So yummy and such a cute restaurant!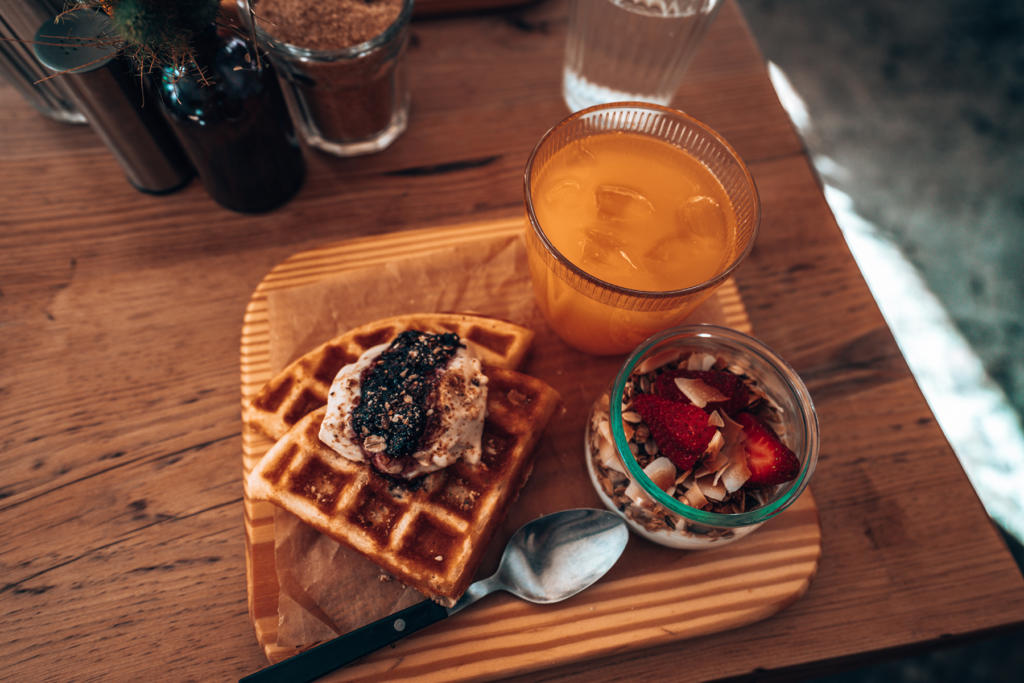 Miradouro de São Pedro
From breakfast, we got dropped off at our first Miradouro in Lisbon. Most of this lookout was under construction and we couldn't see much. It was still pretty, but I wouldn't go out of my way for it in this condition.
São Roque Church
Almost next to the Miradouro de São Pedro is the Church of São Roque. The church is free to enter and is quite impressive. I loved the beautifully painted ceiling. One of the side chapels inside is actually from the Vatican!
Explore Barrio Alto
We wandered downhill and through some side streets to get the feel of old Lisbon. The streets are quaint, and I loved watching the Portuguese residents getting where they needed to go for the day.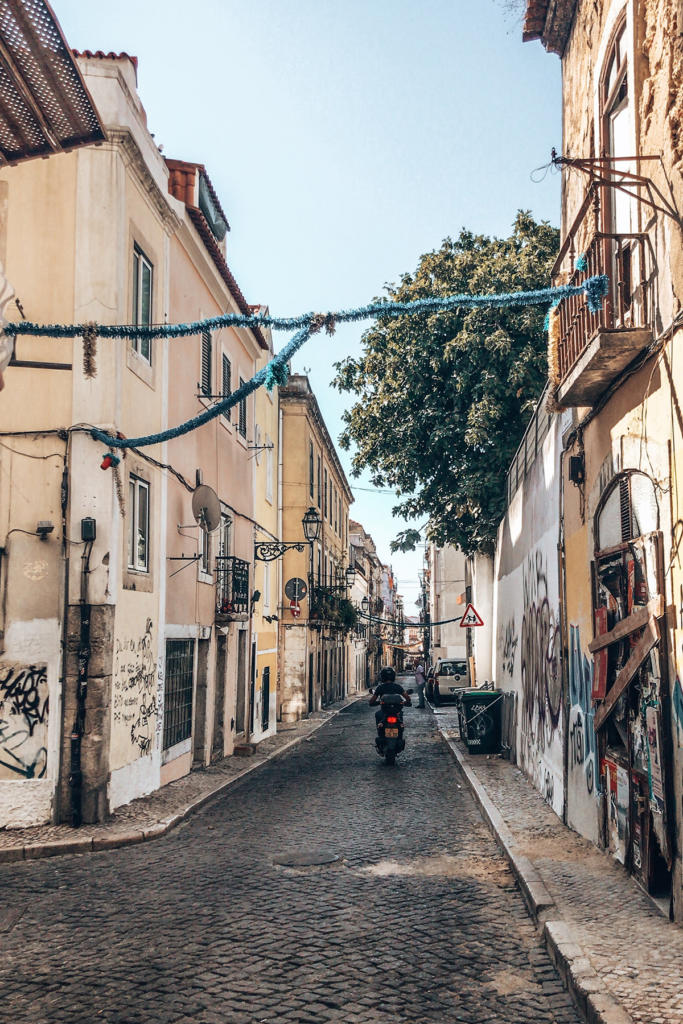 Carmo Convent
The Carmo Convent was built in 1389 and was partially destroyed in the 1755 earthquake. The stone roof over the church collapsed and was never rebuilt. All that remains are the walls surrounding the church and archways used to support the roof. It was very unusual and didn't feel at all like a church to me. Crazy what a difference a roof can make!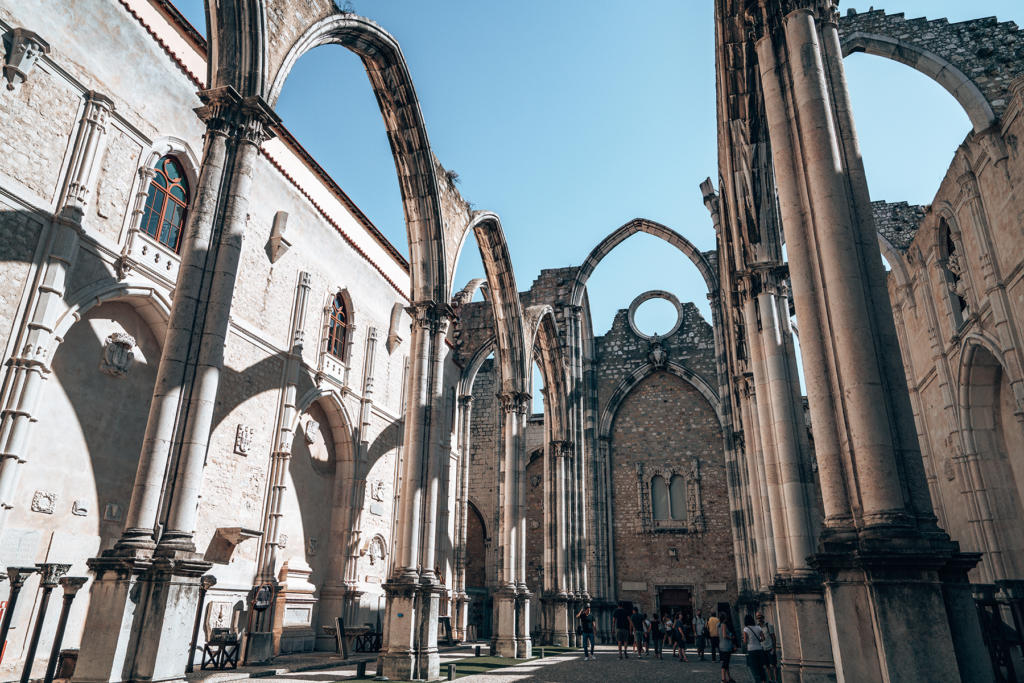 There is also a museum that is included with your €5 admission that we figured we'd walk through. It was really cool! We saw perfectly preserved mummy children from the 16th century.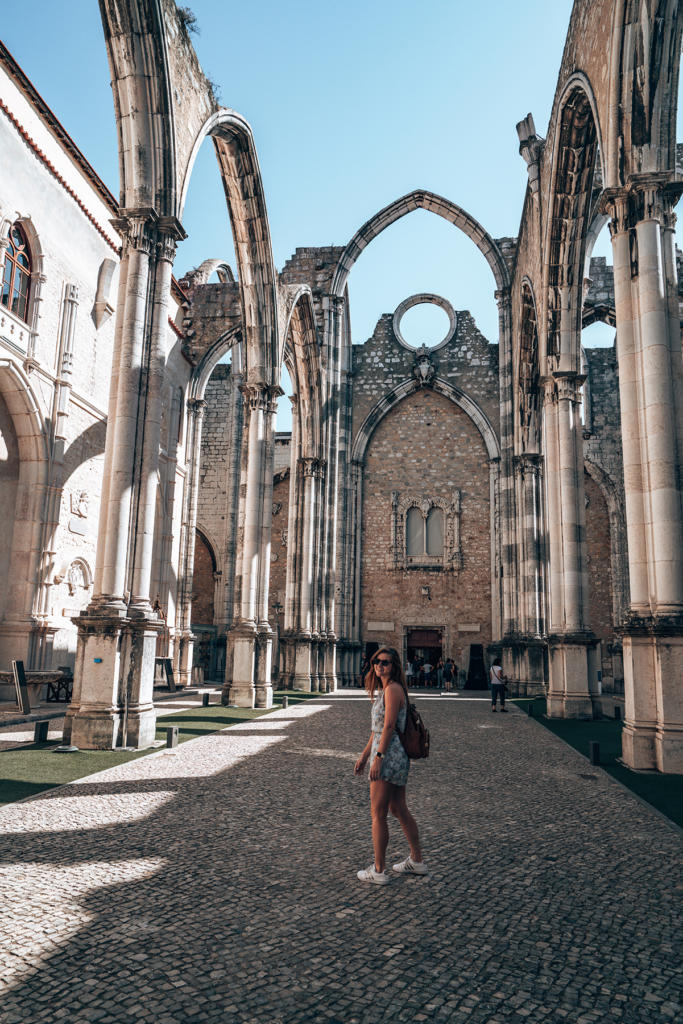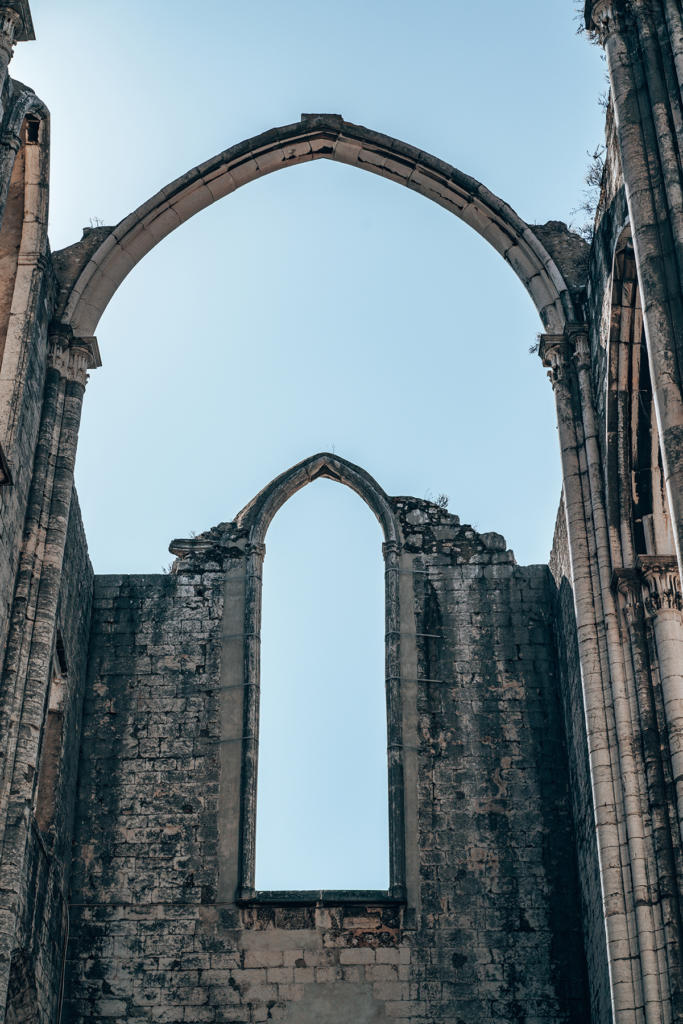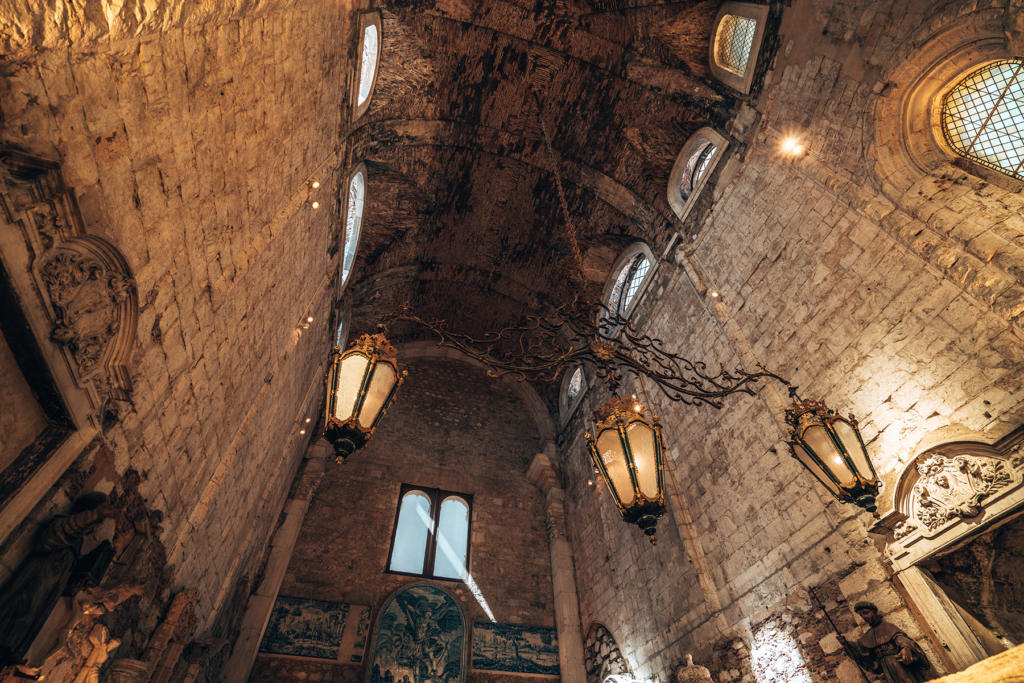 Elevator Justa Lookout
From the front of Carmo Convent, you can avoid paying the €5 to ride up to the top of the Elevator Justa by walking down the alley to the right side of the Convent (when facing it). Keep wandering along and you will see a restaurant with lots of people walking up the stairs behind it. This will lead you to the top of the elevator with very similar views as if you had paid to ride up. You have to pay a small fee to enter the viewing platform, but we thought where we were was good enough. It was also super crowded, which we were trying to avoid.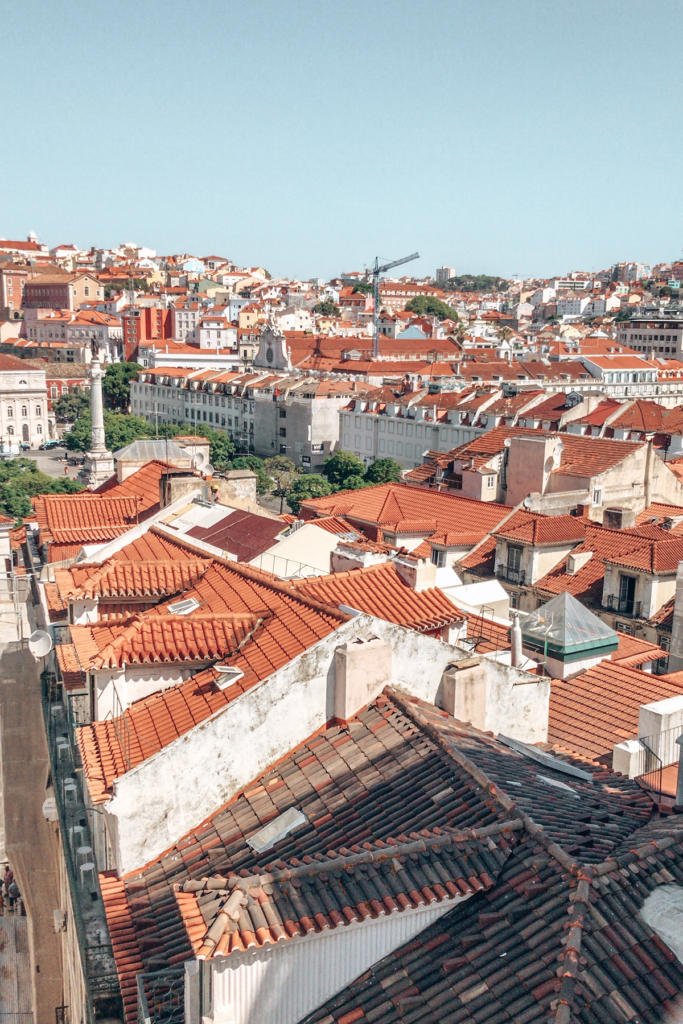 Alcôa Doçaria Pastries
From the elevator, we walked to Alcôa Doçaria, one of the most beautiful pastry shops I've seen. While we were in the shop, we met a tour guide who enjoyed telling us about the sweets. Back in the day, nuns used egg whites to starch their white uniforms, leaving lots of yolks to make the famous Pastel de Nata pastries. They made lots of other pastries for this shop as well and gave them funny names like "angel's double chin" or "bacon from heaven".
Time Out Market for Lunch
We were starting to get hungry and wanted to check out Time Out Market, which was recommended by so many people. We took an Uber from where we were in Baixa, about a ten-minute drive. When we arrived around 2pm, it was packed! Time Out is essentially a large food court, but with the best restaurants in Lisbon. There are a ton of different choices around the perimeter of the large rectangular room, with lots of tables in the middle. We decided to get a Poke Bowl from Confraria Sushi. Kelsey ordered food while I walked around looking for a spot for us to sit. After walking around for 15 minutes, I was getting a little discouraged. Then we found someone leaving and snagged their seats. The bowl was very good!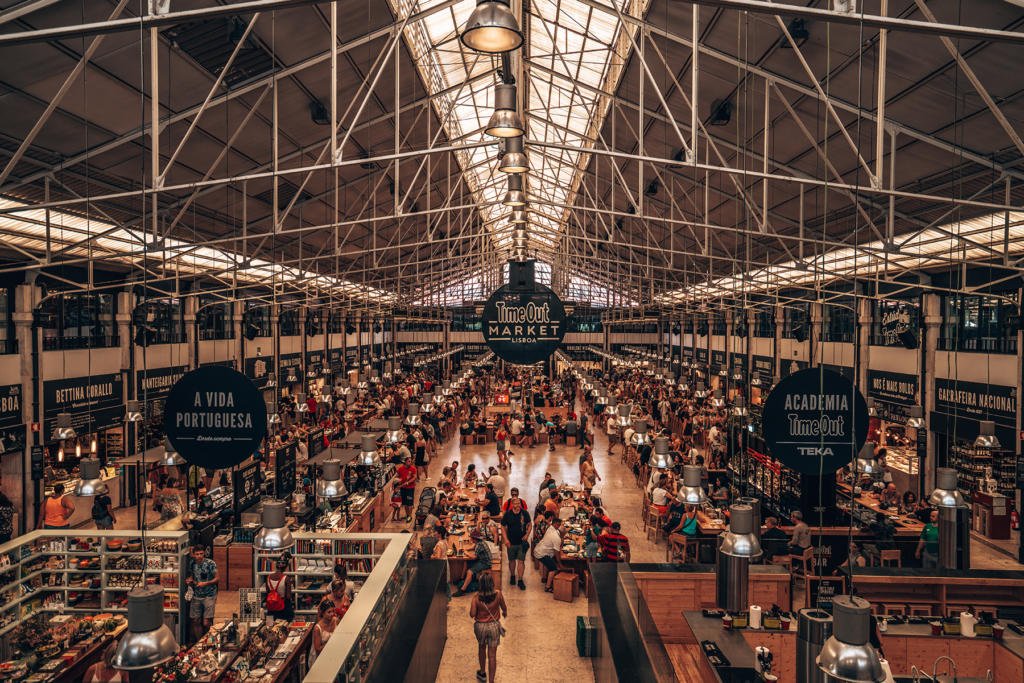 Since we had just split one bowl for lunch, we wanted to get gelato at Santini. I also saw a merengue dark chocolate cake that I needed to try. It was delicious!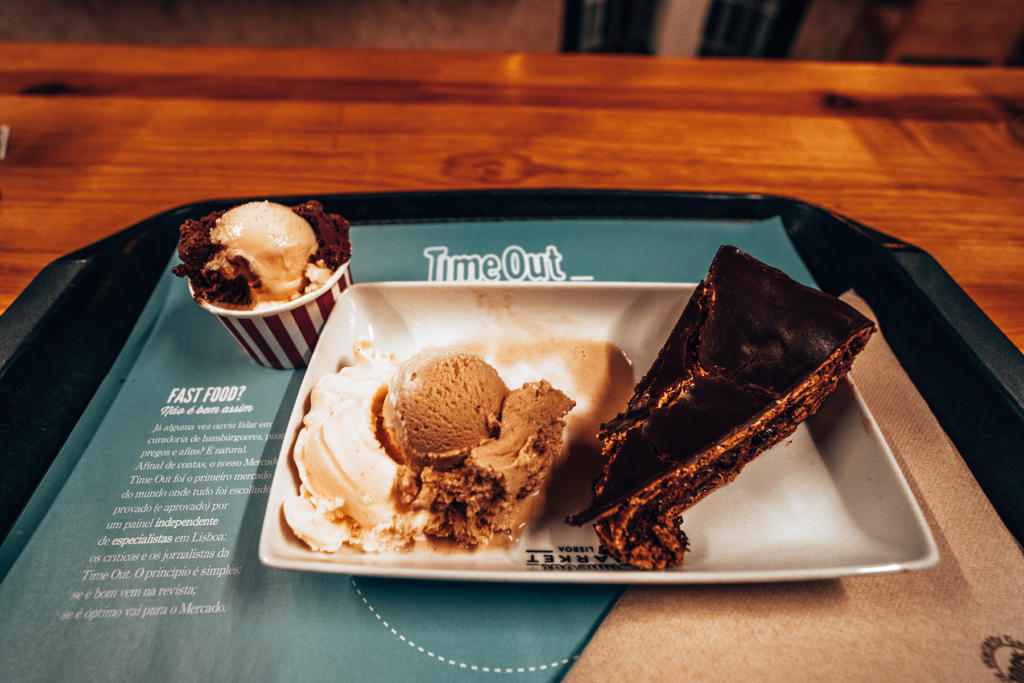 I thought our food was great, but the over crowdedness made it not so worth it to come here for me. I've been to several food court type places like this that I like better than this one, including a couple back home in the Atlanta area.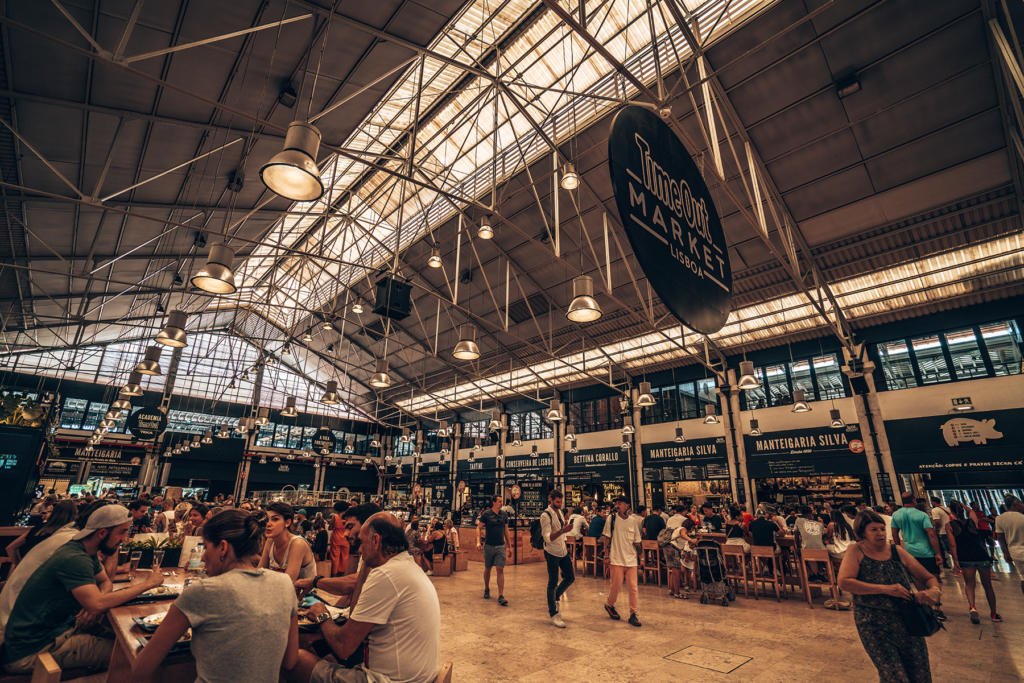 Nap
We finished up lunch during the heat of the day (it was about 95F that day!) so we decided to go back to the apartment and take a little nap before dinner tonight. We were really tired by this point in our trip and didn't feel guilty about being inside in the air conditioning.
A Ginjinha Tastings
After we had woken up and gotten ready for the evening, we walked to A Ginjinha, the oldest Ginjinha shop in Lisbon. Ginjinha is a cherry liqueur that we had tried in Obidos and we really liked it the first time. When we tried it here, we weren't crazy about it. Perhaps because our tasting in Obidos was in a chocolate cup and here it was plastic? Still, for only €1 per shot, it was a fun experience.
Illegal Chinese for Dinner
This was such a cool experience! Apparently there are lots of Chinese restaurants being run illegally out of the owner's apartments. We were told about this by Kelsey's friend who used to live here. He ate at one of the restaurants regularly and recommended one place in particular. However, he didn't tell us exactly where it was, except for a few landmarks to look for. When we finally found it, we were so excited! The food was the best Chinese food I've ever had. Very authentic.
Saturday
Fabrica Coffee Roasters
This is a yummy coffee and breakfast shop that I had read has delicious coffee beans you can buy to take home. We came here for breakfast on our last day in Lisbon. Kelsey and I both got avocado toast and yogurt parfaits (a regular thing) and we split a ham and cheese croissant. I also got a very yummy cappuccino. We got here early enough, around 9:30am, and there were plenty of tables outside available. Their inside is also really cute.
Alfama
After breakfast, we walked back to our Airbnb to check out. Luckily, the apartment owners also owned the shop on the street level, and they let us store our bags there for the day!
From here, we took an Uber up to Castelo de São Jorge (otherwise a 20 minute walk uphill) and wandered around the neighborhood of Alfama from here. We chose not to go inside the castle.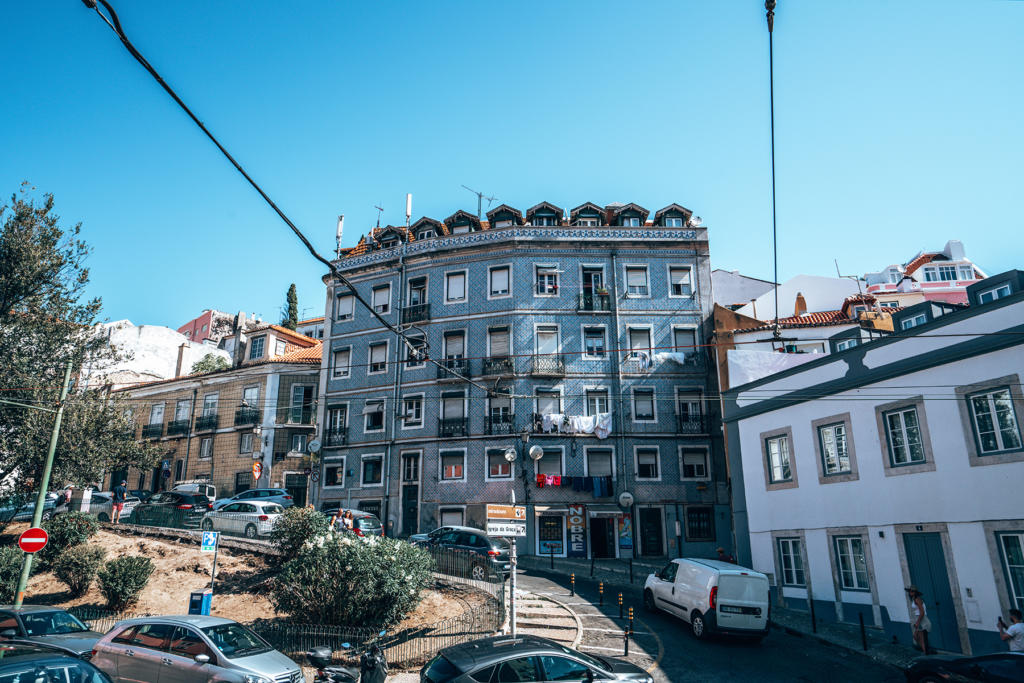 One of the coolest moments was when a couple was performing songs from their tiny balcony overlooking the street. Lots of tourists were gathered around watching. It added to the already adorable atmosphere.
Miradouro de Santa Luiza and Miradouro das Portas do Sol
These two viewpoints were beautiful and worth stopping! We noticed them on our stroll through Alfama.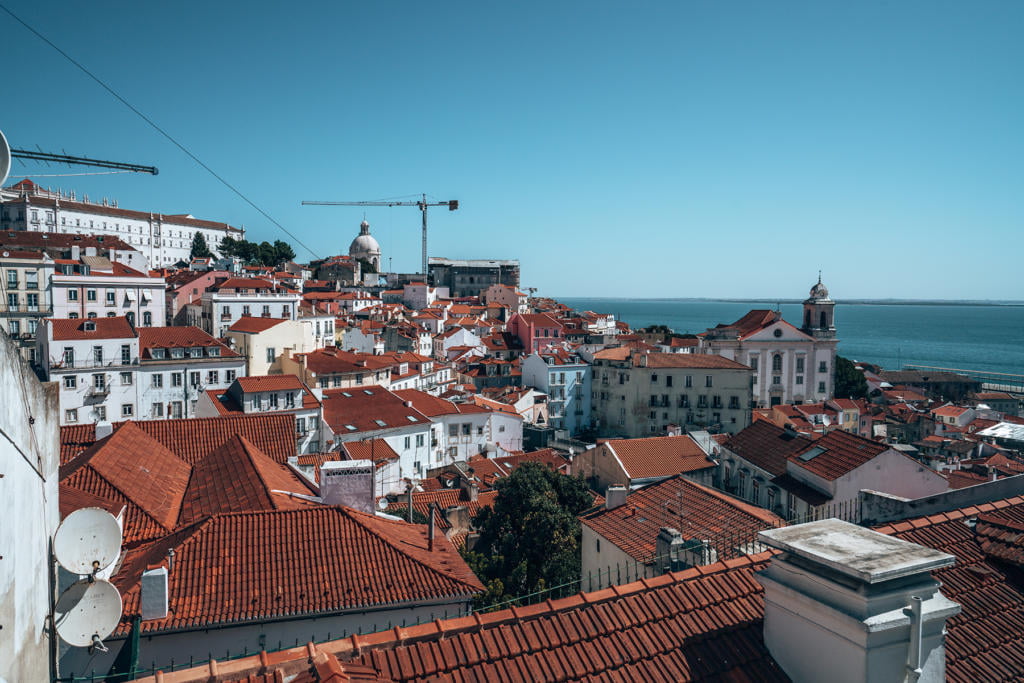 We wandered all the way down almost to the water. I'm not sure exactly where we went and where we ended up. Sometimes it's fun to just get lost! Once we felt satisfied, we took an Uber to Manteigaria.
Last Pastel de Nata at Manteigaria
Since we had tried the Pastel de Natas in the Porto location of Manteigaria, we also wanted to try them in Lisbon. They were just as good! I love this shop because the chefs are making the pastries right in front of you behind a glass window. You can eat while you watch them work.
Bica
Bica is a street that you can get a classic picture of the yellow tram going down a hill. Nothing too exciting, but it was a fun quick stop that was only a couple minutes walking from Manteigaria. Lots of people were gathered around the tram at the top taking pictures, but I like the shots I got!
Noobai
From Bica, we wandered downhill until we found Miradouro de Santa Catarina. The spot with the great view was under construction while we were there, so we had to settle for the view up the hill that was slightly covered by trees. We weren't too impressed. From here we could see a fun-looking restaurant/bar that seemed to have a great view.
We weren't hungry and knew we'd be getting an early dinner, so we opted for only sangria instead. There was only one size of pitcher on the menu and when the waiter brought it out, we realized it was a 2 liter and we would be here for awhile!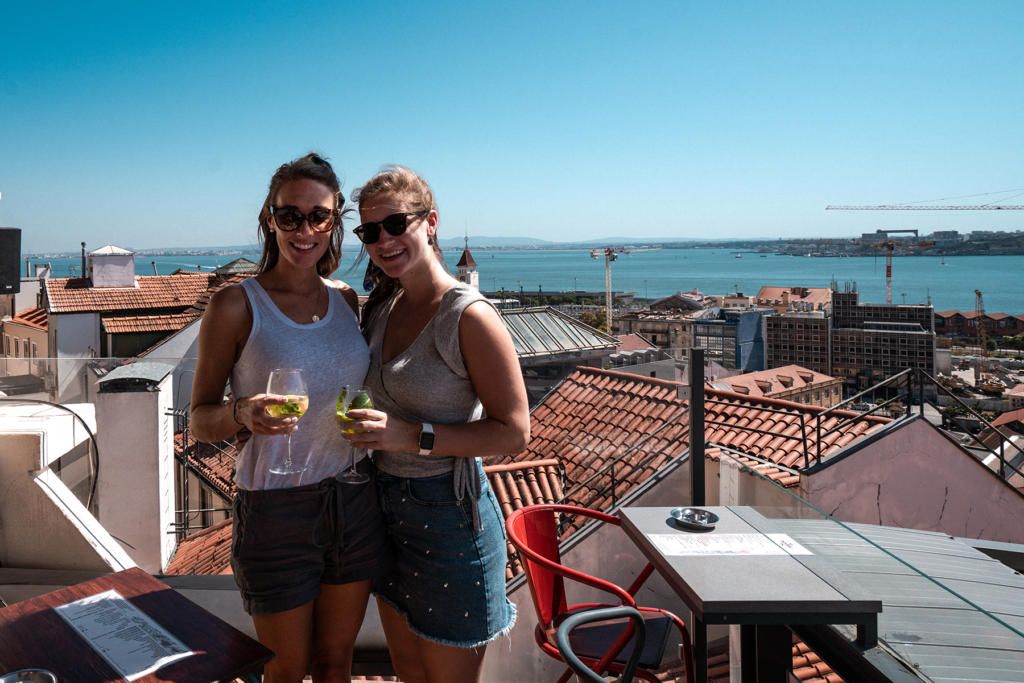 The restaurant has multiple levels, each with a great view. We were seated on the middle level because we were only getting drinks. It was a fun way to kill a couple hours and we finally got the views we'd been craving!
Pink Street
Another ten minute walk downhill leads you to the Pink Street, a street famous for its nightlife. It is named properly- the color of the street is pink. Good for a photo op as we were passing by, but we didn't spend more than ten minutes here.
Pistola y Corazon
Our last stop of the trip was a Mexican restaurant called Pistola y Corazon. This place was delicious! They don't take reservations and fill up quickly, so you must get here on the early side if you don't want to wait forever. This worked out perfectly for us, as we were transferring to another Airbnb this evening that was next to the airport. After a pitcher of sangria, we were feeling very hungry for tacos. Between the two of us, we ordered three orders with three tacos each. We got the lamb (my favorite), shrimp, and al pastor (wasn't crazy about these). We left stuffed and happy.
From here, we Ubered back to get our suitcases, and then took another Uber to our Airbnb for the night. We stayed at the loveliest apartment next to the airport. I cannot recommend this place enough. Our hosts made us dinner (and insisted we eat it even though we weren't hungry) and talked to us for a long time, making us feel right at home. I would love to stay here again.
Our flight home was at 5:30am the next morning. We got there around 3:45am with plenty of time to spare. There was no line to drop our luggage with Air France and almost no line at security. We were left with over an hour to chill in the waiting area.
Don't miss parts of Lisbon:
My favorite parts of Lisbon were the following, which could be done if you only have one full day here.
Heim Cafe for breakfast. My favorite breakfast we had in Lisbon.
Wander Alfama, the cutest old neighborhood in Lisbon.
Convent Carmo for an original experience in a partially destroyed church.
Pastéis de Belém for a yummy and affordable afternoon snack.
PARK Bar for sunset drinks with an amazing view.
LX Factory for dinner and drinks. You can pick what you're in the mood for when you get there and see what's available!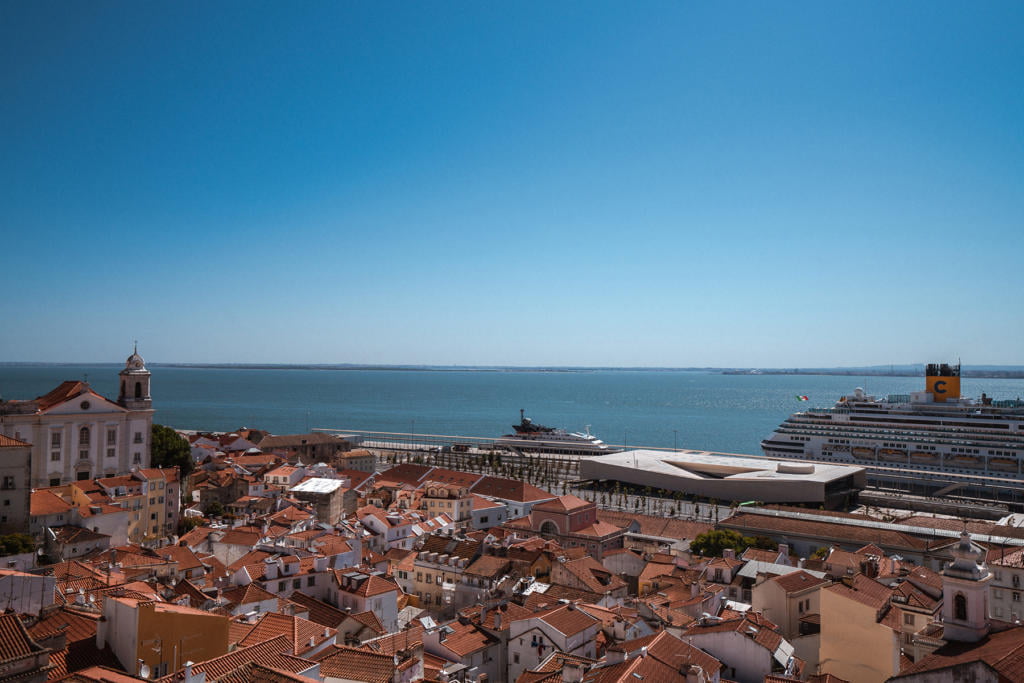 Parts that could be skipped in my opinion:
Time Out Market. I felt this was overrated and overcrowded. The food was really good though, so if you could come at an odd time, it may be better.
Belém Tower. I didn't really get the appeal. It was pretty, but I wouldn't make a special trip to Belem just for this. I would make a special trip for Pastéis de Belém though!
---
You may also be interested in:
Day Trips from Lisbon
Two Days in Porto
36 Hours in the Algarve
Day Trip to Sintra