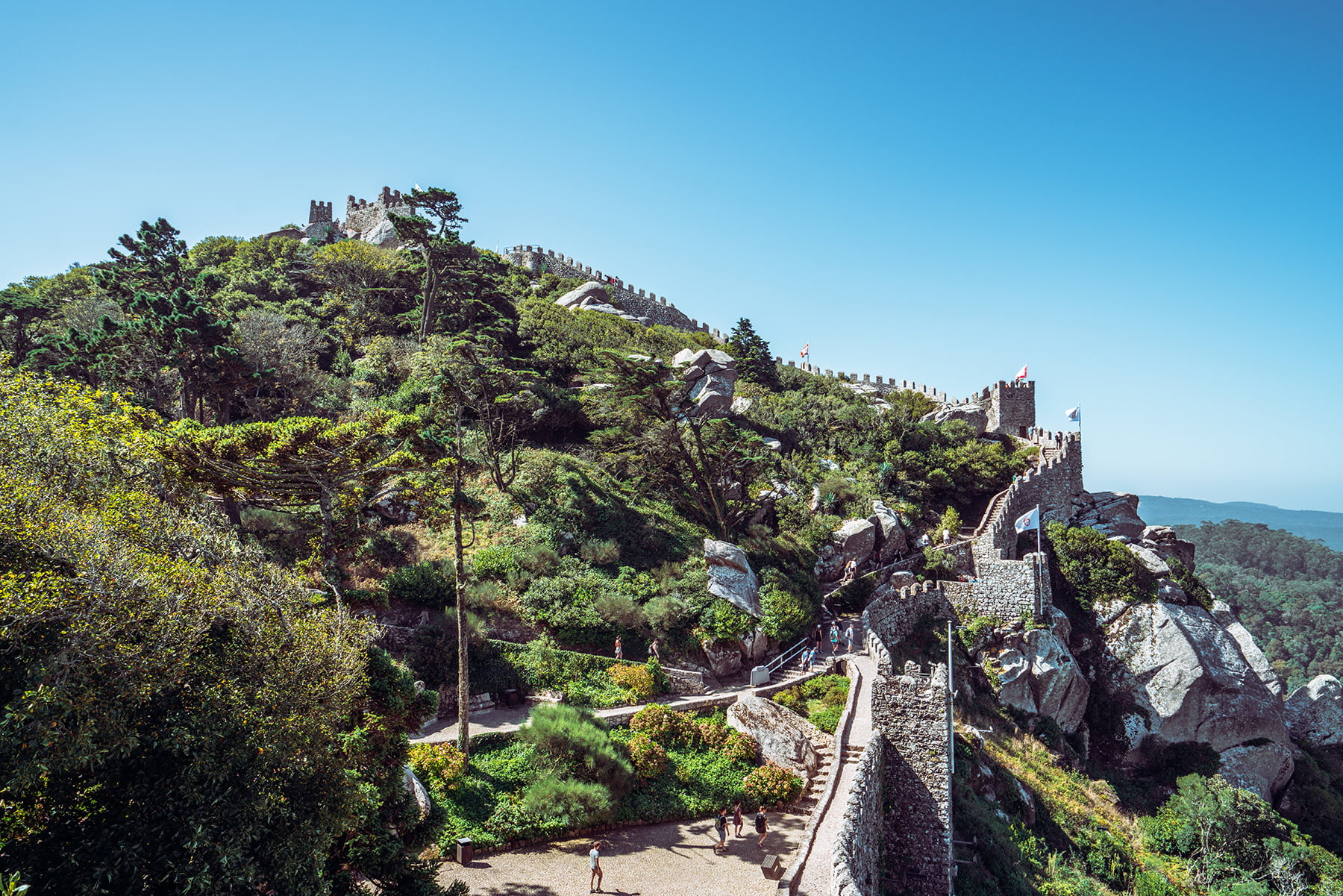 If you will be in Lisbon for more than a day, you must check out Sintra! Located only 45 minutes from Lisbon, the town of Sintra is full of castles and palaces, and it feels like it belongs in a fairytale. While a lot of castles in Europe can be a bit bland, the three we went to were so different and interesting. I highly recommend all three!
Getting There
Our Airbnb apartment was close to the Rossio train station, which is where the train to Sintra leaves from. Trains run about every 15 minutes. We had been told by many people to get to Pena Palace (the most popular stop in Sintra) right when it opens at 9:30am. This meant we needed to try to get on a train around 8am. We arrived at the station around 7:45 and got our tickets out of a kiosk. It was easy and self-explanatory. The round trip ticket to Sintra and back only costs about €4.
The train wasn't super crowded and everyone in our car had a seat. The journey takes 45 minutes to get to Sintra. When we got off in town, no one really knew where they were going. I had read that there could be long lines for the bus, so we thought we'd cheat the system and get an Uber to take us to Pena Palace. It is possible to walk, but it would take at least an hour and it is a very steep climb. The Uber picked us up and asked if we were going to the castles. We said yes, and he told us that the road was closed to cars today. The bus was our only option. He dropped us off where the line for the bus was (which was nice!) and we waited about ten minutes to board.
The road up to the top of the mountain winded back and forth and I was impressed by the bus driver's skills! When he dropped everyone off, we saw there was a long line to get a ticket. I noticed signs saying you could buy your ticket online, but I didn't find an official-looking website, so we waited for about 15 minutes in line.
Pena Palace
When we got our tickets and entered the park, it was about 10am, and there already were a good amount of people there. I didn't care about going inside the actual palace, just wanted to walk around the terraces and see the views. The cost to go inside is €14 or just the terraces and park is €7.50.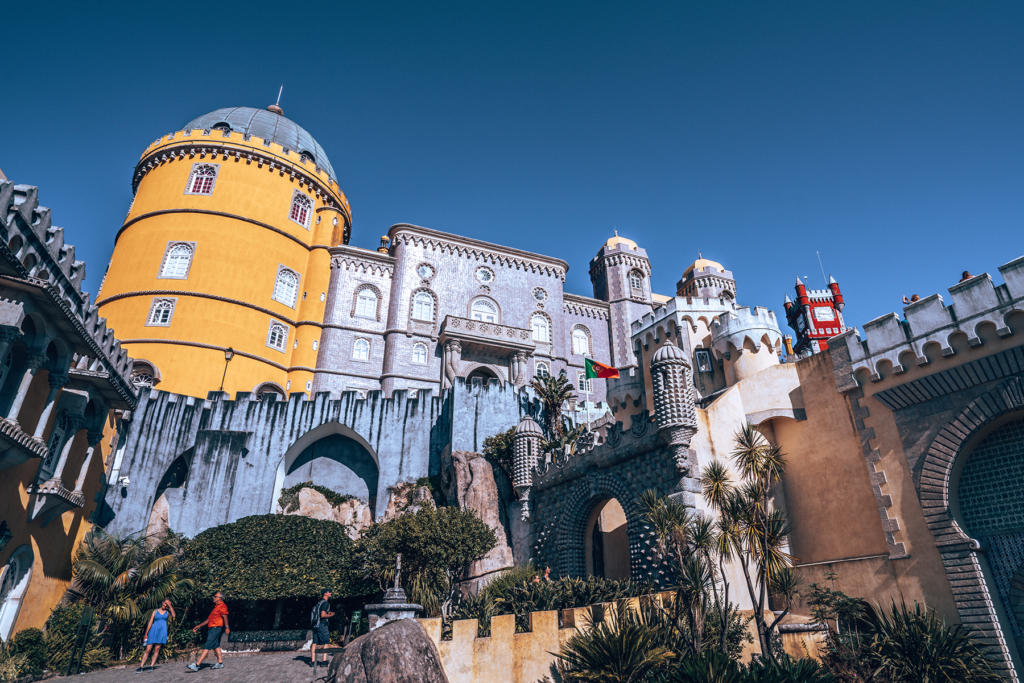 To get to the palace, you must walk up another 10-minute hill, or you can opt to pay for a tram that goes to the top. It was still nice out and the walk is shaded, so we walked. When we arrived at the castle, I was stunned by how beautiful it is!
King Ferdinand commissioned the palace to be built as a summer home for the royal family. Construction was completed in 1854 and it was in the hands of the royal family until 1889 when it was purchased by the Portuguese state.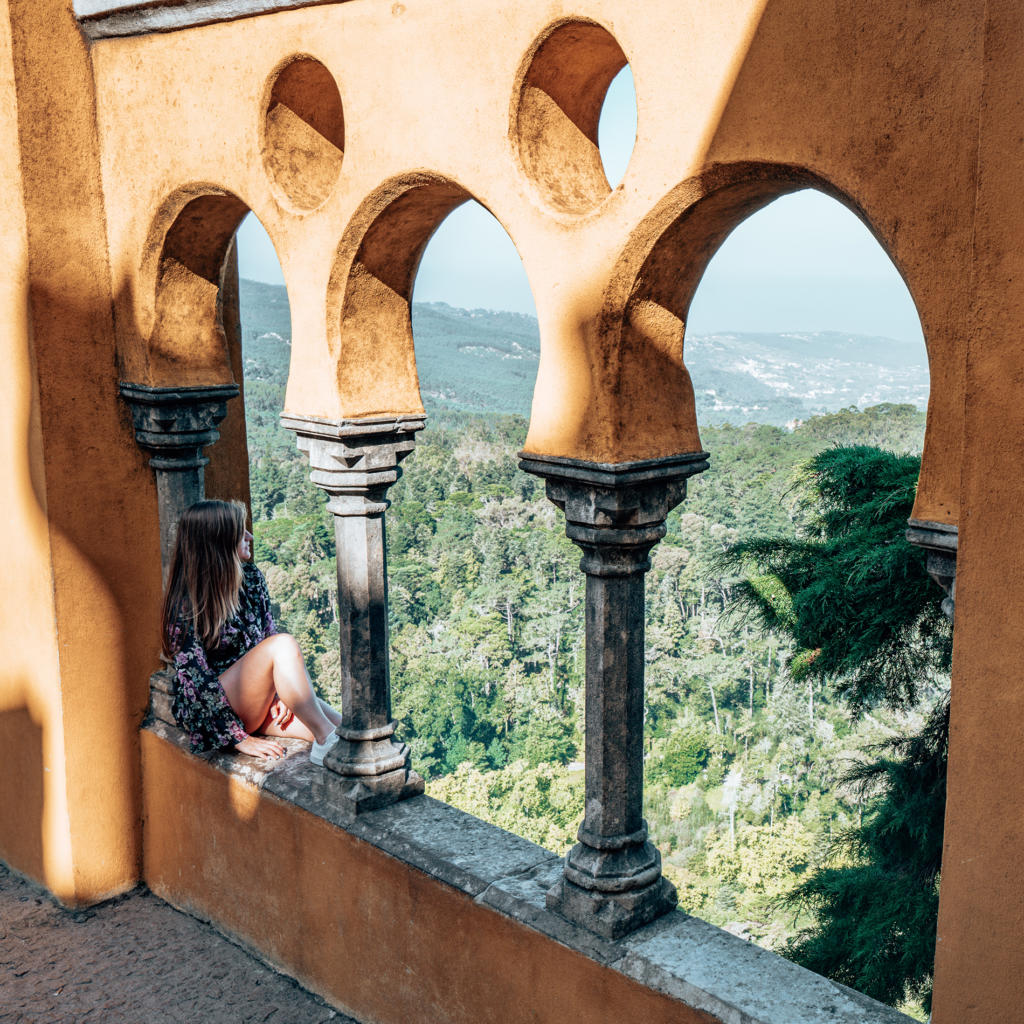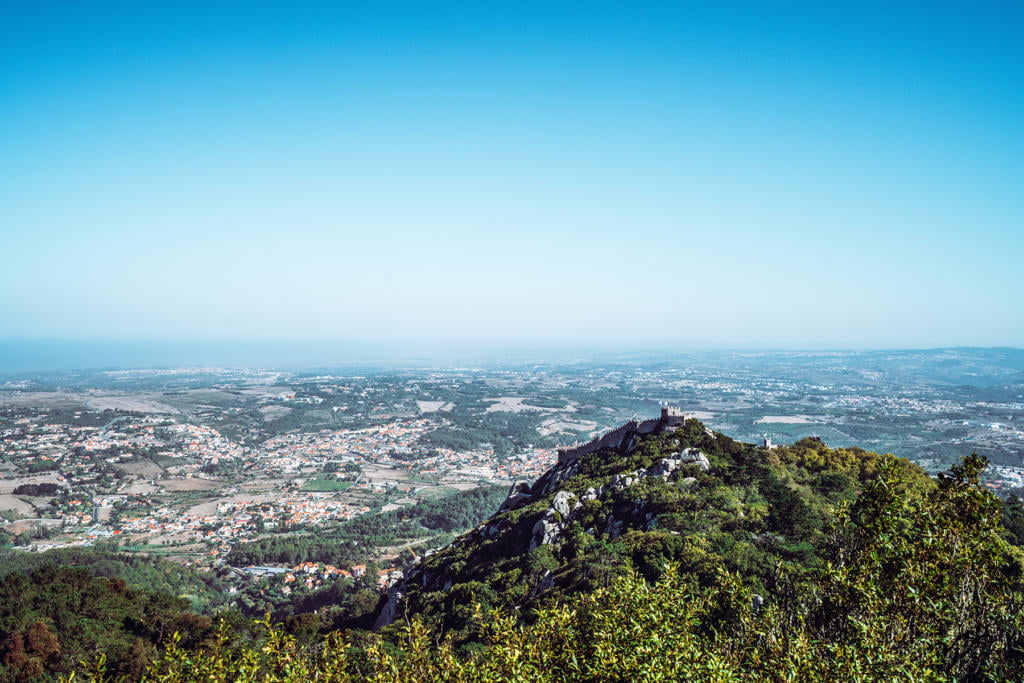 The bright yellow and red colors aren't typical for a real-life castle, and it made me think of something that belonged in Disney World. It's so cool to think that a royal family spent their summers here!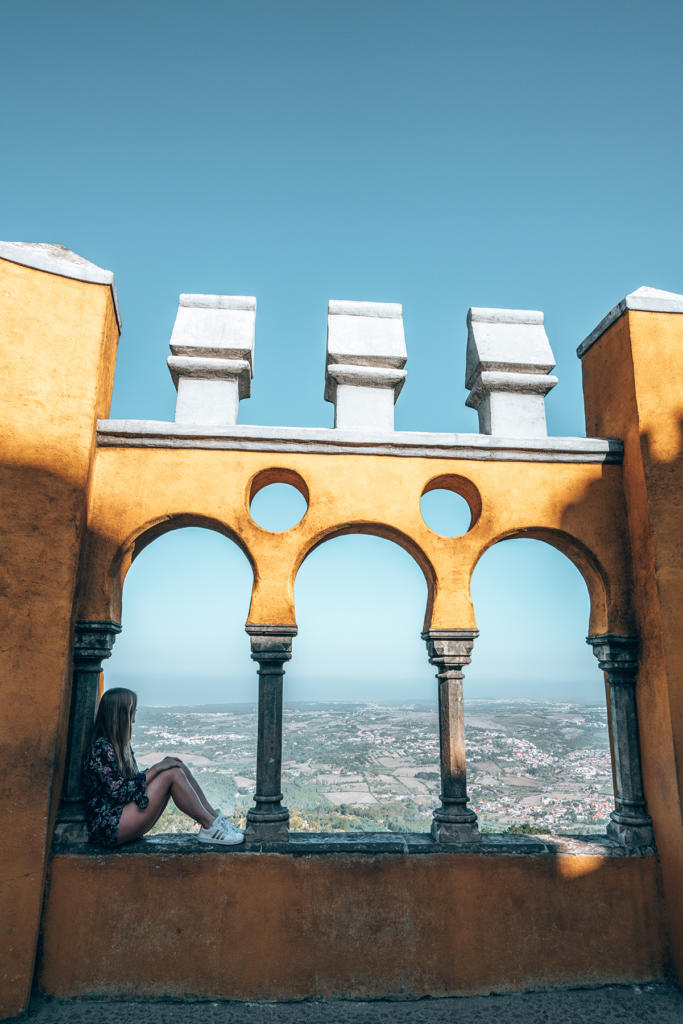 By the time we left Pena Palace around 11am, it was packed! And I'm sure it only got more crowded as the day went on. For an enjoyable experience, get there by 10.
Castle of the Moors
From Pena Palace, we walked about ten minutes downhill to the Castle of the Moors. This Castle was built by the Moors (in case you couldn't tell by the name) in the 8th century. It's medieval in style and was used as an excellent vantage point over the Sintra region. Once Christian crusaders captured the castle in the 1100s, the Moors were forced out. The 1755 earthquake almost completely leveled the castle. It was left abandoned for many years until King Ferdinand, who romanticized the middle ages, ordered the castle to be rebuilt. You can see the Castle of the Moors from Pena Palace and vice versa.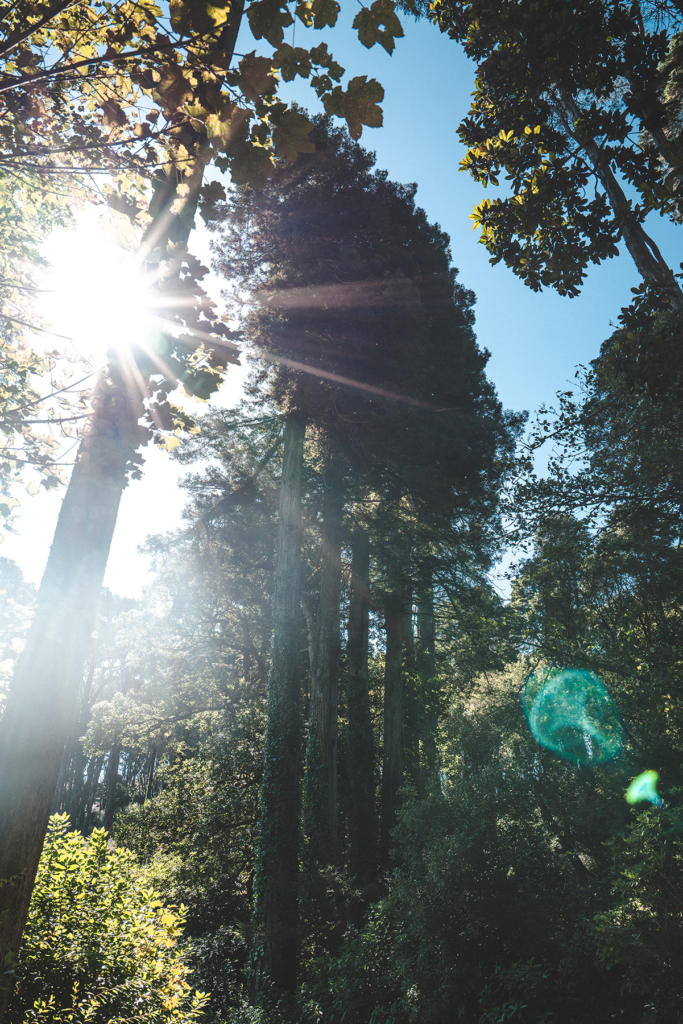 Once you get your ticket for €8, there is a 10-minute walk through the forest to get to the castle. You will see many large boulders on this pretty trail.
The architecture of the castle reminded me of the Great Wall of China. Visitors can walk along the walls for amazing views in every direction. It was getting hot at this point and there is no shade once you are up on the walls, so we only stayed here for about 30 minutes before heading into town.
From the Castle, we took the bus back down to town. We had heard the tuk tuks are a super fun way to get down the mountain, but there were none around when we left. Maybe the same reason they weren't allowing cars on this road today.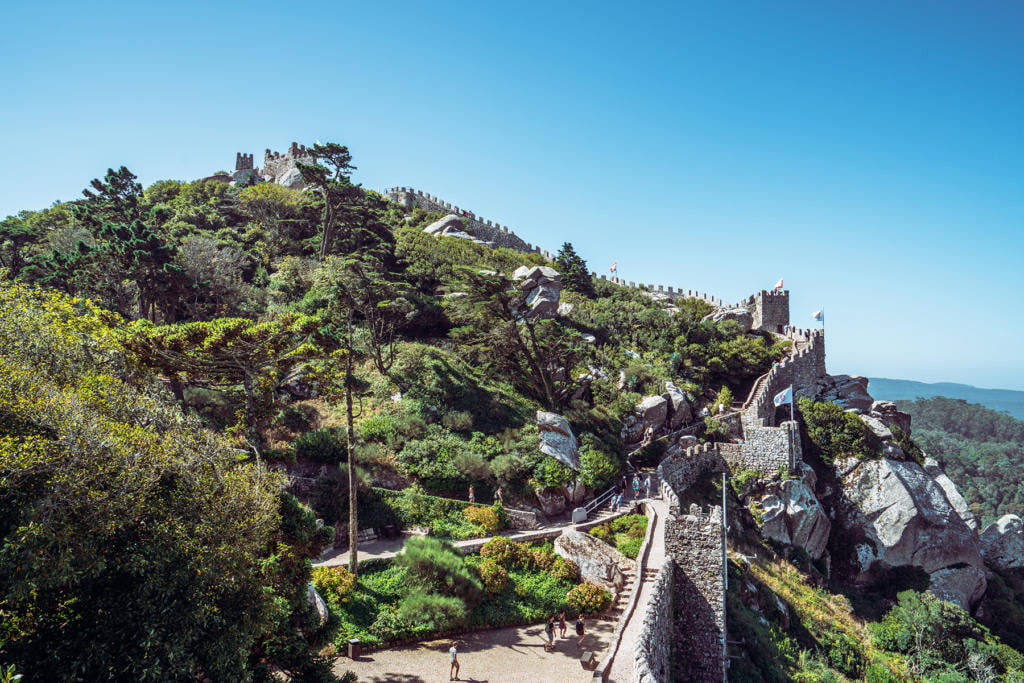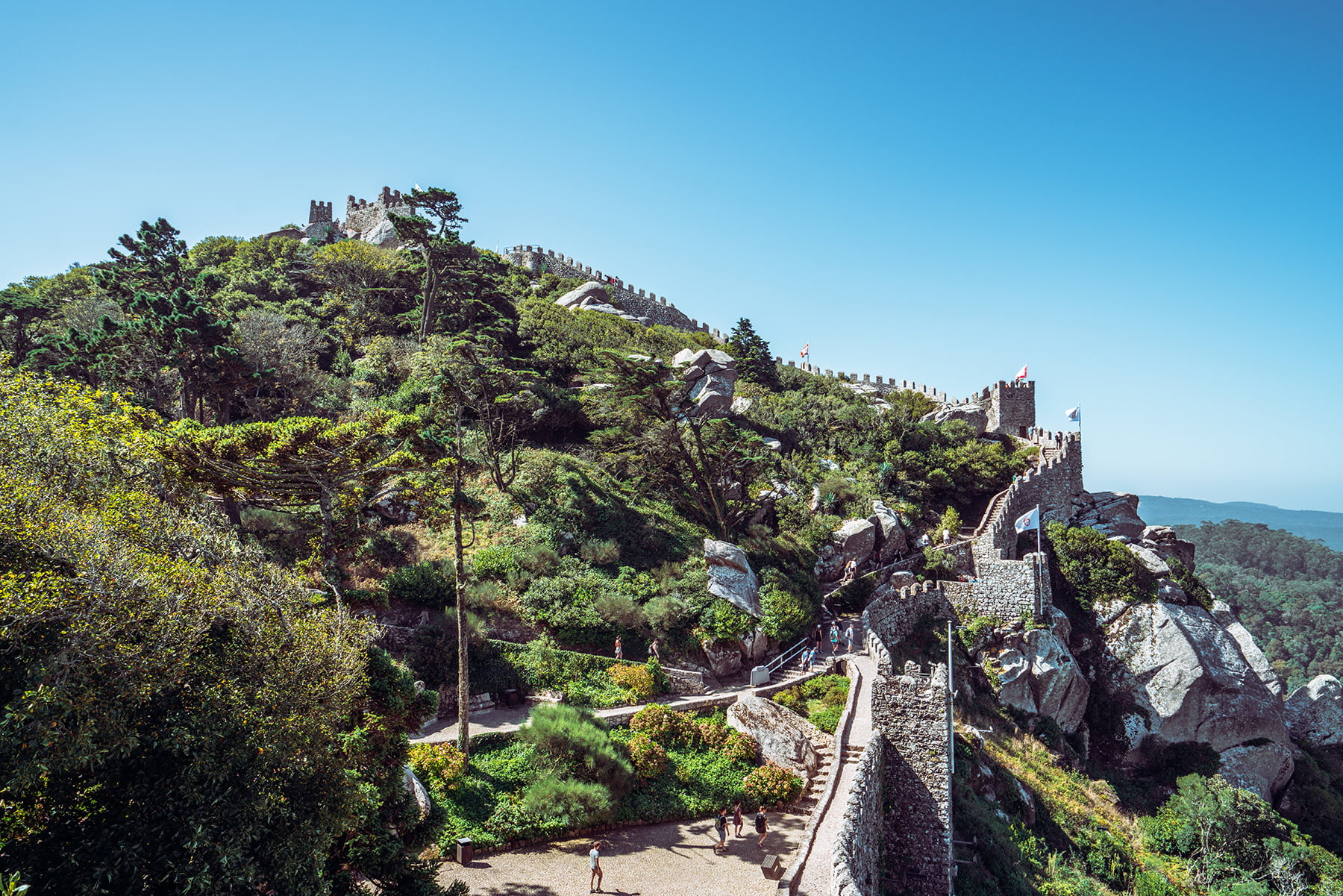 Lunch in Sintra
By the time we got back into town via the bus, we were starving! I guess we should've loaded up on more than sugary pastries this morning. We had heard that there weren't many restaurants in the town of Sintra, so we were prepared for the worst. However, when we were walking around, we saw a ton. We stopped at a restaurant called Bristol that served a lot of different foods. We ordered burgers and mango tea. The burgers were good and I was satisfied.
Quinta da Regaleira
From town, it's a 15-minute walk to my favorite of our three stops in Sintra: Quinta da Regaleira. This estate holds a palace, chapel, and gorgeous park on its grounds. I was thinking this palace had been around for hundreds of years, but we learned that building commenced in 1904 by a wealthy Portuguese entomologist.
Once we paid the entry fee of €8, we wandered all around the property, discovering the most popular stop, the Initiation Wells. The wells weren't used for water collection, but for secret initiation ceremonies. At the bottom are an extensive system of tunnels that connect the wells. The whole area had a spooky feel and I thought it was so interesting.
Next, we walked through the palace which is ornately decorated. Part of it was being renovated, so we only got to walk through a few rooms.
The grounds have lots of beautiful features, like a waterfall, towers you can climb up inside to reach the top, ponds, and statues. This place was unlike anywhere I've been! I highly recommend visiting.
From Quinta da Regaleira, we walked about 20 minutes back to the Sintra train station, doing some souvenir shopping along the way. We took the train back to Lisbon for the evening.
In my opinion, you can't come to Lisbon without checking out Sintra for a day. Don't forget your walking shoes!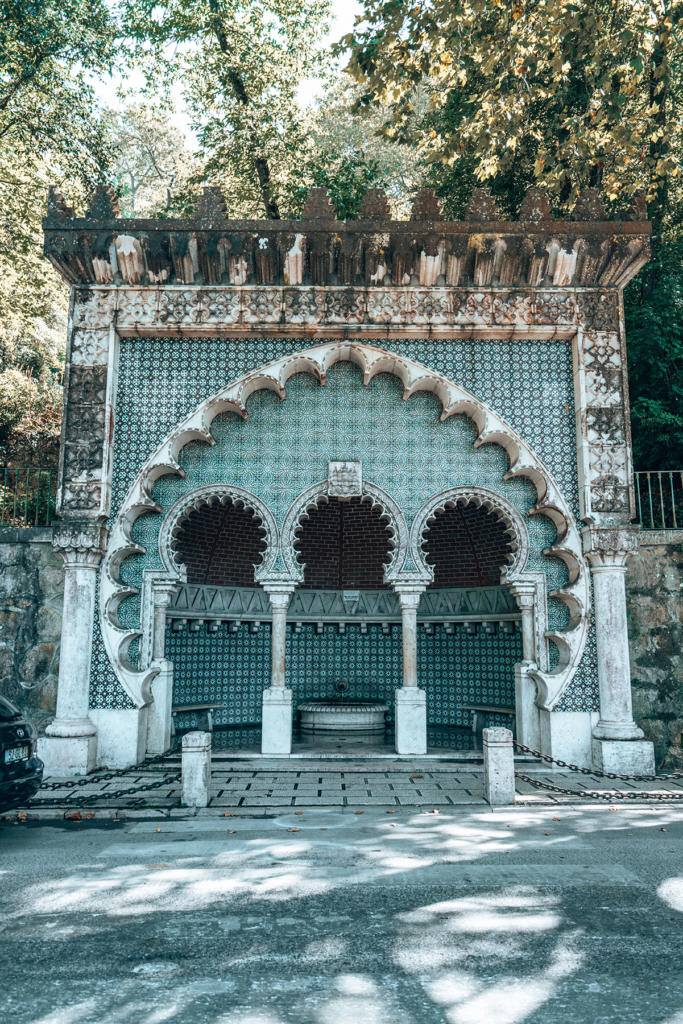 ---
You may also be interested in:
Day Trips from Lisbon
Two Days in Porto
36 Hours in the Algarve