On day 3 of our trip to Portugal, we drove from Porto to Lagos, stopping at Batalha Monastery on the way. The drive covers the length of the country, which takes about six hours. The highways are in great condition, making the drive easy.
Lagos is located on the southern coast of Portugal. This southern region is called the Algarve. The Algarve is famous for its rock formations, warm turquoise waters, and gorgeous beaches.
We arrived in Lagos around 8pm and met our lovely Airbnb hosts and their adorable dog. They recommended several restaurants in town and we chose to go to My Sushi.
Monday Night
Dinner at My Sushi
My Sushi has all you can eat sushi for only €12! I thought it was pretty good for the price. We arrived around 9, during peak dinner hours, and had to wait a few minutes for a table. The restaurant isn't very big, and they have tables packed in there. We got miso soup and several types of sushi.
Tuesday
Grab a breakfast pastry to go at a gas station
The next day we were planning to get to the Benagil Cave first thing in the morning. This meant we had to leave Lagos early since it is about a 45 minute drive from there. We stopped at a gas station to fill up our tank and stepped inside to see if they had anything quick we could grab to eat. To our surprise, the gas station had a full coffee bar and pastry shop! We picked up pastries and fruit to eat on our drive.
Benagil Cave and Beach
Benagil Cave is a super popular, Instagram-famous destination on the Algarve Coast. You can only access the inside of the cave by water. That means you can take a paddleboard, kayak, tour boat, or swim to get inside. We were planning to paddleboard.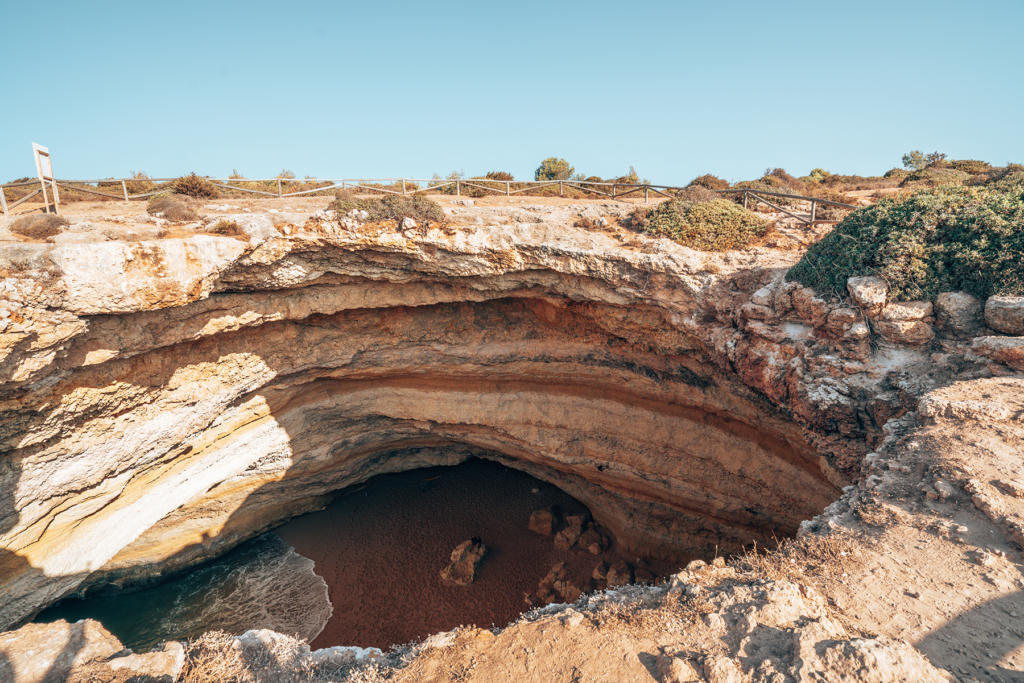 We arrived at Benagil at 9am and headed to the beach to find the stand-up paddleboard (SUP) rental stand. Parking was free and there was a fairly big lot. As we were walking down to the beach, we noticed a SUP stand. We talked to the guy and he said the water conditions weren't good, so they weren't letting anyone go out. The tour boats also weren't going out. Rats! This was the main reason we drove all the way here, so we were bummed. The guy told us there is a short hiking trail from the parking lot that leads to the top of the cave. He said this would be the next best thing.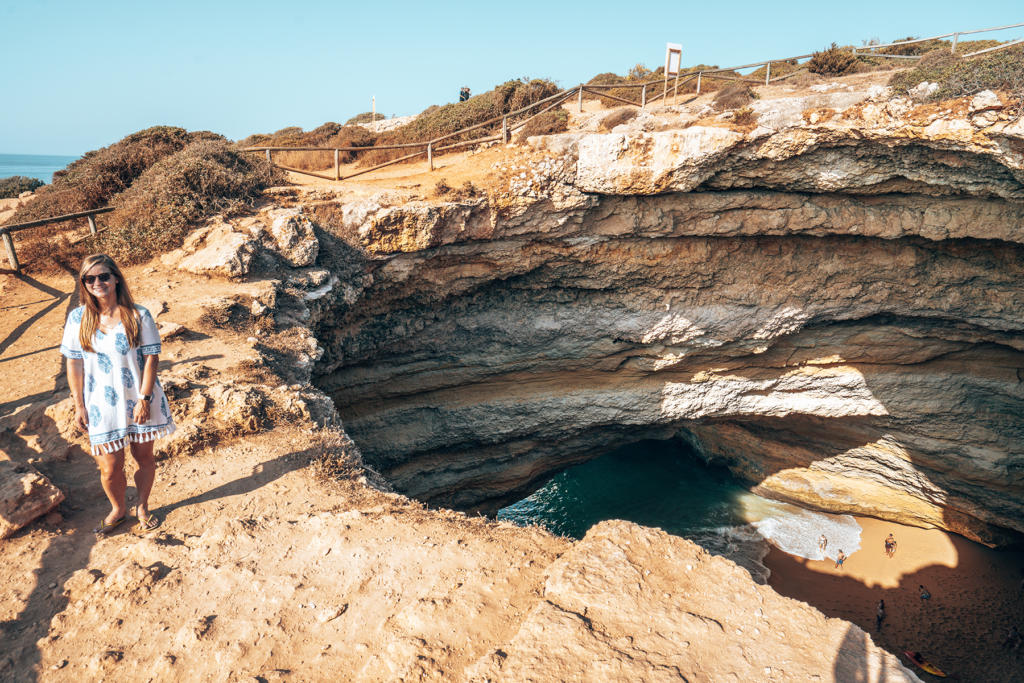 We walked to the cave in our flip flops. It was impressive! We could see the ocean and beach down inside through the hole at the top. There were people inside with their kayaks, and we assumed they had brought their own. I was a little upset that we didn't get the chance to go inside.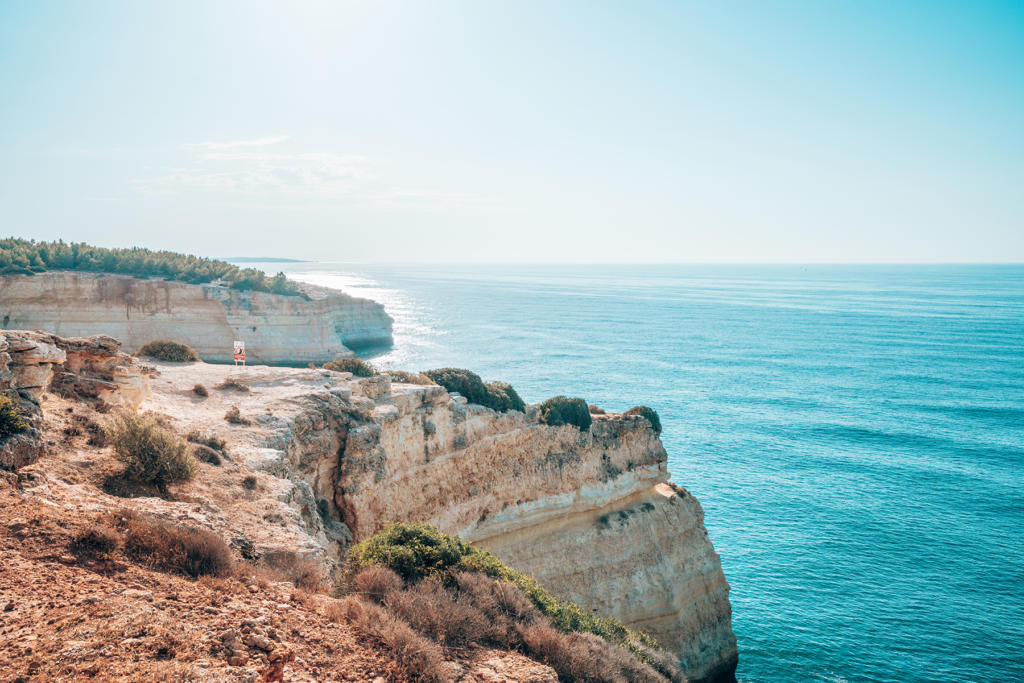 Praia da Marinha
The next stop was a beach called Praia da Marinha. This is only about five minutes from Benagil. We arrived at 10am and the parking lots were starting to fill up. The "parking attendant" (I don't know if he was an official attendant or if he was just begging for change) asked for money and wouldn't leave until we gave him something. Kelsey handed him a Euro and we walked down to the beach.
The walk to the beach involves a lot of stairs, and I was dreading climbing back up this in the heat of the day. It was gradual though, and there were spots you could step aside to get out of the way if you needed a break.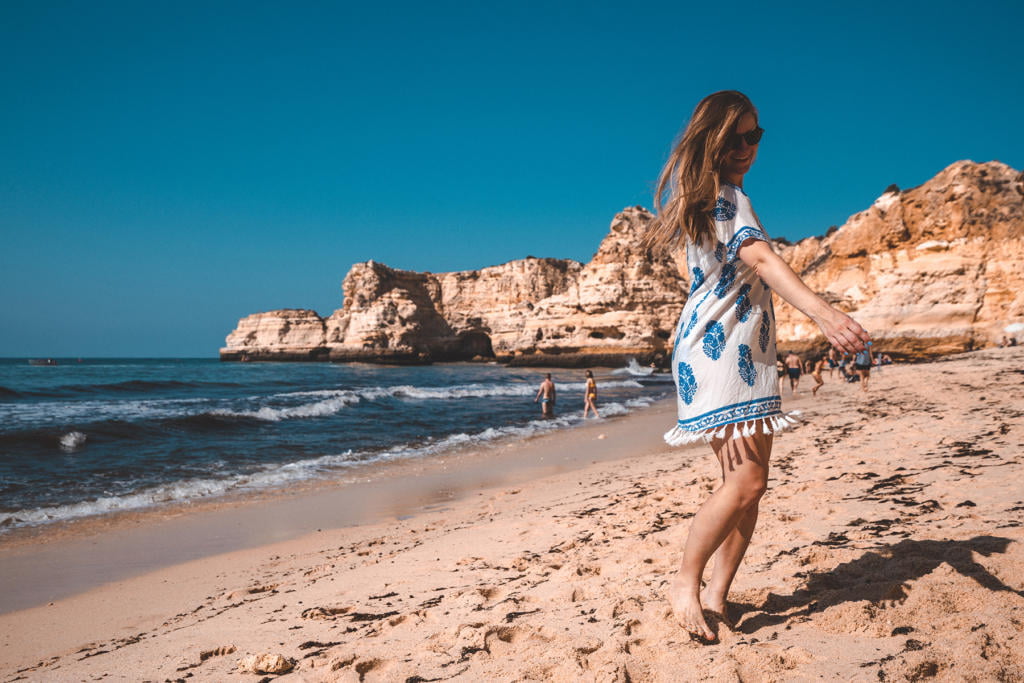 The beach is gorgeous! There is a little cafe that was setting up to open when we arrived, which would be perfect if you were staying the whole day here. There were also food stands up near the parking lot.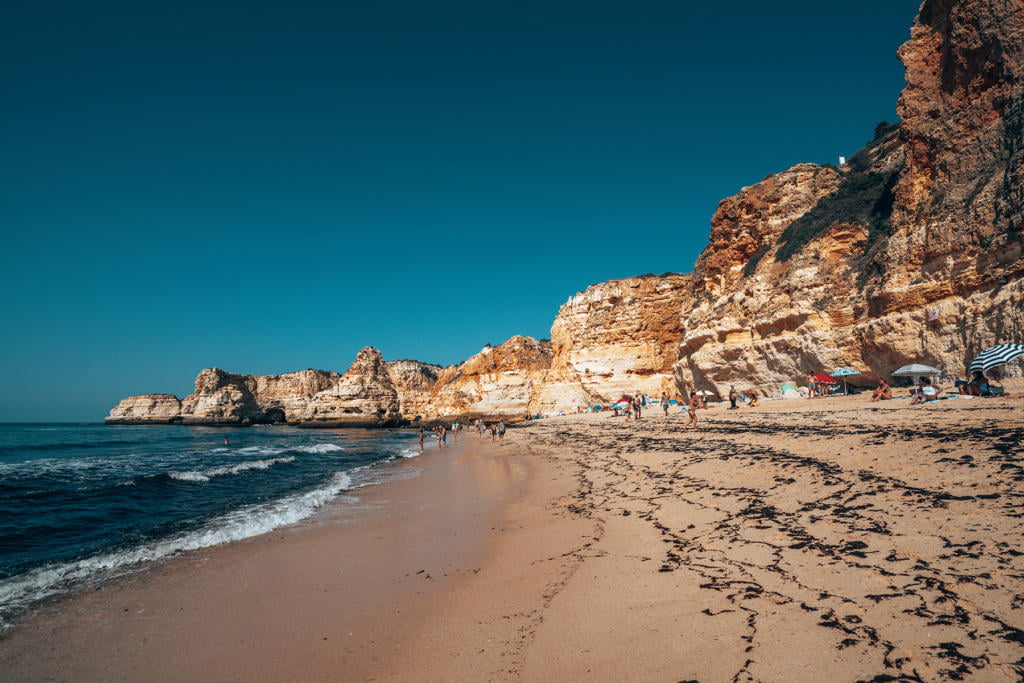 The weather was wonderful, and we laid on the beach for a couple hours until we were ready to leave. From here, we drove back to our Airbnb in Lagos. When we were leaving around 12pm, the parking lots were completely full, and there were a lot of people looking for a spot. Arrive early!
Lunch at Restaurante A Forja
Kelsey and I had been wanting to try some traditional Algarve food, and our Airbnb host recommended we try the codfish here. They serve their cod with veggies and boiled potatoes.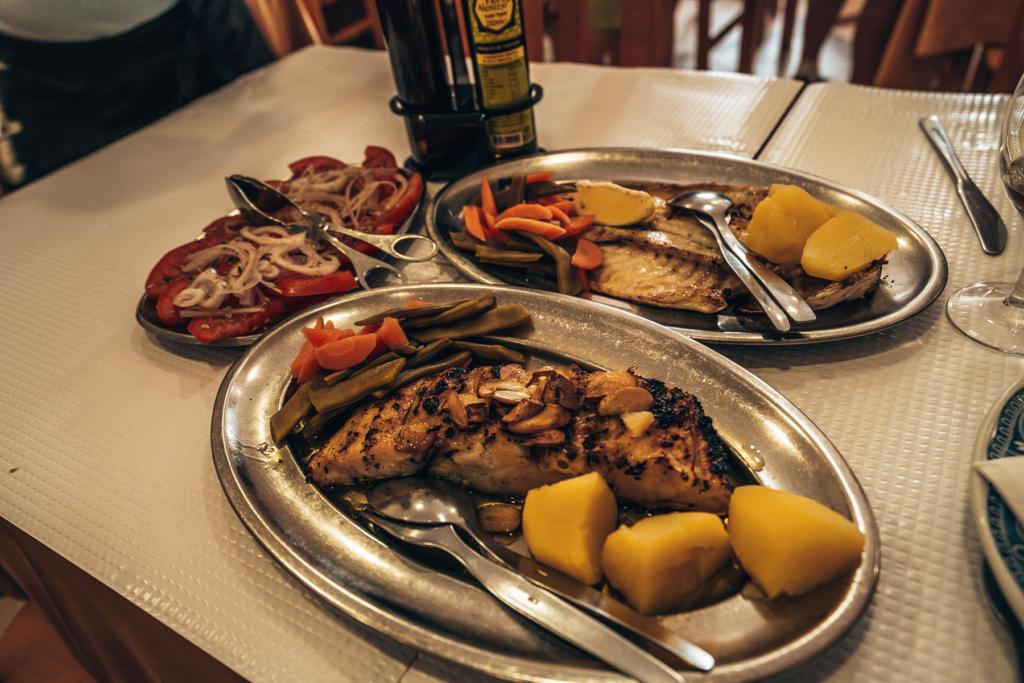 We walked into town to Restaurante A Forja and ordered the cod and sea bass, planning to split both meals. The sea bass was awesome! I was a little disappointed by the cod. Cod is one of my favorite types of fish, but I wasn't impressed by the way this was cooked. I was expecting the boiled potatoes to be bland, but I actually liked them, probably because of all the butter.
Gelato
After lunch, we stopped at a gelato shop and walked around town, picking up a couple souvenirs. We were exhausted from the beach, so we came back to the Airbnb to chill for a couple hours.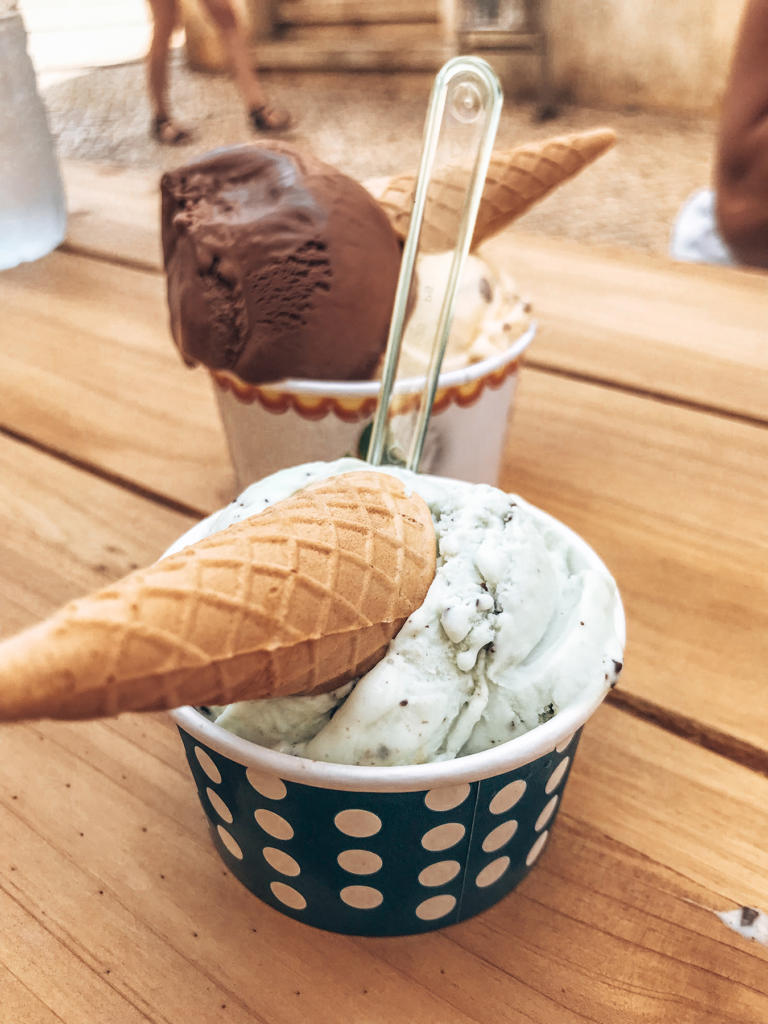 Coastal Hike
A few hours before sunset, we drove to Porto de Mós beach to start our hike along the coast. It was a little tricky to find the start of the trail. You have to walk through the deck of Restaurante Campimar, and the trail will be right behind it. The hiking trail follows the cliff line, with amazing views the whole way. You'll pass many resorts and houses on the hike.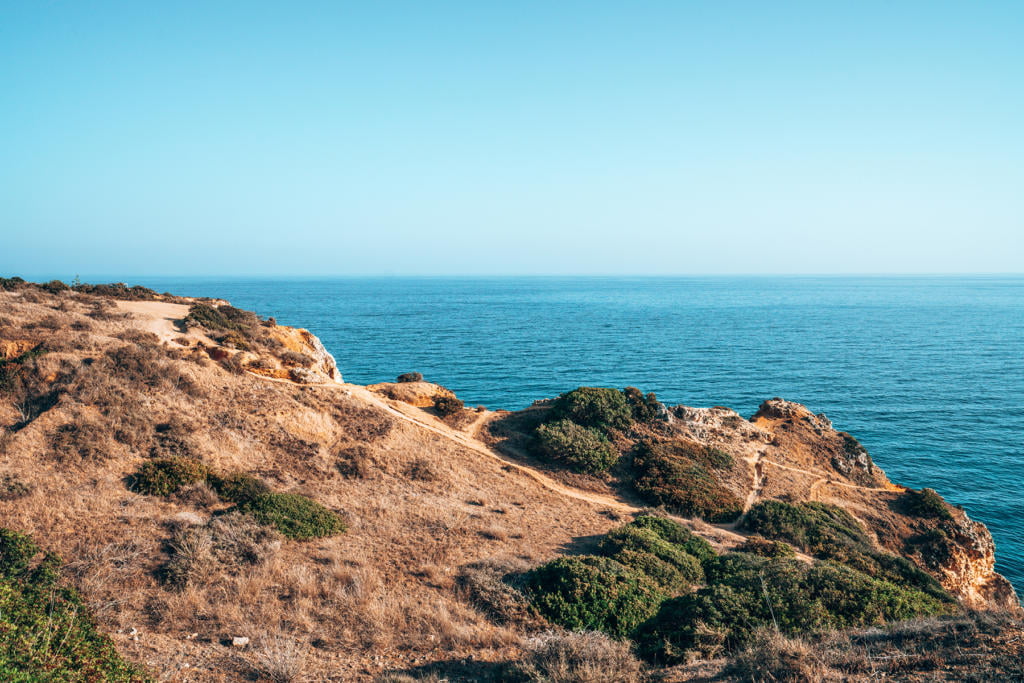 I expected the hike to be fairly easy, but there were a few points where I was breathing heavy. One of the coolest parts was this narrow little staircase that led to a bamboo mini jungle.
We made it to Ponta da Piedade, which was about 1.5 miles from the start. Ponta da Piedade is a popular group of rock formations on the tip of the coastline. It is definitely worth walking down to the water line to check out.
There weren't many people along most of our hike, but once we got to Ponta da Piedade, it got really crowded. We only stayed down there for a few minutes and left to avoid the masses of people coming down.
From here, you can continue all the way into town, or you can turn around to go back to your car like we did. I would've liked to do the whole thing, but we were limited on time as the sun was setting. This hike was my favorite thing we did in the Algarve!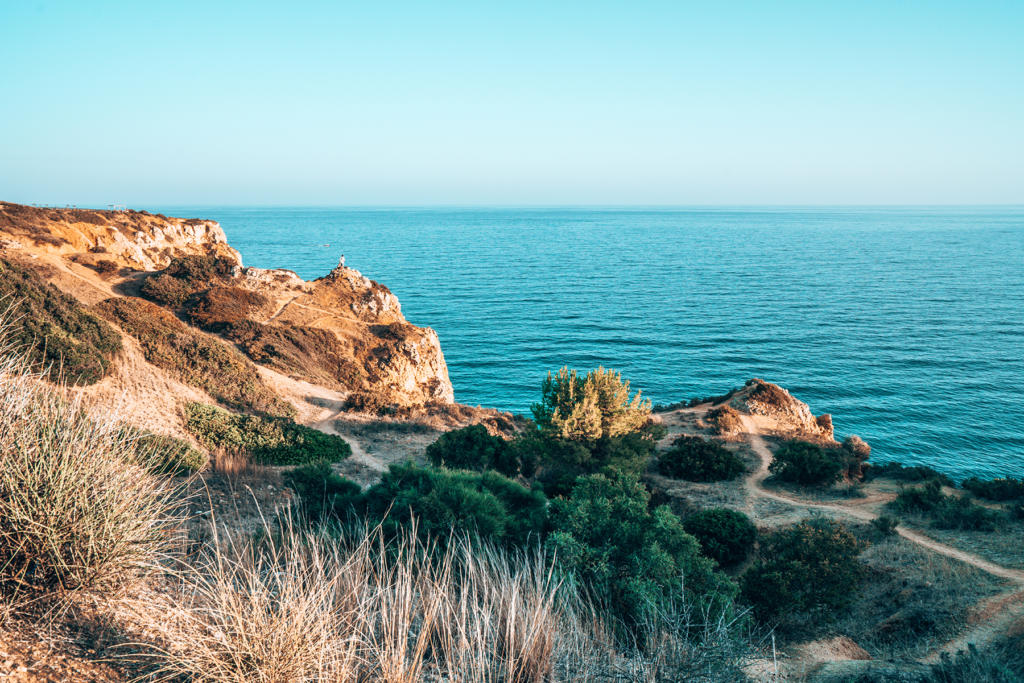 Sangria at the Garden
After we'd gotten back to the Airbnb and ready for dinner, we headed to The Garden, which our host had highly recommended. The hostess told us they were fully booked for the night when we arrived, but we could enjoy a drink at the bar. We really wanted to try their sangria, so we decided to do it.
The seating area is so cute, all outside on a patio, with lots of plants around. I would like to eat dinner here if I come back. Be sure to make a reservation at least a day in advance if you can. The sangria was the best we had in Portugal.
Dinner at Pizzolini
After our sangria, we called around to a few recommended restaurants and everywhere was completely full. This was on a Tuesday! We were so hungry at this point, so we ended up at the highest rated pizza place nearby, Pizzolini. The restaurant wasn't crowded at all when we arrived, and they had our pizza out quickly! The food was very good. From here, we went to bed. It was a long day.
Wednesday Morning
Pastries at Gomba Pastelaria
The next morning, we were craving a good breakfast. From Google, it looked like Gomba Pastelaria had real food (other than pastries), but when we arrived, we learned that wasn't the case. We we ordered pastries and cappuccinos because we were starving. I got a meringue pastry that was straight sugar, so I knew that wouldn't hold me for long. While we were sitting there, we googled and found the restaurant Goji.
Brunch at Goji
Goji is such a cute restaurant. There was no outdoor seating available when we arrived, but the inside was super hot, so we waited. A table opened up quickly and we ordered. I got the toast with peanut butter, honey, chia, and cinnamon and a yogurt parfait with fresh squeezed OJ and tea. It was so good!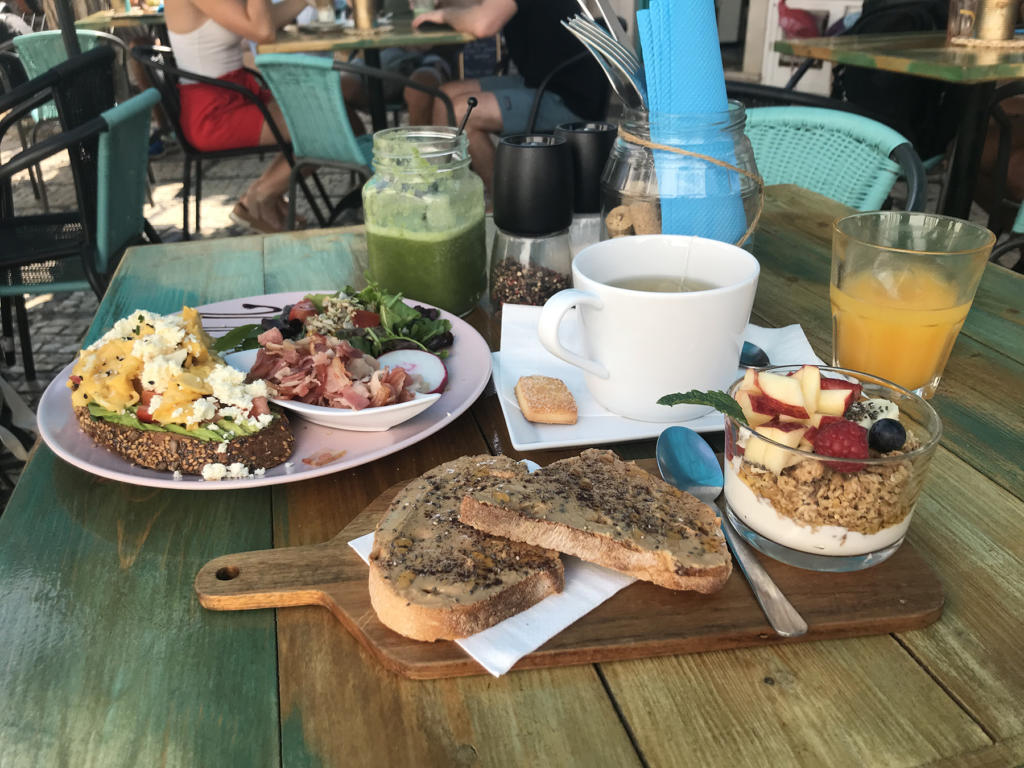 After breakfast we walked back to get our car and drove to Lisbon.
In conclusion, I liked the Algarve, but I think a full day here would be plenty of time, unless you want to have more than a few hours at the beach. That was perfect for us!
---
You may also be interested in:
Day Trips from Lisbon
Two Days in Porto