Porto was our first main stop on our eight-day trip to Portugal. The city is located in northern Portugal and is known for its Port wine. With 2.2 million people living in the metro area, it is the second biggest city in Portugal, after Lisbon.
Kelsey and I arrived in Porto late Saturday afternoon and checked into our Airbnb. We were able to park our car in the apartment's garage and leave it there for the two days we were in town. We got ready for dinner and walked to a restaurant that had been recommended to me: Cantina 32. When we got there, they told us they were completely full for the night. Bummer! We walked around looking in some of the shops, while also going through my list of recommended restaurants, seeing what was nearby. At this point we were starving and wanted something fast and easy.
Saturday Evening
Eat dinner at A Sandeira
I came across the restaurant called A Sandeira, described as a quick place for cheap sandwiches. It sounded perfect! We walked down a small alley that didn't feel like it should have any restaurants on it. We were pleasantly surprised when we arrived and saw a tiny shop with about 5 tables inside. Luckily, we found a spot for two people and sat down.
The waiter delivered our menus with a variety of sandwiches listed. I got the "Paris", a sandwich with smoked salmon and feta cheese. Kelsey and I also split the caprese salad skewers, which were fantastic.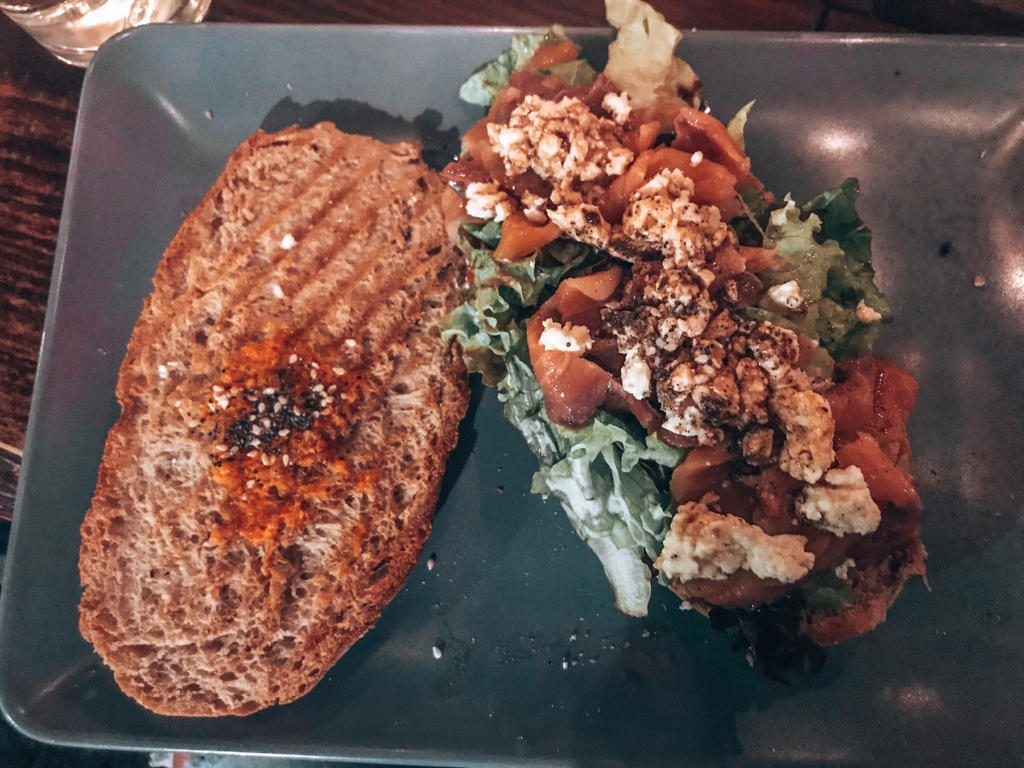 Sunday
Breakfast at Grupo Celeste
Our Airbnb was on Rua de Camões, which is a little north of the main sites of Porto. Walking south towards the river brings you downhill the entire way. We stopped at a cafe called Grupo Celeste for breakfast in the main square, Praça da Liberdade. In the square, you will see a monument statue to King Pedro IV. The weather was gorgeous, and we sat outside and ordered our pastries.
I got a cappuccino, tried a Pastel de Nata (good but not the best I had in Portugal), and a sausage roll, which turned out to be a pastry wrapped around a hot dog. We enjoyed relaxing outside and taking our time eating breakfast.
Santo Ildefonso Church
From breakfast, we walked about 5 minutes uphill to Santo Ildefonso Church. This church has the classic blue and white tiles, called Azulejos, on its facade. It sits atop a large hill and looks quite impressive as you approach it. We didn't go in, but took some pictures of the outside.
São Bento Train Station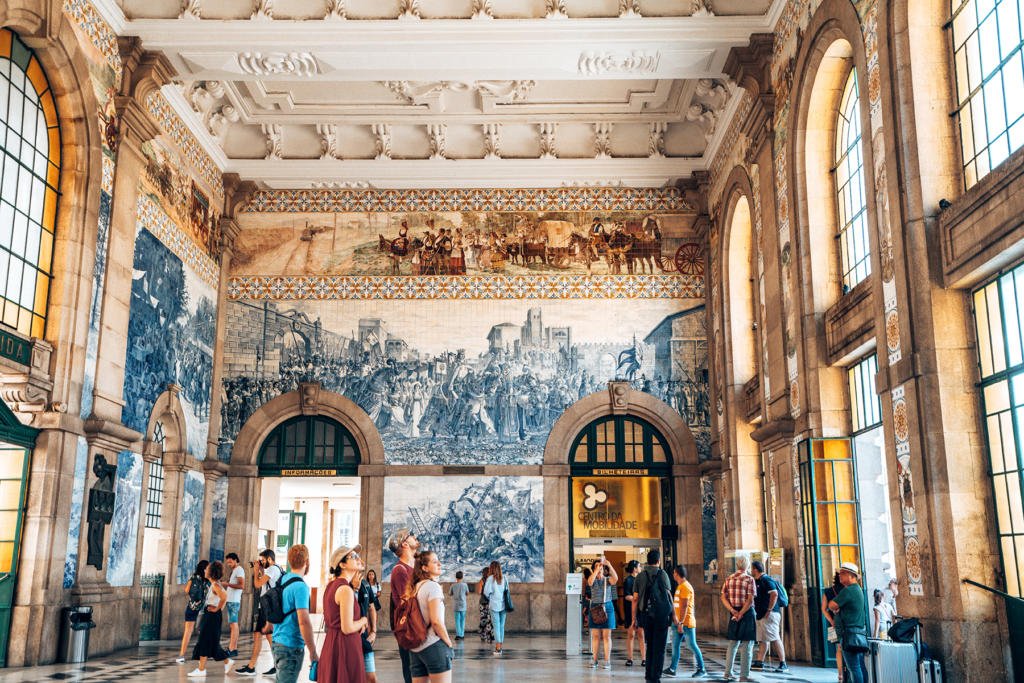 On the way to the next stop, we stopped at the famous São Bento Train Station. This was one of the most beautiful train stations I've ever seen, with detailed tile work depicting Portugal's history. Definitely worth a stop.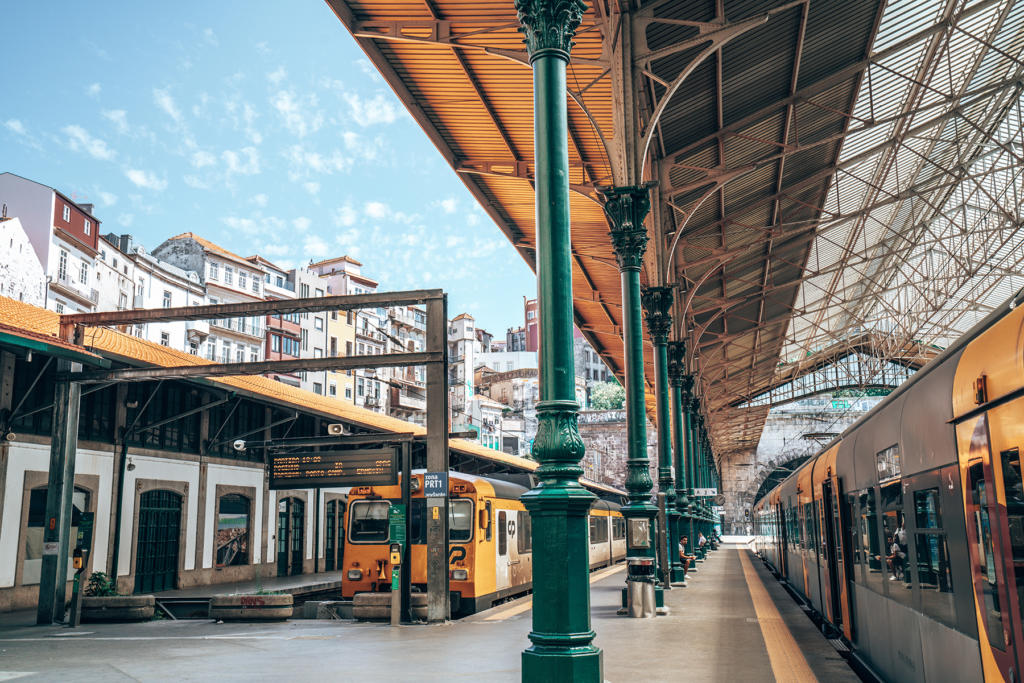 Igreja do Carmo
From Santo Ildefonso, it's a 10 minute walk to Igreja do Carmo, another blue and white tiled church. Once again, we didn't go inside, but the exterior is very photogenic!
Fonte dos Leões & University of Porto
Next to the Igreja do Carmo is the Fonte dos Leões, which is said to have inspired JK Rowling to come up with the mascot of Gryffindor. Rowling lived in Porto while she wrote Harry Potter, and several things in the area influenced her and her writing.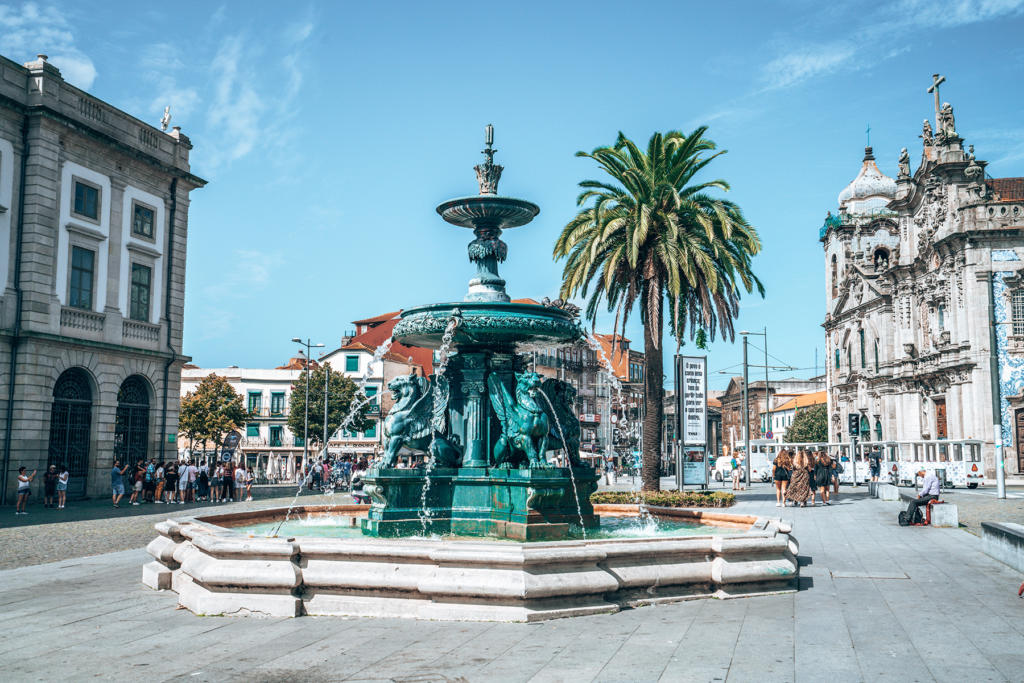 The University of Porto is next to the fountain. It is the second largest university in Portugal, with about 30,000 students enrolled. For Harry Potter fans, don't miss the next stop!
Livraria Lello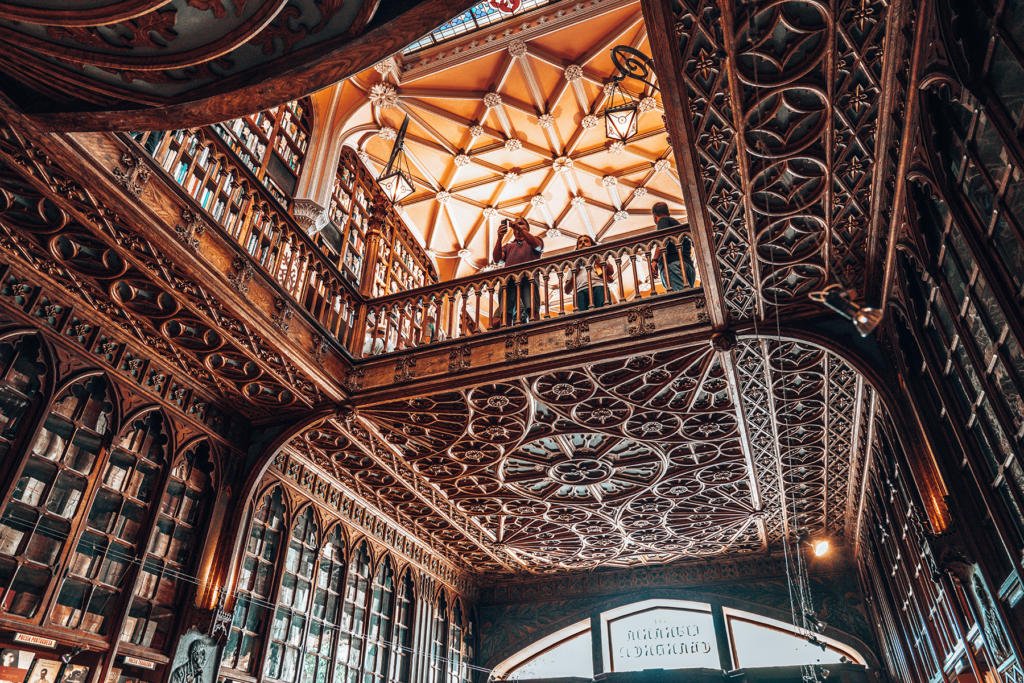 Livraria Lello is a bookstore that JK Rowling used to spend her time in. It was easy to see how people think it inspired her to write Harry Potter, as it looks like it was plucked from Diagon Alley. To enter the bookstore, you must pay a €5 admission, but that goes towards a purchase of a book if you decide to buy one. I thought it was worth it even without buying a book.
The shop isn't huge, so they limit the amount of people that can go inside at one time. It will save you time to buy a ticket in advance online. You must have a ticket before entering, either by purchasing online or at the store down the street. There was an equally long line at the ticket store as there was at the bookstore, so we bought it on my phone while we stood in line at the bookstore. I wished I had bought it ahead of time, so we could've skipped some of the waiting.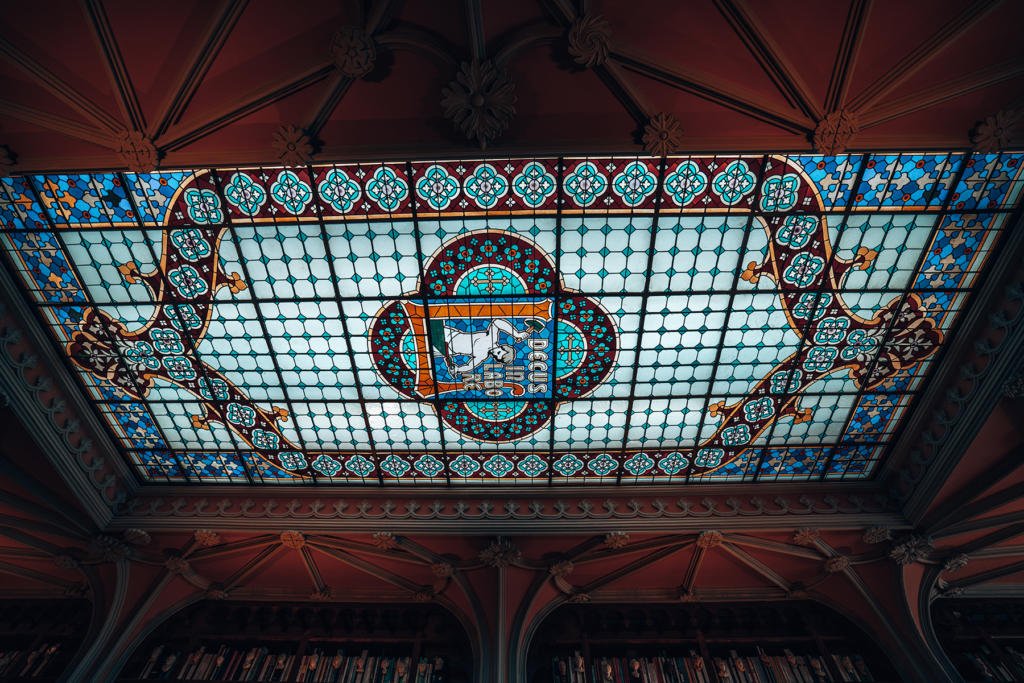 Clerigos Tower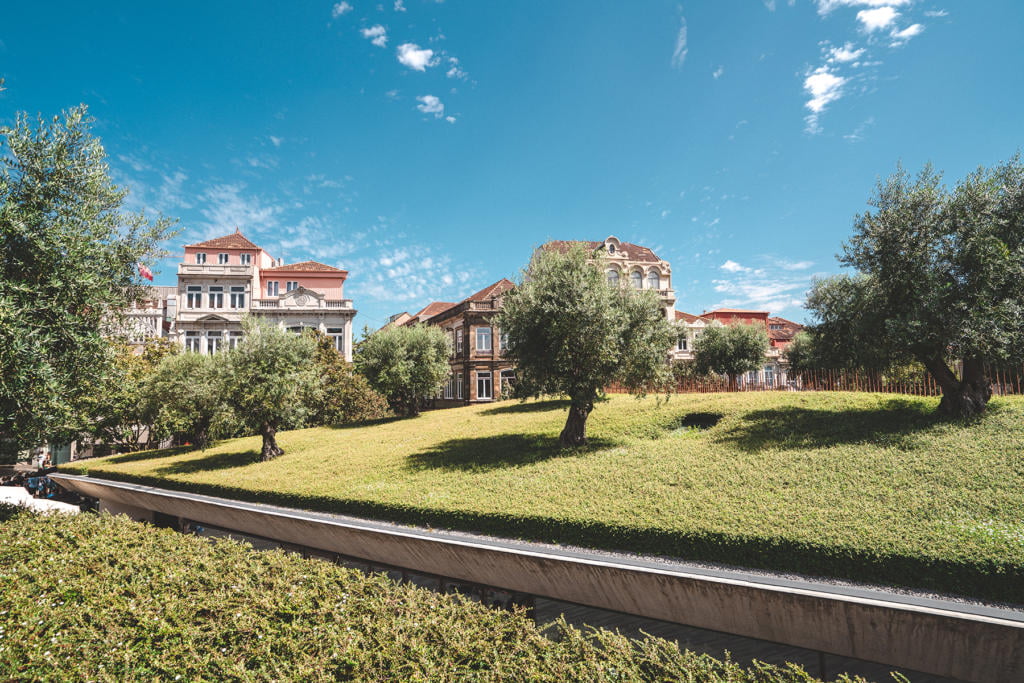 Next to Livraria Lello is a beautiful park that sits on top of a parking garage. You'd never guess it just by looking at it. We sat in the park for a bit under a tree, cooling off and planning what we wanted to do next.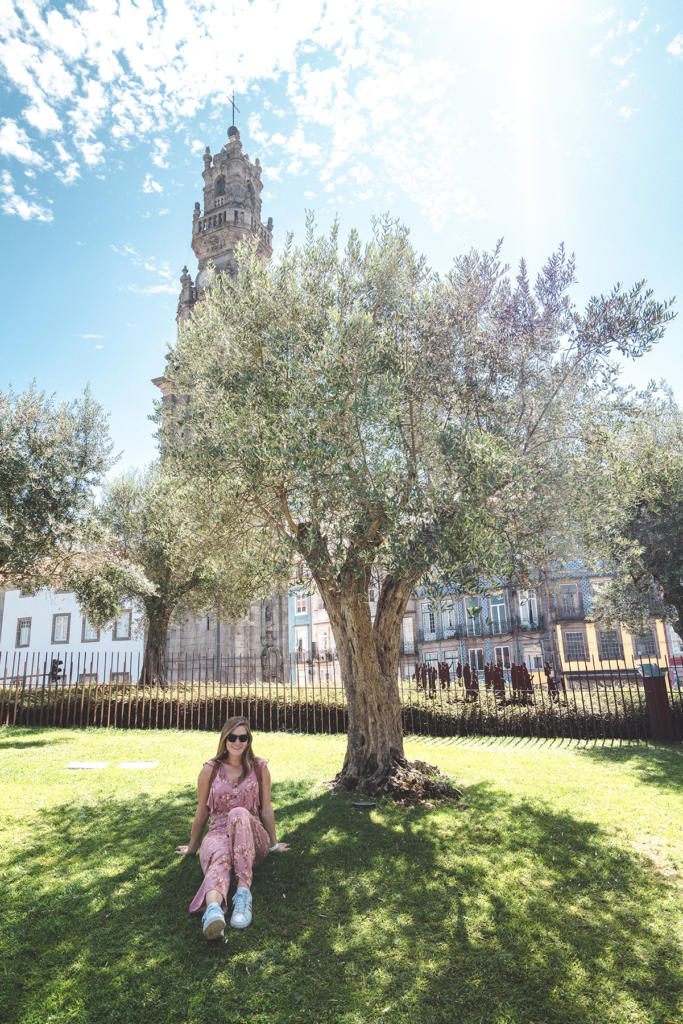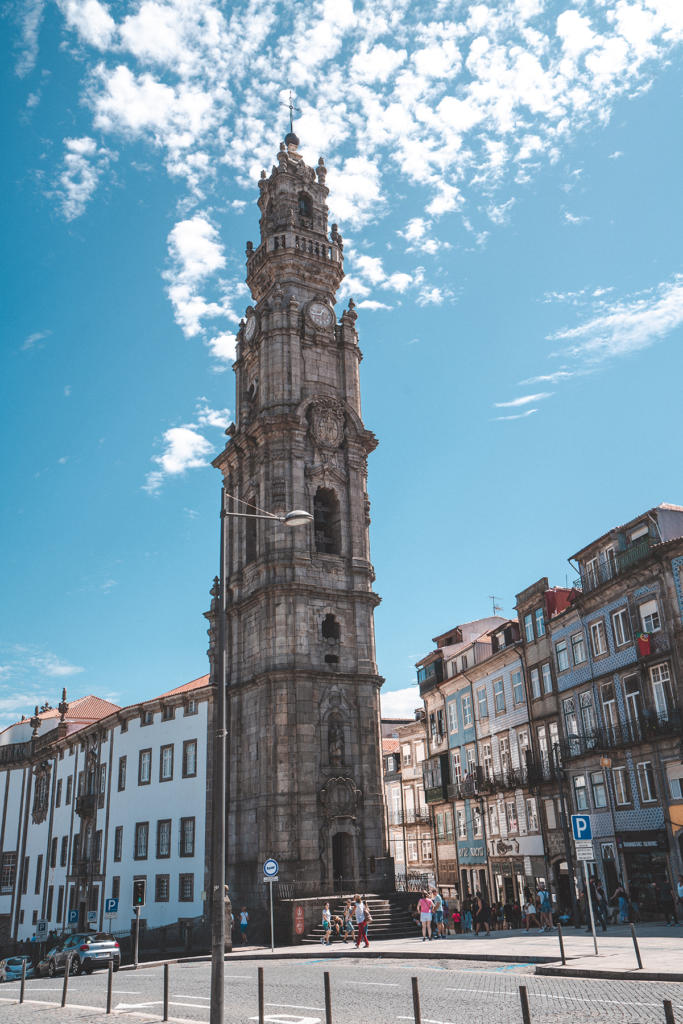 Clerigos Tower is adjacent to the park. There is an amazing view of the city if you pay €3 to go to the top. We decided against it since we didn't have a lot of time to spare and we figured we'd be getting other opportunities for great views.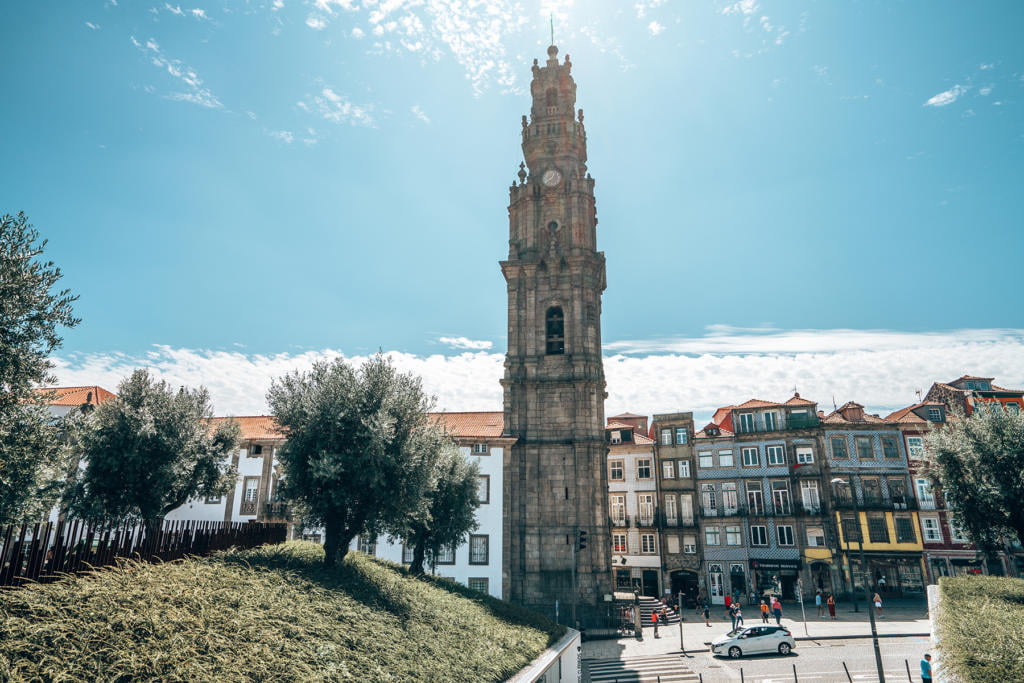 Monument Church of São Francisco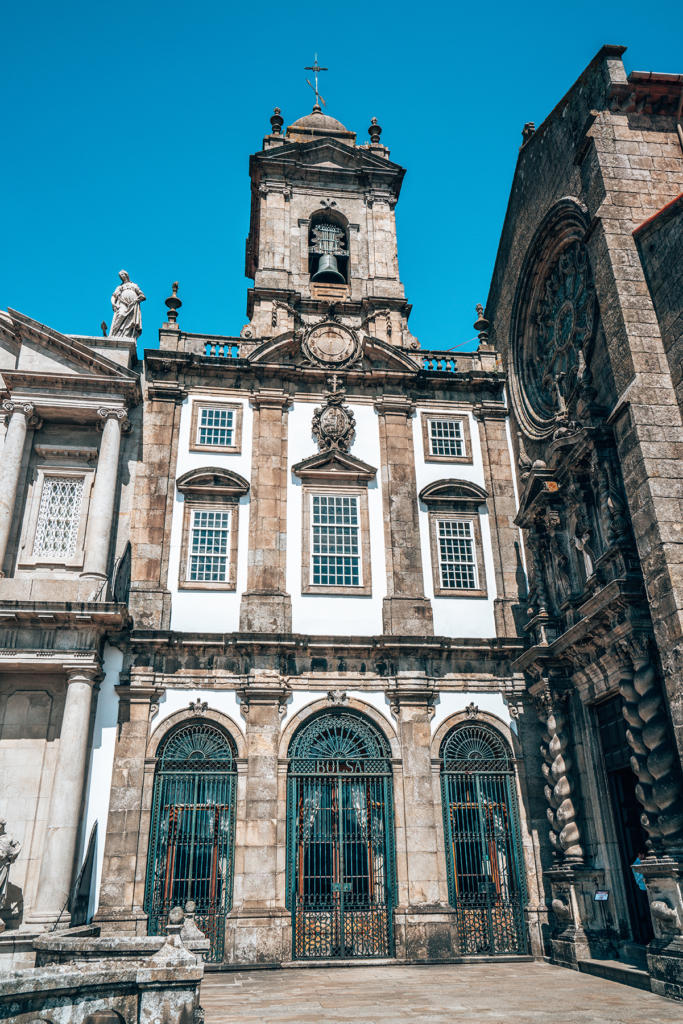 Another 15 minute walk south leads you to the Monument Church Of St Francis. Going inside was recommended, as it has the most beautiful interior of all the Porto churches. The outside is not anything spectacular, but inside was ornate and detailed. Worth the €7 admission! You also get access to the museum and catacombs with your ticket. We walked through quickly, but it wasn't anything special and I only recommend the church itself.
Walk along river and find good views in hidden alleys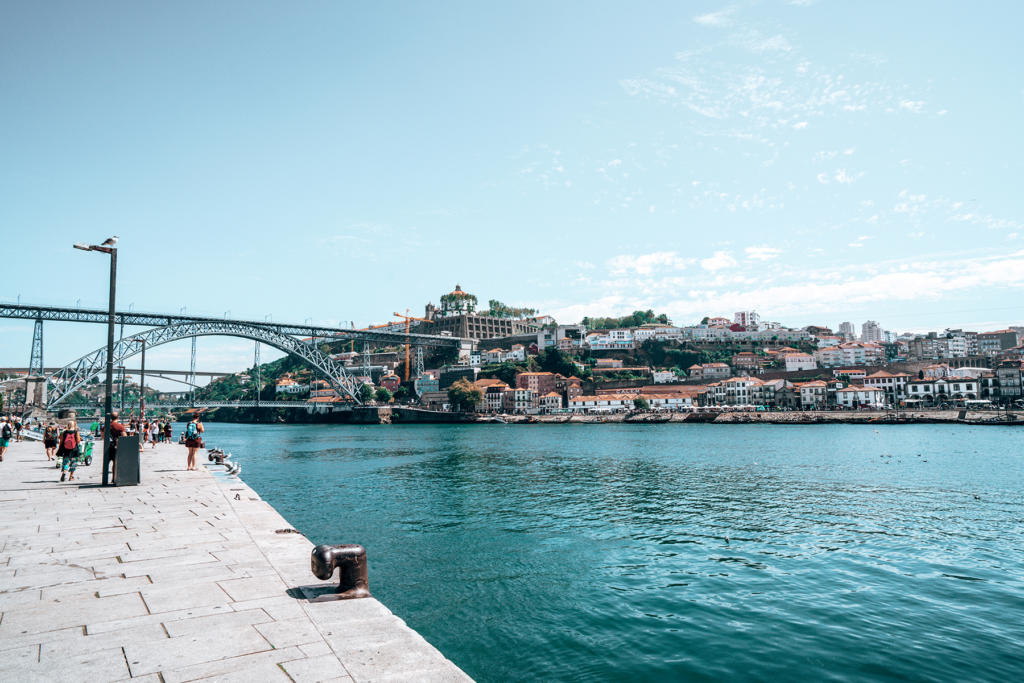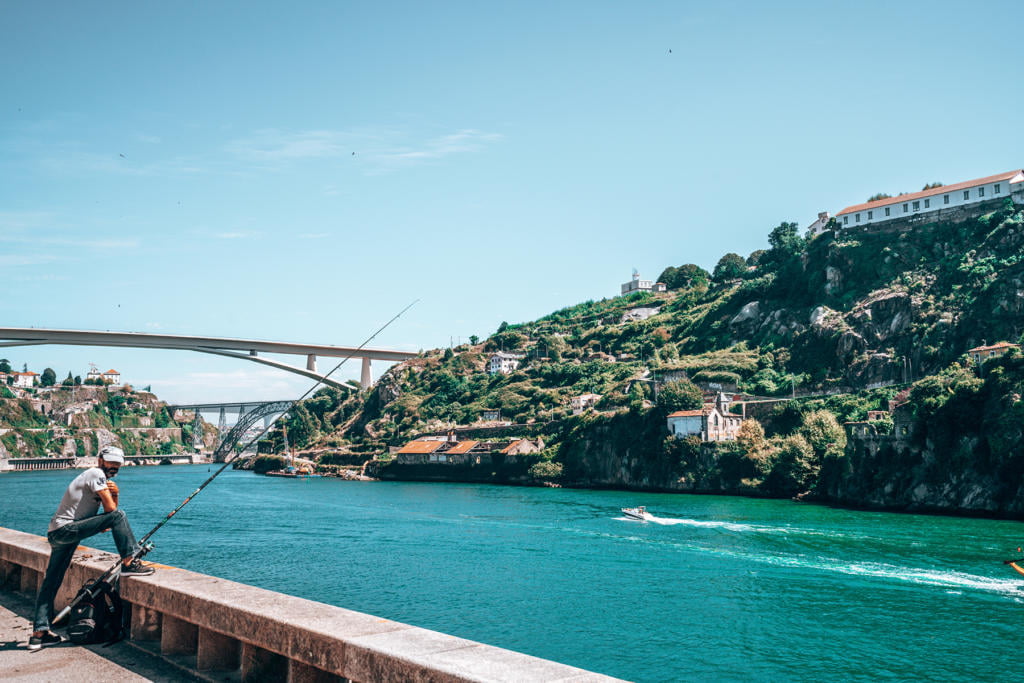 From St Francis, we got drinks and walked east along the river. We stopped several times to admire the view of the Dom Luis I Bridge. The bridge was designed by Gustav Eiffel, the same architect of the Eiffel Tower. We wandered up a very big hill, through little residential alleyways, and found the coolest spot to take pictures!
Lunch at Cantinho da Se
We were planning to walk across the Dom Luis I Bridge on the top level, but before we got there, we stopped for lunch. I had been wanting to try a Frencesinha and we passed by a restaurant called Cantinho da Se that claimed to have good ones.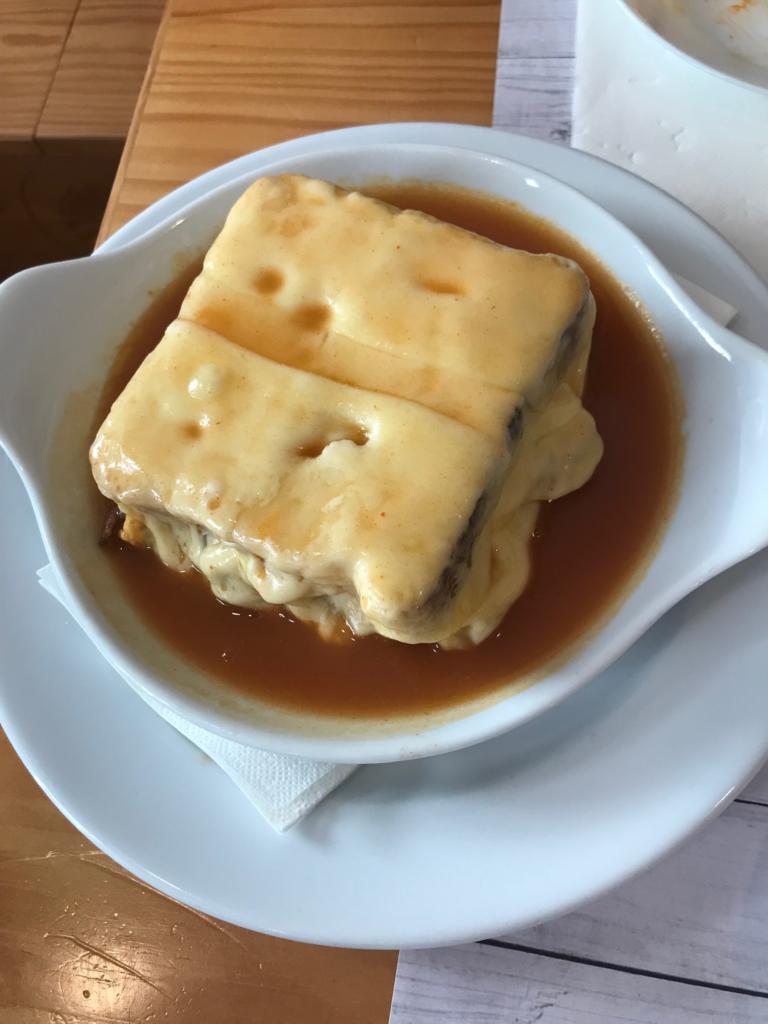 Francesinhas are sandwiches that have ham, sausage and steak on the inside and are covered with melted cheese and a sauce made from beer and tomato sauce. We assumed it may be a bit rich, so Kelsey and I split one, along with prawns. I asked for tap water and the waiter said no, so we proceeded to drink from our water bottles. He then told us we couldn't drink out of them and to put them away. It's one thing to not allow that, but he had a serious attitude about it. The food was good, but I wouldn't go back because of the waiter's attitude.
Dom Luis I Bridge
From Cantinho da Se, we walked ten minutes south, crossing the Dom Luis I Bridge, to get to Vila Nova de Gaia. This is a separate city and is where the wineries are located. There are two levels of the bridge: the top is for trams and bottom for cars. Pedestrians can use either level. The top has amazing views but is really high! I probably wouldn't recommend it for those with a fear of heights.
Mosteiro da Serra do Pilar
The Monastery with the best view in Porto is just a short walk once you get to Vila Nova de Gaia. Construction was completed in 1672. We didn't have time (or energy at this point) to go inside, but it is worth it to see the view below.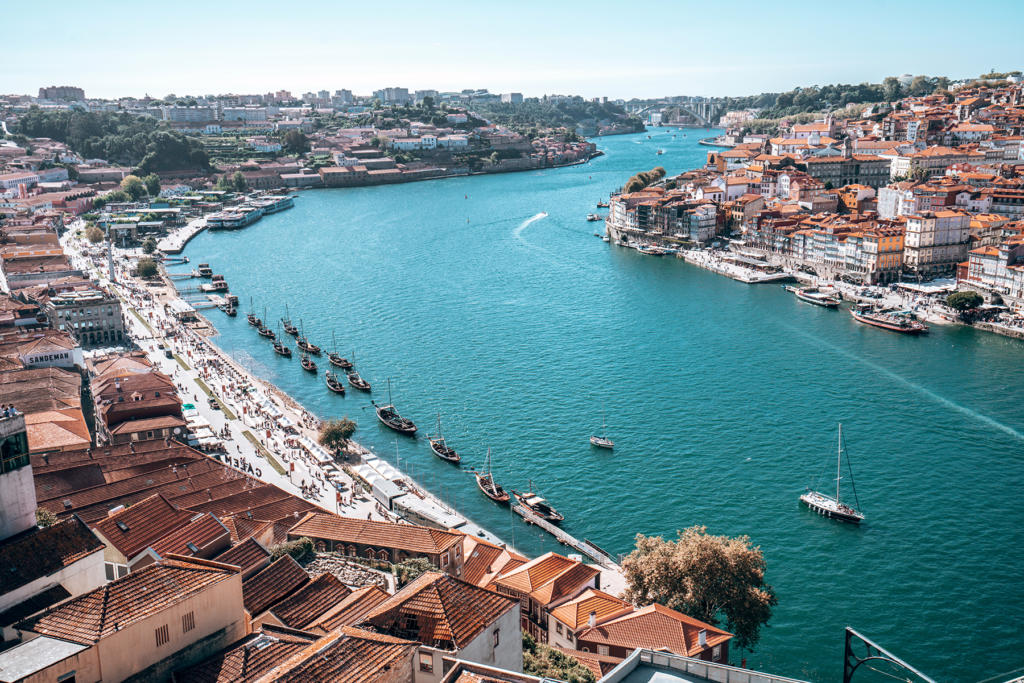 Jardim do Morro
Jardim do Morro is located right where you get off the bridge. They had live musicians performing while we were there, so we sat in the grass, took our shoes off, and rested for a little bit.
Calem Winery & Fado show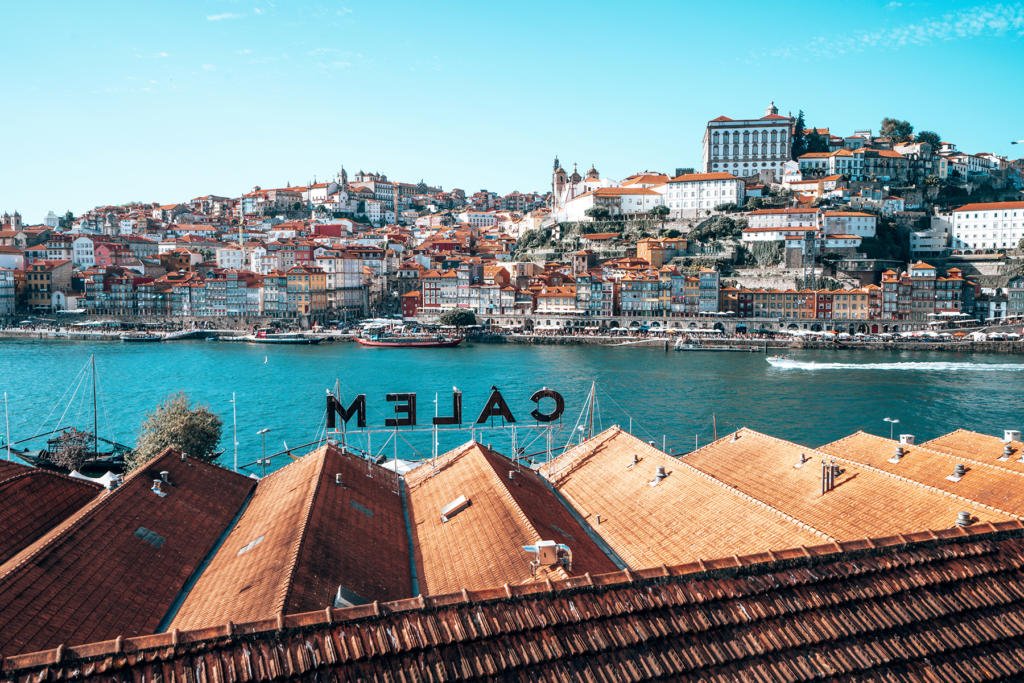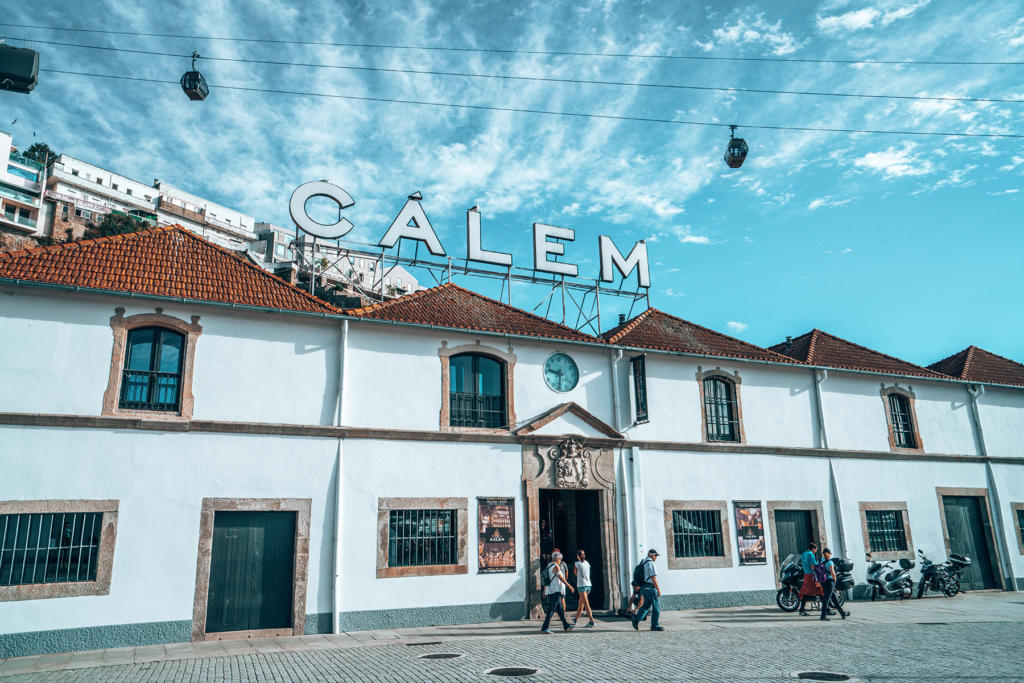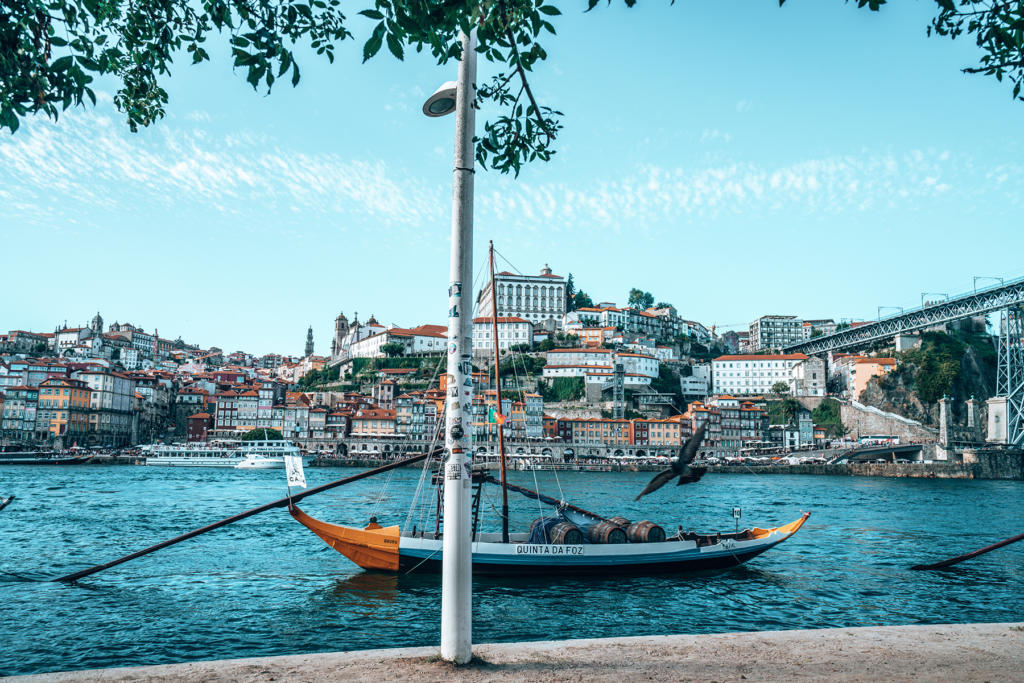 From Jardim do Morro, we walked down to the edge of the river and sat a little more before our winery tour at 6:30pm at Calem. The tour lasted for about 30 minutes, with our guide explaining all the important highlights about Port wine.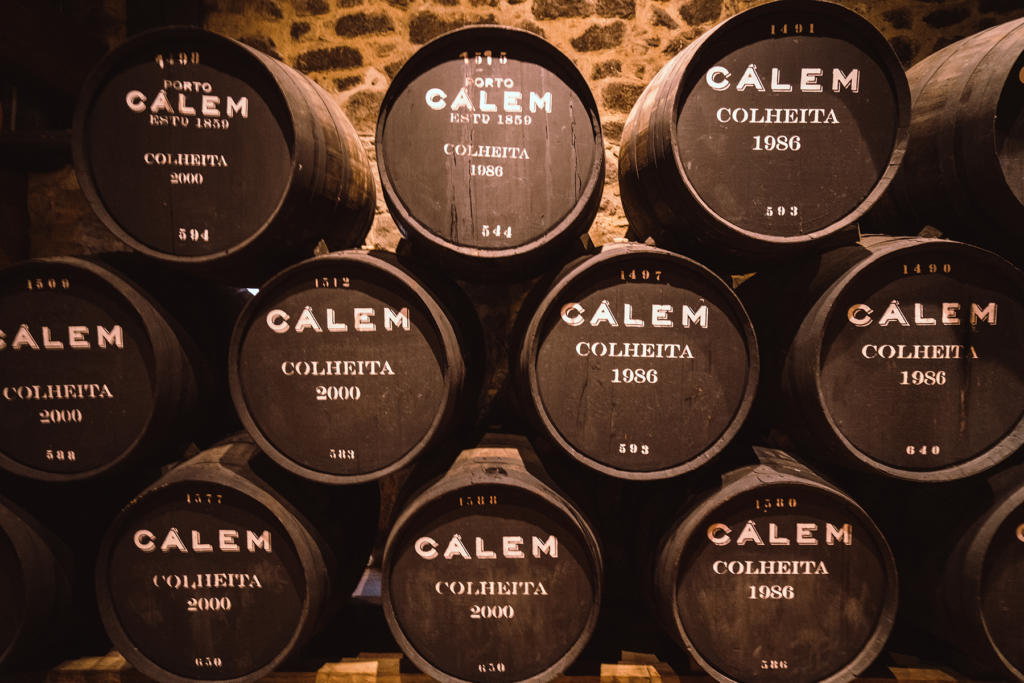 At 7pm, the winery had a Fado show. Fado is a traditional Portuguese music that is comparable to the blues. We were told we should definitely catch a show while we were in Portugal. Calem offers shows after their last tour. You get two wines to sample during the show. This package costs €21. I'd say it was worth it! Keep in mind that you must make a reservation ahead of time.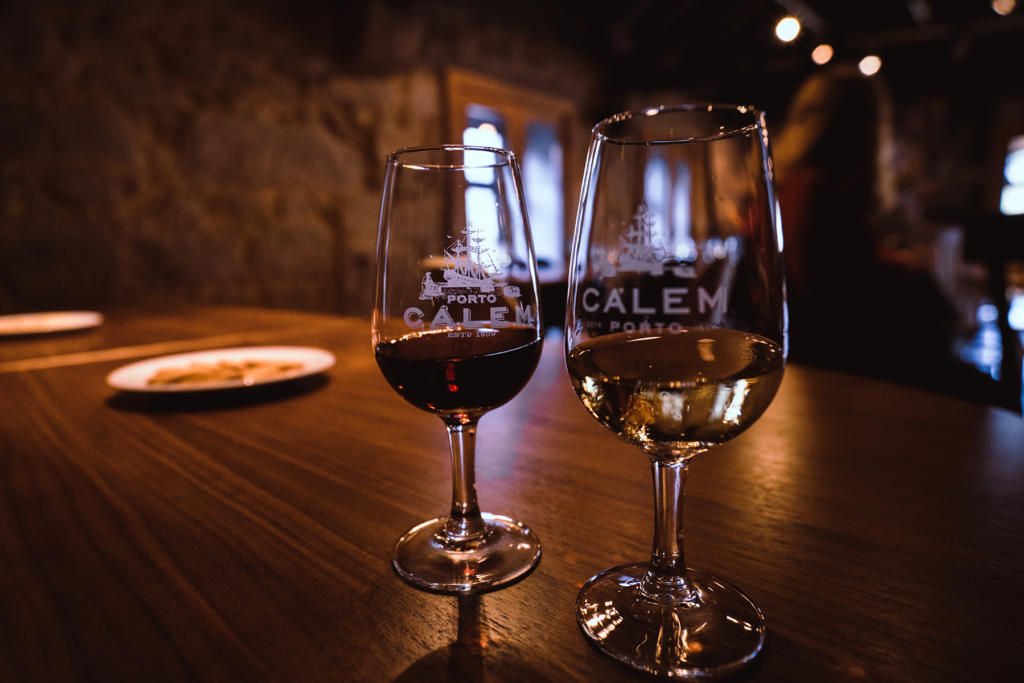 We got out of the show around 7:45pm, just in time for sunset. We took a few pictures along the river front and walked back over the bridge on the lower level this time.
Bacchus Vini
Since we had a late lunch, we weren't starving. We were in the mood for a charcuterie board. The restaurant called Bacchus Vini is back on the Porto side of the river. We got a table inside right by the window looking out. The waitress easily convinced us to get a tasting of 6 different Port wines to go with our charcuterie board.
On our charcuterie board were several different types of cheese. Our favorite was one we hadn't tried before: Serra da Estrela, a cheese made from sheep's milk. We also discovered pumpkin jam, a special treat from Portugal. The Serra da Estrela with the pumpkin jam on top was AMAZING. They had also shaved off prosciutto from a cured pig's thigh while they were standing right behind us. You don't see that often!
Monday
Breakfast at Linha22
Linha22 was a breakfast place that was recommended that we probably wouldn't have found on our own. It is a cafe and guesthouse, with only a few selections for breakfast. We got coffee, fresh OJ, a yogurt parfait, bread with jams, meat and cheese. A filling and delicious breakfast for a great price! We also sat at the only outdoor table while admiring Clerigos Church right in front of us.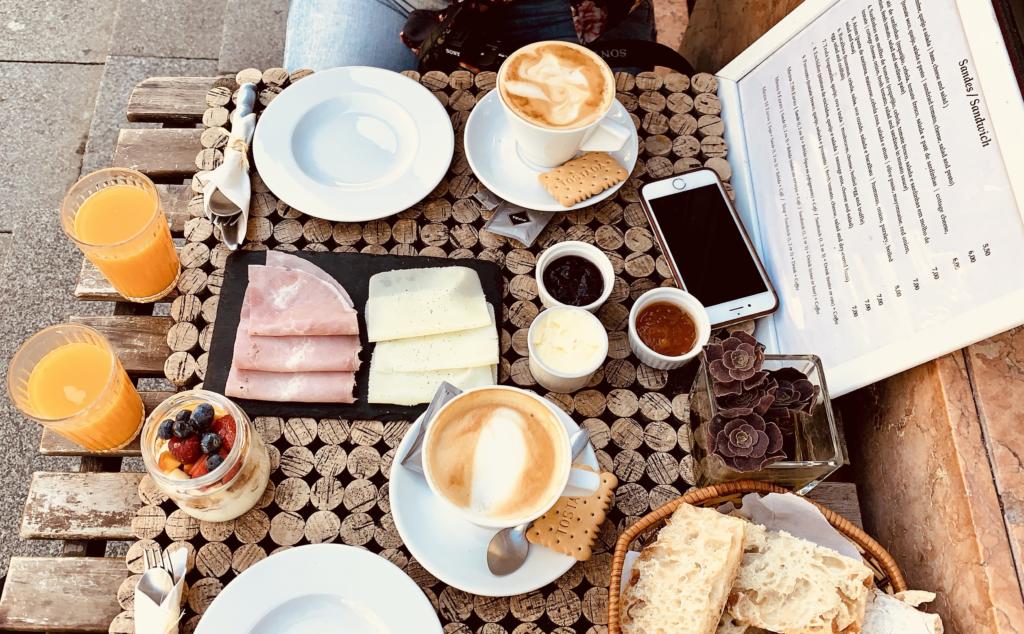 Stop at Manteigaria for Pastel de Nata
Manteigaria is a few doors down from Linha22. They are famous for their Pastel de Natas (eggy custard pastries). Kelsey and I each tried one. Wow! These were my favorite I had tried so far. It makes a huge difference when they are fresh. The cashier also recommended we sprinkle cinnamon on top, which completely changed the taste. We found a new favorite snack! This was my second favorite Pastel de Nata in Portugal, after Pasteis de Belem in Lisbon.
Walked to Parque da Quinta da Macieirinha
Our last stop in Porto was Parque da Quinta da Macieirinha. I wanted to check out west Porto since we had spent all of our time the previous day in the central area. The park is a 20-minute walk from where we ate breakfast. The views along the walk were beautiful once we could see the river and slightly different from what we saw the day before.
Once we got to the park, we were pleasantly surprised to find peacocks roaming around! Once we got our fill of peacock pictures, we made our way to see the gorgeous view of the Arrabida Bridge, which we hadn't seen yet. This bridge is closer to the ocean, but crosses the same river that goes through town, the Douro River.
After the park, we Ubered back to our Airbnb, checked out, and drove to Batalha Monastery on the way to Lagos.
Tips for Porto:
-Make sure your Airbnb or hotel includes free parking if you have a car. Parking can be difficult/expensive otherwise.
-Uber is cheap here and Porto is hilly! Start your days at the top of the hill and walk down to the river. Uber back home at the end of the night.
-Make restaurant reservations if you are dining out on a weekend night.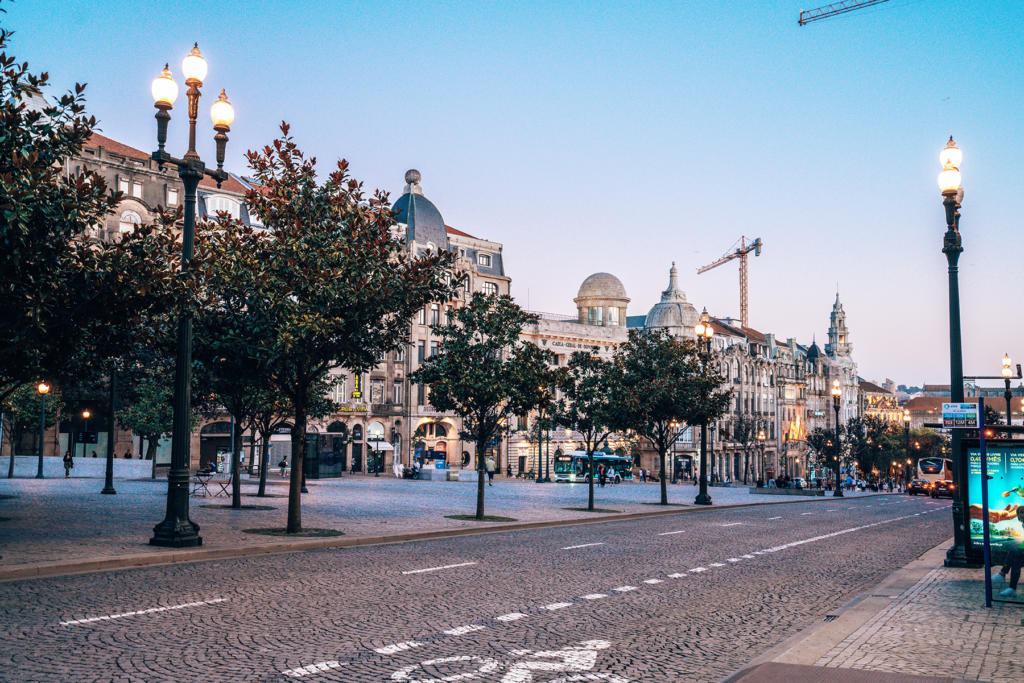 Porto was my favorite part of Portugal, and one of my favorite cities I've ever been to. If I come back to Portugal one day, Porto will be the number one spot on my list!

---
You may also be interested in: