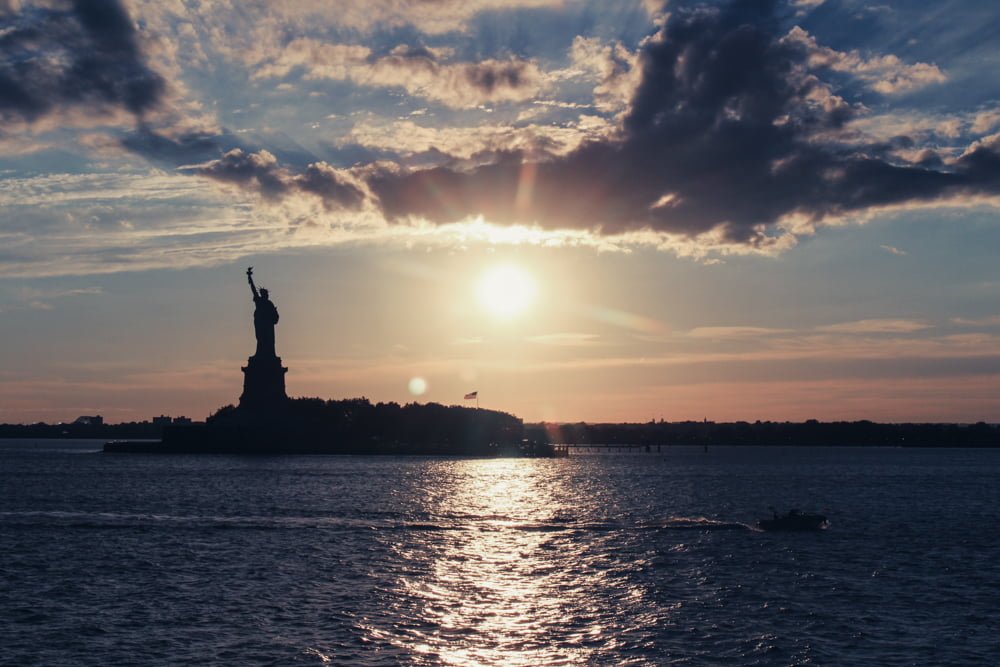 My friend Joncel and I decided to have a sightseeing and shopping weekend in New York. I hadn't been there in several years, so I wanted to see a lot that I either hadn't seen before, or had forgotten about. We left early Friday afternoon and stayed through Sunday evening. We were here the last weekend in July and had absolutely beautiful weather! The highs were in the 70s (low for this time of year), with only a little rain late Friday night.
Friday
Times Square
By the time we got to our hotel, showered, and got ready for the night, it was almost time for sunset. We took a Lyft straight to Times Square, because I knew it would be magical at this time of day with all of the lights. It was crowded with tourists, so we didn't stay long. Just stopped to get a few pictures.
Dinner at Nino's
We had an 8:30 dinner reservation at Nino's Italian restaurant, a five-minute walk from Times Square.The restaurant doesn't look like much from the street, but it is very cozy and nice on the inside. I'm glad we had a reservation because they were pretty busy. I had the orecchiette, which totally surprised me when the water brought it out and the sauce was green. Still delicious though!
Empire State Building
After dinner, we took a Lyft to the Empire State Building to go to the top. We arrived around 10:30, and it was packed! I was surprised by how many small children were there. The ticket line was long, so we bought our tickets on our phones and skipped the line. The elevator was extremely fast, and before I knew it we were on the 86th floor. The balcony was just as crowded as the ground floor, and we fought to get through the wall of people to catch a glimpse of the glimmering city below.
Saturday
Central Park
We woke up around 8 and got ready for the day. I've always wanted to eat at the Loeb Boathouse in Central Park, so we decided to go there for brunch. We took the subway from our hotel to E 86th street and walked to the restaurant along 5th Avenue. The Metropolitan Museum of Art was on the way. We stopped at Bethesda Fountain and Terrace along with hundreds of other tourists.
Brunch at Loeb Boathouse
The restaurant is located inside Central Park right on the pond. We got to Loeb around 10:30 and to our surprise, it wasn't crowded at all yet. The hostess sat us on the porch right by the water next to a couple that we enjoyed talking to and getting recommendations from. I got the waffles, bacon and a bloody Mary and Joncel got quiche and a mimosa. This was my favorite meal of the whole weekend. I highly recommend!
Top of the Rock
From brunch, we walked out of Central Park and took a Lyft to Rockefeller Center. The spot where an ice skating rink is located in the winter holds a garden bar and restaurant in the summer. We had booked tickets for the Top of the Rock at 12 pm while we were at brunch. The Rock was much less crowded than the Empire and way more enjoyable. The elevator to the top was like a rocket ship, with a clear top so you could see just how fast it was going.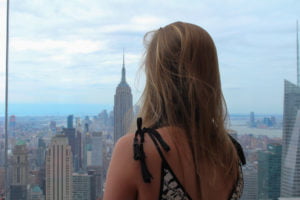 We got out on what we thought was the top floor, and saw the amazing view of the Empire State Building and Central Park. Then we noticed a sign that said "upper decks, this way". A ride on the escalators took us to the next level, where we discovered yet another level! This was literally the top of the building, with only antennas standing above us. With as much viewing space as there was, there was plenty of room to spread out from other tourists and take lots of pictures. I enjoyed this skyscraper better than the Empire, especially because you can see the Empire from it.
Public Library
The famous New York Public Library is only a ten-minute walk south of Rockefeller Center. I had never been inside before, so we walked up the three flights to see the Rose Reading Room. The library is so gorgeous; I couldn't believe all the detail that was put into it. With so many tourists walking around taking pictures, I was surprised anyone was able to study/work in those conditions!
Grand Central Terminal
Joncel and I walked another five minutes to Grand Central Terminal. We watched all the people coming and going, and even a couple getting married! From here, we took the subway down to Chelsea.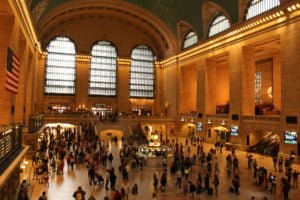 Chelsea / Flatiron Building
We spent some time relaxing in Madison Square Park, and admiring the Flatiron Building. I think this was my favorite neighborhood in New York, without all the crazy hustle and bustle of the city, but still plenty to do and a great atmosphere. We were starting to get hungry, but knew we would be eating dinner later, so we decided to get dessert instead of a meal.
Eataly
I saw online that there was a Nutella bakery inside a place called Eataly. That sounded exactly like what we wanted, so we entered what looked like a small cafe from the outside. We quickly learned that Eataly is actually a huge mall-like complex, with lots of restaurants, cafes, and markets inside, all representing the Italian culture. It's a huge area, and lots of people were getting everything from gelato to fresh pasta to take home and cook. We found the Nutella bakery and I got a Nutella-filled croissant and an espresso. Joncel got a Nutella cappuccino.
Shopping on Broadway
We took the subway a few stops down to SoHo so we could get our shopping on! Along Broadway, there are tons of stores and it almost feels like an outdoor mall, but with lots of traffic. When our feet were so tired that we couldn't walk anymore, we headed back to the hotel for an afternoon nap.
Staten Island Ferry
From our hotel, the terminal for the Staten Island Ferry was only a ten-minute walk. The ferry is free and runs every 30 minutes. We had no desire to go to Staten Island, but the ferry goes right by the Statue of Liberty. Since we didn't have enough time to actually go to the Statue of Liberty, this was the next best thing. We got on the 7:30pm ferry and had the most amazing sunset as a backdrop to the city and Lady Liberty herself. The boat arrived at the Staten Island side at 7:55, and by the time everyone rushed off, the 8pm ferry had just left. We hung out in the nice terminal, resting our feet until the 8:30 ferry.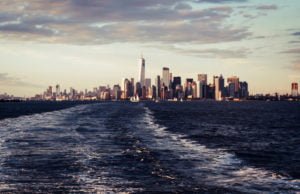 Dinner/Drinks on Stone Street (Mad Dog & Beans)
Once we arrived back in Manhattan around 9, we walked to Stone Street to get dinner and drinks. Stone Street is a really cute street in the financial district that has lots of international restaurants and bars. The street is closed to cars, and restaurants have tables literally in the street. We chose Mad Dog & Beans, because we were in the mood for Mexican, and it looked really popular. We luckily got seated outside without a reservation and had a great time. I had a quesadilla and a mojito to end a fantastic day.

Drinks at Clinton Hall
We weren't quite ready to go to bed yet, so we went to Clinton Hall, a fun bar across the street from our hotel. They have games including foosball and a putt-putt green. I had a beer and finally went to bed after a long, eventful day.
Sunday
9/11 Memorial
We started out the morning by visiting the moving 9/11 memorial. The memorial is the full size of both buildings, and holds waterfalls all the way around all of the edges. The names of those who passed away are on the memorial, and it really put the amount of people that lost their lives into perspective. I teared up when I saw the roses left by visitors for certain people.
Biking around New York
Instead of taking the subway today, we decided to use bikes as our main form of transportation. We rented bikes from Citi Bike. There are bike stations every few blocks all over the whole city. You can ride an unlimited number of times for 30 minutes at a time. That was the perfect amount of time to move between destinations. We got on our bikes from the World Trade Center and rode all the way up to the Highline, about a 25 minute ride. There is a really nice bike path on the Hudson River Greenway that is separate from the street, so you don't have to stop at every streetlight. We really enjoyed it. It was a good introduction to biking before we had to go through the New York traffic!
Walk the Highline
The Highline is a park located on an elevated section of an old railroad track. No bikes are allowed, so we dropped our bikes off near the middle of the Highline and walked south. We took our time, stopping to take pictures and relax along the way. Once we got to the end of the trail on the south side, we got two more bikes and rode them to the Village, where we were going to brunch.
Brunch at Agave
We got to Agave a little after they opened at 11 and were seated immediately. They had really cool open-air seating in the front of the restaurant. The brunch menu had bottomless mimosas, margaritas, and wine for only $35 including an entre! We stuck around for awhile here and really enjoyed our meal.
The Village / Friends Apartment
Greenwich Village is a neighborhood of New York that has a more suburban feel. I still felt like I was in a city, but not a metropolis like New York. We rode bikes around the streets and there was hardly any traffic to run us over. We stopped by the building used as the outside of the "Friends" apartment. I'm a big fan of the show so I really enjoyed that.
More Shopping on Broadway
We decided we hadn't had enough shopping yet, so we biked back to the same area we were shopping on Broadway yesterday to go to a couple more stores. When we had reached our spending limit, we moved on. Next, we biked south to the Brooklyn Bridge. This ride was a little more nerve-wracking because we had to bike on very busy streets, some without bike lanes. I never felt in danger though, and the second half of the ride gave us a nice road with a large bike lane.
Brooklyn Bridge
We parked our bikes at the beginning of the Brooklyn Bridge. Instead of biking across the bridge, we decided to walk because there is a lot of foot traffic and it gets hard to bike around people. We only walked across half of the bridge and then back again. When we were on the way back, a large parade of hundreds of bikers rode past us on the bridge. Sure was a site to see!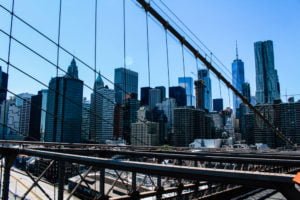 Bill's Bar & Burgers
We finished walking the Brooklyn Bridge with about an hour left before we needed to head back to our hotel and pick up our luggage. We decided to find somewhere to get a snack. The path to get to Bill's Bar and Burgers was so nice on a bike. It felt like we were right downtown, but the streets were relatively quiet. I ended the trip with a delicious campfire milkshake (vanilla milkshake with lots of marshmallows).
Overall, we had an awesome trip! This itinerary is very ambitious, and a few things could easily be left off to give yourself more relaxing time. I do feel like we saw most of the city though so I'm glad we did it this way.
Watch my video on our weekend in New York:
---