The Perfect Weekend Itinerary for Austin, Texas
Austin, Texas is such a fun and interesting city. This was my first trip and definitely won't be my last! My friend Rasha lives here and is in grad school at UT. I was so glad I had her to show me all of the best places!
Friday
Dinner at Maudie's
Our first stop was dinner at a local Tex-Mex restaurant called Maudie's. We ate at the Triangle location since it was walking distance to Rasha's house. The interior of the restaurant didn't seem like anything special, but the outside patio was adorable. Despite it being 100 degrees out, we sat on the patio and I cooled off with a delicious blackberry mint margarita. The food was good and I was happy with our choice.
Hops and Grain Brewing
After dinner, we took a Ride Austin (ridesharing app similar to Uber) to Hops and Grain Brewing in East Austin. This brewery had a typical large open interior with benches out front. The beer was really good!
Lazarus Brewing
We walked ten minutes from Hops and Grain to Lazarus, another brewery. Rasha informed me that their beer isn't great but the atmosphere makes up for it. I'd have to agree. The beer I had had an aftertaste that seemed slightly off, but we sat outside and listened to the live band, having a great time the rest of the evening.
Saturday
Breakfast at Tyson's Tacos
I woke up starving this morning, and since we were in Texas, I needed breakfast tacos ASAP. We drove to Tyson's Tacos, a funky taco stand that is known for their breakfast tacos. I had the best breakfast tacos I've ever had. We sat on their porch and loaded up our tacos with the spicy salsa they provided.
Barton Springs
After we refueled, we drove to the Barton Springs Pool. I was so glad we went in the morning because Rasha mentioned that it tends to get very crowded in the afternoons. I didn't really know what to expect coming here, but I was not disappointed. The pool is fed from a natural spring, and has a natural rocky bottom. It is cleaned and maintained weekly so it stays nice. It's also huge!
It was already hot at 10 am, so we dropped our stuff on the grassy hill next to the pool and headed straight for the water. The water was supposedly 68 degrees, but that felt extremely cold to what I'm used to. It took a few minutes of sitting on the edge, letting our legs get used to it before we were able to fully submerge. We swam over to a large rock, where we could stand in the chest-deep water and watch all the people jumping off the diving board.
After we were thoroughly chilled, we swam back to near where our towels were and got out to thaw out. The 90 degree heat felt amazing after soaking in the chilly water for over an hour. We laid on the hill and sunbathed for an hour before we started getting hot and left.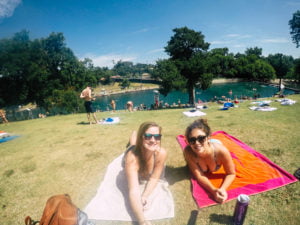 Zilker Park trails
From the pool, there is a really pretty trail that walks along the creek leading out to the Colorado River. On our walk, we noticed a paddleboard and kayak rental place and we decided we would come back here tomorrow. The trail was shaded, but it was still very hot and we only made it to the end of the creek. There was a beautiful look out spot over the river, where you can see the city in the background. We turned around from there.
Whole Foods
As we were driving back to Rasha's house to shower, we saw Whole Foods and decided to go in and walk around. We got tons of free samples and bought Tropo Chicos, sparkling mineral water from Mexico. There is a fun ATX (Austin, Texas) sculpture out front that we stopped to take pictures on.
South Congress Ave shopping
After we were showered, we headed back out to South Congress Avenue. We got dropped off at Jo's Coffee, where the "I Love You So Much" mural (one of Austin's many murals, with a simple cursive writing with the words "I love you so much") is located, and walked down the street, stopping at various shops. There was an open area with local artists that had crafts and jewelry set up. I bought a necklace with a cactus on it for my souvenir.
Rainey Street
From South Congress, we decided it was time to start taking advantage of happy hour deals. Rainey Street is this adorable street with cute old houses that were renovated and turned into bars.
First Stop: Lucille
Lucille is a bar on Rainey Street. They had great happy hour deals ($5 cocktails until 7:30pm!) so we stayed here for awhile. The inside was quite crowded when we got there (probably because of how hot it was), so we went outside to the patio. The patio is shaded and has a ton of fans with misters on them, so we weren't hot at all. We were the first ones out there, so we kept the outside bartender entertained and busy. Rasha's friends met up with us here and we stayed until we got hungry and Rasha suggested a pizza place.
Craft Pride & Via 313
We walked about five bars down the street to Craft Pride, a bar that sells beer only from Texas breweries. Rasha and I headed out back first, to the pizza food truck called Via 313. The pizza was SO good! The personal size was the only size they offer, and was too much for me to eat in one sitting, so I got a box to save it for later. We enjoyed beers from the bar with our pizza.
Zilker Brewing
Rasha's friend drove us to the Zilker brewery. This place has cool vibes (I haven't been to one place in Austin that didn't) and we stayed here a while. I tried their coffee milk stout.
Sunday
Breakfast at Taco Deli
After our awesome experience with breakfast tacos yesterday, we gave it another go, but went to Taco Deli this time. Their tacos were really good, but didn't taste like breakfast to me, more like regular tacos.
SUP (Stand Up Paddleboarding)
We picked up Rasha's friends and drove to Barton Springs. The paddleboards (and kayaks and canoes) only cost $15/hour to rent. The place had lockers for us to put our shoes and clothes in, and we put valuables in my dry bag that I took on the board. It was 11am by the time we got on the river and while it was hot outside, it felt great on the river with the cool breeze coming off the water.
The river was calm, with no motorized boats, so I wasn't worried about falling off at all, unlike times I've gone in other places. There were a ton of people on the river already in all types of boats, from paddleboards, to kayaks, canoes, and peddle boats. We made it about two miles before we turned around. The river goes right through downtown, so it was a special experience. I loved it!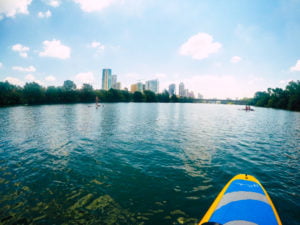 When we got back and turned our boards in, we learned that we had only been gone for about an hour and 20 minutes. I expected them to round up and charge us for two hours, but they prorated it and only charged us $20 each!
Graffiti Park
We went back to shower and I packed up my bags to take with us in the car. We drove to the Graffiti Park. The park is an abandoned construction site from the 1980s. All the concrete walls on the site (and also the bushes and ground) are covered in graffiti. Anyone is welcome to bring spray paint and do some art, but they ask that you make a small donation that goes to maintenance of the site. A short climb to the top of the park rewards you with amazing views of the city. This was a cool activity that is kind of unique to Austin.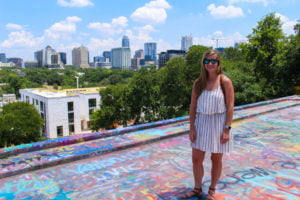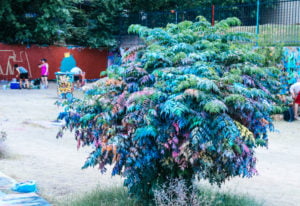 UT campus
I love walking around college campuses when I visit cities. Rasha showed me around, and took me to the fountain that is in front of the UT Tower. You can see the Texas capitol building if you're standing in front of the fountain, facing the other direction. The campus is beautiful, with big trees lining the sidewalks, supplying plenty of shade in the Texas heat.
Capitol Building
We had some time to spare so we drove to the Capitol Building, only a few blocks from campus, and walked around and took pictures.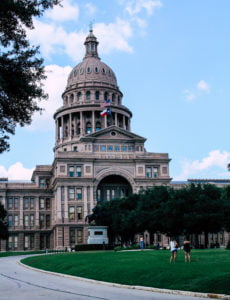 Hopfields
Hopfields is a large bar and restaurant right next to campus. We hung out here for awhile and got their burgers and fries for my last meal in Austin. The fries are awesome! I don't know what they put on them, but they almost tasted sweet. The restaurant wasn't busy while we were there since it was still early, but they had several back rooms that would accommodate bigger groups.
When we were done, Rasha dropped me off at the airport and I made my way back to Atlanta.