We started our clockwise drive around the ring road driving north. The first stop was Kirkjufell. It is located about 2.5 hours northwest of Reykjavik. On this drive, there is a very long tunnel (that made me slightly uncomfortable) that you must pay a toll at (around $10 USD per car and they take cards). The weather on our first day would fluctuate every ten minutes or so. It would go from being sunny and beautiful, to raining, to windy and cold. I was nervous that the whole trip would be like this and it would be miserable to be outside. But as it turned out, it really wasn't! Our Airbnb host later told us that the southern coast near Reykjavik tends to be more like that.
Kirkjufell
Kirkjufell is the most photographed mountain in Iceland! The beautiful waterfall in front of it makes it very picturesque. There is a parking lot, but it's very small and we had to wait for someone to leave so we could get a spot. The waterfall is across the road from the mountain, so you walk up a little path to see the famous view. It's not a difficult walk but was a bit slippery in the rain and mist from the falls. You also have the option to walk upstream and see more waterfalls.
We were staying about four hours east of here for our first night, on a farm near Varmahlíð. Since we were still jet lagged, tired from our not-so-great plane sleep last night, and had already spent a half day in Reykjavik, the long drive made this an even longer day. If I was doing this trip again, I would either skip Kirkjufell or stay closer to here if we had the extra time.
Airbnb for Our First Night
We spent our first night on a family farm near Varmahlíð. Our host was very friendly and told us all about his 20 horses and how he had to go round up his sheep the next day. While we ate breakfast the next morning, we watched him change two of the horses' shoes in front of the house.
Trollaskagi Peninsula
On day 2, we drove from Varmahlíð to Dalvik. This drive would only be about 1.5 hours if primarily using Route 1 (the ring road). However, we chose the scenic route through the Trollaskagi Peninsula. This was possibly one of my favorite drives out of the whole week. Plus, we lucked out with the most gorgeous weather! 55 degrees F, sunny, and no wind!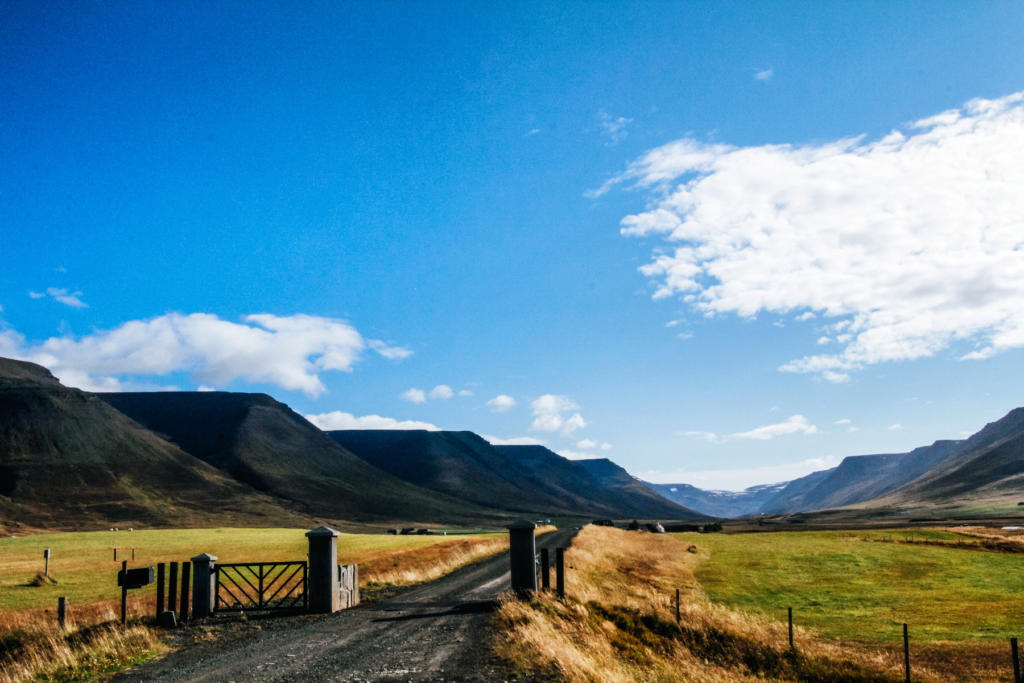 Trollaskagi means "peninsula of the trolls" and I can picture why it got its name! We drove through another tunnel here, but this time it was one lane, and still very long. They had frequent pull-offs that allowed the oncoming traffic to pull into if someone was coming from our direction, but it was still terrifying. I could totally picture a troll living in here!
To do this drive, you'll follow Route 76 along the coast until you reach Route 789. Take a right turn and follow this gorgeous, scenic dirt road to one of the prettiest spots in Iceland. Where that road bends to turn north again is a beautiful lookout with a river in the canyon below. The best part was that there was no one else around besides a few farmers and lots of sheep! You should only do this off-road detour if you have an F-road-approved four-wheel drive rental car.
Whale Watching in Dalvik
We got to Dalvik just in time for our scheduled whale watching expedition at 1pm. We used the company Arctic Sea Tours because it was recommended by a friend. Plus they have a 99.8% sighting percentage, so you're pretty much guaranteed to see a whale.
We arrived about 20 minutes early and got suited up in a full-body jumpsuit to keep us warm and dry. The group walked across the street to the marina and hopped aboard our boat for the afternoon. Once we got on the boat, our tour guide walked us through the whales we may be likely to see today, the humpback being the most common as there are a pod of them that like to spend their summers here. We cruised out to the other side of the island in the fjord and saw a humpback whale named Dot (named for a dot on his tail). He would come near the surface, blow water a few times, and then dive down deep for about ten minutes at a time.
Luckily after a few times of Dot doing this, we saw another one come up, so we went back and forth between the two. One time, Dot even came up right next to our boat (they say humpbacks are very friendly and playful) and swam right under the boat! You can see exactly where it is because the underside of their fins are white and it's very easy to see in the water.
Near the end of the three-hour excursion, our tour guide passed out fishing poles and let us try our hand at catching dinner. Collectively, our group caught about 10 haddock and cod. When we got back to shore, the guide filleted and grilled them. It was so delicious and fresh!
Akureyri
After we finished eating the fish, we drove to Akureyri, where we would be staying for the night. This is the second biggest city in Iceland and is called the capital of the north. We checked into the Airbnb and then headed to the airport to pick up my mom's suitcase that the airline had lost and shipped there for us to get. We weren't full from the fish since it wasn't a big portion, so we decided to get a light dinner in town.
In town, we found a restaurant called Bautinn. I had the lobster soup, which was different from what I have had in the past, but still decent. My mom had the Iceland sampler platter, with a range of nibbles to try, including minke whale and a local sea bird! Our meals were okay, but I don't think I would recommend this place based on what we had. It was also a little overpriced (my soup was $35 USD).
After dinner we walked around a little and saw the Lutheran church called Akureyrarkirkja, designed by the same architect that designed Hallgrimskirkja in Reykjavik. It was cold and we were still tired from yesterday, so we headed back to the house for an early night!
---