I came to South Africa not really knowing what to expect with respect to food. I had heard it was delicious from the few people I'd talked to, but had no idea just how good it really would be! I've compiled a list of my favorite South African foods I tried, and a list of restaurants that we went to and enjoyed. Most of the restaurants were recommended to us, so we had great experiences all around.
South African Food
Rooibos Tea
My favorite discovery in South Africa (and one I'm still indulging in) was rooibos tea. I'm not a big coffee drinker, and generally prefer tea. I didn't try this until halfway through our trip on our flight from Cape Town to Johannesburg. I was fighting a cold and the thought of tea sounded good. Sydney recommended rooibos, a black, caffeine-free tea made from the rooibos plant that grows in South Africa. For whatever reason, I tried it with milk and sugar (which I never really had enjoyed before) and fell in love! From that day on, I had at least 6 cups a day. It's served basically everywhere, and is the most common tea to come across. I bought myself a big box at a grocery store the day we left for $2 USD and was so glad I did! It is way more expensive in the US!
Malva Pudding
My second favorite food I tried is the dessert, malva pudding. It has more of a cake-like texture with a hot pudding on top. We tried it served with ice cream and my favorite, whipped cream. My favorite malva pudding was at the Fisherman's Cottage in Hermanus.
Piri Piri Sauce
Piri Piri sauce is made from crushed chilis and other spices, so if you don't like spicy food, this is not for you! My first experience was at our safari lodge, when the chef told us to use it sparingly after Sydney dumped a large spoonful on her plate. I got a small spoonful and it was plenty. A little goes a long way!
South African Braai
A traditional South African braai is a roast or barbeque. We did not have a braai until our last night at the safari lodge, when our chef made a huge spread. My favorites were boerewors (a type of sausage) and pap (a ground corn cake that is similar to polenta). We enjoyed our meal while sitting by a fire outside under the stars.
Restaurants
Posticino
Location: Cape Town, Sea Point
On our first evening, after we had hiked Lions Head, we were craving pizza. We stopped at Posticino, which was very close to our Airbnb in Sea Point. They have a wide selection of Italian food and pizza, but we only got pizza. Sydney and I split a personal sized pizza with a side salad and it was plenty of food. The boys all got personal pizzas and finished them, but they were stuffed!
Africa Cafe
Location: Cape Town, City Center
I really wanted to try traditional African food at some point, and the Africa Cafe was a great place to do it. This restaurant is definitely geared towards tourists; we didn't see any locals there. The Cafe has a set menu, with about 15 dishes served to everyone family-style. The dishes were from countries all over Africa, and the waitress let us know where each one was from and what it was.
After they finished bringing out all the foods, they asked us if there was one (or more) in particular that we would like more of, for no extra cost. We loved everything, but wanted more of the Cassava bread, a flatbread made from tapioca and cheese. After all of our main dishes, we had a delicious tart for dessert. The price of this meal was more expensive than most at about $35 each for our food and two bottles of wine split between the five of us. At one point, all of the waiters, hosts, and chefs came out and sang a few traditional African tribal songs.
2 Oceans
Location: Cape Point
2 Oceans is the only restaurant located inside of the Cape Point Nature Reserve. It is pretty fancy and is placed on the side of a cliff with a great view of the ocean. I tried the tomato soup and grilled calamari. It was fantastic.
Bertha's
Location: Simon's Town
We arrived in Simon's Town on the later side and chose Bertha's to eat at that evening. They had a large selection of seafood. I chose the smoked salmon salad and it was pretty good! The restaurant is located right on the water, and I wished we could've been there earlier when it was still light out to see the view.
Monocles & Mermaids
Location: Simon's Town
Monocles & Mermaids is a cafe located in Simon's Town, that was recommended to us by a few people. It had a really cute nautical theme, and the food and drinks were amazing. I got a chai tea and the breakfast wrap. The wrap was SO GOOD! It was drizzled with some type of balsamic dressing that was unlike anything else I've had. Highly recommend.
Fisherman's Cottage
Location: Hermanus
I had read great reviews on Fisherman's Cottage, a cute blackboard restaurant with an intimate atmosphere. The hostess asked if we had reservations and when we told her we didn't, she said they were fully booked for the night. However, it was still on the early side, and since we had decided we were only getting dessert, they were able to squeeze us in before the late dinner rush. I had some of the best hot chocolate I've ever had, along with delicious malva pudding.
Tokara
Location: Stellenbosch
During our day in the Cape Town wine region, we stopped at Tokara for lunch, and later a wine tasting. I had the cauliflower soup paired with Chardonnay. Sydney and I split the Baked Alaska for dessert. Sydney liked it, but I hadn't had that dish before and it was not my cup of tea. The restaurant overlooks the vineyard and you can easily walk next door to the winery that has a huge fireplace for cool days. I loved the atmosphere here.
Quay Four
Location: Cape Town, V&A Waterfront
On the boys' last full day, we went to the V&A Waterfront for lunch. The restaurant overlooks the wharf and has a menu filled with seafood and other classic South African meals. I chose the seafood chowder and mussels, with a bellini as my drink. I really enjoyed!
Andrew and Colin at Quay Four

Parada
Location: Cape Town, Camps Bay
A sunset in Camps Bay is recommended by just about everyone, so we made an effort to make this happen on the boys' last night. We got drinks and appetizers at Parada while watching the sunset across the street over the ocean. The restaurant had a cool vibe, and I could've hung out here for hours.
The Dog's Bollocks at YARD
Location: Cape Town, City Centre
By our last day in Cape Town, Sydney and I were craving a really good burger. The Dog's Bollocks was recommended to us for just that. The restaurant was a little hard to find at first, as it's in an alley and easy to miss. It was a beautiful day, so we chose one of the few tables outside. We were greeted by our waitress, a very colorful girl who told it like it is. Sydney and I got the same thing, a beef burger with a pepperberry blue (blue cheese and pepper) sauce on top. The side of fries was a perfect smaller portion that we were actually able to finish. This paired perfectly with an ice-cold Coca Cola in a bottle. I will be back the next time I am in Cape Town.
Societi Bistro
Location: Cape Town, Gardens District
On our last evening, I really wanted pasta. Sydney found the Italian and French restaurant called Societi Bistro. It was a very close distance to our Airbnb. For whatever reason, I had been craving spaghetti carbonara for weeks and was thrilled they had it on the menu. We enjoyed wine with our meal. The atmosphere was romantic, with dim lighting and soft music.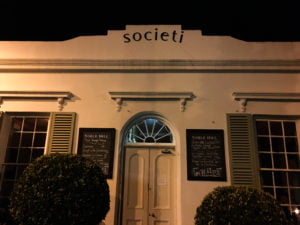 Blue Cafe
Location: Cape Town, Gardens District
Our Airbnb host recommended the Blue Cafe for breakfast on our last morning. The Cafe itself is very tiny, with only a few tables down in the basement. However, there are several tables outside and we were lucky to get one as it was very busy! I got a simple breakfast platter, with eggs, bacon, mushrooms, and a croissant.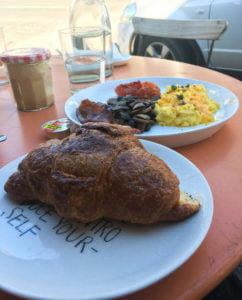 Tasha's
Location: Johannesburg, Nelson Mandela Square
Sydney and I had a full day in Johannesburg at the very end of our trip. We started in Nelson Mandela Square, a large square with a shopping mall and several restaurants. We didn't know where to eat, but the restaurant called Tasha's had tons of people at it, so we figured it must be good. I kept it relatively light, getting a yummy Nutella croissant and rooibos tea.
Salvation Cafe
Location: Johannesburg
We met up in Johannesburg with a lady that Sydney knew, and she took us to the Salvation Cafe, located in the complex called 44 Stanley. We ended up getting several things to share and everything was delicious. The best was the calamari. We also got the Middle Eastern Mezze platter and Thai style fish cakes. I really enjoyed the signature drink I got with fresh cucumbers, strawberries, and mint!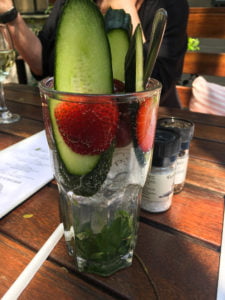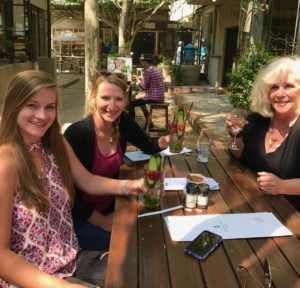 ---
Watch my video about our time in Cape Town!
Watch my video about our time in Kruger Park, the Elephant Sanctuary, and the Panorama Route below!
---
You may also be interested in:
Stellenbosch: Cape Town's Wine Region