I spent two weeks in South Africa in September 2017. Here are all the tips and things I think are necessary to know for planning a trip to South Africa!
Driving
Driving is the one thing I wish I would've done more research on before we left. Sydney drove the first week while we were in Cape Town, and I drove the second week to Kruger Park and surrounding areas. Driving in the cities was just like driving in any other city (plus being on the left side). However, the rural areas were much different.
We left Johannesburg around 3 pm, which I figured would give us plenty of time to get to White River by 7. I didn't think about the fact that the sun would be setting at 5 pm. Most of the roads we were on were two lanes, with a speed limit of 120 kph (75 mph). That is really fast for a winding two-lane road! Occasionally it would widen with a second passing lane. This would've been nice, but cars would fly past me on the right going at least 150 kph, while I was going about 120. Almost all the semi-trucks we passed couldn't have been going faster than 50 kph. In the complete dark this was a nightmare! At one point I was going 120 in the "slow" lane and noticed a semi-truck completely stopped right in front of me with no lights on. I was luckily able to swerve into the other lane at the last minute to avoid a deadly accident.
Another scary part of South Africans' driving is that they pass slow cars (without passing lanes) with very little space, day or night. I got very daring on this trip, completing some passes that I never would've attempted in the US (or anywhere else). Most people are very nice and move over to the large shoulders when they notice a car behind them.
Overall, if I did this trip again, I would still do the same drive from Johannesburg to Kruger, but I would only drive these curvy roads while the sun was up.
Parking
I had read online before our trip that parking was free in Cape Town and Johannesburg. However, most common places to park have self-proclaimed parking attendants, that will direct you where to park (whether you need help or not), "protect your vehicle", and of course, expect a tip for it. The first time we were asked to pay, we had no idea how much to give the guy, so we handed over 10 rand ($0.75). He seemed thankful enough, and we tipped the attendants 10-20 for the rest of the trip depending on how much help they provided. Some actually proved to be super helpful, by stopping traffic to help us park or running down the street to find us a spot. We kept giving them money because we were afraid that if we didn't, they would break into our car.
The evening we were staying in Stellenbosch, we parked on the street and planned on leaving our car overnight. The parking attendant asked for a tip and we gave him 30 rand since it was overnight. He pitched a fit and said he needed at least 60 more. We said no, and told our Airbnb host, Walter, about it. He came out with us to move our car to his secure parking lot and told us that our car most likely would've gotten broken into that night. He warned us to NEVER leave anything visible, even a piece of paper. Take everything inside with you if you can, or if you can't, put it in the trunk.
Flying
The trip to South Africa is long and brutal (I may be exaggerating a bit, but it's not fun). I didn't fly direct from Atlanta because it was double the cost. Instead, I flew through London, which meant two long overnight flights in a row. I was glad I got to stop in London for the day though! Once I arrived in Johannesburg, Sydney and I flew to Cape Town. We chose this over driving to save time. The flight is two hours, while the drive is 14!
Currency
South Africa's currency is the South African Rand. At the time we were there in September 2017, one US dollar was equal to about 13 rands. This made everything very inexpensive for us! The first few meals we went out to eat at, I was shocked by our total. Where you will typically spend $20+ for dinner and a drink in the US, it typically costs under $15 for that in South Africa. Souvenirs were a little more expensive, most likely because they were marketed towards tourists, but were still very reasonable. The most expensive part of our trip was the safari lodge, but that included the safaris, three meals a day, and lodging, so it wasn't bad overall.
Most of the restaurants we ate at accepted credit cards, but we needed cash for things like souvenirs and tips for the safari guides and lodge maids, and toll roads/parking fees.
Cost
Lodging (including safaris and meals at safari lodge) – $875
Flights – $1285
Transportation (including Ubers, gas, rental cars, and parking fees) – $200
Food – $200 (we ate out once or twice a day, and made breakfast and/or lunch at our Airbnb)
Entertainment and activities – $300
Souvenirs – $100
Other (including travel insurance and bag storage in London airport) – $100
Total – $3,060
Safety
South Africa is not known to be the safest place in the world. This is apparent by all the walls around houses and bars over windows and doors. I was told by multiple people to be aware of my surroundings, keep doors locked, and to not leave anything out in your car when you're not in it. That being said, we used common sense and I didn't feel unsafe once. Everyone we encountered was friendly and helpful.
The People
The people of South Africa are what pushed this country from being great to amazing for me. Everyone seemed to have a genuine love for life and were happy to be doing what they were doing. We passed several construction workers on the highway that were dancing and laughing while pointing us in the right direction. Cafe workers sang while they took our orders and made our food. This was such a great change of pace from what I'm used to in the US.
Languages
While it may be often thought that English is the language spoken in South Africa, the country actually has eleven official languages! Zulu is the most common first language in South Africa. Most South Africans speak at least two languages, English and Afrikaans being the most common in urban areas. Afrikaans is essentially a cross between English and Dutch, which were the two official languages when South Africa gained independence in 1910. Afrikaans eventually took the Dutch language over, and Dutch was dropped as an official language in 1925.
Despite all these languages, everyone we talked to spoke English and we didn't have any difficulties communicating. One thing we thought was very interesting was when two people would be speaking in English and then, seemingly out of nowhere, switched to Afrikaans. We asked a South African about this and they essentially said that most people will start speaking in English, and if they hear the Afrikaans accent in the other person's voice, they will switch over to be respectful.
Weather
The weather was very diverse while we were here in early September! The first few days in Cape Town were warm (80 degrees F) and very windy. Then the temperature dropped, and it was in the 60s the rest of the week. The weather in Kruger was hot (90-100 degrees) and dry the entire time we were there. It gets cold overnight, though, so bring layers!
Water
The water here is safe to drink in touristy areas like Cape Town and Johannesburg. However, there were a few nights that our hosts told us not to drink the water in more rural areas like Hoedspruit and at our safari lodge. They provided potable water for us to drink in these places.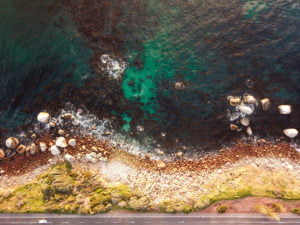 Itinerary
Day 1 (Sunday 9/3) – Arrive in Cape Town, hike Lion's Head

Day 2 (Monday 9/4) – Hike 12 Apostles

Day 3 (Tuesday 9/5) – World of Birds and Monkeys, Cape Point, stay in Simon's Town

Day 4 (Wednesday 9/6) – Boulders Beach in Simon's Town, Muizenberg, Cheetah Outreach, Hermanus, stay in Stellenbosch

Day 5 (Thursday 9/7) – Stellenbosch wineries, stay in Cape Town

Day 6 (Friday 9/8) – Sandy Bay, V&A Waterfront, Greenmarket Square, Camps Bay for sundowners

Day 7 (Saturday 9/9) – Table Mountain Cable Car, Kirstenbosch Botanical Gardens

Day 8 (Sunday 9/10) – Morning in Cape Town, fly to Johannesburg, drive to White River

Day 9 (Monday 9/11) – Hazyview Elephant Sanctuary, Panorama Route, stay in Hoedspruit

Day 10 (Tuesday 9/12) – Kruger Park Safaris

Day 11 (Wednesday 9/13) – Kruger Park Safaris

Day 12 (Thursday 9/14) – Kruger Park Safaris

Day 13 (Friday 9/15) – Morning bush walk, drive Panorama Route back to Johannesburg

Day 14 (Saturday 9/16) – Day in Johannesburg, fly to USA that night
Overall Tips
Download offline Google Maps

Only drive during the day when outside of large cities

Don't leave anything visible in your car while you are parked

Most rental cars are manual, so if you need automatic, make sure to request it!
Watch my video about our time in Cape Town!
Watch my video about our time in Kruger Park, the Elephant Sanctuary, and the Panorama Route below!
---
You may also be interested in:
Stellenbosch: Cape Town's Wine Region