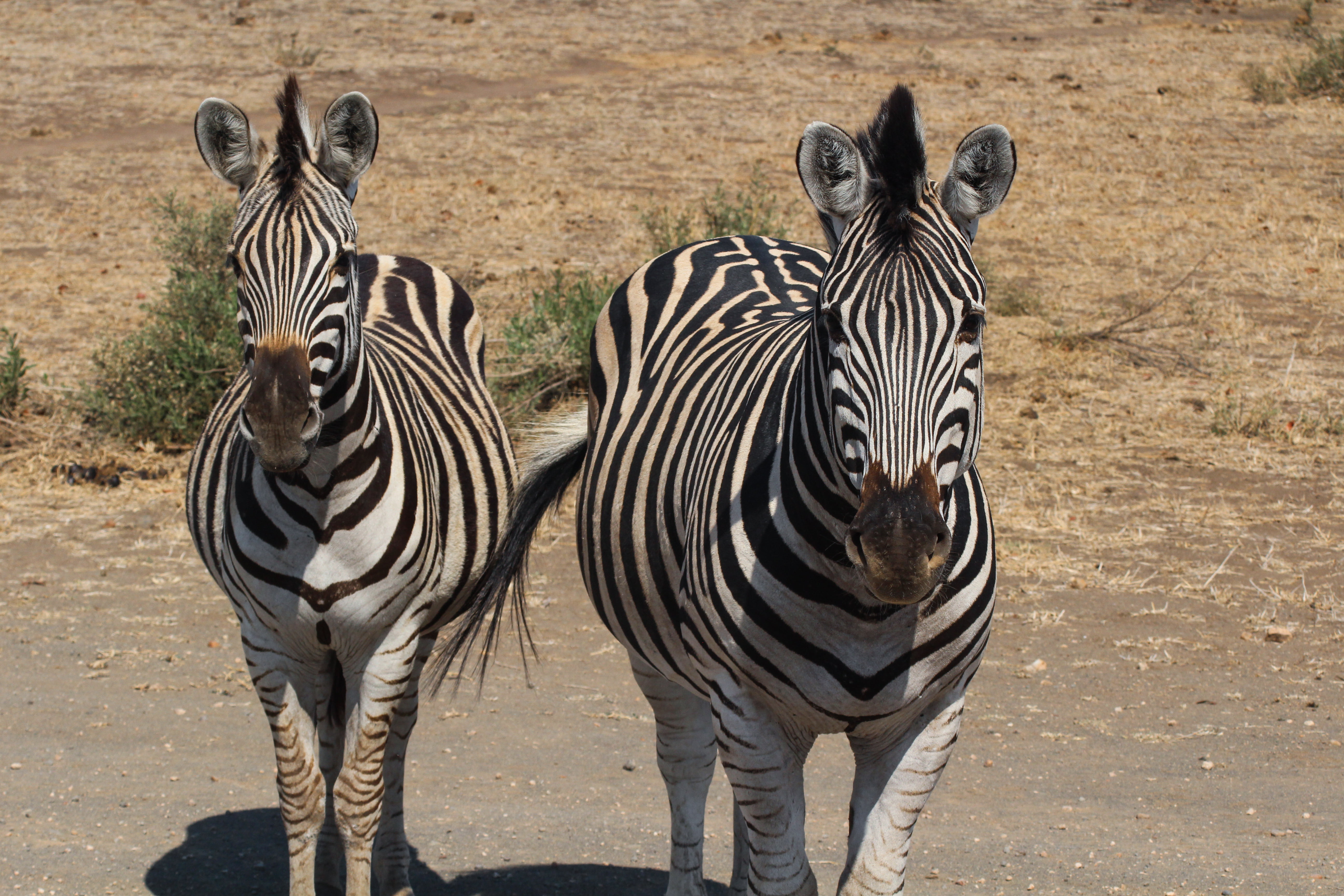 Of our entire two weeks in South Africa, the four days we spent at Kruger Park doing safaris were my favorite. Kruger National Park is one of the largest game reserves in Africa, and the largest in South Africa. We stayed at the Baluleni Safari Lodge, which is located in the Grietjie Nature Reserve. This is a private nature reserve right outside of Kruger Park. Kruger is operated by the government, while the private reserves in the surrounding area are operated by the land owners. We arrived at Baluleni on Tuesday, in time for lunch.
When we first got there, our guide Almar gave us an orientation. Our lodge has no fences- any animal can walk through at any time. He warned us that after it gets dark, we are not allowed to walk around the property alone, we must have someone escort us. That was scary to think of at first, but it made sense. He also let us know that we were the only two guests in the whole lodge! Everyone had left the day we arrived and more people were coming the day we were leaving. Talk about lucky!
Evening Drive
While we were there in September, the sun rose early around 6 am, and set around 6 pm. We had a couple hours to chill after lunch before we set out on our first evening game drive at 4 pm. Almar pulled out the open-top Land Rover. We each had a row to ourselves. He had blankets out for us, but it was hard to comprehend why we would need them. It was at least 90 degrees outside when we left. For the short safaris, we stayed on the private reserve. The land is open between Kruger and Grietjie, so animals can freely roam between. As soon as we pulled off Baluleni's property, we saw three giraffes that were very close to our vehicle. Almar informed us that giraffes are very curious animals, and as long as they can see what you're doing they won't be afraid.
We saw a few other animals that evening, including several species of antelope: Kudu, Impala, Steenbok, and Waterbuck.
When it was time for sunset at 6 pm, we pulled over to a scenic spot, got out of the Land Rover, and Almar poured us glasses of wine to enjoy the sunset with. South Africans are serious about their "sundowner" drinks!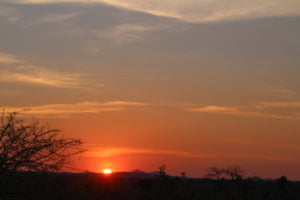 Once the sun had set, we rode for another hour, looking for predators starting their evening hunts. Almar shined his spotlight back and forth while we rode, looking for the reflections of big cats' eyes. Unfortunately we didn't see anything besides a few sleeping impalas, but it was still thrilling! We made it back to the lodge and had dinner and drinks under the stars around a campfire.
Morning Drive
We met Almar for the next day's morning drive at 6 am. I was shocked at how cold it was! I bundled up in a few layers and was thankful for the blankets sitting in the truck. When we were pulling out of the property, we saw the most beautiful Kudu (antelope with corkscrew horns) chewing on a cactus right by the road. We stopped and stared at each other for several minutes before we continued on. I was slightly disappointed by the morning drive, because we only saw the same animals we had seen last night, with a few additional colorful birds.
We came across some giraffes that clearly were going to mate, but wanted their privacy. They kept dancing around and we sat there for 20 minutes before moving on. On our way back to the lodge, Almar spotted a Kudu skull with horns and we got out to pick it up. Kudu must have some amazing neck muscles, because that thing was heavy!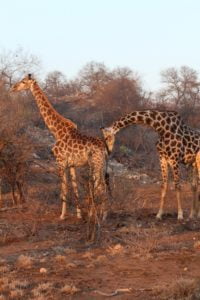 Life at the Lodge
We arrived for breakfast at 9 am and then had the rest of the day to ourselves. Lunch would be at 1 pm, and our evening safari would leave at 4, but the rest of the time was our own. After breakfast, it was already sweltering, so Sydney and I got in the pool. The water was freezing, but it felt amazing to ease into. I loved watching the monkeys running all over the property. Almar warned us that they were mischievous though, so I was worried they may run off with my clothes! We chilled there until lunch and then made our way back up to the restaurant.
I was glad I brought my camera with me because we came across Pumbalina, the warthog that loves to hang out on the property. She was munching on grass the whole time we had lunch. She was right outside of our window so it was almost like she was eating lunch with us! The best part is that when she stood on the patio, it looked like she had high heels on!
After lunch, I caught up on my journaling from the last week of the trip. I took a nap after that and was well-rested in time for our next game drive.
Evening Drive
Almar led us out of the lodge, and I was already feeling pessimistic about seeing any new animals. However, after a little while I spotted a herd of zebra! That was the only new animal we had seen when we stopped for sundowners.
As we pulled out for our night drive, Almar said "let's go see some lions". Still feeling discouraged, I accidentally let out an "I doubt it". I realized that my pessimism paid off, however, because when we pulled out, we saw a big cat cross the road about 50 yards in front of us. We drove up quickly and the cat was just off the side of the road. The best part was that it wasn't a lion, it was an extremely rare and hard-to-find LEOPARD! He was the most beautiful animal I've ever seen. Leopards are solitary creatures, and for that reason are very skittish. We stared at each other for a few minutes before he ran off into the bush. I didn't bother with pictures, because I knew it wouldn't do that moment justice. That was one of my favorite memories of the trip.
When we arrived back to Baluleni, the lodge manager, Mike, greeted us with a South African Amarula drink and we were so excited to tell him about our leopard experience. We headed straight to dinner and once again sat around the campfire. Mike had gotten us materials to make s'mores for dessert because "all Americans love s'mores". We did enjoy them! Our new guide, Jahn, had arrived this evening because Almar was leaving for vacation tomorrow.
As we were relaxing, Almar asked us if we heard a noise and we did. It sounded like a creature was moaning. Turns out, at least two lions of a pride were on either side of our camp (could've been up to a mile away) and trying to get back to each other. It was so spooky to listen to, but so cool!! Mike walked us back to our chalet and we knew that the threat of coming across a lion on the way was real. As we were getting ready for bed, the calls got louder and it was a bit scary. I didn't take the video below, but that's what the lions sounded like!
Full Day at Kruger
Our next day would be spent at Kruger Park, a 40 minute drive from our lodge. Our drive started dark and early at 5 am to make sure we were at the gate when it opened at 6. We picked up two other guests from a neighboring lodge on the way. We were in a different vehicle today; Kruger requires a vehicle with a top (which was helpful to protect us from the sun), but it was still open-air. The drive was brutal: Jahn told us to bring multiple layers because it would be windy and he was right. I wore all of my jackets I brought with me and was still freezing! I was so happy when we finally got to the park.
Once we arrived at Kruger, we stopped to eat our packed breakfast and for a toilet break. I was worried there wouldn't be bathrooms around the park, but there were several well-maintained toilets all over. When we got back on the road, we FINALLY saw some elephants!! I had been hoping some would pass through our lodge but it never happened. They are huge and it was so cool to see them in the wild. They were playing in a big herd and I noticed a baby climbing on top of his mom that was laying down. We also saw a group of monkeys crossing the road.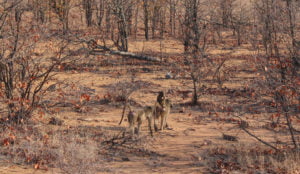 Our goal for the day was to see the big five: the five most difficult animals to hunt on foot. These animals include the elephant, rhino, leopard, lion, and Cape buffalo. The hippo is included in the big six, and I wanted to make sure to see one of those as well. After we saw the leopard last night, I was hopeful that we would see the rest today. The rhino is currently being poached in South Africa and Jahn told us that it would be a miracle if we did see it. I still hoped for the best.
We pulled up to a watering hole and saw hippos, buffalo, elephants, and crocodiles! The hippos were just floating around in the water and basking in the sun. This is where the binoculars
I brought came in very handy. They were pretty far away so it was nice to be able to see them magnified.
Next, we drove along the main road and noticed a ton of vultures eating something off in the distance. They were behind a tree and bushes, so we could not for the life of us see what it was. We were hoping lions were there too, but it seemed like it was just vultures at that point. We continued on and saw a herd of Wildebeests. They were a lot skinnier than I had expected. We saw lots more elephants and zebras.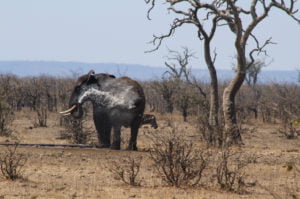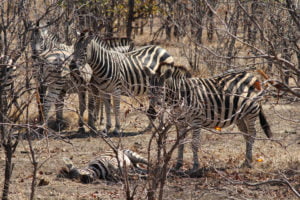 It was time for another toilet break, and we also stopped at the park's elephant museum and gift shop. They had skulls and tusks of some of the park's largest elephants in history so you could get a sense of how big they really are!
Around the time we were going to stop for lunch, Jahn ran into one of his guide friends who told us where some lions were. We decided to put lunch off and find the lions in case they moved. The directions the guy gave us were complicated, but we eventually ended up there. There were three young male lions lounging after a large meal. We could tell they were full because they were panting hard. Jahn said that was because when a lion's stomach is very full, it presses up against their lungs. We sat there for at least an hour just watching them. They were looking at us, but didn't care one bit that we were there. They had a good view of the watering hole down the hill, where lots of different animals were drinking at.
Since we were starving, we left the lions for a picnic spot and ate our packed lunches. We had a great view of a river below, where hippos and elephants were having a standoff. There ended up not being a confrontation, but it was still fun to watch.
As we started making our way out of the park, a herd of elephants crossed our path. A baby was the last in line, and they stopped right on the edge of the road to munch on some yummy trees. We admired for a bit, before deciding that we needed to get out of the park and avoid a hefty fee for leaving after closing. Jahn turned the truck's engine on and the mom elephant reared her head around like she was about to charge. She started walking towards us and Jahn yelled at her and banged on the car to intimidate her. That didn't work, so he threw the truck in reverse until we were a safe distance away. It was scary, but awesome at the same time.
As we were almost out of the park, we noticed a huge herd of buffalo on both sides of the road. There must have been hundreds of them. Jahn stopped the Land Rover so we could look, and they surrounded us on both sides of the road, making a circle all the way around us. I really enjoyed the buffalo, because they would stop whatever they were doing to stare at us. Jahn noticed a smell and said an oxpecker was feeding on blood. Oxpeckers are small birds that sit on top of lots of animals and eat ticks or other parasites off of them. It is a symbiotic relationship between the animals. When an animal has a wound, like one of the buffalo did, the oxpecker will eat diseased wound tissue, keeping the wound clean as it heels.
When it was really time to leave, we hit the road full speed, admiring the gorgeous pastel pink sunset on the way. The gates close at 6 pm and we made it out at 5:55. When we dropped off the people with us at their lodge, we got back to camp and had a traditional South African meal for dinner, including boerewors (sausage) and pap (ground corn).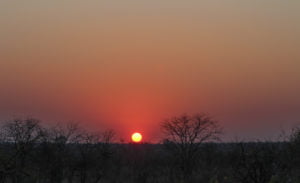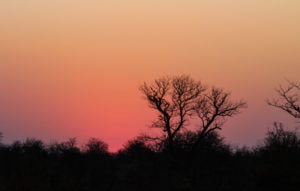 Morning Bush Walk
For our last safari outing, Jahn gave us the option to do a drive or bush walk. Since we had done several drives and seen most of the animals on our list, we decided to change it up and go on a bush walk. Jahn carried a gun with him and gave us the rundown on what to do if an animal approached us (which they likely wouldn't). We walked in a single file line and remained quiet while walking to observe our surroundings at all times. Jahn taught us about little things that we hadn't noticed, like the Marula tree, with its many uses.
We came across a huge termite mound and he told us all about how the colony survives with its queen, soldiers and workers. He pointed out several animal tracks that we never would've seen in the Land Rover. Baluleni's property is at the edge of Olifants River, so we mainly walked along there.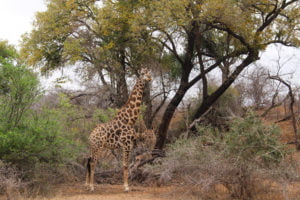 Near the end of our walk, we noticed three giraffes that were very close to us. Jahn told us to move slowly and out in the open so the giraffes could see us and wouldn't run away. We got so close to them. It was amazing! When we were done, Mike picked us up in the truck and took us back to the lodge. We had breakfast and hit the road from there.
We did the couple stops on the Panorama Route that we had missed on the way to the lodge. Tomorrow would be spent in Johannesburg before flying back to the US that night.
Watch my video about our time in Kruger Park, the Elephant Sanctuary, and the Panorama Route below!
---
You may also be interested in:
Stellenbosch: Cape Town's Wine Region