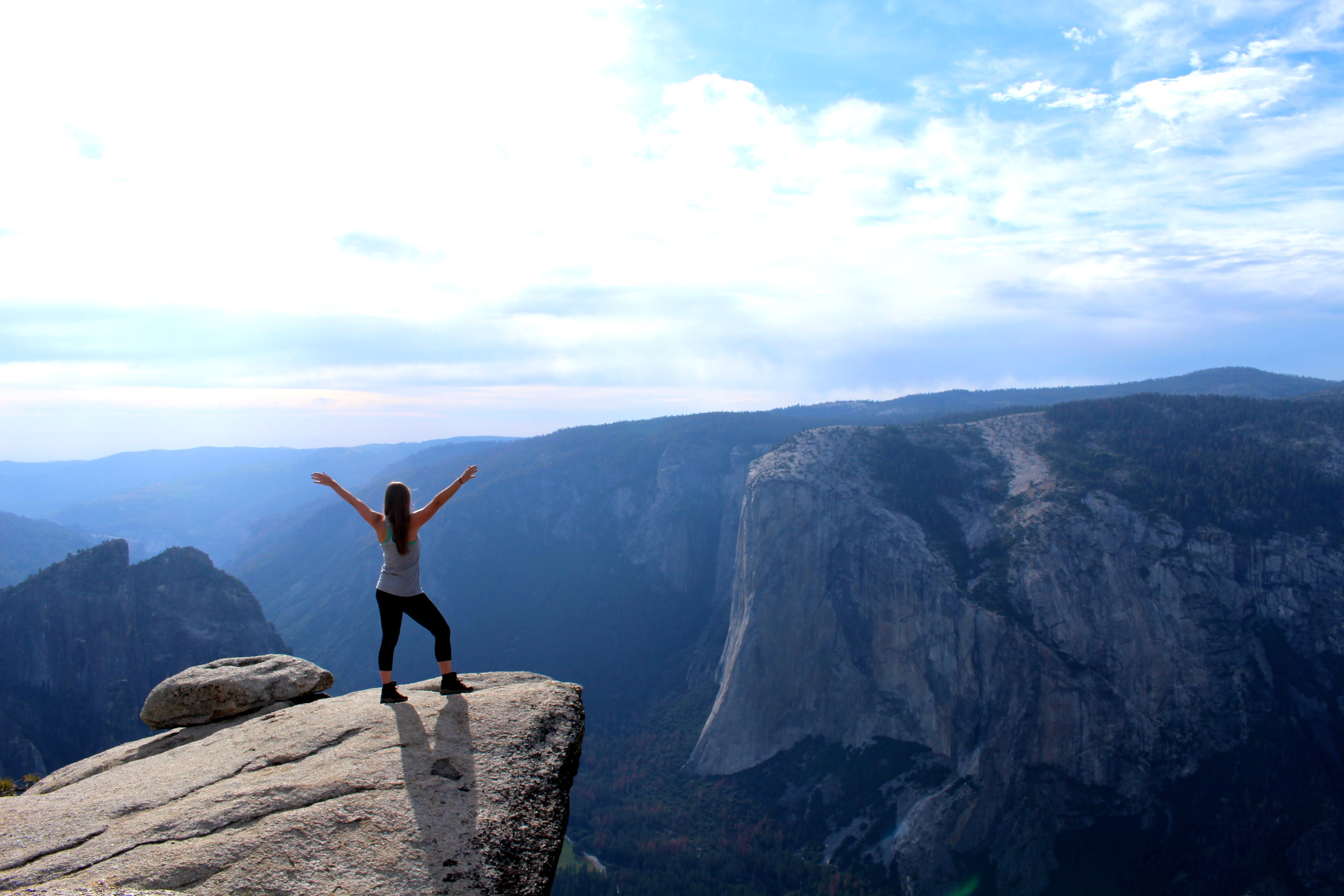 Everyone told us that a three-day Yosemite trip was crazy. And they were right. But I live for crazy!
San Francisco
Rachel and I flew to San Francisco from Atlanta Friday night and stayed at the Hotel Fusion, near Union Square. The rooms were pretty small (think dorm room with a private bath), but it was in a great location so it was perfect for a night. Since we came from the east coast, we were wide awake by 6am Saturday morning, and hit the piers to check out the famous sea lions. We continued walking down by Ghirardelli to get a free sample, but they still weren't open. So we played on the beach instead.
We headed back to the hotel to get our things and then took an Uber to the Emeryville Amtrak station for our 10:15am departure. I'd never taken the Amtrak before, and was pleasantly surprised! Unlike the trains I'd taken in Europe which were typically crowded and hot, this train was quiet, air conditioned, and Rachel and I got a whole table with four seats to ourselves! We took the train as close as we could get to Yosemite, to the small town of Merced. Our friends that live in LA (Kaitlyn and Brian) picked us up and we made a quick detour to In-N-Out, the best fast food restaurant. The drive to Yosemite is about 2.5 hours from Merced, and we got there around 4pm.
Yosemite
Our goal for the afternoon was to do the Taft Point and Sentinel Dome hike. We drove up to the trailhead on Glacier Point Road, which is pretty much straight up (Brian's truck was struggling). The hike looked fairly straight forward. Instead of hiking to Taft Point, then back to the car, and then to Sentinel Dome, we could take the trail connecting the two viewpoints. We chose to go to Taft Point first, which was a pretty easy, flat hike. By the way, the bugs here are AWFUL. We loaded up on bug spray and still had swarms surrounding us. Anyway, I got some amazing pics at Taft Point. There is only a small guard rail at one spot, so there are plenty of opportunities for some "on the edge" pictures.
The connector trail to Sentinel Dome was not so easy to find! Maybe we weren't paying close enough attention, or didn't actually go far enough, but the trail we took didn't actually go to Sentinel Dome. It was quite strenuous at some points and the sun was setting, so we decided to turn around and go back the way we came. We did get some pretty great views of Yosemite Falls along the way though!
After consuming a massive amount of beef jerky, we drove to the house we rented on Airbnb in Coarsegold and grabbed a pizza on the way. If I ever go back to Yosemite, I'll stay inside the park. The house we rented was very nice, but an hour and a half from the park, which made the days very long. We would've stayed in the park for this trip, but campsites usually book up as soon as they're released, so there was nothing available.