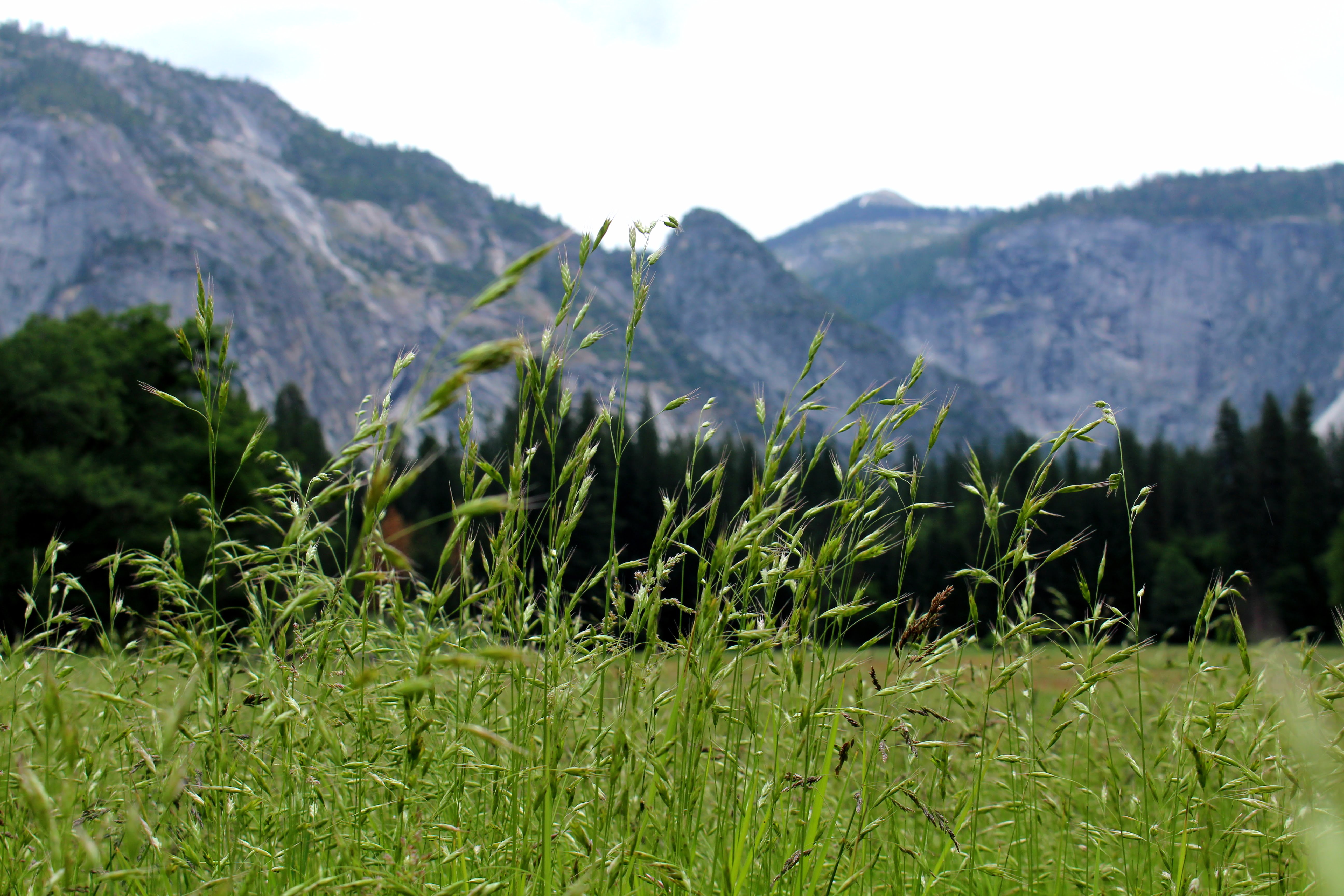 We were thankful we weren't camping in Yosemite this morning, as it was pouring and thunder storming when we got up. I was really bummed. We had planned a long hike on the Four Mile + Panorama trail, since this was our only full day here. But hiking up granite mountains in a storm is very unsafe, so we decided to lay low in the Valley and do a few short hikes instead.
Bridalveil Falls
This hike was really easy and full of tourists with selfie sticks, but we still enjoyed it. The rain stopped for awhile, but the mist from the fall felt like it was still drizzling.
We were getting hungry, so we grabbed our packed lunches and headed to the most perfect little meadow (called Cook's Meadow I believe) and ate at a picnic table. The rain was still holding off and this was turning into a nice day.
Lower Yosemite Falls
According to our California travel book
, Yosemite Falls is the tallest waterfall in North America. The hike to the top is pretty strenuous, so we just did the lower part, which is a very short loop from the Valley to the bottom of the falls. Once again, there were a ton of people there and it was hard to get a picture by the falls, but we did it!
Panorama Trail
It still wasn't raining after that hike, so we figured we could go for a bit longer hike this time. We wanted to do the end of the Panorama trail, which we were planning on coming down originally, and if it started raining we could turn around. While we were waiting on the free shuttle to take us to the other end of the Valley, it started to sprinkle. By the time we got to the start of the hike, it was pouring. We figured we had nothing better to do, so we went for it. I had a rain jacket and cover for my pack, so I wasn't afraid of getting a little wet.
Our goal was to get to Vernal Falls, the first major view of the trail. Let's just say we didn't make that goal. After my rain jacket and pack cover were completely soaked through, I was freezing and also worried about my camera getting damaged. Kaitlyn was hiking in Chacos
so she was especially cold. We got a glimpse of Vernal Falls from the footbridge about a mile back, snapped a quick selfie and practically ran back to the shelter of the Nature Center.
After warming up in the Museum with some hot tea, I took off my drenched jacket and was left with nothing but a tank top. Why didn't I bring a spare jacket? I debated getting a sweatshirt at the bookstore, but wanted to save the money. We were done a little earlier than Day 1. We left the park around 5 and got some dinner in Oakhurst before calling it an early night.
Get acquainted with Yosemite Valley.