I spent a week in Montezuma, Costa Rica with five of my good friends. We flew into San Jose from the US, and then took a very small plane to Tambor. The Tambor "airport" is just a landing strip, with a shaded outdoor seating area. Once we arrived, a truck came to pick us up to take us to the rental car agency. We then made the 30 minute drive to Montezuma, which is on the south side of the western peninsula of Costa Rica.
Montezuma Town
The town of Montezuma is very small, but there is plenty to do if you are here for a week or so. You could probably make it to every restaurant if you're eating out for every meal you're here. We chose to buy groceries and only ate out a couple times while we were visiting. I would definitely recommend the pizza place. The town has several gift and surf shops, where you can take surf lessons if you want.
Montezuma Beach
The Montezuma Beach is a 5 minute walk from the center of the town. It's a beautiful beach and in such a great location if you don't want to walk far to get some sun and sand.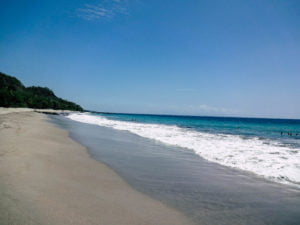 Playa Grande
Playa Grande is about 3 km (~1.9 mi) north of Montezuma. It can only be reached by walking. We packed up our things to spend the day there and made the hike. You walk along the beach the entire way. It was extremely hot while we were here in March, making the hike more difficult than it should have been. We bought sunscreen at the local grocery store that we didn't realize wasn't water/sweat proof, so we all got sunburned on the way to the beach. I spent most of the day in my hammock
I hung under the palm trees on the edge of the beach. The ocean breeze plus a good book is my kind of paradise.
After we had been there for a few hours and had drunk almost all of our water we decided to head back. There is a creek with a small swimming hole on the way back that we stopped at to cool off. When we finally arrived back in Montezuma, I bought two 1L water bottles and drank it all (it's unsafe to drink the tap water here).
Chico's Bar
I believe this is the only bar in Montezuma. We came here one night on St. Patty's Day. It was pretty crowded by the end of the night, and the DJ played a mix of Latin dance tunes and American pop music. The Montezuma nightlife is about what I expected, since it is such a small non-touristy town.
Hike to Montezuma Falls
Montezuma Falls is claimed to be the most famous waterfall in Costa Rica, and the trail to get there is just a short walk from the town. The falls actually consist of three separate waterfalls. The first waterfall, which is the largest, is only about 20 minutes into the trail. There is a large swimming hole underneath, with lots of locals and tourists lounging in the pool and jumping from the top of the falls. This was the perfect activity, seeing as we had all gotten extremely sunburned the day before and it felt nice to be in the shade.
We continued on the narrow trail to reach two more waterfalls. The trail is difficult at times and we had to scale the side of a cliff holding on to tree roots at one point. I wore my Teva sandals
on this hike and once they got wet I kept sliding out of them, making the hike even more difficult. It was all worth it though for the classic Costa Rica views!
Take a Scuba and Snorkeling Trip to Isla Tortuga
My friends are all into scuba diving, so we hired a boat for the day along with three dive instructors to take us to Isla Tortuga. The island gets its name because when you look at it from the side it looks like a turtle.
We met our instructors at the Tambor dock. Several fishermen were at the dock cleaning their catches, and the dock was surrounded by hundreds of pelicans. When we got on the boat, there was a huge selection of tropical fruit and drinks for us. Our first stop was to go snorkeling on one side of the island. The current was strong, so I just floated in the water and let it pull me around to see all the beautiful fish.
Next, everyone (except me) went scuba diving. Since I'm not certified, I stayed on board. One of the instructors stayed with me to keep me company. He dove down to the bottom to bring up fresh oysters for us. What a treat!
Our last stop was a private beach, where only one other yacht was anchored. They parked the boat about 100 feet out and we swam to shore. We were all tired and once again dehydrated, so we swam back to the boat, went back to the Tambor docks and called it a day.
Day Trip to Mal Pais and Santa Teresa
On our last full day, we spent the day in the Mal Pais area. Mal Pais is about an hour west of Montezuma on the coast and is a cute little surfer town. There are several nice restaurants and a few surf shops. I bought a new sarong here to add to my collection. We spent some time at Playa Hermosa ("beautiful beach") and then had dinner at one of the restaurants.
On our tiny plane back to San Jose, Rachel, Lillie and I sat in the front seat and got to see the pilots work their magic. How often can you say you've seen a plane land through the front windshield of the plane??
---