At the end of July, three friends and a I spent four days in Banff, Canada. We flew into Calgary and drove 1.5 hours to get into the park. We camped at Two Jack Lakeside Campground, which was only 15 minutes from Banff town. Read further to see our itinerary and logistics for the trip!
Itinerary
Wednesday 7/25: Fly into Calgary, stay night in hotel
Thursday 7/26: Get groceries in Calgary, drive 1.5 hours to Banff, lunch in Banff, rent gear and set up tent at campsite, hike Johnston Canyon, Mount Norquay lookout
Friday 7/27: Drive 1.5 hours to Rawson Lake and Sarrail Ridge Hike, hike, back to Banff, cook dinner over fire at campsite
Saturday 7/28: Drive to Moraine Lake and arrive by 6am, pictures at Moraine Lake, drive to Lake Louise and arrive by 8am, pictures at Lake Louise and then complete Lake Agnes Teahouse hike, Peyto Lake, Banff Upper Hot springs, dinner in Banff, enjoy your last night at the campsite
Sunday 7/29: Breakfast in Banff, return rental gear, drive to Calgary, fly home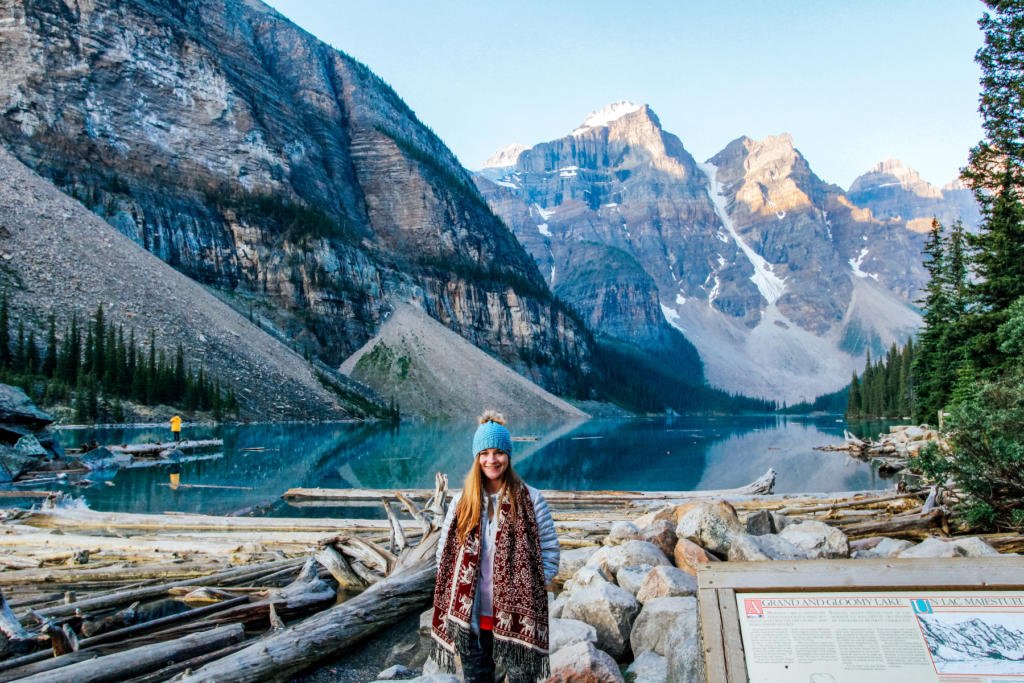 Getting There
Our Experience with Air Canada
Rachel and I flew Air Canada from Atlanta. We had a layover in Toronto before heading to Calgary. Our layover was originally 1.5 hours, which would be plenty of time to go through customs and change planes. When we booked the flight, it was supposed to leave from Atlanta at 6:30pm on Wednesday. About a month before the trip, Air Canada shifted both of our flights back by an hour, so it would now be taking off at 7:30pm.
When we arrived at the airport, we saw that the flight was delayed to 8:40pm. Our second flight from Toronto was not delayed, which meant we had about 20 minutes to go through customs and everything. We talked to the attendant at the gate and asked if we should go ahead and book a hotel for the night since we would likely miss our second flight and it was the last of the night. She advised against it, saying that they might hold our second flight for us, or that the airline may be able to book it for us and we wouldn't have to pay for it. So we waited.
We ended up not taking off until after 9pm. This got us into Toronto at 11:15, the exact time that our plane to Calgary was taking off. They corralled those of us that missed our flights to their customer service desk. The line was very long and it was already 11:45. Luckily, we were near the front of the line, because they only had two agents working. While we were in line, we were looking up hotels and flight times for the next morning. There were only a couple hotels left on Expedia, so I had one ready to go in case the airline didn't pay for it.
Customer service put us on the 7am flight the next day and told us that since the delay wasn't the airline's fault, they wouldn't give us money for the hotel. She also said that all of the hotels in the area were booked. We left the line and I tried to book the hotel I had queued up on Expedia, but since it was after midnight, I couldn't book it online (the website was confused why I wanted to book for the previous night). I tried calling the hotel but got no answer.
Finding Refuge
Just about the time we figured we would be sleeping in the airport, we noticed a sign for a Sheraton located inside the airport. We hustled there because we were convinced the rest of the people on our flight would have the same idea. Rachel and I got to the front of the group walking into the hotel and were first in line at the check in counter.
We were so happy to hear that they had one room left in the hotel and it was ours! For the hefty price of $500 CAD. I had never paid for a hotel room that costs this much, so it hit me hard. We convinced ourselves to get it because we would be splitting it, it was really only about $380 USD, and we would actually get good sleep (plus a shower) to start us out right on our trip.
After our four hours of sleep, we headed to the executive breakfast room (complimentary with our top-tier hotel room) and walked ten minutes to the airport, which was super convenient. With no delays, we arrived in Calgary at 9:15am. This was about the time we had planned on leaving for Banff, so it didn't delay us much.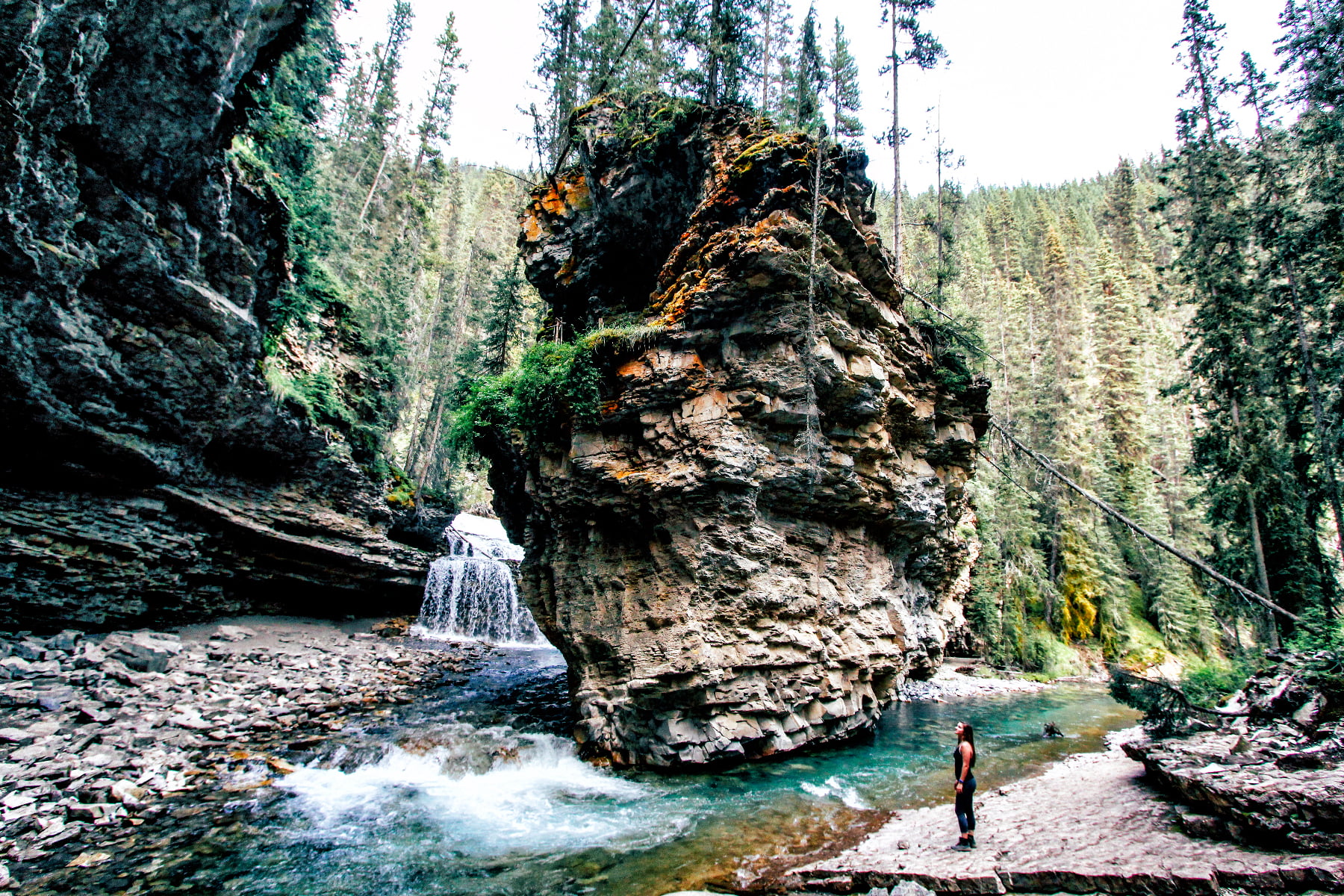 Compensation for the Delay
I was so glad I had bought travel insurance for this trip. I submitted a Customer Relations request to Air Canada to get compensation when I got home, and they would only send me a check for $100 CAD. I filed a claim through my travel insurance and received the remainder of my half of the room. If I had been thinking clearly when we checked into the hotel, I would've put the room on my card so the whole thing would've been covered by my insurance, but now I know.
I always get World Nomads travel insurance when I fly internationally. It's great for situations like this, or if you lose anything, or get injured, since normal health insurance doesn't necessarily cover international travel. When I traveled to Ecuador, I lost my GoPro and they covered the cost of that. They are a great company to work with!
Rental Car
We booked a rental car at the Calgary airport through Enterprise. When we got to the counter, the guy was super nice. I asked if they had a fee for having a second driver and he said yes, but he would wave it for us! We had originally chosen a mid-size car, but with all of our camping gear we decided to upgrade to a mid-size SUV, a Mitsubishi Outlander. They only charged us $9 CAD a day more, so it was a no-brainer for us.
The drive to Banff wasn't bad at all, but it was nice to have two drivers over the course of the trip. When one of us got tired, the other would take over.
Rental Gear
We all brought our sleeping bags, but we wanted to rent sleeping pads and a tent since the ones we have back at home are too bulky. We stopped by Snowtips-Bactrax, which is in the town of Banff. I had made a reservation ahead of time and we picked the gear up no problem after we grabbed lunch in town. The gear was nice and guys were friendly to talk to. The price was competitive and cheaper than the other places I had researched.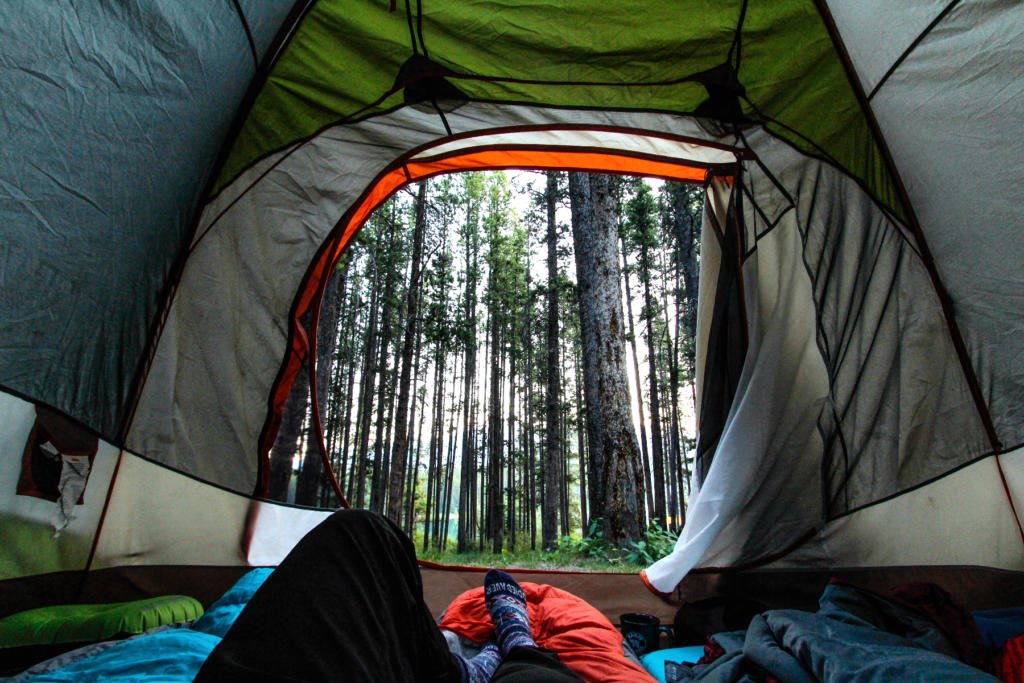 Camping
After we picked up our gear, we drove 15 minutes to the Two Jack Lakeside Campground and checked in. The campgrounds are beautiful! It's right on the lake (as you could've guessed by the name) and is very wooded with trees perfect for hammocking. The bathrooms were clean and showers were hot. The campground even had free wood to use for your fires.
Every morning around dawn we heard a couple different animals howling and we could never figure out what animals they were. It was spooky sounding and I still want to know!
Restaurants in Banff
We ate out three times in the town of Banff while we were there. We also cooked over the fire one night. For lunches, we brought sandwiches with us on our hikes.
Saltlik
We ate here our first day in Banff. I had a gourmet grilled cheese and the other girls had salads. It was a beautiful day, so we sat outside on the street and enjoyed the flowers and sunshine.
Nourish
On our last night, we ate dinner here. This is a vegetarian restaurant, with a ton of vegan options. Everything was delicious! I had the soup of the day and Jessie and I split the mushroom and lobster ravioli. It was amazing.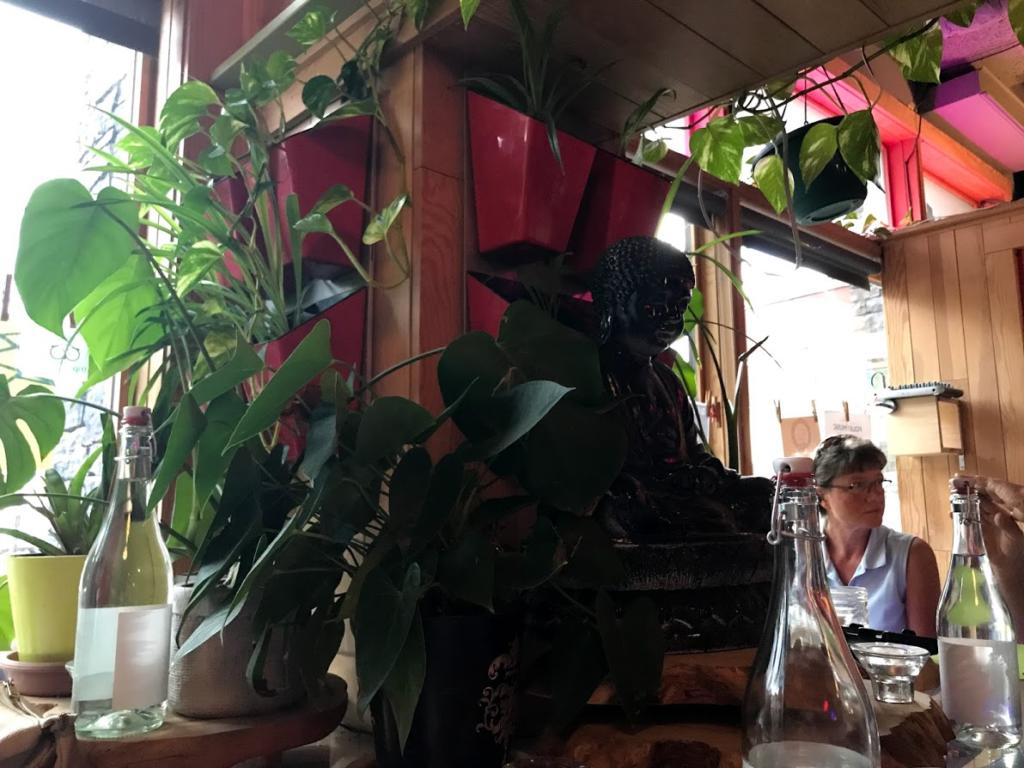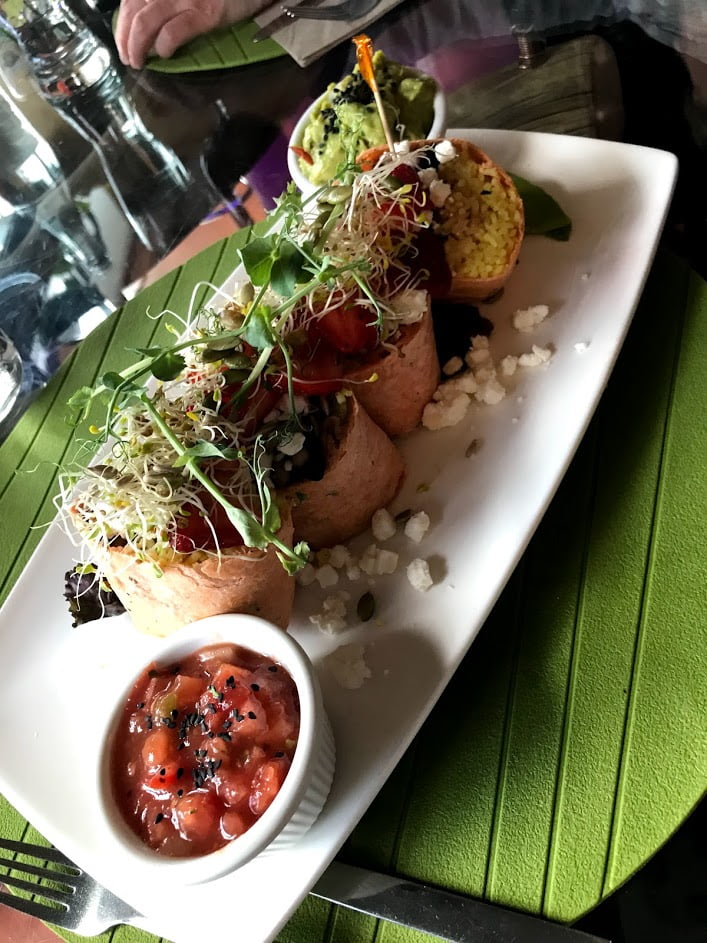 Coyotes
We had to leave Banff early on our last morning to get to the airport. Coyotes opened at 7am and we got there right around then. I had the French toast because I had to try maple syrup while in Canada! I would highly recommend.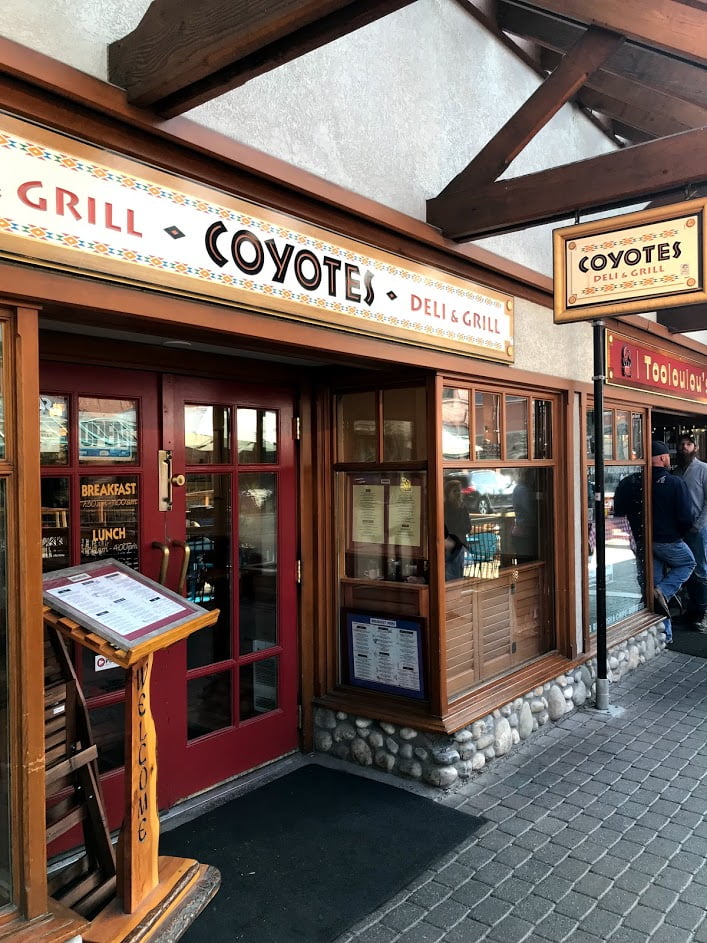 Weather
It was forecasted to be rainy the whole time we were here, but it only rained off and on a couple times! We got super lucky and it only rained while we were in the car and not when we were hiking. The temperature was perfect: highs in the 60s and lows in the 40s. Great for hiking!
Wildlife
We saw a ton of wildlife while we were here! Mostly from our car, fortunately. While we were driving, we saw bighorn sheep, mountain goats, and a black bear! There were also tons of squirrels and chipmunks running around everywhere on our hikes.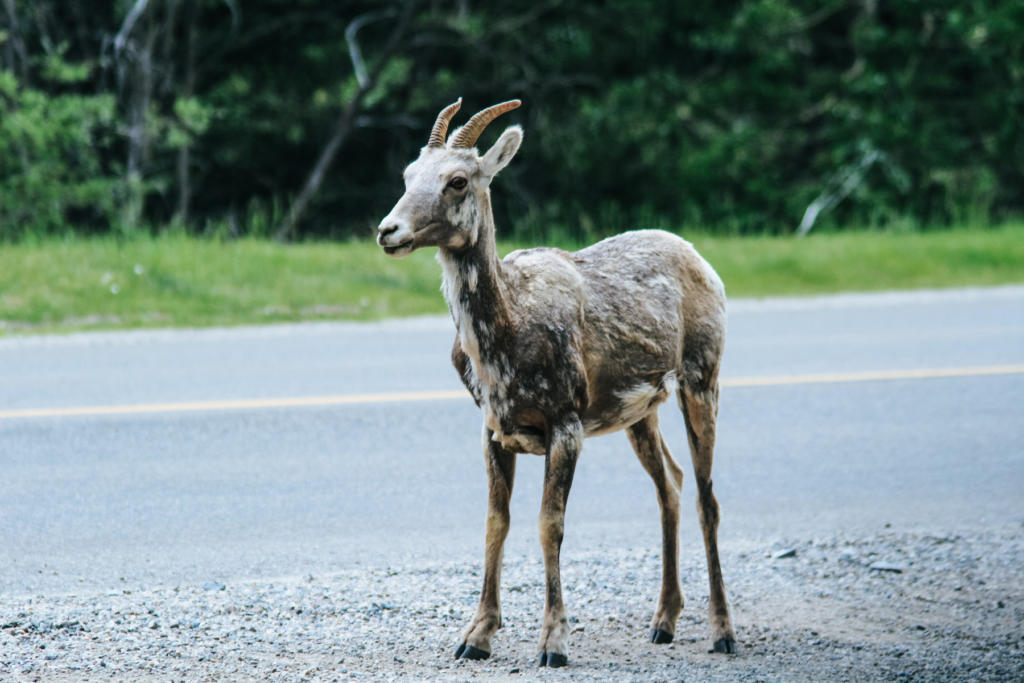 Costs per Person (in USD)
Flight to Calgary (including a checked bag split three ways): $315
Campsite and rental gear: $45
Food: $110
Transportation (including rental car, gas, Ubers): $120
Entertainment (including national park pass, hot springs): $20
Souvenirs: $20
Hotel Wednesday: $25
Travel Insurance: $40
TOTAL: $695
Tips
Get to Moraine Lake by 6 am! We arrived at 6:15 and the parking lot was completely full. Since we knew we wouldn't be staying long, we parked in a no parking zone. We saw a ranger giving tickets when we were leaving so luckily he didn't get to our car yet! The rangers had completely shut down the road to get to Moraine Lake at 7 when we left because there was no parking left.
Always be prepared with a rain jacket. Every day we were there it was beautiful and sunny most of the day, but then there were a few showers that popped up out of nowhere.
Carry bear spray with you, especially if you're planning on doing less populated hikes.
Comparison to Glacier National Park
I traveled to Glacier National Park in Montana in the end of June and Banff at the end of July, so I feel like I was constantly comparing Banff to Glacier while I was there. I think I liked Glacier overall a little better, mostly because there were far less tourists. However, this could've been due to the time we went, since July is supposed to be busier. The scenery is very similar between the two (they are only 4 hours apart!) and both are gorgeous. The lakes in Banff were bluer, but I thought the mountains in Glacier were prettier. It was more expensive to fly to Glacier (about double the cost of the flight to Calgary). It was nice to not go through customs going to Glacier (coming from the US) though.
---
Check out my video below on our time in Banff!