The drive from Crater Lake to Portland takes about 4.5 hours. On our way to Crater Lake, we drove on the less scenic route, going through Eugene. On our way back to Portland, we decided to take the route east of the Cascade Mountain Range and make a few stops along our way to break up the trip. I was so glad we did!
Bend
Our first stop was the town of Bend, which is about two hours north of Crater Lake. It is a cute adventure town located in a bend of the Deschutes River. We arrived in town around 9am on Sunday and were ready for breakfast. We ended up at Nancy P's Cafe and Bakery. I got the best bagel and lox I've ever had. I'm still dreaming about that garlic parmesan bagel it was on! My dad got a ham, egg, and cheese savory pocket. We also got a cinnamon roll to split. Those were yummy too!
After we ate, we walked along the downtown strip with the goal of finding some souvenirs. Unfortunately, most of the shops don't open before 11 on Sunday mornings. The Bend Store was open though, and we got some great gifts to take home!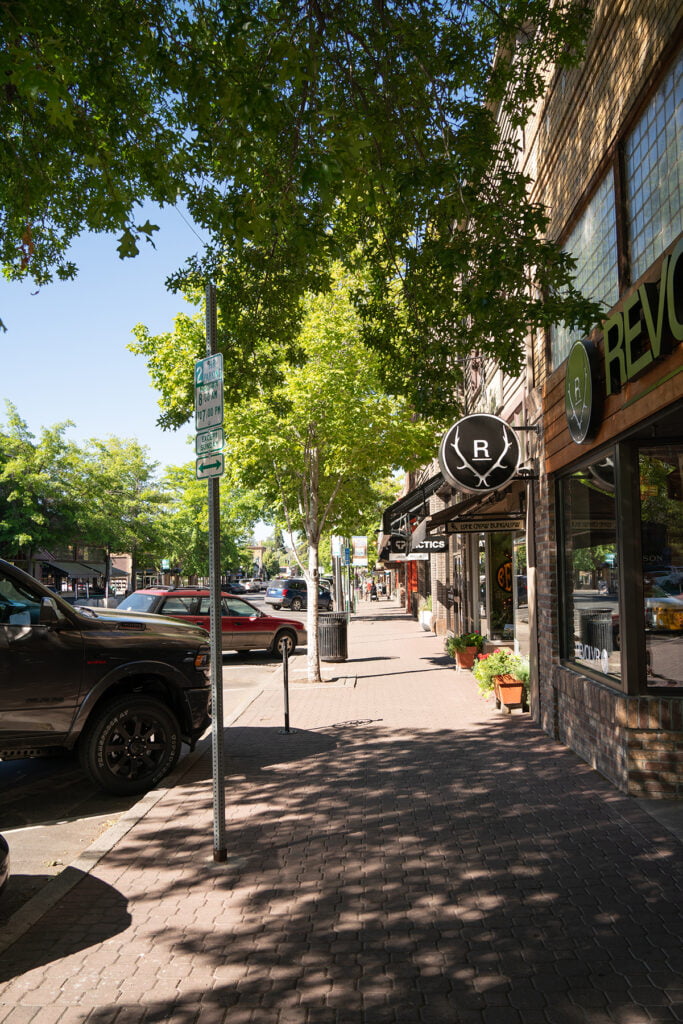 Mount Hood
Another two hours north of Bend is Mount Hood, the tallest mountain in Oregon. You can start to see it on the drive about an hour away. The entire drive is beautiful, and you can see multiple mountains along the way.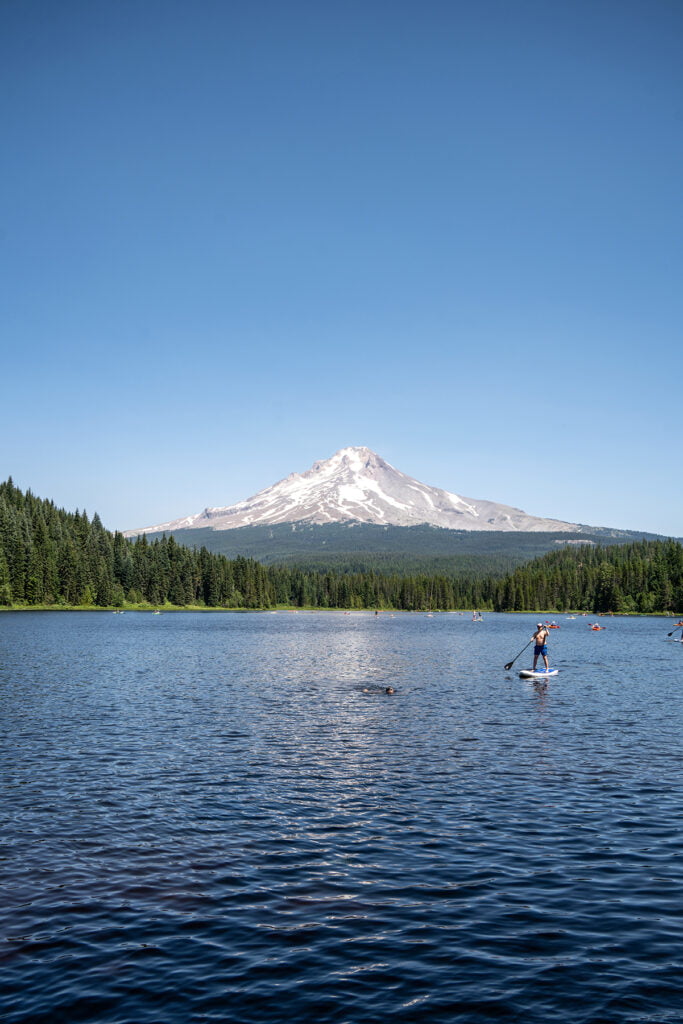 Mount Hood is not in a national park, but is instead inside a national forest. This means you don't have to pay to get into the area. Certain locations within the forest may require you to pay to park, however. We chose to go to Trillium Lake, which is a lake near the foot of the mountain with an incredible view. When we arrived around 12, there was a long line of cars waiting to park. It was a hot day (90F) and everyone wanted to go swimming in the lake. We paid the park ranger $10 and found a decent spot about 100 yards from the lake.
The lake was full of people swimming, paddling, and kayaking. There is a little stand where you can rent boards and kayaks for the day. We really just wanted to see the view, so we walked around the edge of the lake on the path about a quarter way around the lake until the mountain was out of sight. It was way too hot to stay and not be in the water, so we turned around at that point and continued to our next destination.
Government Camp
Our search for souvenirs continued and we drove about 15 minutes north to the nearest ski town called Government Camp. This is a very small town with a few restaurants and shops. It would be a great place to stop for a meal, but after our shopping we continued on to our last stop of the drive.
Multnomah Falls
Multnomah Falls has been on my bucket list for as long as I can remember. It's a waterfall that looks like it's straight out of Lord of the Rings and feels like how I picture Oregon to look. It's just over an hour driving from Government Camp. We entered the Columbia River Gorge on Interstate 84. There was a very convenient parking area in between the two directions of the interstate. A pathway under one the highway takes you directly to the falls. We walked past the separate parking area from the Historic Columbia River Highway and the amount of cars trying to park there was ridiculous. I'm glad we didn't go that way.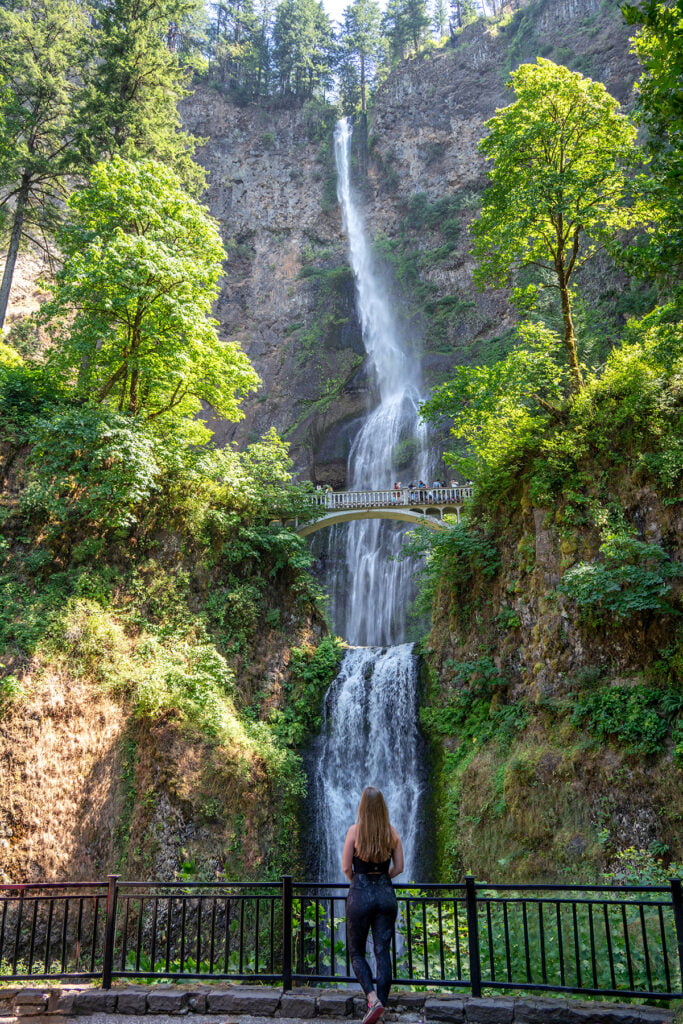 Multnomah Falls is divided into two parts: an upper and lower waterfall. There is a bridge crossing in the middle, which makes it more unique than other waterfalls.
I was a little let down by this tourist trap. We did arrive around 3pm, one of the busiest times of the day. If I were to go back, I would be there first thing after sunrise. There were swarms of people everywhere and it was impossible to get a peaceful look at the waterfall. There is only one little area to get the classic picture and it took forever to have a moment where there weren't other oblivious people standing in the way.
We took the short path up to the bridge which was well worth it. There were also tons of people standing on the bridge, but I didn't mind that as much. I almost couldn't tell the lower falls were underneath us when on the bridge.
I was pleased that the parking was free and the bathrooms were nice. There was even a restaurant there if you want to have a lunch break. I would recommend coming here, but not in the middle of the day like us!
I loved this scenic drive back to Portland and highly suggest coming this way if you have time! It breaks up the trip and allows you to see more of the state than just Crater Lake.
---
You may also be interested in:
How to See Crater Lake National Park in 24 Hours