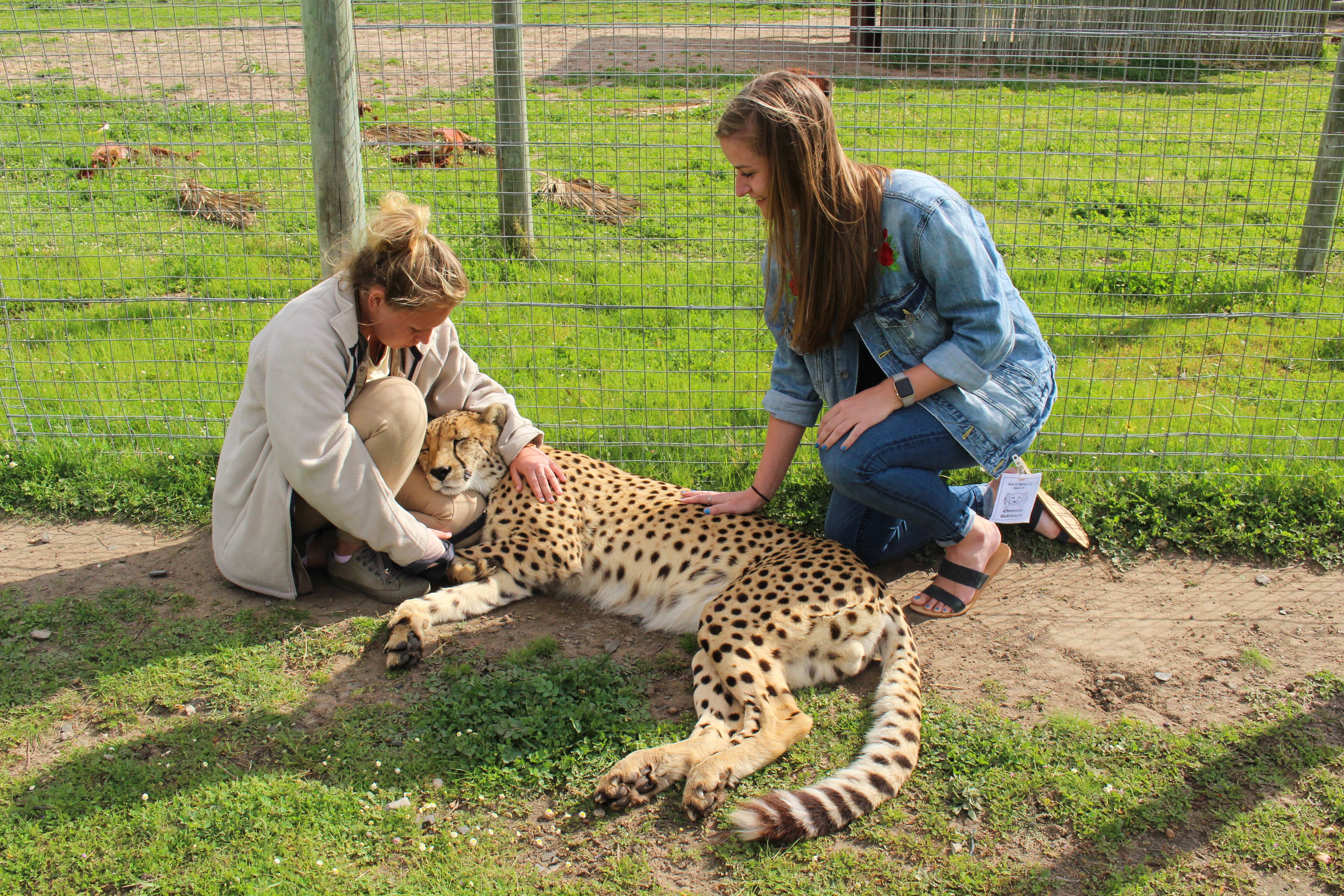 On Day four of our trip, Sydney and I parted with the boys in Muizenberg and drove to Somerset West, a 40 minute drive. The majority of the drive is right along the coast. I mean this literally; the road was covered in sand part of the way there. You get stunning views of False Bay, seeing the mountainous peninsula off in the distance.
Cheetah Outreach
The Cheetah Outreach is a program targeted to raise awareness about the plight of the cheetah. The number of cheetahs in the world has decreased from 100,000 to just over 7,000 since 1900. At the Outreach, visitors can take a tour of the facilities, which feature big cats and other African species that have been rescued for various reasons.
I was pleasantly surprised with the facility. It's located within a nice gated complex, and is housed in an old building that used to be an ammunition plant in World War II. The cheetahs have large pens, and there are many other animals there that I didn't expect to see.
The best part of the whole program, is that you have the opportunity to meet and pet a live adult and/or baby cheetah! The whole process is completely humane, and the cheetahs are not drugged, like some people think. Cheetahs sleep for up to 18 hours a day, so they are asleep while visitors meet them. The cheetah forms a bond with their handler and is completely calm when the handler approaches. The handler sits on the ground next to the cheetah and the cheetah puts its head in her lap. Next, a volunteer will take the guest in and the rest is history!
My heart was pounding as I entered Ebony's cage, as I knew this was a dangerous animal and he could potentially snap and decide he didn't want me touching him. The volunteer taught me the correct way to pet him, and I got to interact with him for about ten minutes. After I pet him for a few minutes, he started purring! His fur was much softer than I expected. He reminded me so much of my family housecat back at home. I loved it!
After my encounter, we took a tour of the facility. We saw and learned about so many animals I had never seen before in person, including a Serval, Caracal (which reminded me of a Dr. Seuss character with its tall pointy ears), Jackal, and Bat-Eared Fox. Our guide showed us the cheetah run, a huge pen where they run the cheetahs for exercise. They weren't running while we were there, but I'd like to come back and see them run at some point!
Next Stop: Hermanus
We drove another hour southeast to the city of Hermanus. This town is famous for whale watching when the Southern Right Whales come into the harbor between June and December. We brought our binoculars and were excited to get to see some whales! There is a great walking path that goes along the coast up on the cliff. It has a great view of any potential whales that are close to shore.
Whale Watching
With all that we had done that day, Sydney and I arrived in town about 30 minutes before sunset. We planned on whale watching until it got dark and then getting dinner. I bundled up in two jackets and was still freezing, between the dropping temperatures and high winds along the coast. All I wanted was some hot chocolate. We gave it a chance for a while, hoping that the sight of whales would make up for our lack of warmth.
There were lots of people huddled at Gearing Point, so we hoped we would be able to see something. No such luck. We told ourselves that it was okay, because we had seen whales at Cape Point yesterday. Neither of us were that hungry so we decided to find somewhere warm and get dessert instead of dinner.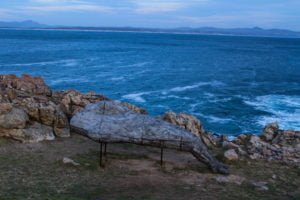 Fisherman's Cottage
I had read great reviews on Fisherman's Cottage, a cute blackboard restaurant with an intimate atmosphere. The hostess asked if we had reservations and when we told her we didn't, she said they were fully booked for the night. However, it was still on the early side, and since we were only getting dessert, they were able to squeeze us in before the late dinner rush.
I had some of the best hot chocolate I've ever had, along with delicious malva pudding. Malva pudding is a traditional South African dessert and is lovely. I had it several times while we were in South Africa, but Fisherman's Cottage was my favorite.
When we were done with dessert, we drove 1.5 hours west to Stellenbosch, Cape Town's wine region. We stayed here for the night and spent the next day at wineries.
Check out my video on our Cape Town adventures!
---
You may also be interested in: