On my recent trip to Europe, I spent four days in Amsterdam. My friend Rachel from college lives in Amsterdam, so I was able to stay at her amazing apartment and save some money. I also had four other friends that were in Amsterdam while I was there, so I was able to hang out with them for a couple days. I really enjoyed the city! Here are my suggestions of things to do while in "Venice of the North".
Join a free walking tour
The free walking tour with Sandeman's New Europe tours was the first thing I did when I got there to get my bearings of the city. They have tours every half hour throughout the day. The tour is free, but the guides work for tips, so you can tip what you feel your tour was worth. That way, you know you will really get your money's worth! The tour lasted about 2.5 hours with a 20-minute break in the middle at a bar where we could visit the restrooms and get a drink if we wanted. I learned lots of fun facts about the history and architecture of the city!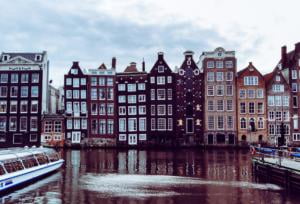 Walk through the red light district
The red light district is very famous and something that is worth checking out while you are in Amsterdam. In case you haven't heard of it, it is an area of town where prostitution legally takes place. The prostitutes advertise their services through glass windows and doors right on the streets. We walked around here our first night on our way to the bars. There are several good bars in this district, but since we were there on a Tuesday night, it wasn't as crowded as we expected.
Rijksmuseum and "I Amsterdam" sign
The Rijksmuseum is a national museum that displays art and history. It is located inside of a beautiful building that has been open since 1885. The museum is the most popular in the Netherlands and one worth checking out if you enjoy art and history. I'm not into art, so the price of 17.50 Euros deterred me from going. However, I did walk by (and through tunnel underneath) the building and "I Amsterdam" sign several times!
Eat in Leidseplein
Leidseplein is a very popular square with lots of restaurants and bars. We ate lunch at Cafe De Waard on our second day. The outdoor seating area was perfect, and even though it was cold and rainy off and on, their tents, fire tables, and heating lamps made our meal outside very enjoyable. Our waiter suggested we try the bitterballen, which is essentially a fried meatball. We got those as our appetizer and I had a goat cheese salad as my entree. It was delicious.
Check out a coffee shop
Coffee shops in Amsterdam are not for buying a cup of Joe. Instead, they're where you can go to legally buy marijuana. If you want to buy actual coffee, look for a cafe. Even if you don't want to partake in buying marijuana, it's worth stepping inside one of these shops to see what the fuss is about!
Hang out by the canals
There are over 100 km (60 miles) of canals in Amsterdam, and it's hard to walk around the city without crossing one. On my last day in the city, it was very cold and windy. I found a sunny spot on the edge of a canal that I sat at and was able to thaw out. I enjoyed watching the boats go by and even made a new friend while sitting there!
Walk or bike around Vondelpark
Vondelpark is a large park in the city that is near the Rijksmuseum. It's often called the Central Park of Amsterdam. There were lots of people walking, running and biking all over the park. A couple of bike shops are located near the park that you can rent a bike at. Be careful to not get run over, as the bikers here are crazy!
Try Dutch Pancakes
Dutch pancakes are even better than American pancakes in my opinion. They're super thin, perfectly crispy, and loaded with whatever toppings you want, sweet or savory. I got ham and cheese at two different pancake places: Pancake House and Pancake Amsterdam Westermarkt.
Albert Cuyp Market
This street market is located in the Oude Pijp neighborhood and is open every day during business hours, except for Sundays. They have souvenirs and street food, and I indulged in both while I was there. Definitely try a stroopwafel from one of the vendors there. I got one filled with Nutella and chocolate. So yummy!
See the Royal Palace
The Royal Palace is in Dam Square in the center of Amsterdam. It was built in the 17th century as a city hall before it was later taken over by the new King Louis Napoleon in 1806. The palace is beautiful and I loved how central it was in the city. Visitors can take a tour of the interior for 10 Euros.
Visit the Anne Frank house
Seeing the Anne Frank house is the one touristy thing I knew I wanted to do before we came. You can book your tickets online ahead of time. They release tickets in batches up to two months ahead. Our group was able to get some one month out, but there were limited time slots open. You can normally also just show up at the museum later in the day if you weren't able to get online tickets, but they were doing renovations while we were there, so that wasn't an option.
I really enjoyed the tour. There were a ton of people there and it felt quite touristy, but I thought it was really cool to set foot in the actual place where the Frank family lived for years. I was able to get the feeling of how small of a space it was. Not to mention, the floors were super creaky, so I can't imagine how frustrating it would be to not be able to walk around during the day when workers were in the building downstairs!
Tour the Heineken Brewery
I was planning on touring the original Heineken brewery on my last day in Amsterdam. I wasn't 100% sure that I wanted to go, so I didn't want to buy my ticket online ahead of time. When I arrived, the line was extremely long and it was freezing outside, so I detoured to a cafe to warm up instead. I would like to visit the brewery though if I am ever back in Amsterdam!
Overall, four days in Amsterdam were plenty. The city is so photogenic and charming. I would recommend a trip here to anyone!
---
See my video below on my trip to Nice and Amsterdam!
---