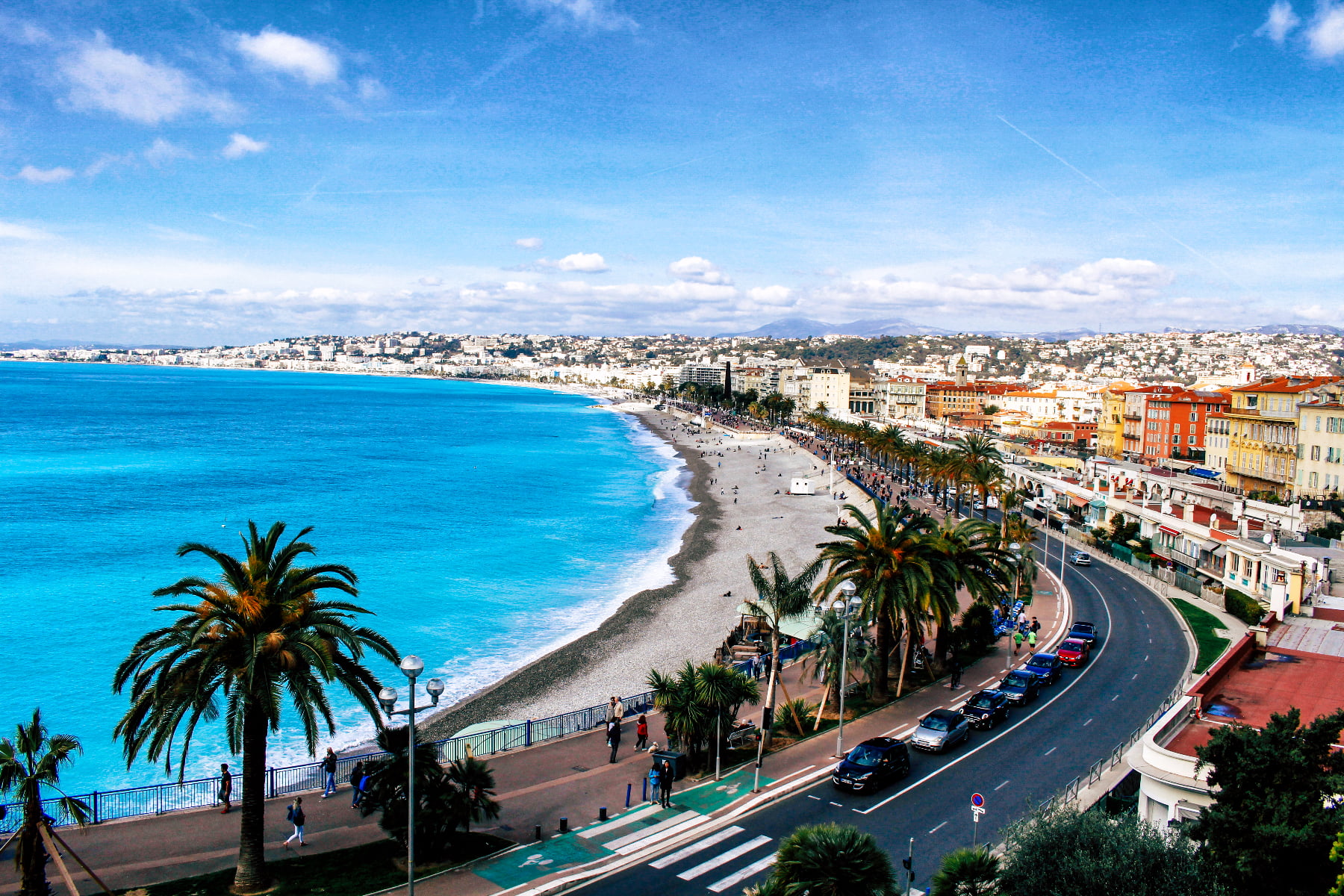 I spent three days in the French Riviera on my recent trip to Europe. I went with my friend Rachel who is currently living in Amsterdam. Our home base was Nice. We were here Saturday through Monday night of Easter weekend. I was worried that everything would be closed on Easter Sunday and Monday, but it really wasn't a problem at all. We spent two days in Nice, with our third day on a day trip from Nice to Eze and Monaco. Two days in Nice was plenty, and it could possibly be done in even just one day! These were my favorite things we did while in Nice.
Walk, bike, or run along the Promenade de Anglais
The Promenade de Anglais is a wide promenade that goes along the ocean for 7 km. It's been around since the 1800s! It is the perfect location to soak up some sun while being active.
Climb up Castle Hill
If you want to get the best view in Nice, climb up Castle Hill. When we started the climb, I expected there to be a small lookout, overlooking the bay. However, it is actually fairly big at the top, with a park, concession stand, souvenir shop, and playground for kids. There are panoramic lookouts on both sides, where you can see both the bay on one side and the port on the other. On your way down, make sure to check out the huge waterfall called Cascade Dijon. If you don't want to climb up all of the stairs, there is an option to take an elevator up!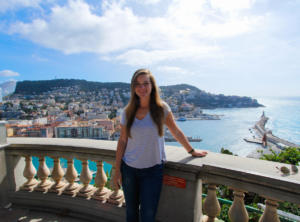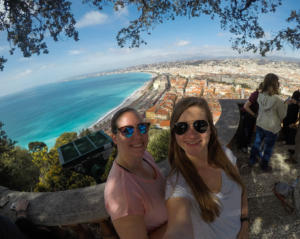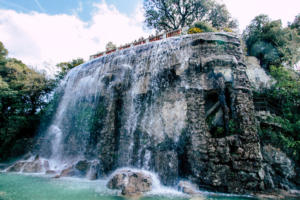 See the glowing statues in Place Massena
This is the main square of the city. It was right in between Old Town and our Airbnb, so we walked through here a lot. Most of the square is pedestrian-only, with the tram going through along with a couple cross roads. There are seven statues atop very tall poles that glow different colors in the night time. They are meant to represent the seven continents and communication between societies around the world.
Play in the fountains at the Promenade du Paillon
These fountains are really close to Place Massena, inside of a park. There were tons of kids running through the fountains when we walked through.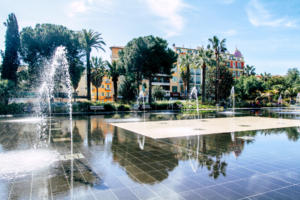 Eat in Old Town
Old Town is where most of the touristy action is in Nice. There are tons of restaurants and bars all around. Nice has a huge Italian influence — it's only about 30 km from the border and for many years, Nice was under Italian control. In 1861 it officially became part of France. You will notice this when walking through the streets of Old Town. The architecture looks Italian and the majority of restaurants are Italian. That's okay with me! Don't worry, there is still wine and cheese everywhere!
Hang out on the beach
Nice's beach is gorgeous and even though the temperatures while we were here was in the high 60s F (still a bit chilly for me to sunbathe), there were lots of people laying on the pebbly beach and even a few taking a dip in the ocean! We lounged here our last afternoon and the warm sun lulled me into a deep sleep.
Flower and food market at Cours Saleya
There is a large market on weekends that has lots of fresh produce and other foods, flowers, plants, and souvenirs. We got some fruit here our first morning for breakfast and walked a few minutes to the Promenade to eat on a bench. On Mondays, they have a flea market in this same location. We walked through that on our last day.
Take a picture with the "I Love Nice" sign(s)
There are two – one at Place Massena and one on the coast by Castle Hill. They are pretty much always surrounded by crowds of people, so get there early if you want a solo picture! They replaced the hashtag sign when we were there with a giant Easter egg on Easter Sunday.
Try a macaron at LAC
LAC is a pastry shop that has every flavor macaron you could possibly think of. I got a few as a snack our last afternoon and had no regrets!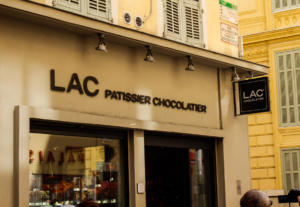 Get drinks at Les Distilleries Ideales
This is such a cool bar that was packed with people when we came here our second night. We had both eaten a large lunch and weren't starving for dinner, so we split a carafe of wine and a mixed charcuterie board. Magnifique!
Eat Gelato at Fenocchio
Last but not least, get some gelato at Fenocchio, the ultra-popular gelato shop with a couple locations in Old Town. I got the Nutella and it was amazing!
---
See my video below on my trip to Nice and Amsterdam!
---
You may also be interested in: